Best 10-Inch Rough-In Toilets – [2021 Reviews & Rankings]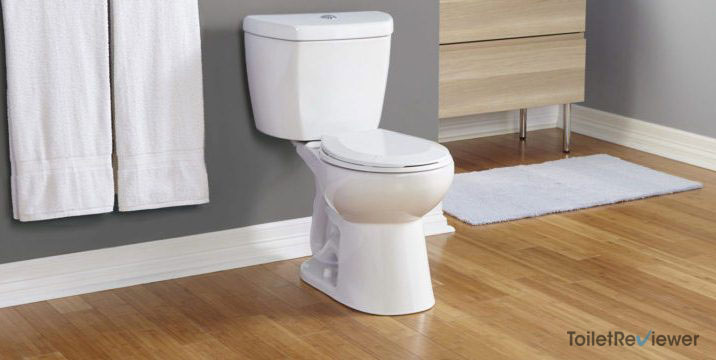 The toilet rough-in often refers to the distance from the wall behind the actual toilet to the center of the pipe where the waste goes. Most toilets fall in the "12-inch rough" category.
In older homes and special situations like tight bathroom spaces, 10-inch rough-in toilets will allow for easier installation and bathroom appeal.
Despite their compact design, top-rated 10-inch rough in toilets use similar flushing mechanism of standard toilets.
Before you go on to replace your toilet, measure the distance from the wall or have a professional do it for you. It's important to measure from the wall (not from the molding) to the bolt caps.
In order to choose the right rough in toilet, you should consider such aspects as the toilet configuration type, water efficiency, seat height and bowl shape.
After collecting data from various 10-inch rough-in toilet reviews and resources, we compiled a resource that'll help you make a smart decision.
The Best 10-inch Rough-in Toilets for 2019
TOTO CST454CEFG#01 Drake Bathroom-Hardware, Cotton White
Item may ship in more than one box and may arrive separately
Double Cyclone Technology.does not come with a seat, it is just a bowl C454CUFG#01) and a tank (ST454E#01).
Powerful, quiet flush every time
Wide, 2-1/8-Inch computer designed trap way.Saves 20-Percent water over 1.6gpf toilets.
12 inches Rough-In
If you are looking for a beautiful modern design, enhanced comfort and functionality in your 10-inch rough-in toilet, the Toto Drake II 2-piece toilet would be a great choice.
The high-profile tank and toilet set includes tank to bowl hardware, tank to bowl gasket and bolt caps.
While the toilet is designed for tight spaces, it is comparatively comfortable to use. In this regard, the Drake II is one of the best comfort height toilets by this manufacturer.
As a matter of fact, this product is ADA compliant and has been proven to be comfortable for a vast range of users.
Additionally, the toilet is compliant with requirements by EPA WaterSense, CALGreen and CEC in California. Many users love the fact that this toilet is efficient on water and delivers a powerful flush action at the same time.
Pros
Features Tornado Flush technology by the manufacturer
Uses a hole-free rim design
The interior of the basin is coated with a CEFIONTECT layer
Compliant with CALGreen, EPA WaterSense and CEC requirements
ADA compliant
Cons
Some of the important components like the mounting bolts, wax ring, toilet seat and water supply lines have to be purchased separately.
If you would rather get the best blend of affordability, performance and aesthetics, the American Standard Colony is one of the best 10-inch rough in toilets you can buy.
To begin with, the compact toilet features well-coordinated components for a unique, seamless look.
In this regard, the toilet is equipped with a color-matched trip lever. With regards to design, the product is expertly crafted and features a Vitreous China construction.
According to the manufacturer, this product was carefully crafted for enhanced durability, reliability and aesthetics.
As far as the performance is concerned, the Colony 10-inch Combo toilet does not frustrate. In this regard, the unit is equipped with the innovative PowerWash rim technology by the manufacturer.
Additionally, it is fitted with a durable flush valve as well as a Siphon Action Bowl that features a direct fed jet.
Pros
Engineered for enhanced beauty, durability and reliability
Efficient on water, consuming only 1.28 GPF
Fitted with a PowerWash rim and a flapper flush valve
Features an elongated bowl for enhanced comfort
Coordinated components color for a uniform look
Features a durable Vitreous China construction
Cons
It uses a 2-inch flush valve which may result in a weaker flush action
3. Toto Drake Two-Piece ADA Toilet – The Best 10-Inch Rough In Toilet for Commercial Bathrooms
TOTO CST744SL#01 Drake 2-Piece Ada Toilet with Elongated Bowl, Cotton White
Item may ship in more than one box and may arrive separately
G-Max flushing system, low consumption (1.6GPF/6.0LPF), Elongated front bowl and tank set, less seat
Universal Height, Two-piece design with high-profile tank
12" Rough-in, less supply, Water Use: 1.6 GPF/6.0LPF, Material: Vitreous china
Chrome trip lever, ADA compliant, in. Water Pressure: 8 psi (static)
Toilets meant for installation in public bathrooms have to meet the various ADA requirements.
In this regard, the Drake 2-piece toilet is not only compliant with ADA requirements, it has a horse of convenience and performance features that will come in handy in a public bathroom.
So, why is this a preferred toilet for so many consumers today?
Though designed to fit a 10'' rough-in installation, this toilet has the same features and performance as the 12-inch Toto Drake 2-piece toilet.
As a matter of fact, it is one of the best 10-inch toilets in the market today as far as durability, quality, efficiency and performance are concerned.
Just like the other leading toilets by the manufacturer, the Drake 2-piece toilet features a quiet G-Max flush system. This is coupled with Siphon Jet Flushing technology to deliver an exceptional flushing experience.
Despite being able to deliver such a powerful flush action, this product consumes only 1.6 gallons of water per flush.
Pros
Has a consumption of only 1.6 GPF and 0.9 GPF
ADA compliant
Comes with fittings, tank lid and a chrome-plated trip lever
Built for enhanced performance, functionality and quality
Produced by a reputable manufacturer
Features universal height and an elongated bowl for added comfort
Uses Dual-Max flushing system
Features and elongated skirt for easier cleaning and enhanced beauty
Features a dual flush capability, operated using a chrome push-button
Equipped with a high profile tank
Delivers quiet and powerful flushes
Fitted with a wider, 3-inch flush valve
Cons
The toilet seat has to be purchased separately, which will increase the purchase price
Kohler 3889-0 Bath Hardware, White
Comfort Height Elongated Toilet bowl - With a seat height comparable to that of a standard chair, Comfort Height toilets make sitting down and standing up easier for people of all ages
10" rough-in, seat and supply lines not included
29-1/2" (74.9cm) x 18" (45.7cm) x 31-1/4" (79.4cm)
Class Five(R) - provides tremendous bulk waste flushing performance and best-in-class bowl cleanliness
3-bolt Installation - Three pre-installed tank bolts save installation time
Many people shy away from 10-inch rough in toilets because they believe these products to be old and outdated.
Contrary to this misguided notion, these toilets can actually be the best renovation idea for your bathroom, provided you buy from the best manufacturers in the industry.
KOHLER happens to be one of the leading manufacturers of 10'' rough-in toilets today. The K-3889-0 Highline Comfort toilet is one of the products by this manufacturer you will find fascinating.
Not only is this toilet compact and beautiful, it is also functional and efficient. Actually, the toilet has features similar to those you would find in the best standard 12" toilets today.
As such, you will not be sacrificing on the performance for a compact design and good looks. With regards to flush performance, the product is equipped with a Kohler Canister flush valve. This valve has been proven to deliver superior flush power, whilst saving on water consumption.
Pros
Uses a Kohler Canister flush valve
Features a simple and Clean design
Highly efficient on water, using only 1.28 gallons per flush
Equipped with an elongated seat for additional comfort
Features a chair-height for enhanced comfort
Class five(R) flushing performance
Features an easy 3-bolg installation
Cons
The design has many curves and dips that may encourage buildup of bacteria
Gone are the days when 10-inch rough-in toilets were just plain and boring.
With such products as the Toto Aquia Dual Flush 10-inch Rough-in toilet, you will have exceptional performance, efficiency and comfort standards.
The dual flush technology used on this toilet makes it one of the most efficient toilets in this category. To begin with, the product features a slimmer design, allowing you to sit closer to the tank.
This has been proven to give users additional leg room, which can make all the difference in small bathrooms. While the compact toilet features a shorter profile, you will like the fact that it still comes with a semi-elongated toilet bowl.
This elongated bowl shape, along with the comfort height design of the toilet make the product more comfortable and easier to sit on and get up from. You will also like the chrome activator button used on the toilet. You may use this button to easily select between the 1.6 gpf and the 0.9 gpf flushes.
Pros
Features a semi-elongated bowl shape
Uses a dual-flush flushing system
Reduces water consumption your home
Equipped with a larger tray at the base to prevent clogging
Features a comfort height toilet design
Features a durable Vitreous China construction
Fitted with a chrome flush activator button
Cons
Comparatively hard to install
One of the desirable attributes of the best two-piece 10-inch Rough-in toilets available today is that they are comparatively affordable.
In addition to that, the Cadet 3 Round Front Flowise toilet is truly exceptional.
Basically, the toilet is specifically designed to deliver exceptional performance and experience minimal clogs—if any. To make this possible, the manufacturer has equipped this model with an array of efficiency and performance features.
The first thing that will draw your attention to this product is its sleek design. The aesthetically appealing design of the toilet will augment almost any modern bathroom décor.
Secondly, you will come to like the flush performance and water efficiency offered by the Cadet 3 Flowise toilet. With regards to ease of use and comfort, the product has been proven to meet ADA requirements. In this regard, it features a comfort height design and features a relatively large bowl.
Pros
Features a relatively large bowl
Features an Even clean antibacterial surface
Equipped with a larger, 3-inch flush valve
Relatively easy to clean
Features a durable comfort height construction
Cons
Does not come with a toilet seat.
Unlike some of it's competitors, the Cimarron toilet delivers powerful flushes and is less likely to clog.
As you may have learned, this particular model is equipped with the right technology to clean the bowl and push the waste down the drain line more efficiently.
For instance, the interior surface of the internal trap on this toilet is glazed all the way. This glazed finish not only makes it easier for the toilet to push down the waste, but it also prevents the buildup of bacteria in the toilet. Despite delivering a powerful cleaning action, this model is highly efficient on water.
In this regard, the Cimarron Comfort Height toilet uses only 1.28 gallons of water on each flush. This alone will help you save a significant amount of money on your monthly water bills.
Again, you will also like the fact that this product is comparatively easy to clean. This may be attributed its contoured bowl design as well as the glazed surface.
Pros
Features a contoured bowl design for easier cleaning
The interior of the trapway feature a glazed coating
Relatively easy to clean
Highly efficient on water
Comparatively affordable
EPA WaterSense certified
ADA compliant
The round front bowl is best suited for smaller bathrooms
Cons
You may have a hard time using a plunger on the toilet due to its shape at the base.
The fact that is produced by one of the leading American toilet manufacturers—American Standard is reason enough to invest in this product.
However, this is not the only reason you should consider buying the Studio Concealed trapway dual flush toilet.
This product is essentially designed to help you save water without having to compromise on flush efficiency. In this regard, the manufacturer uses a dual flush system on the product. For liquid wastes, you will be able to select the 1.1 GPF mode and save more water.
The higher flush mode of this toilet is also very efficient, consuming only 1.6 gallons of water per flush. As you can see, this will help you save about 21 percent of water in your home, as compared to conventional toilets.
Pros
Uses a dual flush system
Has EverClean surface for easy cleaning and to prevent build-up of mold and bacteria
Features a simple and appealing geometric design
Saves up to 21 percent of water
Backed by a 5-year manufacturer warranty
Features a pressurized rim
Fitted with a 3-inch flush valve
Cons
Comparatively hard to install
TOTO CST744E#01 Drake Bathroom-Hardware, 12 Inch
High-profile two-piece elongated bowl and tank set
E-Max 1.28 GPF flushing system creates a powerful flush
SoftClose Seat sold separatley
WaterSense , CALGreen, and CEC compliant
Fast Flush with wide 3-Inch flush valve.Bowl Height without Seat:14.625 inch
As you may have noticed, 10-inch rough in toilets are not so common today. As such, it is always safer to buy from the renowned manufacturers.
In this regard, the two-piece Eco Drake is another great product by a reputable manufacturer.
Just like the other leading toilets by this brand, the Eco Drake is packed with superior performance and efficiency features.
To begin with, this product has been certified by EPA WaterSense for enhanced water efficiency. In this regard, it only uses 1.28 gallons of water per flush. While the model is designed to save on water consumption, it delivers a thorough cleaning action.
The elongated front basin shape, coupled with the universal height design of the product, makes it comfortable for people of all ages groups. The manufacturer uses the renowned E-Max Flushing system on this toilet. You will also love the easy-to-operate Chrome lever used on the unit.
Pros
Features a conveniently positioned chrome lever
Saves on water consumption
Features a compact, comfortable height design
Equipped with an elongated front bowl
Uses the powerful, yet efficient E-Max flushing system
Cons
You will have to buy the toilet seat separately
Most of the best 10-inch rough-in toilets available today are costly to buy. This may be attributed to the fact that these products are not readily available.
However, for those looking for the perfect blend of affordability and functionality, the American Standard H2Optimum Siphonic toilet.
A compact, aesthetically-appealing design and enhanced performance are some of the things users love about this unit. For easier cleaning, the unit features an EasyClean coating by the manufacturer. Additionally, the trapway on the toilet is fully glazed.
Pros
Rated as an ultra efficient toilet
Certified by EPA WaterSense
Conforms to CEC and CALGreen requirements
Has a seat height of 15 inches
Features PowerWash rim
Backed by a lifetime limited warranty
Cons
You may find the flushes to be a bit longer
Things You Need to Know Before Choosing a 10-inch Rough-in Toilet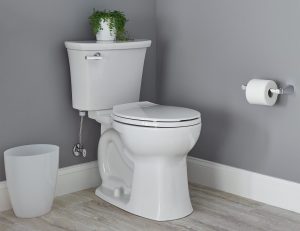 Are you looking for a toilet that will fit in a smaller bathroom or any other tight space in your home?
Well, you need to choose a product of the right size to save on space. In this regard, a 10-inch rough-in toilet would be a great choice.
Additionally, such a toilet will come in handy for homeowners who are replacing a traditional toilet with a 10-inch rough-in. As you may be aware, these toilets are often considered to be old and outdated. As such, they are not so common in the market today.
This makes the choice of the best 10-inch rough-in toilet a bit challenging. If you are looking for the right ten-inch rough-in toilet for your home, here are some of the main considerations you should make:
1. Flushing System Efficiency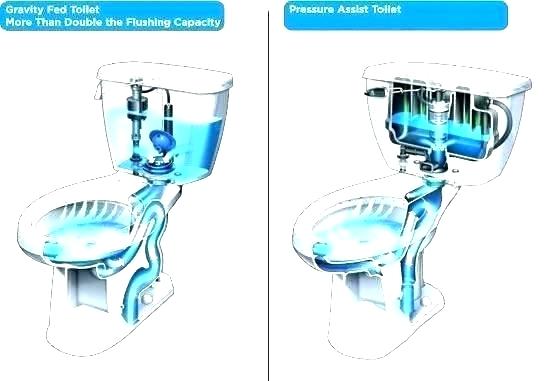 As you will learn later in this guide, it is now a requirement by the law for modern toilets to be efficient on water.
As such, toilets are now required to use a smaller amount of water per flush to push away solid as well as liquid wastes down the sewage line.
As the various manufacturers strive to comply with this requirement, their products tend to differ when it comes to waste flushing efficiency. This is why you need to select carefully so as to end up with a product that is both efficient on water and flushes wastes more efficiently.
In order to make the right decision, you should consider how well the flush system cleans the bowl and pushes the waste down the drain line. In this regard, these are the two main 10-inch rough-in toilet flushing systems you should consider:
Gravity-Feed Flush System
Of the two main flush systems used in toilets today, this is the commonest and more affordable. In its functioning, the flush system relies on the force of gravity to flush the waste and push it down the sewage line. As such, they feature a rather simple design.
Basically, these products have a flush valve that allows water to drop from the tank to the bowl and clean it—mainly using gravitational acceleration.
The flushing performance of such toilets mainly depends on the size of the flush valve. As a rule of thumb, you should opt for a 10-inch rough-in toilet with a flush valve larger than 3 inches.
As opposed to the pressure-cooker models that require higher household water pressure, these toilets can work with as low as 10 pounds per square inch of water pressure. The relatively weaker gravity-feed toilets are known to clog every now and then.
Pressure-Assisted Flush System
As far as the flushing efficiency is concerned, pressure-assisted toilets are superior to those that use a gravity-feed flush system. As the water flows from the home plumbing system, it compresses air in the water storage tank of the toilet.
This pressure is then used to flush the waste on the bowl more forcefully. As such, toilets with this flush system are only suited for homes with a water pressure of at least 25 pounds per square inch.
To check whether the pressure in your plumbing systems meets this minimal requirement, you may need to connect a $10 gauge to the outdoor spigot.
Although these toilets are known to be more efficient at flushing human wastes, they are noisier in operation. Again, these products are costlier to buy, as compared to gravity-feed toilets.
2. Water Efficiency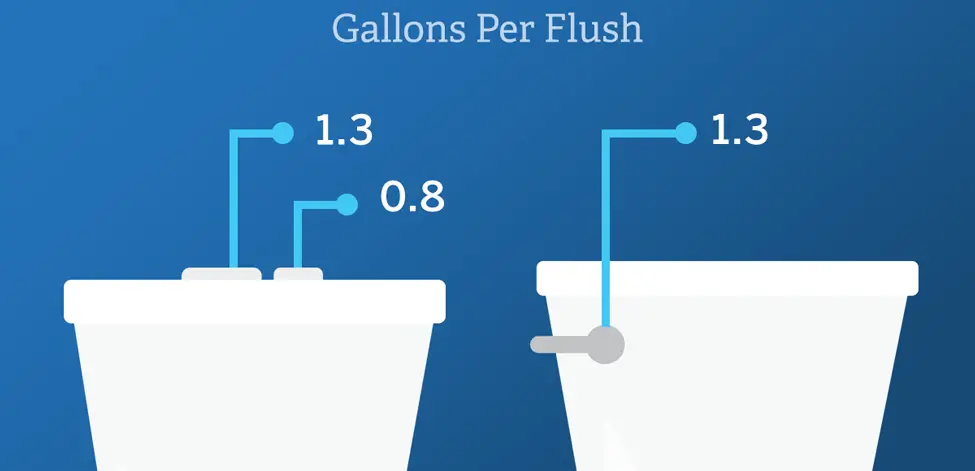 Did you know that the toilet in your house uses more than 30 percent of the water consumed in your home?
Actually, an increasing number of house owners today are replacing the toilets in their homes in an effort to boost water efficiency.
Whether the toilet is to be used for a toilet replacement project or to be installed for the very first time, it needs to be water efficient.
According to a 1995 requirement by the Department of Energy, toilets installed in the country should have a consumption of less than 1.6 gallons per flush.
Most of the toilets reviewed in this guide are compliant with this requirement and some even meet the stiffer standard imposed in California—toilets to be installed in the state should not have a water consumption of more than 1.28 gallons per flush.
Additionally, the most efficient 10-inch rough in toilets that meet the California standard features a WaterSense label.
3. Seat Shape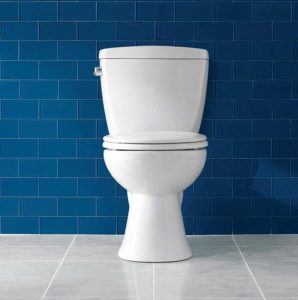 Just as is the case with the standard 12-inch rough-in toilets, the shape of the seat on these products is not only meant for enhanced aesthetics.
The shape of the seat on your preferred 10-inch rough-in toilet will, to a great extent, determines how comfortable it is.
When choosing the best 10-inch rough-in toilet, these are the two main toilet seat shape options you should consider:
Round Seats
Most traditional-style toilets are equipped with round toilet seats. If this is the type of toilet you need to incorporate into your bathroom decor, it is advisable to opt for the ADA compliant models.
As compared to the elongated seat toilets discussed below, toilets with round seats will save you some space.
As a matter of fact, round toilet seats are 3 to 6 inches smaller than similar elongated seat toilets. If you are installing a 10-inch rough-in toilet because of space concerns, a round seat toilet will save you even more space.
In smaller bathrooms, this small difference can mean a lot. Again, round seat toilets are considered to be a great choice for homes with children who have just completed potty training.
Elongated Toilet Seats
As far as comfort and ADA compliance are concerned, 10-inch rough in toilets with an elongated seat are the best option.
As such, toilets with elongated seats are more preferred for public bathrooms. Similarly, elongated toilet seats are recommended for the elderly, disabled and people with back problems.
This may be attributed to the fact that elongated toilet seats are more comfortable to use. However, this type of toilet seats is costlier and requires more installation space. As such, elongated toilet seats are not suited for smaller bathrooms.
Ready to Buy a 10 Inch Rough In Toilet?
Currently, there are not so many 10-inch rough-in toilets on the market, when compared to the standard 12-inch toilets.
However, choosing the right model for your bathroom can be challenging, if you do not know what to look for.
Just as is the case with other toilet types, a higher price does not guarantee you higher performance and an efficient 10" rough in toilet.
To get the right product for your upcoming installation, it is advisable to consider the various aspects discussed in this guide.
Other than that, your personal preference may also play a role in your final choice.
Regardless of the toilet features you are looking for, our review will help you choose the best 10-inch rough-in toilet that money can buy.
Summary
Reviewer
Review Date
Reviewed Item
Author Rating