Wall mounted toilets (also known as wall-hung toilets) do not require much installation space in your bathroom. In addition to their compact design, homeowners love the aesthetics and versatility of such toilets.
Wall mounted units enhanced flexibility; regardless of whether you are renovating your bathroom or installing a toilet for the very first time.
These units are also known to meet the 21-inch clearance requirements by the building code in some municipalities. By moving the tank into the wall, you can also save nearly 10 inches.
Another benefit of wall hung toilets is the fact you can install them at the perfect height for you. Beware though; installation isn't so easy and once installed the mechanicals of the toilet (like the lid on the toilet's tank) are buried in the wall.
In order to choose the best wall mounted toilet, you need to consider such things as access to the cistern, toilet size, shape, weight capacity, flush power and efficiency (Source).
The Best Wall Mounted & Hung Toilets for 2019
As far as brand reputation is concerned, Toto is one of the leading toilet manufacturers today.
The manufacturer is renowned for producing high quality, durable and aesthetically appealing toilets. The Aquia Wall-Hung Dual-Flush Toilet by this brand is no exception.
However, good looks and brand recognition are not enough to make you want to buy this product, right? You would love to know that the toilet has some of the best performance and convenience features to offer, including:
Compact Design
In addition to having a an appealing design, the toilet is one of the smallest wall mounted toilets you can buy today.
In this regard, the Aquia wall-hung toilet measures 21 by 14.2 by 15 inches. Such dimensions make the product a perfect fit for homeowners with a small bathroom.
Powerful and Efficient Flushes
As far as the flush performance is concerned, this product does deliver on the manufacturer's promise. The powerful flushes delivered by the took may be attributed to the state-of-the-art Dual Max Flushing system by the manufacturer.
While this is not the most powerful flushing system in the industry, it has been proven to be effective at pushing solid and liquid wastes under normal circumstances. Though designed for enhanced flush power, this system will also help you save water.
With regards to water efficiency, this Toto wall-hung unit features a dual flush mechanism. While on the lower flush setting, the unit will use 0.9 gallons of water per flush.
The higher flush setting of the model, on the other hand, uses 1.6 gallons of water per flush.
Enhanced Comfort
In accordance to ADA requirements, this toilet features a comfort height seat design.
This makes it easier and more convenient to sit on and get up from for the aged and disabled. Additionally, the product features an elongated seat, making it even more comfortable to use.
Pros
The elongated seat feels natural to use
Features a comfort height design
Uses a dial flush water efficient technology
Features Dual-Max flush system by the manufacturer
Offers a great value for money
Features a SanaGloss Ceramic Glaze
Cons
Does not come with a toilet tank and seat
As you will come to learn later in this guide, pressure assisted flush systems deliver some of the most powerful and effective flushes.
Being a pressure-cooked model, the American Standard Glenwall is one of the best wall mounted toilet; as far as flush efficiency is concerned.
Other aspects you will come to like about this wall mounted toilet include:
Superior Construction
With regards to comfort, this toilet features an elongated bowl design and allows for installation on any height you prefer.
For enhanced durability, the toilet features a quality Vitreous China construction. This ceramic is normally fired at high temperatures in a bid to create a non-profit body.
The entire body of the product is the coated using ceramic glaze. The ceramic glaze is essentially fused to the toilet body. Additionally, the product is fitted with a fully glazed trapway to help move the waste easily down the drain line.
The glazing surface used in this toilet also makes it easier to clean and prevents the accumulation of bacteria, mold and mildew on the unit.
Efficient and Powerful Performance
The Glenwall toilet features a 10 by 12- inch water surface area. This coupled with the pressure assisted Siphon Jet Action used on the toilet allow for powerful flushes. Even with such powerful flushes, you will find this product to be relatively efficient on water.
In this regard, the Glenwall toilet uses only 1.6 gallons of water per flush. Again, you will like the fact that the unit is easy to install and use.
Pros
Uses a pressure assisted flushing system
Applies Siphon Jet Action technology
Features an elongated toilet seat
Comes with an attached toilet seat
Fitted with a polished chrome trip lever on the side
Cons
The installation carrier and toilet seat have to be purchased separately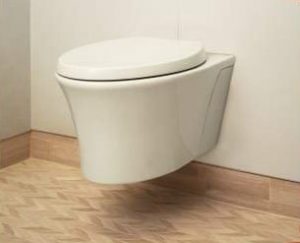 If the bathroom in your home is comparatively small, you need to invest in a space-saving model.
The Kohler Veil wall-hung toilet is one of the best in this regard.
If properly installed, the toilet will offer you a clean and decent appeal as well as save you a few inches of space in the bathroom.
One of the things that make this model stand out is it's unique design, with the toilet properly installed, the mounting hardware is entirely concealed. This results in a seamless and sleek appearance that many homeowners would love to have in their bathrooms.
In addition to the appealing looks, this product has several features to offer for both public and home bathrooms, including:
A Compact and Comfortable Package
The Veil wall hung toilet is a champion when it comes to space-saving features. To begin with, it is a wall mounted toilet.
Just the other leading brands within this category, this Kohler toilet features a compact design. With regards to comfort, the product may be installed at any height to suit the aged and disabled people.
Additionally, it is fitted with an elongated bowl. As you may know, elongated bowls are some of the most preferred comfort features in toilets today.
One problem with elongated bowls is that they are larger than rounded ones. However, this is not the case with the Kohler Veil wall-hung toilet.
The bowl on this toilet will offer you the same level of comfort you would get on any of the best wall mounted toilets with an elongated bowl today.
Despite this fact, you will find the elongated bowl on this product to be just as space saving as a regular rounded bowl.
Comes With Installation Hardware
Truth be told, some of the leading wall hung toilet brands today do not sell their toilets with the required installation gear.
Fortunately, this is not the case with this Kohler wall hung toilet. As opposed to such products, the Kohler Veil comes complete with the carrier system.
What's more, the manufacturer will also offer you a detailed installation guide and video for free. As for the weight, the toilet is relatively lightweight, weighing just 54.75 pounds.
Pros
Features a concealed carrier system
Easer to clean below the bowl
Comes complete with installation hardware
Features a dual flush activator
The carrier system features sturdy steel frame brackets
Easy and flexible installation
Comparatively efficient on water
Cons
The attached side panels may fall with time
Affordability, quality construction and a beautiful contemporary design are some of the best selling points of the Duravit Starck Toilet.
The product is produced by one of the leading German manufacturers of quality and durable bathroom equipment.
Since it's formation, the company has been working tirelessly to offer you beautiful and functional bathroom solutions.
This wall mounted toilet is one of the best products by the manufacturer. As such, the toilet has much more to offer than good looks.
Powerful and Durable Performance
While most other wall hung toilets feature a gravity-feed flush system, the Starck uses a pressure-assisted flush system.
As such, the toilet has one of the most powerful flush systems you will ever get in a wall-mounted toilet.
Additionally, the toilet features a dual-flush mechanism for additional flush power. With regards to durability, the manufacturer uses solid ceramic to make the Duravit Starck. This construction has been proven to last for years without any problem.
Pros
Comes with Dura Fix 2 mounting
It is one of the best wash-down wall hung models
Produced by a renowned German manufacturer
Comparatively easy to clean
Relatively affordable
Lightweight and durable
Features a dual-flush, pressure-assisted flushing system
Cons
Does not allow you to use a toilet seat by a different manufacturer. However, it is sold with a Q3 non-slam seat.
If you would rather buy a toilet that gives you a sleek, minimalistic modern look, the SANISTER 012 Wall Hung Macerating Toilet is one of the best.
Additionally, you will love the fact that this toilet allows you to better hygienic standards in your bathroom.
Many of it's current users are impressed with the silent, yet powerful flush performance. The wall hung unit will also save you space and may be connected to the sink.
As such, the toilet may be used to dispose of waste water from the sink as well. Although, the model is somewhat costly, it comes complete with all the installation equipment.
Highly Efficient Flush System
The flushing system used on this product is particularly designed for enhanced efficiency.
In this regard, the flush system is electronically timed to ensure that it only uses 1.1 gallons of water per flush. As a high-end wall hung toilet, you expect the 012 SANISTER to have unique features, right?
Well, the model does have such. For instance, it allows you to rotate the toilet for up to 360 degrees. As such, the product has been proven to suit almost any installation.
You will also love the fact that the unit comes fully assembled on it's discharge elbow. This is particularly meant to prevent back flow of the flushed waste into to the toilet.
Pros
Uses only a gallon of water per flush
Features a stylish design
May be rotated for up to 360 degrees to suit any installation
Can pump up to 100 feet horizontally and up to 9 feet vertical
Comes complete with installation gear
Cons
Many users find this model quite expensive
Things You Need to Know Before Choosing a Wall-Mounted Toilet
For the past few years, wall hung toilets, also referred to as wall mounted toilets have been making quite an appearance in American bathroom.
Why is this the case? To begin with, most of the leading wall hung toilet designs feature a sleek modern design.
As such, they look great on almost any bathroom décor. Additionally, these products allow you to set the toilet seat at your preferred height for enhanced comfort.
While these products are known to offer a horde of benefits, you should not buy just any wall mounted toilet you come across.
Just as is the case with other toilet types, the performance, quality, ease of use and design of wall hung toilet differs from one product to another.
This being the case, here are some of the things you should consider while shopping for the right wall hung toilet:
1. Flush Performance
It does not matter how good looking or affordable a toilet is, all toilets are essentially meant to flush human waste down the sewage line. As such, there is no pint of buying a wall mounted toilet that is not good at flushing the waste.
Up until 1995, toilets were known to be very inefficient on water. In a bid to curb wastage of water, the Department of Energy imposed a regulation that required modern toilets to have a consumption of less than 1.6 gallons per flush (GPF).
Rather than having to use more water, modern toilets now feature innovative technologies to boost flushing power.
For instance, some manufacturers b use larger flush valves and trapways in their products to boost flushing efficiency. While searching for the best wall mounted toilet, these are some of the common flush systems you should consider:
Gravity-Feed Flush System
A good number of toilets available today, including wall hung models, use this flush system.
The system is rather simple in design, featuring a flush valve that opens to release water from the holding tank to the bowl.
Since they really on the force of gravity, the flush performance of such a toilet will mainly depend on the size of the flush valve.
In order to get the best flush performance in a gravity feed system, it is advisable to go for the wall hung models with flush valves larger than 3 inches.
The good thing about toilets with this system is that they are quite affordable and are quiet in operation.
Pressure-Assisted System
Would you rather get a toilet that delivers powerful flushes and clogs less often? Well, you should consider spending more on your wall hung toilet purchase. In this case, it is advisable to get a toilet that uses the pressure-assisted flush system.
This system is essentially designed to compress air pressure in the holding tank as the water flows in from the plumbing system. It is this additional pressure that makes these toilets more powerful and efficient at pushing wastes down the sewer line.
While this is the case, pressure-assisted toilets are comparatively costlier to buy and maintain. Again, toilets using this flush system are known to have noisier flushes.
If you can afford them and can withstand the higher noise, this is the best flush system for wall hung toilets.
Dual Flush Mechanism
This in not a type of flush system, but rather a technology that is used to boost the efficiency of the toilet. Wall mounted toilets that use this technology have two flushing modes; a higher and lower flushing mode.
The higher flushing mode in such products uses a larger amount of water per flush. This higher setting is ideal for flushing solid waste.
The lower flush setting, on the other hand, uses a smaller amount of water and is ideal for pushing liquid waste down the sewer line.
A wall hung toilet that features dual flush technology will be more efficient on water than one that does not.
The various dual flush wall mounted toilet models are fitted with a an activator button. This button may be used to choose between the higher and the lower flush settings.
Hands-Free Flush Activator
Are you looking for enhanced ease of use in your wall hung toilet? Then you should consider buying a product that has this innovative feature.
Rather than having conventional levers for activating the flush system, these toilets are equipped with motion detection sensors.
In order to activate the flushing system, you only need to wave at the sensor. However, wall hung toilets that feature hands-free activators are comparatively costlier to buy and maintain.
2. Wall Mounted Toilet Size
Well, you may have noticed that the various manufacturers produce wall hung toilets in different sizes and shapes.
Your plumber will tell you that not just any toilet size and shape will fit in your bathroom.
Therefore, it is advisable to get a toilet of the right size for your installation project.
With conventional toilet types, the rough-in is one of the most important measurements you need to take into account.
However, this is not the case with wall hung toilets. Instead, you should only focus on the following toilet size aspects:
Toilet Bowl
Whether the toilet is to be installed in a public bathroom or in your home, you need a product that is comfortable to use, right? As such, you need to consider the shape and size of the wall hung toilet you intend to buy.
Basically, toilets with an elongated bowl are known to be more comfortable than those with a rounded bowl. However, elongated bowls are larger than rounded toilet bowls; hence may not be a wise choice for smaller bathrooms.
Toilet Dimensions
Since the toilet will be hanging on the wall, it does not require much floor space in the bathroom. However, it's installation may interfere with other things, such as closet doors, in the bathroom.
Therefore, it is advisable to get the right dimensions depending on the size of the bathroom and where you intend to have the toilet installed.
3. Weight Capacity
This is something many homeowners tend to forget while shopping for the best wall hung toilets. As the name suggests, these toilets are designed to hang on walls.
As such, you have to be concerned as to whether the wall and mounting can support the weight for years to come.
While most of the wall mounted toilets weigh below 400 pounds, you should get the right one based on the weight capacity of the wall and the toilet mounting gear. This way, you can rest assured that the installation is safe and secure for enhanced durability.
4. Toilet Seat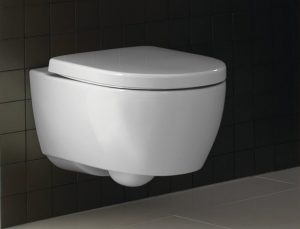 Nowadays, manufacturers are very creative with toilet seats. Most of the leading wall mounted toilets available today come complete with the toilet seat and installation gear.
However, some models do not come with these accessories.
If your preferred model does not come with the toilet seat, you will have to buy the right one separately. This will definitely cost you more money, but is also an opportunity to choose your preferred seat.
For a comfortable seating experience on your toilet, these are several toilet seat aspects you need to consider.
With regards to toilet seat material, you can choose to have a wood composite, plastic molding or a solid wood seat. It is also advisable to choose one that does not bang when closed.
In this regard, a toilet seat with a slow-close mechanism will be appropriate.
Our Final Verdict
The Choice of the Right wall hung toilet does not have to be a complicated one. Wall hung toilets may be different from conventional toilets in design, but are similar in many ways.
As you have learned throughout this guide, you still need to consider several aspects of the toilet.
However, this guide will make it easier for you to buy the best wall mounted toilet today.
Summary
Reviewer
Review Date
Reviewed Item
Author Rating