American Standard Champion 4 Review – Is It Really That Efficient?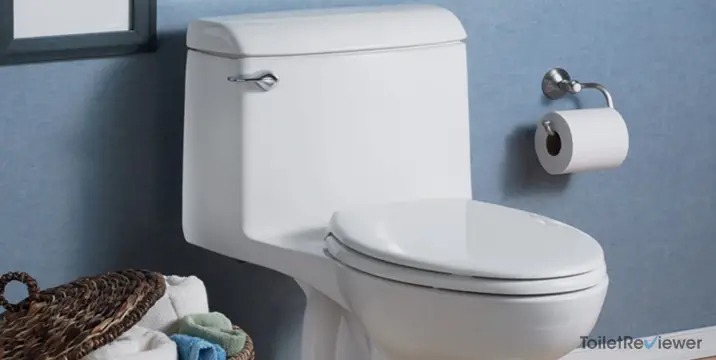 The American Standard brand has made an impact on the market with its high-quality but affordable toilets.
The American Standard Champion 4 follows the same path as its predecessors, offering a powerful 4-valve system that flushes everything fast and efficiently.
It requires just 1.6 gallons of water per flush, so it's a quality option to consider if it meets your state's standards.
Many compare this toilet to Kohler's Wellworth toilet and the Kohler Santa Rosa, as they have similar features.
American Standard Champion 4 Review – Quick Facts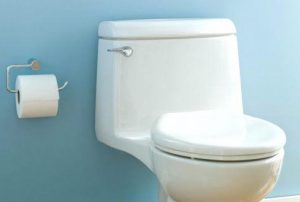 The American Standard is designed to suit the needs of every type of homeowner.
As such, it doesn't have any standout features, but it's an overall efficient toilet that will not clog easily and keep your bathroom looking sharp.
The shape of the Champion 4's tank valve is something that catches the eye. It doesn't look as weakly designed as most of those you find in other toilets – in fact, it looks like a very durable flap that can properly keep up with the tank's water flow without wearing down.
Its curvy design allows water to flow freely towards your pipes, eliminating any unnecessary residue along the way.
Installation isn't anything too difficult, but you'll need a couple of tools to do it – especially a multiuse screwdriver and sockets. Regardless, most parts come pre-assembled and optimized.
Let's now take a more in-depth look at the toilet – keep reading if you want to know more about the American Standard Champion 4.
Specifications of the American Standard Champion 4 Toilet
| | |
| --- | --- |
| Model Number | 2034.014.020 |
| Dimensions | 29.8 x 17.8 x 29.5 inches |
| Rough-In Size | 12-Inches |
| Weight | 119-Pounds |
| Bowl Shape | Elongated |
| Seat Height | Right Height |
| Water Consumption | 1.6 GPF |
| Color Choices | White |
| Warranty | 10-Year Limited |
Features of the American Standard Champion 4 Toilet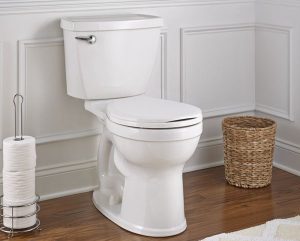 The American Standard Champion 4 is one of the many toilets manufactured by American Standard, a company that aims to offer the best quality at the most affordable price.
They specialize in the creation of some of the market's most purchased toilets – and there's a good reason for it. Their products all have an all-around quality build supported by long guarantees.
This elongated bowl toilet offers a Right Height size, which keeps it at a decent distance from the ground without having it feel too high. Let's look at some of the product's most prominent features that are sure to please owners with their purchase.
Here, you'll find everything you need to know about the American Standard Champion 4 features.
Toilet Design
The American Standard Champion 4 comes with the toilet and cistern included in a single build. It's a one-piece toilet, manufactured with an enamel coating above its porcelain design.
This coating allows the toilet to remain free of bacteria even after constant uses. It also serves as a mold-prevention tool, while also always the entire toilet shiny. This toilet has a feature that the company calls EverClean Surface.
It's basically a special finish applied to the porcelain which keeps you from having to scrub the toilet repeatedly. It reduces cleaning time to a minimum.
The company claims you won't even need to worry about the toilet losing its trademark brightness after years of usage, although this depends on how much you take care of it.
Overall, the design permits a regular flow of water and residue that makes it very hard for the toilet to get clogged. You can purchase this toilet in just a few colors, all of which are light variations of white.
Bowl Shape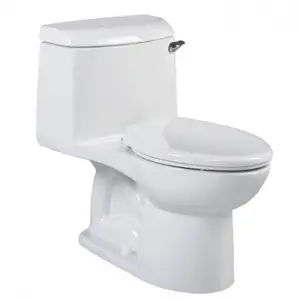 The American Standard Champion 4 comes with a bowl optimized for maximum user comfort.
As we said before, this toilet is manufactured to suit the needs of every type of homeowner.
It doesn't matter your height, weight or comfort needs, this toilet's bowl will be able to offer as much comfort as possible during your time on the bathroom.
The shape is elongated, which allows users with chronic health issues to use the toilet comfortably without feeling uncomfortable.
The shape optimizes the flow of residue, avoiding any unnecessary clogging at the bottom. It's almost impossible for residue to get stuck on the bowl, thanks to its shape and smooth design.
Seat Height & Design
The American Standard Champion 4 has proper seat and height design to make this toilet compliant with the ADA, as it has a 16-1/2-inch seat height that suits the Americans with Disabilities Act.
Just like the bowl shape, the toilet's seat is optimized for maximum comfort with its elongated design. It's ideal to be used by people with disabilities, but it still feels comfortable if you're an average person.
Your purchase is unlikely to include the seat itself, though – you might want to purchase it alongside the toilet.
American Standard Champion 4 Flushing System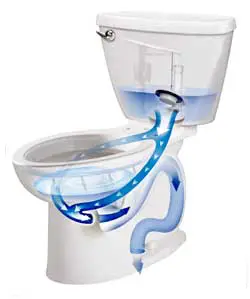 Unlike other flushing systems, the American Standard Champion 4 comes with a powerful 4-inch valve.
Most of the flushing systems on the market are powered by 2-inch valves, which makes them naturally weaker and not as effective.
This toilet's valve allows water to come out three times stronger than it does in an average toilet.
The flushing system isn't only powerful, but it's also efficient. It doesn't waste any unnecessary water thanks to its ability to discharge water around the whole bowl in a matter of seconds.
One flush is all it takes to dispose of all the waste, and it doesn't take more than 6 liters of water to do just that.
The valve used to propel the water is called an accelerator valve, and its 4-inch design makes it one of the best you can find in modern toilets.
Trapway Design
The American Standard Champion 4 comes with one of the largest trapways in the toilet industry. It allows more than a 40% increase in residue flow when compared to other standard toilets, and it's twice as efficient as the trapways used in most public bathrooms.
The design of the toilet keeps the trapway concealed from the user's view, which adds to the overall visual cleanness of the product. Most toilets' trapways tend to be either effective or visually-appealing, but this toilet's design finds a good balance and offers the best of both worlds.
Toilet Installation
The American Standard Champion 4 is advertised as a toilet that can be installed without having to resort to any tools.
Regardless, we've noticed that this is not entirely true. You're going to need to have a few tools at your disposal before getting started.
Also, ideally, you'll want help from a friend or family member during installation, as the product is very heavy and could be difficult to carry on your own.
Get your hands on a long screwdriver. You're going to need it when you purchase the seat (the screwdriver helps to properly secure it to the toilet)
We also recommend you use a sharp tool during installation to remove any sticky residue from the toilet's packaging and to scrap the floor where you're going to install it.
Make sure your screwdriver fits the bolts located at the bottom of the tank. You'll have to secure them when you install the toilet
American Standard Warranty
One of the main selling points of this toilet is its lengthy warranty. Usually, you'll notice that the highest quality products on the market tend to offer lengthier warranty, as the manufacturer is confident that their product will last for a long time.
This is exactly the case for American Standard toilets. The American Standard Champion 4 comes with a 10-year limited warranty, which covers everything from the outer build to the core of the toilet's tank.
You'll be able to get your money back if anything goes wrong with the toilet, but you shouldn't have to worry about it too much – the potty is made to last.
Price
Unlike other products, the American Standard Champion 4 has a very budget-friendly price. You can purchase it for just over $500, which makes it one of the best toilets on the market when it comes to value-for-money.
The company tests each of its products after manufacturing them, so you'll be paying for a toilet guaranteed to work (and last).
American Standard Champion 4 Pros & Cons
If there's one certain thing, it's that the American Standard Champion 4 has a lot of features that come in handy on a day-to-day basis. We've compiled the best features offered by the product, as well as some of the negatives you might want to consider before buying it.
Pros
Looks very nice
Powerful accelerated flushing system
Doesn't clog often
Comes with a 10-year guarantee
It's a one-piece toilet
Elongated toilet bowl compliant with ADA
EverClean surface allows perennial toilet cleanness
Well-balanced product
High-quality manufacturing and build
Cons
Installation could be quite tedious if you don't have the right tools at your disposal
It's not ideal for children
Not eligible for rebates
The Bottom Line
For its price range, the American Standard Champion 4 is one of the best toilets you can buy.
Its various features compliment each other very well, creating an overall pleasing experience for an average user as well as anyone who suffers from a disability.
You won't have to worry about constantly cleaning the toilet, and it'll still look slick after various years of usage. If you're looking for a quality and affordable toilet, you might've found your match.
Summary
Reviewer
Review Date
Reviewed Item
American Standard Champion 4
Author Rating