If you have limited bathroom space, installing corner toilets can save space and make a statement in terms of style. Keep in mind, though, that installing a waste pipe in the corner versus the wall will be more difficult.
If you have the same problem, consider installing a corner toilet in your bathroom. It will make your tiny bathroom seem more spacious and free up unused space.
Evidently, traditional toilets take up more space than corner toilets. People who live in small homes are looking for ways to utilize every inch of their bathroom space in an efficient manner.
These compact toilets are specifically designed to cater to specific design requirements with the use of the triangle-shaped tank. This shape makes the toilet fit into nearly any corner.
Before buying a corner toilet, you'll have to measure the right dimensions for your space. And, despite being smaller units, these toilets can still offer advanced features like dual-flush and self-cleaning mechanisms.
The 5 Best Corner Toilets for 2019
A unique combination of performance and style ensures that this toilet gets the job done just as good.
This model comes with a round bowl, which appears to be cheaper and space saving. Plus, the color and sleek design of the toilet will add a modern touch to your bathroom.
It's a perfect solution for people who live in areas that face space availability concerns. The triangle design features impressive compactness. That's why the toilet easily fits in any small bathroom.
One of the reasons why you will be pleased with this toilet is the smart flush system. Unlike some toilets, it doesn't require an intense push to operate. Cadet 3 is designed to work at the touch of a button, and it works like a charm.
What We Love About The Cadet 3 Toilet
First of all, we like a smart design that provides enhanced performance. You will never have to deal with bothersome clogs. Cleaning the seat doesn't take a lot of time due to the fact that this toilet is made from vitreous China.
The anti-microbial Ever Clean surface prevents harmful germs and bacteria from growing on the seat. That can give rise to various diseases.
With this model, you can rest assured that no infection will spread among your family members. The antimicrobial surface will keep your toilet hygienic and clean at all times.
Solid Water Consumption & Easy Installation
When it comes to water consumption, this model needs just 1.6 GPF (gallons per flush). With such a water-efficient solution in your bathroom, you will save on water and also save money on your water bill.
There is an oversized 3″ flush valve included. It comes with the chemical resistant flapper for better flushing and experience.
The maintenance and installation are quite easy. It should be pointed out that this is a two-piece model consisting of a tank and bowl. The toilet is supplied with all the necessary parts except for the supply hose. Additional tools aren't required.
Pros
Excellent for space saving
Durable construction
Comfortable seat height
Water efficient
Strong flushing power
EverClean surface
Cons
Seat and supply line are not included
Not perfectly flush against the walls
If the performance and space are your top concerns, this ADA compliant model is exactly what you're looking for. It offers plenty of good design features at a reasonable price. So, let's get started.
The first thing worth mentioning is the powerful flush. The flushing system ensures your toilet is flawlessly clean with the use of a single flush so that it can handle bulk waste efficiently.
In fact, this toilet uses approximately 1.28 gallons of water per flush. This way it will save you lots of water (and money) in the long run. The next thing you will like about this long-lasting toilet is the comfort.
Bowl Style
The elongated style bowl and the right height will make you feel comfortable when using the toilet. Elongated shape provides plenty of room for legs, whereas the seat height meets ADA requirements. This results in improved comfort and accessibility.
The bowl height is tall compared to standard toilet models. It measures above 17 inches from the seat to the top of the base, as well as 16.13 inches to the rim. Many people find it a more convenient way to sit.
Comfort & Ease of Cleaning
Complemented by the elongated bowl, this triangle toilet allows you to sit in a natural position. Please note that this is a 12 inch rough-in model.
The American Standard Cadet 3 is fitted with a large flushing valve and glossed with the EverClean surface to fight nasty germs and bacteria. This useful feature will also help you get rid of odors and make cleaning simple.
Keep in mind that you will have to buy a seat or use your current one because this model does not include it.
Pros
Strong flushing mechanism
Good quality construction
The bowl has the right height
High performance
Easy setup
Comfortable
Cons
Flush is somewhat loud
The handle is a bit hard to push
Here's another corner toilet that is suited to smaller bathrooms. But this one comes from Renovator's Supply. This top performance stylish toilet is designed to fit snugly in the bathroom sink area.
It is all about the tank design which does an excellent job in that respect. The Reno-Gloss finish is both stain- and scratch-proof. Moreover, it is very smooth.
Not only does this white ceramic finish look nice, but it also hinders bacteria and stain from getting attached to the toilet. That means you'll have a toilet that can stay clean over a long period of time.
Water Efficient & Solid Design
More importantly, you will get a corner toilet that represents a water-efficient and well-designed fixture for your small bathroom. The installation is fairly easy as there are just several parts that should be assembled.
It is just an ordinary do-it-yourself project most people can handle on their own. The installation process takes anywhere from 20 to 30 minutes.
Dual flush capability is another thing you're going to like about this corner toilet. It means you can choose the flushing mode based on the waste, thereby using less water. The toilet is capable of clearing any kind of waste with ease thanks to the impressive flushing mechanism.
Pros
Stain-proof
Scratch resistant
Sleek design with proprietary Reno-Gloss finish
Comfortable height
Powerful flush with the dual flush capability
Assembly is easy and straightforward
Cons
The gasket between the back and the toilet isn't the right size
The lid does not go all the way down
Plastic tank bolts feel cheap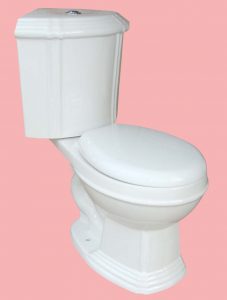 This Sheffield style elegant toilet comes with a round bowl to save space in the bathroom. Actually, this unit is designed specifically to save space, allowing you to use the available space for other items and purposes.
This can be a significant issue if you have a cramped space to install a toilet. It leverages tri-bevel pattern and dual-flush technology. There are two push buttons that feature switch style.
One Button Release Technology
This means that additional power sources are not required at all. One button releases 1.6 gallons of water per flush and it is intended for disposing of solid waste, whereas the other button is meant for disposal of liquid waste whereby the toilet consumes 0.8 GPF.
Aside from saving the space, the corner design also makes the bathroom look more expensive and bigger. The body design with elegant curves as well as the carefully designed china finish makes it easier to maintain and clean the unit. You won't have to worry about unsightly stains anymore.
Another big plus of this corner toilet is quiet operation. It produces minimum noise while operating, meaning your sleep will not be disturbed when someone flushes in the nighttime.
Pros
Rich contemporary design
Beautiful ceramic finish
Dual flush system
Quiet operation
Stain proof
Easy assembly
Cons
The gasket may fail after a while
The seat and seat cover are plastic and cheap
The lid doesn't fit the toilet correctly
A wall-hung model is another option to take into consideration when looking for a space saving toilet.
Such a toilet can be mounted in any position, hanging on the wall and consuming less space in your bathroom.
Does it sound like a good solution for your bathroom? If so, take the time to check out KOHLER Veil.
This wall-hung, one-piece toilet conceals all the parts, including the mounting hardware and tank, inside the wall. That way it fits in just about any area and complements the bathroom décor. It boasts a clean and seamless design so that you'll enjoy seeing and using it in your bathroom for sure.
Compact Bowl & Installation
The toilet comes with an elongated compact bowl, which provides you with a lot of leg room and offers added comfort at the same time. It feels clean and durable thanks to the white color and materials used.
Installation is another factor to consider when choosing a toilet. This model stands out for simple assembly and its seat is easy to set up. Nevertheless, it may need a separate tank as well as other hardware for mounting.
Pros
High-quality construction
Durable steel frame brackets
Comes with dual flush
Designed to save space
Easy to clean
Cons
Needs additional mounting hardware
The plastic covers tend to come off
Low water level in the bowl
Things You Must Know Before Buying a Corner Toilet
Toilets come in different shapes, styles, sizes, and water consumption rates. All of these features, among other things, are thoroughly explained below. They should be taken into account in order to find the best corner toilet.
Space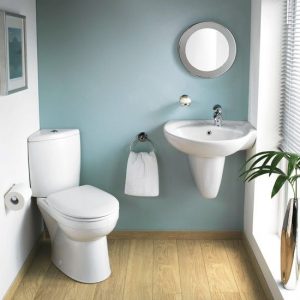 The toilet you get to buy is supposed to fit nicely into the available space of your bathroom. So, check out the dimensions of a toilet for starters.
Luckily, corner toilets are compact and designed with space in mind, so it's really hard to go wrong.
Yet, you should double check the size to be certain that a toilet would fit in your own bathroom.
Water Usage
Water consumption is no doubt one of the key factors when buying a toilet. It correlates to the overall quality and efficiency of a product. Same goes for corner toilets.
You will want to own a model that is going to save water in your bathroom while flushing the waste impeccably.
While 1.6 GPF is very efficient water consumption as compared to 4.6 GPF in older toilets, there are options available which use 1.28 gallons of water per flush or even less.
They have a WaterSense label so it's not difficult to recognize them in the crowd. Maybe the difference between 1.28 and 1.6 GPF doesn't look like much, however, it is a substantial saving in the long haul.
Flushing Mechanism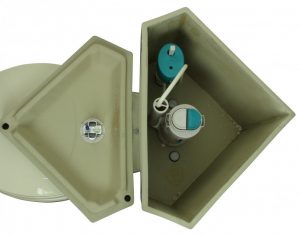 The flushing style plays an important role in water usage. It's imperative to select the flushing mechanism that delivers powerful flushing.
Choose one that can move waste down the drain line and clean the toilet bowl in a single flush.
This is where dual flush comes into play. Not only it keeps the toilet clean but also conserves water.
Bowl Shape
With regard to bowl type, you will need to choose between elongated and rounded models most of the time.
Toilets with elongated bowl are suited for consumers who seek comfort in the first place, while round shaped bowls tend to be low profile options.
There are also square bowls that are tailored for those looking for something more unique.
Rough-in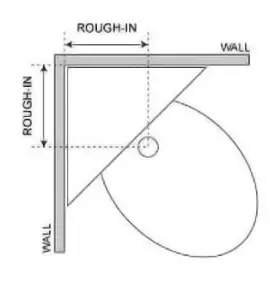 It is important to measure your toilet rough-in and choose the right size accordingly. For residential homes, 10, 12 and 14 inches are the most common options.
If you are not sure about the rough-in, consider hiring a professional plumber. That will help you avoid headaches later on.
Design & Look
Most corner toilets aren't lacking in style despite being compact. That's because they are made of highly durable, easy-to-clean materials. These units are available in so many varieties to cater to specific design requirements while fitting in any corner.
They come in different color options. The most popular are white, ivory, and black ones. The color is definitely one of the deciding factors as it can determine how good a toilet looks in your bathroom.
Some models come with a special finish like Reno-Gloss and EverClean for enhanced cleanliness. These finishes are proven to keep the toilet bacteria and stain-free all the while.
Some of the corner toilets feature a two-piece construction while others come as a one-piece unit. They are designed ergonomically to minimize body strain and often include soft closing seats for a better experience.
How to Install a Corner Toilet?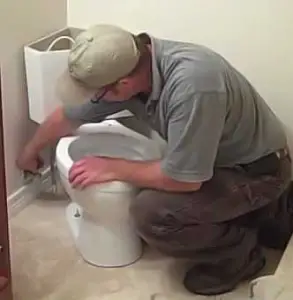 Many corner toilets are rarely used in the United States. That's because their installation differs considerably from the conventional water closets. What's the deal?
The design of corner toilets virtually makes sure that they will be installed 15 inches away from obstacles at the bowl center.
This means that the pipe must be shifted if you want to replace it with a conventional toilet in the future, as the opening is only 12 inches from the side wall.
To make matters worse, there is usually a cabinet or closet next to the toilet that reduces the leg room. So, once you install a corner toilet, you'll have a tough time switching back to a normal one.
The Installation Process – Step by Step
For those who have the basic knowledge of plumbing codes, it may not be a big deal to install a triangle toilet. Here are some things and details you need to know before tackling the installation.
One of the hardest parts about plumbing is determining the rough-in of a toilet. There are quite a lot of measurements you should deal with, including Supply Line (Vertical and Horizontal), Discharge Hole (Vertical). Also, Discharge Hole From Back Wall, Fixture (Side to Side Buffer), and Fixture Front Buffer.
To mark the position of your toilet, press the wax ring on its flange. While doing this, make sure the tapered edge of the toilet is held up while its flat side is down. It would be necessary to apply the pressure so as to keep the wax ring in place during the installation. If not, it will come out of shape.
Put the bolt caps over the anchor bolts; they are located on the toilet base.
Then cut off the bolts to the desired length if they jut out of the nuts and washers. You may use a hacksaw for this purpose. When it comes to two-piece toilets, it is necessary to put the anchor bolts into the mounting holes on the top of the base.
Final Steps
Get the supply tubes connected to the main water supply.
They are located at the base of the tank. Once you turn on the water supply, it's a good idea to flush the toilet several times to check if there is a crack or leak around the toilet back and base.
Now it's time to add the toilet seat.
Please note that some models do not come with the seat. Use the provided bolts to attach it to the top of your toilet.
At last, apply tile latex caulk or grout right next to the base of the seat.
That's all! Installation is finished and you can start to use the corner toilet in your home.
Our Final Review
As you can see, corner toilets have their advantages and are particularly suitable for more enclosed spaces. Thanks to the compact design and triangle tank, corner toilets save a lot of space.
That makes them an excellent choice for small washrooms, such as basement bathrooms and powder rooms.
Corner toilets, as discussed above, come in various flushing systems, bowl shapes and a broad spectrum of features. Efficiency, water consumption, comfort, and power may vary by model.
The various models discussed here offer good performance and save space while ensuring the user feels comfortable while using them.
What's important to you when buying a corner toilet? Share with us below!
Summary
Reviewer
Review Date
Reviewed Item
Author Rating