7 Best Corner Toilets For Small Bathrooms [2021 Update]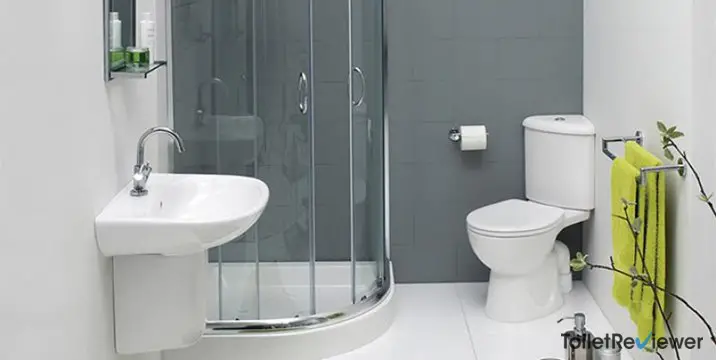 If you have limited bathroom space, installing a corner toilet can save space and still make a statement in terms of style. Keep in mind, though, that installing a waste pipe in the corner versus the wall will be more difficult.
Homeowners with a small bathroom that would like to avoid a costly renovation should use a corner toilet. However, Before buying a corner toilet, you'll have to measure the right dimensions for your space.
Based on our research, the best corner toilet is American Standard Cadet 3, Triangle Version. It is affordable, durable, and offers a compact design.
Let's review the other top corner toilet choices.
Best Corner Toilets of 2021
The Troyt Compact Corner toilet is a fantastic elegant white corner toilet. It's a well-designed unit that fits perfectly in any corner of your bathroom. Let's take a look at some of the features this toilet is equipped with.
This toilet is ANSI and WaterSense compliant. It features a 0.8/1.6 GPF hi-low push button. You would select the low button for liquid waste and it only uses 0.8 gallons per flush.
WaterSense Compliant
You would then use the high button for solid waste, which only uses 1.6 gallons per flush. This can save you up to 25,000 gallons of water per year. If you are one who wants to save on your water bill costs or if you have a well, this would be an optimal toilet for you.
Round Seat
The round seat offers more space-saving convenience. Elongated toilets can use up to two extra inches in your bathroom.
The round toilet seat is ideal for you if your bathroom is particularly small and you just can't put an elongated bowl in it. The round seat may also be a good option for smaller individuals.
Troyt Compact Corner Bathroom Toilet 2-Piece Round - 0.8/1.6 GPF High Low Top Tank Button Flush WaterSense - ADA Heavy Duty Porcelain Renovators Supply Manufacturing
MATERIAL - Troyt is a unique contemporary 2 piece corner toilet constructed out of high quality long lasting White Porcelain. The Round toilet bowl is coated with stain resistant protective Reno-Gloss Finish. Includes Slow close toilet seat.
DIMENSIONS - Our Round bowl Corner Toilet measures 29 Inches Height, 17-1/4 inches Width, 30 Inches Projection and 12 Inches along the wall. The Seat Height is 14-7/8 inches. Does not include Seat lid, floor bolts, bolt covers or wax ring.
DUAL FLUSH TOILETS - A Push button dual flush mechanism that can save you up to 25,000 gallons of water each year. This cUPC, ADA, ANSI and Watersense Compliance Toilet features 0.8/1.6 GPF Hi Low Push Button Flush - Save money and water.
SPACE SAVING CORNER TOILET - This Two Piece toilet is beautifully designed to fit in a half toilet or small bathroom corner and save space.
BUY WITH CONFIDENCE - Upgrade or renovate your bathroom with this unparalleled luxury. These are carefully wrapped to avoid any scratches in the transit process. We offer you great value products for your money and a perfect way to spend wisely.
If you need a water-saving and aesthetically pleasing corner toilet for your tiny bathroom, look no further. The Sheffield Corner 2-Piece toilet has all the features of a conventional toilet without taking up a ton of space. 
This corner toilet features a WaterSense hi-low dual button flush. This is an amazing feature on any toilet because it allows you to use as little or as much water per flush as you need.
The low flow button only uses 0.8 gallons of water per flush and the high flow button uses 1.6 gallons of water per flush. You would use the low flow button for liquid waste and the high flow button for solid waste. 
Scratch & Stain Resistant
The Sheffield toilet has a Reno-Gloss finish that offers scratch and stain resistance. Sometimes when we clean our toilets we scrub a little too hard. This can create miniscule scratches in your bowl.
This then leads to paint chipping and staining. With this gloss, you don't have to worry about staining or scratching. Your bowl will continue to look brand new as the years go by. 
Comfort
It's been said many times, but elongated toilets are more comfortable than round toilets. They offer more surface space for sitting and are generally better for children and larger individuals. This toilet has an elongated bowl that adds the comfort you need for your business. 
Sheffield Corner 2-Piece 0.8 GPF/1.6 GPF WaterSense Dual Flush Elongated Toilet in White with Slow Close Seat Heavy Duty Porcelain Renovators Supply Manufacturing
MATERIAL - Sheffield is a unique contemporary 2 piece corner toilet constructed out of high quality long lasting White Grade A Vitreous China Porcelain. The Elongated toilet bowl is coated with stain resistant protective Reno-Gloss Finish.
DIMENSIONS -Our Elongated bowl Corner Toilet measures 32.25 Inches Height, 19 inches Width, 33.75 Inches Projection and 12 Inches Rough In along the wall. The Seat Height is 16 inches. Does not include floor bolts, bolt covers or wax ring.
DUAL FLUSH TOILETS - A Push button dual flush mechanism that can save you up to 25,000 gallons of water each year. This cUPC, ADA, ANSI and Watersense Compliance Toilet features 0.8/1.6 GPF Hi Low Push Button Flush - Save money and water.
WHITE NO SLAM SLOW CLOSE LID - Includes an Elongated Oval Quiet No-Slam toilet seat lid. Made of a high-density plastic, it is above industry standard quality for extreme comfort and class - Resistant to chemical damage, cracks and stains.
BUY WITH CONFIDENCE - Upgrade or renovate your bathroom with this unparalleled luxury. These are carefully wrapped to avoid any scratches in the transit process. We offer you great value products for your money and a perfect way to spend wisely.
Pros
Uses minimal GPF

Aesthetically pleasing

Saves 25,000 gallons per year

Lightweight

Elongated bowl for comfort
Cons
Gasket between toilet and back may be too big

Bolt covers not included
A unique combination of performance and style ensures that this toilet gets the job done just as good.
This model comes with a round bowl, which appears to be cheaper and space-saving. Plus, the color and sleek design of the toilet will add a modern touch to your bathroom.
It's a perfect solution for people who live in areas that face space availability concerns. The triangle design features impressive compactness. That's why the toilet easily fits in any small bathroom.
One of the reasons why you will be pleased with this toilet is the smart flush system. Unlike some toilets, it doesn't require an intense push to operate. Cadet 3 is designed to work at the touch of a button, and it works like a charm.
What We Love About The Cadet 3 Toilet
First of all, we like a smart design that provides enhanced performance. You will never have to deal with bothersome clogs. Cleaning the seat doesn't take a lot of time due to the fact that this toilet is made from vitreous China.
The anti-microbial Ever Clean surface prevents harmful germs and bacteria from growing on the seat. That can give rise to various diseases. With this model, you can rest assured that no infection will spread among your family members. The antimicrobial surface will keep your toilet hygienic and clean at all times.
Solid Water Consumption & Easy Installation
When it comes to water consumption, this model needs just 1.6 GPF (gallons per flush). With such a water-efficient solution in your bathroom, you will save on water and also save money on your water bill.
There is an oversized 3″ flush valve included. It comes with a chemical resistant flapper for better flushing and experience.
Maintenance and installation are quite easy. It should be pointed out that this is a two-piece model consisting of a tank and bowl. The toilet is supplied with all the necessary parts except for the supply hose. Additional tools aren't required.
Pros
Excellent for space saving
Durable construction
Comfortable seat height
Water efficient
Strong flushing power
EverClean surface
Cons
Seat and supply line are not included
Not perfectly flush against the walls
If the performance and space are your top concerns, this ADA compliant model is exactly what you're looking for. It offers plenty of good design features at a reasonable price. So, let's get started.
The first thing worth mentioning is the powerful flush. The flushing system ensures your toilet is flawlessly clean with the use of a single flush so that it can handle bulk waste efficiently.
In fact, this toilet uses approximately 1.28 gallons of water per flush. This way it will save you lots of water (and money) in the long run. The next thing you will like about this long-lasting toilet is the comfort.
ADA Certified Corner Toilet
The elongated style bowl and the right height will make you feel comfortable when using the toilet. Elongated shape provides plenty of room for legs, whereas the seat height meets ADA requirements. This results in improved comfort and accessibility.
The bowl height is tall compared to standard toilet models. It measures above 17 inches from the seat to the top of the base, as well as 16.13 inches to the rim. Many people find it a more convenient way to sit.
Comfort & Ease of Cleaning
Complemented by the elongated bowl, this triangle toilet allows you to sit in a natural position. Please note that this is a 12-inch rough-in model.
The American Standard Cadet 3 is fitted with a large flushing valve and glossed with the EverClean surface to fight nasty germs and bacteria. This useful feature will also help you get rid of odors and make cleaning simple.
Keep in mind that you will have to buy a seat or use your current one because this model does not include it.
Pros
Strong flushing mechanism
Good quality construction
The bowl has the right height
High performance
Easy setup
Comfortable
Cons
Flush is somewhat loud
The handle is a bit hard to push
The Lawen Single-Flush toilet is another spectacular corner toilet that would work in even the smallest bathroom.
It only measures 18 x 35 x 29" and features the comfort height option. From floor to bowl, it measures 15 ⅜ inches. Here are some of the other notable features of the Lawen toilet: 
The rounded toilet bowls add more space to your bathroom. Elongated toilet bowls can take up to 2 more inches of space in your bathroom, which could be the difference between passing or failing your home inspection. 
Rounded Bowl with Comfort Height
Additionally, the comfort height feature is a special one. It is also known as the Americans with Disabilities Act toilet because the height is the same as ADA-compliant toilets. This is the standard height of a chair, making it easier for seniors and children to get on and off the toilet. 
Water-Saving Abilities
This toilet doesn't have a dual flush option, but it does still save water. It only uses 1.6 gallons per flush and you can rest assured that waste will be flushed down the toilet with ease.
This toilet can save you up to 16,500 gallons of water per year. If you have a well or live in an area with frequent droughts, this would be a good choice for you. 
Pros
Can save up to 16,5000 gallons of water per year

One single powerful flush

Comfort height is great for kids and seniors

Made from durable Vitreous China

Aesthetically pleasing
Cons
Two-piece tank may be more difficult to clean
Here's another corner toilet that is suited to smaller bathrooms. But this one comes from Renovator's Supply. This top performance stylish toilet is designed to fit snugly in the bathroom sink area.
It is all about the tank design which does an excellent job in that respect. The Reno-Gloss finish is both stain- and scratch-proof. Moreover, it is very smooth.
Not only does this white ceramic finish look nice, but it also hinders bacteria and stain from getting attached to the toilet. That means you'll have a toilet that can stay clean over a long period of time.
Water Efficient & Solid Design
More importantly, you will get a corner toilet that represents a water-efficient and well-designed fixture for your small bathroom. The installation is fairly easy as there are just several parts that should be assembled.
It is just an ordinary do-it-yourself project most people can handle on their own. The installation process takes anywhere from 20 to 30 minutes.
Dual flush capability is another thing you're going to like about this corner toilet. It means you can choose the flushing mode based on the waste, thereby using less water. The toilet is capable of clearing any kind of waste with ease thanks to the impressive flushing mechanism.
Pros
Stain-proof
Scratch resistant
Sleek design with proprietary Reno-Gloss finish
Comfortable height
Powerful flush with the dual flush capability
Assembly is easy and straightforward
Cons
The gasket between the back and the toilet isn't the right size
The lid does not go all the way down
Plastic tank bolts feel cheap
111The WOODBRIDGE T-0031 is most ideal for bathrooms with limited space. Being that it is only 24.3-inch long,  it can fit in any corner of your bathroom. Coupled with its luxurious and modern design, it will give you the elegant look in your bathroom.
The functionality of this toilet is unmatched when compared to some other corner toilets. It is built to last and easy to install. Replace your old toilet is just an hour by following the installation manual.
WOODBRIDGE B-0050 T-0031/B0500 T-0031 Short Compact Tiny One Piece Soft Closing Seat, Toilet for Small Bathroom, White
✅[LUXURIOUS MODERN DESIGN]: Luxurious Modern Design one piece toilet for Small Spaces & Modern Looking, Clean, sleek look and compliment with different styles like modern , craftsman , traditional and etc.
✅[EASY TO CLEAN DESIGN]: The skirted trap way creates a sleek look and makes cleaning easier. Compare to other toilets, it has no corners and grooves, very easy to reach for cleaning .
✅[QUITE & POWERFUL FLUSHING]: Siphon Flushing one piece toilet, Fully glazed flush system , bringing a super quiet and powerful flushing - NO clogs, NO leaks, and NO problem
✅ [ TOP QUALITY SEAT ] High end Soft Closing Toilet Seat with Stainless Steel Durable Seat Hinge, Easy to get the toilet seat off to tighten or clean after years of use.
✅ [ All-In -ONE PACKAGE ]: Package Includes toilet, pre-installed soft closing toilet seat, pre-installed water fitting , high quality wax ring , floor bolts , and installation instruction, also Include special hand wrench tool to easily tighten the bolts in narrow spaces.
The design of the WOODBRIDGE T-0031 also makes it easy to clean. It features a skirted trapway to hide even the most uneven corners and grooves. As this is a one-piece toilet, you can remove the tank from the bowl if necessary.
Highly Powerful & Quiet Flushing System
The WOODBRIDGE T-0031 packs a punch when it comes to the flushing system. The siphon flushing design makes it possible for all the waste to go down with just one flush.
With this toilet, you'll experience no leaks and hardly any clogs. It also flushes quietly, allowing you to use it at night without waking anyone up.
Pros
Easy to clean design
Quiet & powerful flushing
Modern, luxury design
Comfortable with chair-height seating
Includes pre-installed soft closing toilet seat & water fitting
5 year limited warranty
Pros & Cons Of Space-Saving Toilets
A corner toilet is set in a corner and not centered in the middle of the bathroom. The main feature of these toilets is that they have a triangular-shaped tank. This allows it to tuck nicely in the corner and as close to the wall as humanly possibly.
If you have a small bathroom,this will give it a more open look. Now, as with any product, it doesn't come without flaws. Let's check out some of the pros and cons of space-saving corner toilets. 
Pros of Using Corner Toilets 
They give bathroom a more open look

You can create more space in your bathroom without having to destroy walls

Once a corner toilet is installed, it's easier to add new features such as a shower or tub

This makes it easier to add a bathroom to small and unused spaces in your home

They can utilize some of the same features as a regular toilet does such as dual flush systems, water-saving capabilities, and powerful flushes
Cons Of Using Corner Toilets
They can't be installed as easily as a traditional toilet due to the tight location of the incoming water supply and drain

They're more difficult to access if they need to be repaired since the plumbing is under the toilet

This style isn't as popular as other toilets, so there are very little designs to choose from

If you're renovating your bathroom, you will need to relocate the main drain, which means you have to tear up the floor
What To Look For In A Corner Toilet 
Corner toilets come in different shapes, styles, sizes, as well as water consumption rates. All of these features, among other things, are thoroughly explained below. They should be taken into account in order to find the best corner toilet.
Space
The toilet you get to buy is supposed to fit nicely into the available space of your bathroom. So, check out the dimensions of a toilet for starters. Luckily, corner toilets are compact and designed with space in mind, so it's really hard to go wrong.
Yet, you should double-check the size to be certain that a toilet would fit in your own bathroom.
Water Usage
Water consumption is no doubt one of the key factors when buying a toilet. It correlates to the overall quality and efficiency of a product. Same goes for corner toilets. You will want to own a model that is going to save water in your bathroom while flushing the waste impeccably.
While 1.6 GPF is very efficient water consumption as compared to 4.6 GPF in older toilets, there are options available which use 1.28 gallons of water per flush or even less.
They have a WaterSense label so it's not difficult to recognize them in the crowd. Maybe the difference between 1.28 and 1.6 GPF doesn't look like much, however, it is a substantial saving in the long haul.
Flushing Mechanism of Corner Toilets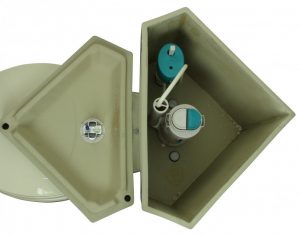 The flushing style plays an important role in water usage. It's imperative to select the flushing mechanism that delivers powerful flushing.
Choose one that can move waste down the drain line and clean the toilet bowl in a single flush.
This is where dual flush comes into play. Not only it keeps the toilet clean but also conserves water.
Corner Toilet Bowl Shape
With regard to bowl type, you will need to choose between elongated and rounded models most of the time.
Toilets with an elongated bowl are suited for consumers who seek comfort in the first place, while round shaped bowls tend to be low profile options. There are also square bowls that are tailored for those looking for something more unique.
Measuring The Rough-In For Corner Toilets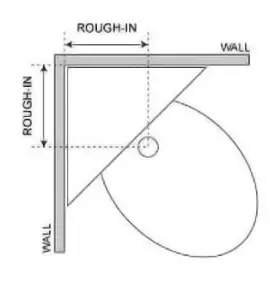 It is important to measure your toilet rough-in and choose the right size accordingly. For residential homes, 10, 12 and 14 inches are the most common options.
To measure the rough-in for your corner toilet, you'll have to take two different measurements.
Simply measure the distance from the plumbing to each side of the wall. Make sure that the distance from each side of the wall is equal.
If you are not sure about the rough-in, consider hiring a professional plumber. That will help you avoid hefty repair costs later.
Design & Look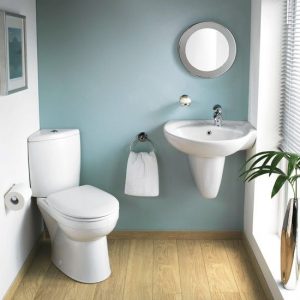 Most corner toilets aren't lacking in style despite being compact. That's because they are made of highly durable, easy-to-clean materials. These units are available in so many varieties to cater to specific design requirements while fitting in any corner.
Some models come with a special finish like Reno-Gloss and EverClean for enhanced cleanliness. These finishes are proven to keep the toilet bacteria and stain-free all the while.
Some corner toilets feature a two-piece construction while others come as a one-piece unit. They are designed ergonomically to minimize body strain and often include soft closing seats for a better experience.
How to Install a Corner Toilet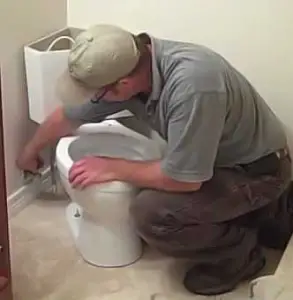 Before you install a corner toilet, make sure to read the entire manual to get yourself familiar with the process.
Take note of plumbing and building codes. If you are not sure how to install a corner toilet, we recommend you hire a professional plumber.
If you are looking to install the toilet by yourself, make sure to shut off the water supply lines where you'll be installing your new corner toilet.
Before starting the installation, make sure you have the right tools. You'll need a tape measure, straight edge, level, pencil, shim, an adjustable wrench, caulk, a saw, and tile grout.
Step 1: Measure the rough-in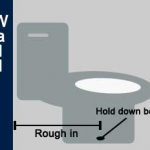 To do so, measure the rough-in length out from the corner for every wall. Let's use a toilet with a 12″ rough-in as an example.
Next, draw two perpendicular lines from your original marking. Where these two lines meet will determine the location of your rough-in.
Step 2: PRESS DOWN THE WAX RING & SECURE BOLTS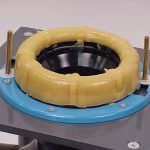 The wax ring will go onto the toilet's flange (located on the floor) with the flat side being down. Apply a little pressure to hold the ring in place.
Next, secure the anchor bolts through the flange. The bolts should be pointing upwards. This is done so when the toilet is placed,  the bolts will show through the mounting holes.
Step 3: install the toilet & SECURE IN PLACE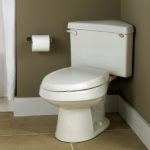 As the wax ring is placed down and the bolts are secured in place, lift the toilet and align the holes in the floor with the anchor bolts.
Fix the toilet down on the floor and press in place to ensure the wax seal is secured. Avoid moving the toilet again as you can risk breaking the watertight seal and experience leaks.
Step 4: ADD WASHERS & NUTS AND TIGHTEN THEM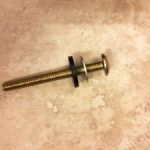 Add the washers and nuts on top of the anchor bolts. Ensure the toilet is properly aligned. If not, adjust as needed.
Finish tightening the washers and nuts to the bolts. Do not tighten too much as you may crack your toilet's base.
Step 4: add the bolt cap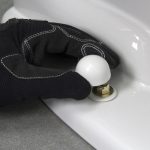 Put down the bolt caps on each side of the toilet, over the anchor bolts.
If the bolts are much higher than the washers and nuts, use a saw to cut it down to the right length.
Step 5: place the tank bolts through the mounting holes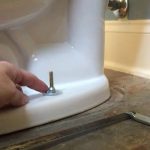 This should be done if you are installing a two-piece toilet. If you are looking to install a one-piece toilet, add the washers and nuts to the tank bolts.
Ensure the tank is flush and tighten the washers and nuts until the tank firm in place.
Step 6: CONNECT THE WATER SUPPLY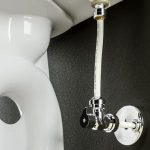 This can be found towards the bottom of the tank. Turn on the water and flush the toilet a few times to check if any leaks occur.
If you see no leaks around the base or the back of the toilet, continue to the next step.
Step 7: ADD THE TOILET SEAT & caulk around the toilet's base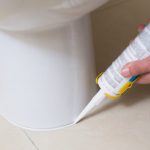 Attach the toilet seat by putting it directly on the bowl and secure it with the bolts from your installation packet.
To finish the installation, use latex caulk or tile grout to seal off the base of the toilet.
Ready to Buy a Corner Toilet For Your Bathroom?
Whether you're looking to install a one-piece corner toilet or a two-piece unit, corner toilets have their advantages and are particularly suitable for enclosed or limited spaces.
Thanks to their compact design and triangular tank, corner toilets save a lot of space. This makes such toilets an excellent choice for small washrooms, such as basement bathrooms and powder rooms.
Corner toilets carry various flushing systems, bowl shapes and a broad spectrum of features. Efficiency, water consumption, comfort, and power may vary by model.
Remember that fitting a corner toilet will require you to measure the rough-in. Even the smallest corner toilet may not fit if your area is smaller than the required space. For a detailed buyer's guide check our best toilets post.
Summary
Reviewer
Review Date
Reviewed Item
Author Rating