The 7 Best Composting Toilets – [2020 Reviews & Rankings]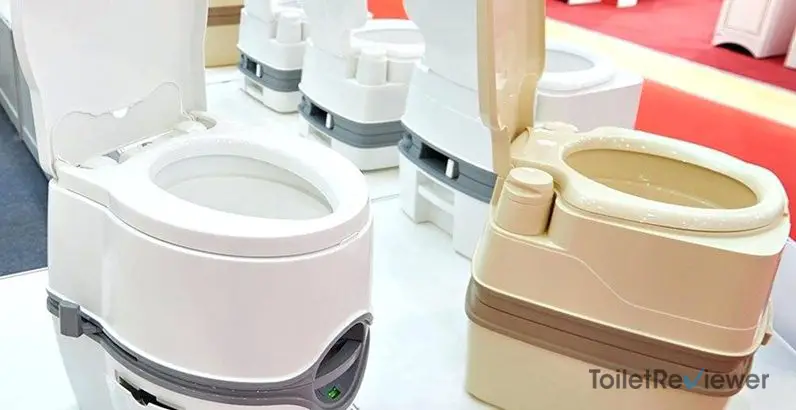 A composting toilet is a type of dry toilet that serves as a temporary human waste management system. It decomposes waste into usable manure. When used appropriately, these toilets have many benefits. For example, they save on water and energy usage. Composting toilets are environmentally friendly and offer a safe and portable waste management solution.
Unlike flushing toilets, composting toilets do not need to be connected to sewer systems or septic tanks. Such toilets are often used in rental homes, national parks, tourist resorts, and off-grid homes. In order to make the right choice, you need to consider aspects such as the energy source, capacity, portability, composting rate and design of the toilet.
There are a lot of things to consider when buying a composting toilet. You want to make sure its comfortable and you have to consider things such as its price, warranty, and portability.
In this article, we will take a detailed look at all the top composting toilets. All the toilets on the list will provide you with a place to do your business in the wild, whether you are going an extended camping trip, or you are considering off-grid living.
How Much do Composting Toilets Cost?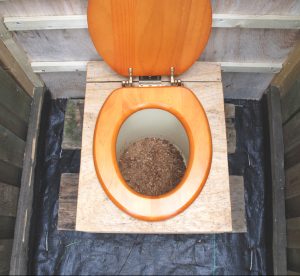 The overall composting toilet cost includes the cost of the toilet itself and labor installation costs. On average, the best residential toilet models are priced between $825 and $4,850.
With self-contained compost toilet models, the prices start at around $1,400. The cost of these products vary based on the features they have to offer.
The right waterless composting toilet can completely eliminate toilet water usage. This curbs overall bathroom water wastage by around 25 percent. This will provide a low TCO (total cost of ownership) over time.
The Best Composting Toilets for 2020
Sale
This toilet is affordable, provides enhanced comfort, and is extremely portable.

Featuring a compact and lightweight design, the Camco 41535 composting toilet is considered to be ideal for camping, road trips, boat trips, and hunting adventures.

This product offers a relatively large capacity of 2.6 gallons. It features a freshwater holding tank and a fairly powerful pump flush system. This system ensures the bowl is rinsed thoroughly after each use.

This toilet has several other benefits to offer, including:
Odorless Sealing
You will probably be carrying this toilet along with you most of the time, even after using it, and you don't want the odor to leak into your car or RV. To prevent this, this toilet features a secure latch system.
Once the spring-loaded latch has been secured in place, no odor is able to escape from the holding tank, even when the tank is full.
Again, the latch mechanism used on this product makes it easier to remove the flush tank and lid for the purpose of cleaning.
Enhanced Ease of Use
The Camco 41535 Premium Portable Travel Toilet is specifically designed for use on the go. It has a limited capacity and may not be used to hold the waste for long. After each trip, you will have to empty the toilet and clean it.
This toilet comes with biodegradable add-ons to help break down the waster at a faster rate.  You will also find this product to be comparatively easy to assemble and disassemble when you're cleaning it, and the automatic sliding valve gate on makes things even easier.
The valve will open while you are using the toilet to allow the waste to pass to the holding tank. Once you are done, the valve will close; offering an air-tight seal. This prevents to odor from leaking from the holding tank.
Pros
Features a detachable holding tank
Secure latch mechanism
Relatively lightweight, weighing only 11 pounds
Comparatively easy to use, empty and clean
Comes with biodegradable add-ons
Can hold up to 4 gallons of water
Cons
The piston-style flushing system is not so powerful, may require you to flush more than once
Porta Potti White Thetford Corp
[VERSATILITY]: Award-winning, top-of-the-line portable toilet, suited for RVs, boats, trucks, vans, healthcare, medical, camping and even off-the-grid lifestyle, with a 4 gallons fresh water tank capacity and a 5.5 gallons waste water capacity
[DESIGN]: Sleek, modern, and homelike look, Porta Potti Curve comes with a comfortable seat height, increased bowl size, and battery-powered flush
[FUNCTIONALITY]: Easy to use and clean, Curve has an ergonomic carrying handle, an integrated toilet paper holder, and a tank level indicator
[SANITARY]: Odorless and leak proof, the portable toilet has a sealed valve to prevent odors from escaping and a rotating pour-out spout for emptying the waste water tank without backsplashes
[OPTIONAL]: The hold down kit helps secure the portable toilet to the floor, holding it in place while you're on the road and Water fill adaptor
The award-winning, innovative and top-of-the-line Portta Potti Curve Portable Toilet is renowned across the globe for looks and performance.

The product features a sleek, home-like modern design that features an ergonomic carrying handle.

With regards to design, the product also features a tank level indicator and an integrated toilet paper holder.

With Porta Potti Curve Portable toilet, your sanitary concerns are addressed as well. Some of this toilet's features include:
Large Capacities
For a portable composting toilet, this model has a decent tank capacity. The tank for holding flushing water can hold up to 4 gallons. This large volume of water is capable of sustaining up to 56 flushes.
The waste holding tank has a capacity of about 5.5 gallons. This tank is designed for enhanced ease of use. You'll find it easy to separate, empty and clean. This tank is also equipped with a level indicator.
The indicator and battery-powered flush system are concealed behind the toilet seat.
Pros
Airtight and odorless
Fairly comfortable to use
Fitted with a large fresh water holding tank
Leak-proof and durable construction
Features an elegant and modern design
Comparatively versatile
Relatively easy to clean
Comes with a hold-down kit to secure it on the ground
Cons
You may find the circuitry on this unit a bit complicated
One of the things people love about this toilet is its generous capacity and an efficient flushing system.
This toilet is offered in two main variants, an 18-liter and a 24-liter model, and its equipped with a powerful piston pump system.
Heavy-Duty Construction
This Sanitation Equipment toilet is built to last for years in an outdoor environment. In addition to helping it withstand wear and tear, this tough construction makes it possible for the toilet to carry larger loads of waste.
Although the manufacturer does not specify the waste weight this unit can withstand, we have found that you can safely carry up to 300 lbs of waste in this toilet.
Longer Pour Spot
In order to prevent spills or coming into contact with waste as you empty the tank, the this toilet is fitted with a long directional spout. The Visa Potty features a control system that may be used to direct the waste as you pour it out of the holding tank.
Level Indicators
The Visa Potty toilet features water and waste level indicators.
These indicators are mounted on the front part of the toilet. With the help of these indicators, you can easily tell when the waste tank is almost full, so that you can empty it, and the water level indicator will let you know when you are running out of fresh water.
Pros
Durable, heavy-duty construction
Has fresh water and waste level indicators
Leak proof and tight odor seal
Features a larger waster holding compartment
Has a comfortable toilet seat height
Relatively easy to clean
Cons
The maximum waste weight holding capacity has not been specified
Sale
This may be the most expensive composting toilet in this guide, but its definitely worth every penny. The Nature's Head Self Contained Composting toilet is rated one of the best urine-separating dry composting toilets in the world.

This toilet was designed by two sailors who were seeking a more intuitive and durable composting toilet.

It's built to withstand harsh outdoor conditions associated with the marine environment.
Stain-free and Durable Construction
One of the aspects that make this product stand out is its all-steel construction. Its capable of withstanding the toughest of outdoor conditions.
Intuitive and Functional Design
This composting toilet features an appealing design that is also functional. The fan and vent hose components on this toilet will ensure that no odor leaks out. This toilet delivers an impressive odor free experience, even when used in confined spaces.
Pros
The exterior is entirely made of stainless steel
Efficient urine separation dry toilet performance
Durable and tough construction
Features a fan and venting system
Offers an intuitive design
Somewhat portable
Cons
May not be comfortable to use for taller people
Sun-Mar Excel Self-Contained Composting Toilet, Model# Excel
NSF CERTIFIED - First self-contained, composting toilet to be certified by the National Sanitation Foundation.
ZERO ODOR - A 2-inch vent in the back runs out of the house, which keeps your home clean and odorless.
USES NO WATER - This is a completely water-free system, saving the planet while saving you money.
Sun-Mar is one of the most popular toilet brands today, they are known for making durable, high quality, and highly effective composting toilets.

This toilet features a low profile, and can be used almost anywhere, including in cabins, residences or even for light commercial applications.

The Sun-Mar Excel is one of the best high-end composting toilets you can buy today. It offers unique convenience and performance features to justify the high price.
In-built Bio Drum
This toilet is one of the best self-composting toilets available, because its equipped with a bio-drum to help decompose the waste. This toilet will convert human waste into safe and nutrient-rich fertilizer without producing any odor.
Superior Capacity
This composting toilet is comparatively large in size. This also goes for its waste-holding tank. As such, the toilet will work for six to eight people for an entire weekend before it needs to be emptied.
Pros
Does not require any water
It is entirely not-polluting
Features a compact, low-profile design
Offers a relatively large capacity
May be used almost anywhere
Superior self-composing performance
Cons
Comparatively expensive
Fitted with a plastic crank
Sale
Aqua-Magic V RV Toilet Pedal Flush /High Profile / Parchment - Thetford 31672
Aqua-Magic V is the RV toilet with a classic style and taller seating height, suited for all recreational vehicles
The toilet has a single-pedal system - press it halfway to add water to the bowl and all the way to flush - and offers 100% bowl coverage flush
Aqua-Magic V has a textured lid which sheds water and resists scuffs, offering the comfort and feeling of a household toilet
A lightweight 17-1/2 inches plastic RV toilet, easy to install, use and service
Easy-to-use single-handle flush; half way adds water, full activation provides a full-bowl coverage flush
If you are looking for the best composting toilet for a cabin or a recreational vehicle, then the Aqua-Magic V composting toilet is probably the one you want. It offers a perfect blend of affordability and style, while being lightweight and easy of use.

It's seating height is 17-1/2 inches and connects to the central water tank in a recreational vehicle (RV). Despite it's low price, the unit features full-bowl coverage, allowing for cleaner flushes.

Its new design includes a deeper bowl, and is styled to resemble a standard residential toilet. It has a sturdy polymer base and bowl, and is relatively easy to install.

The textured lid on the toilet sheds water while resisting scuffs. You will also find the product easy to use. For example, pressing the pedal halfway will fill the bowl with water while pressing it all the way flushes the toilet.

The high-profile RV composting toilet comes complete with all installation components, including closet flange bolts, nuts, and flange seals.
7. Villa 9215 AC/DC – Best Commercial Composting Toilet
This toilet features the latest innovations in waste management as well as advanced technologies by the manufacturer. The Villa 9215 will run on either AC mains, a DC battery, or a solar panel.
It's equipped with a single-speed fan that can support up to 20 feet of venting. The fan pulls air over the waste holding area, thus eliminating odors and keeping solid waste dry. The 34-pound toilet comes with a large biodegradable liner bag, capable of holding a good amount of solid waste.
Urine Redirecting Technology
For the purpose of separating urine from solid human waste, the toilet bowl features a unique design. This design allows it to direct urine to a holding tank from the drain. Afterward, the solid waste and toilet paper end up in a compostable liner bag for proper storage.
The unit comes with all the required installation equipment, and its backed by a five-year limited guarantee by the manufacturer, although the ventilation fan is only covered by a three-year guarantee.
Do Composting Toilets Really Work?
Yes. By mixing waste with other materials, composting toilets eliminate odor and use significantly less water than a conventional toilet, while creating manure in an economically friendly way.
What Happens To The Waste In A Composting Toilet?
A composting toilet uses the same process as garden composting to break down human manure. The waste is usually mixed with peat moss or sawdust. You end up with organic matter rich in nutrients.
What is a Composting Toilet?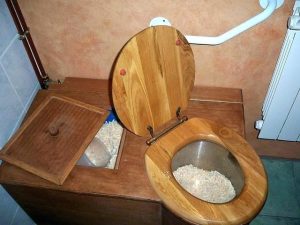 Composting Toilets are a special type of toilet that is designed to treat human waste using a biological process. While conventional toilets feed into mixed grey-water and black-water septic systems, a composting toilet is designed to process the waste on-site.
Most composting toilets require no water to flush or process human waste, but a few models use a small amount of water or foam to flush the waste. Either way, these toilets will help you save a significant amount of water in the bathroom every day.
There are two main types of composting toilets:
Self-contained Composting Toilets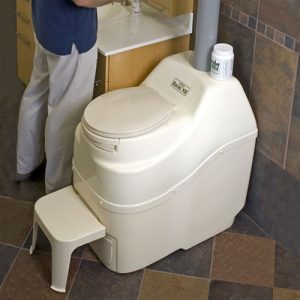 These toilets do not require a connection to the central system. Such units are comparatively easier to install and best suited for second-floor installations. Since they are not connected, these toilets are equipped with drawers or trays that can be emptied.
Central Composting Systems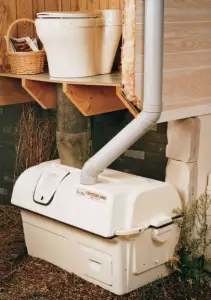 These toilets often feature a large tank with a slopped bottom to allow waste to slide down as it composes. Most of the central composting toilets are fitted with an access door on the lower end of this chamber. The more advanced models, especially the best commercial composting toilets, have multiple chambers
Each of these chambers contains human waste at different composting stages. With these models, you may be required to stir the contents of the chambers periodically.
How Does a Composting Toilet Work?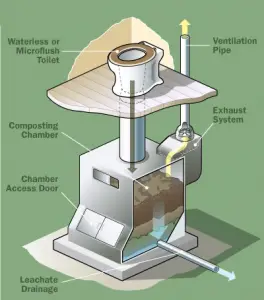 Composting toilets are meant to separate liquid waste from solid human waste, compost the solid human waste quickly and without odor, and produce compost that is safe to handle. Different manufacturers use different techniques to achieve these tasks.
The waste entering the toilets is over 90 percent water, which needs to be evaporated through a ventilation system. The remaining solid material is converted to fertilizer through natural decomposition. The best decomposing toilets work in three main stages:
Evaporation
The first stage is aimed at separating liquid waste from solid waste and evaporating the liquid waste after that. To speed up the process, some models have a vent system that helps get rid of any water in the waste. Advanced toilets are even fitted with a heating element to speed up evaporation.
For extra efficiency, other self-composting toilets feature a urinal system. This ensures that most of the liquid is already separate from solid waste as it enters the composting chamber.
Composting
If left alone, the solid waste would eventually decompose, but the process would be awfully slow and smelly. To speed things up, these toilets create a conducive environment for bacterial decomposition in the composting chamber. This is often achieved by adding a bulking materials as peat mix or sawdust.
Bulking materials allow for proper aeration of the compost pile. This speeds up bacterial activity in the pile, and helps breakdown the compost quickly. Additionally, the bulking materials ensure that the final product is safe to handle.
How to Use a Composting Toilet
The operation and maintenance of a composting toilet is rather easy. It involves opening and closing the vaults as well as keeping the composting chamber interior and shelter clean. You also need to remove the compost when it is ready as well as inspect the unit for damage on a monthly basis.
A self-composting toilet has to be used correctly in order to prevent foul odors, and to stop flies from breeding in the toilet. Here are some tips to help you use your composting toilet correctly:
Preparing a Composting Toilet for Use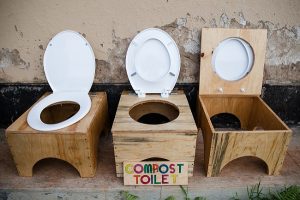 Composting toilets often have multiple vents, but only one may be used at a time. When not in use, the vents should be covered using a heavy lid.
Before you use a vent, you need to prepare it properly. The most cost-effective way of doing this is to add a loose layer of weeds, leaves, sawdust or grass clippings.
You also need to have a jar or box of powdered soil or ashes as well as enough cleansing supplies like toilet paper in the toilet shelter at all times.
Using a Composting Toilet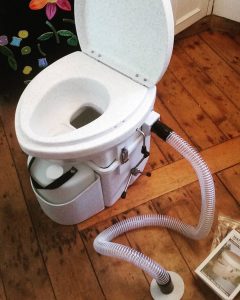 Open the heavy lid on the vent you would like to use and use the toilet as you would use a conventional one. Once you are done, wipe yourself and sprinkle fine earth or ashes into the vault using the jar or box of ashes in the toilet shelter.
This is meant to prevent fly breeding in the waste and to curb odors. You may also throw yard sweepings and kitchen scraps into the vault at the end of each day.
Once or twice a week put in grass clippings, straw, leaves, or sawdust to form a layer above the contents of the vault. If you happen to overfill the toilet, do not worry as bacterial action will eventually reduce the volume.
Clean your composting toilet at least once each week by sprinkling ashes or powdered soil on the slab and around the squatting hole, and then sweeping them into the vault. Remember to replenish your supply of ashes or fine soil in the box.
Removing the Compost Heap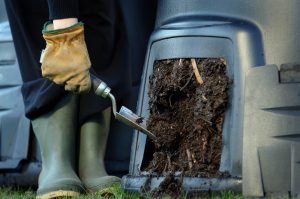 If sealed and maintained properly, the compost heap should be ready in 6 to 12 months, depending on the type of composting toilet you've got. When ready for removal, open the cover on the rear wall opening of the composting chamber.
Using a rake or shovel, remove the compost and load it onto a cart or wheelbarrow. Leave the shallow layer of the heap in the vault, and close the cover on the composting chamber and prepare the vault for use.
Composting Toilet Pros
The growing popularity of composting toilets by homeowners, particularly those living off-road, attest to the many benefits that these toilets have to offer. These features include:
Cheaper and Faster to Install
As opposed to conventional toilets, the best commercial composting toilet models do not require septic installation, saving you between $1,500 and $5,000 on installation costs. Although they are more expensive to buy than a traditional toilet, a composting toilet is comparatively easier and cheaper to install,.
May Be Used Almost Anywhere
Since composting toilet does not require a connection to a plumbing system, they can be installed almost anywhere. This makes them the best toilet option for homeowners living off-road or in places where connection to the sewer system is prohibitively expensive
These units are suited for outdoor installations. Any spacing and sizing problems associated with composting toilet are easy to overcome with a little ingenuity.
The best composting toilets are known to last a lifetime, provided they are maintained properly. This is why some of the leading composting toilet manufacturers offer a lifetime warranty on their products.
These toilets will also save you up to 30,000 gallons of water per year.  Therefore, its safe to say that these toilets pay for themselves over time.
Require Minimal Maintenance
As compared to other compost forms, you dont have to worry about keeping the compost wet. Human waste maintains proper moisture levels within the basin housing the compost. Some models do, however, require you to turn the compost to mix it every now and then.
For the best long-term results, look for toilets that meet or exceed current standards from the American National Standards Institute or a similar international organization.
Composting Toilet Cons
People with conditions that restrict their mobility may find composting toilets uncomfortable to use, as the toilet requires them to squat too low. Some model, especially the self-contained composting toilets, may not contain odor so well.
What to Do with Composting Toilet Waste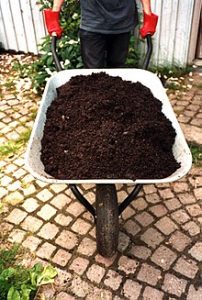 When handling this compost pile, it is advisable to wear disposable gloves and a dust mask. After collecting the compost pile from your toilet, you may add it to a compost pile to continue decomposing.
You may also use it as manure. For example, you can spread the compost on your lawn and water it.
Composting toilet waste may also be applied around fruit trees in your garden. You can also use the compost as manure in your non-edible garden.
How to Choose a Composting Toilet
Do you need a composting toilet for use at home or one that you can use on the go?
If you dont have a water supply at the location of use, you should get a model that doesn't require any water to operate.
There are several other considerations that you need to make while shopping for the best compost toilet.
1. Composting Toilet Type
You have to ascertain the type of compost toilet that will be ideal for your intended use.
While choosing the right toilet, these are the 5 main compost toilet types you should consider:
Waterless/Dry Toilets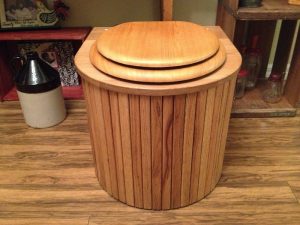 These are the composting toilets that do not require any water to function. The  dry composting toilets that have a flushing system use a negligible amount of water.
These toilets are odorless, so they are considered to be ideal for indoor application, such as household interior.
Self-Composting Toilets
These feature a compact and more portable design. Self-decomposing toilets have a compost system just below the bowl.
Such a product is best suited for hiking or camping applications. Self-composting toilets are generally designed for use on the go.
Electric Composting Toilets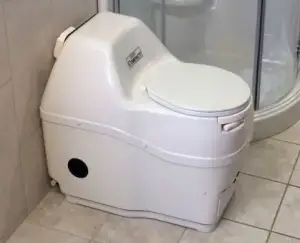 With such toilets, the composting system features components that need electricity to run.
Most of these models have an electric fan to continuously circulate air in the composting unit. Some electric composting toilets require a connection to a mains outlet, while others can run on a battery.
Electric composting toilets are known to be more efficient and faster at decomposing human waste. However, such toilets are comparatively more expensive.
You should consider getting a battery-operated unit if you are not connected to the grid, or you could opt for a non-electric model.
Non-Electric Composting Toilets
Compared to electric composting toilets, non-electric models are generally low priced.
For the composting process to function, most non-electric toilets require you to manually mix the waste using a built-in crank.
Compared to electric models, composting toilets are slower and less efficient at composting human waste, . Still, they are a great choice in some applications.
Remote/Central Composting Toilets
Rather than encompassing the composting unit below the bowl, these toilets channel the waste to a composter separate from the toilet.
Remote composting toilets are a great choice if you would like to use several toilets in the same location.
In such a case, you can connect several central composting toilets to one composter.
2. Composting Toilet Capacity
How much waste a composter can hold depends on the toilet you buy.
The right composting toilet capacity mainly depends on the intended application. For example, toilets meant for use on the go dont need to have a large capacity.
Though lightweight and more portable, toilets with less capacity need to be emptied more frequently.
Consider the number of people that will be using the toilet, and how often they will be using it.
3. Zoning Requirements
There are no federal or national laws governing the suitability and application of composting toilets.
Different state, county, and municipalities have varying zoning requirements. Such requirements differ from one are to another.
Before you buy a composting toilet, ensure that it meets the zoning requirements in your area.
Contact your town or county to inquire about the building laws that may affect the use of composting toilets.
4. Bulking Material
In order to maintain the composting process, some toilets require you to add bulking material.
Bulking material is essential for breaking the waste down to allow for free air circulation.
Some composting toilet models do not require the use of bulking material. Using bulking material in such a toilet could damage it.
5. Bowl Closure & Toilet Trap Mechanism
Regardless of where you will be using your compost toilet, sanitation and odor is something consider. To maintain the best sanitation and prevent odor, you should get a toilet with a good compost trap design.
Different toilets have different mechanisms for locking the composting receptacle or waste line from the bottom of the basin.
If you do not want to operate the closure mechanism, you should choose a model that has an automatic trap closing mechanism.
Other models feature a manual valve that needs to be operated manually. Ensure that the closing mechanism on your preferred toilet is durable, effective, and reliable.
Composting Toilet FAQs
Can you put toilet paper In a composting toilet?
Toilet paper works, but it will slow do the composting rate. Paper products decompose slower, as compared to solid human waste, so they will be visible long after the compost heap has been broken down.
Does a composting toilet smell?
With the best composting toilet models, you wont need to worry about smell coming from the toilet, so long as you use it properly. In some cases, you may detect a slight earthy smell, but nothing as bad as you may expect.
Ready to Save Water & Save with a Composting Toilet?
Composting toilets save space, require minimal maintenance, and remove the need for expensive plumbing repairs.
These units are unique in that they help convert waste into a useful fertilizer. They are also cheaper and faster to install than traditional toilets.
While in some areas you may require a permit to install a composting toilet, such toilets reduce water consumption and can save up to 20 gallons of water per day, per person. 
Before making your final decision, evaluate all your options, including installing a traditional toilet. This way, you'll ensure that you choose the best toilet for your home or commercial setting.
Summary
Reviewer
Review Date
Reviewed Item
Author Rating