TOTO Aimes Review – Just How Efficient Is This High-End Toilet?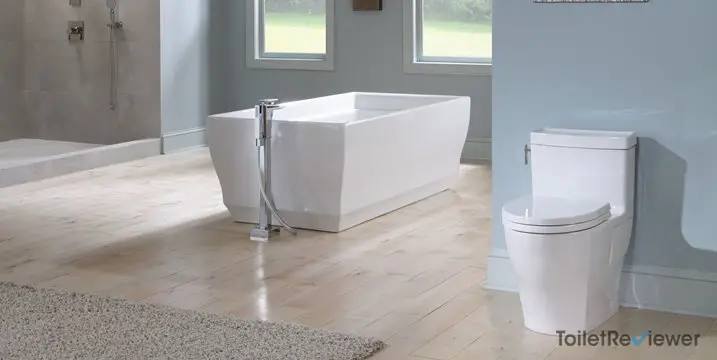 Toto continues its commitment to high performance and sustainable products with the Toto Aimes one-piece toilet.
This toilet offers modern design, a solid flushing system, and an extremely comfortable seat, among other features.
Replacing your 5.5 GPF toilet with the Toto Aimes, this 1.28 GPF toilet can save 24,665 gallons of water per year.
Nearly all of TOTO's high-efficiency toilets are EPA WaterSense certified and may qualify for rebates.
TOTO Aimes Toilet Review – Quick Facts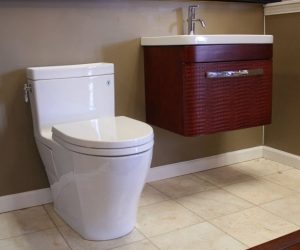 With a functionally modern design, the Toto Aimes changes the way you think about the most used home fixture.
The top item in the toilet's long list of features is the Tornado Flushing System.
Tornado Flushing means you get effective, clog-free flushing. CeFiONtect Glaze Technology (SanaGloss) keeps bacteria and solid waste from sticking on the surface of the ceramic bowl.
Always Keeps the Bowl Clean
Less waste sticking to the surface reduces how much water you need to keep the bowl clean and sanitized. An elongated one-piece design has smooth, clean lines that pairs with any décor.
Even the trip lever, available in brushed nickel, polished nickel, or chrome plate adds to the modern look of the Aims. We'll take a closer look at the Toto Aimes features in more detail in our review below.
Specifications of the Toto Aimes Toilet
| | |
| --- | --- |
| Model Number | MS626214CEFG#01 |
| Dimensions | 28.5 x 17.2 x 28-Inches |
| Rough-In Size | 12-Inches |
| Weight | 119-Pounds |
| Bowl Shape | Elongated or Round |
| Seat Height | Universal |
| Water Consumption | 1.28 GPF |
| Color Choices | Cotton, Colonial White, Bone, Sedona Beige |
| Warranty | 1-Year Limited |
Features of the Toto Aimes Toilet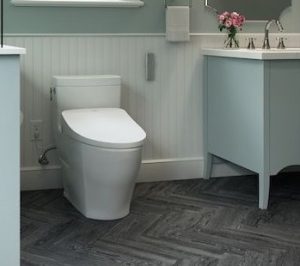 After 100 years of innovation and design, Japanese Toto Ltd is one of the world's best and largest toilet manufacturers.
Over the years, Toto developed several patented flushing technologies, which only they use in their toilets.
The one-piece Toto Aimes toilet falls in the medium-priced range and has a look of a high-end toilet. With the Aimes' good looks comes a hefty list of advanced features, currently not found in similarly priced toilets.
Below are some of the Toto Aimes best features.
Toilet Design
The design is where the Toto Aimes stands out above other toilets. Aimes starts with a skirted design found in may top-of-the-line toilets.
The Aimes has minimal flourishes and a clean geometric shape that adds to its elegant, smooth looks. This style conceals the trapway while making the Aimes easier to clean and maintain.
If you prefer a color choice, Toto gives you four colors to choose from; Cotton, Colonial White, Bone, and Sedona Beige. Each color features the CeFiONtect Glaze Technology which coats porous ceramic surfaces.
No Need to Scrub Marks
The ion-barrier of the CeFiONtect helps to prevent solid waste from sticking to the toilet bowl sides. Less waste sticking means the Aimes stays cleaner between regular scrubbings and there's less need for harsh chemical cleaners.
The Aimes includes a SoftClose seat and lid with stainless steel hinges that lower the lid slowly without slamming. Completing the toilet's good looks is the left side trip lever in polished or brushed nickel, or chrome finish.
Bowl Shape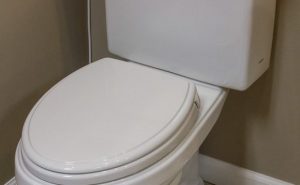 One of the most looked for features in any toilet bowl is the elongated bowl shape. An elongated shape means maximum seat comfort for easier user experience.
Elongated bowl shapes are on the compliance list of the American Disability Act (ADA). Doctors and health care professionals recommend an elongated bowl style for people with disabilities, back problems, and the elderly.
The longer seat style supports the user's thighs and evenly distributes body weight. In addition to user comfort, the elongated bowl has a higher holding capacity which reduces clogs and overflows.
Seat Height
The Aimes has a universal height, elongated seat, and flush lever on the tank side, making it fully ADA compliant.
With a 17 ¼-inch height, the Aimes resembles sitting in a chair, making it ideal for older adults or those with mobility issues.
Flushing System Design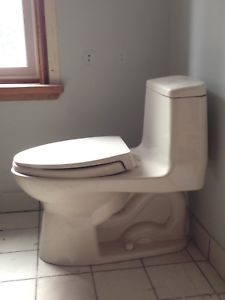 The Toto Aimes toilet has the most powerful flush available with its Tornado Flushing System.
Tornado Flushing creates a centrifugal force with powerful nozzles that uses cyclonic rinsing with each flush.
Cyclonic flushing reduces the build-up of solid waste on the bowl for a cleaner toilet between scrubbings.
Aimes' Tornado Flushing System uses 1.28 gallons of water per flush, making the Aimes more effective with one flush.
Features of the Tornado Flushing System:
More powerful flush with less water
1 – 1.28 gallons per flush
Water propulsion with a dual-nozzle system
Gravity and centrifugal force for cleaner bowl with less scrubbing
With a Tornado Flushing System, you get a more effective cleaning than with the standard multi-rim hole design. Even though the Aimes only uses 1.28 GPF, flushing performance isn't sacrificed by using less water.
The dual nozzle water propulsion gives the Aimes a more consistent flush than traditional rim hole toilets.
How Does Tornado Flushing Work? 
The Tornado Flushing System works when gravity and centrifugal force work together, spinning the water. This tornadic action removes everything on the bowl including any dirt sticking to the sides.
By combining water power and gravity, the flushing system creates a more forceful flush that maximizes cleaning. Instead of the multi rim holes found in standard toilets, the Tornado Flushing System uses two nozzles.
Tornado Flushing uses water more efficiently for better rim and bowl washes resulting in less trapped dirt.
Add to the Tornado Flush the CeFiONtect Glaze Technology, and you have a toilet that almost cleans itself.
Water Consumption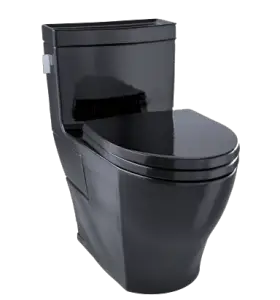 As with other Toto products, the Aimes toilet's main goal is protecting the environment with a low flow operation.
Plus, as with most of the low water consumption products, the Aimes toilet may qualify for potential city tax rebates.
The Aimes toilet has a 1.28 GPF, well below the EPA Water Sense certification of 1.6 GPF. This lower water use rate may make the Aimes eligible for purchase rebates from local utility companies.
Toto Aimes: Toilet Installation
The Toto Aimes toilet takes a basic installation, requiring simple DIY skills and basic tools found in most toolboxes.
Anyone that knows how to use a screwdriver and has the basic piping already installed doesn't need a professional plumber.
The Aimes has a 12-inch rough-in size that can adapt to a 10-inch or 14-inch rough-in by buying an adapter. A left-hand trip lever and SoftClose seat come with the Aimes toilet.
With the Aimes toilet being a single piece and weighing 119 pounds, you may need help moving it.
Toto Aimes Warranty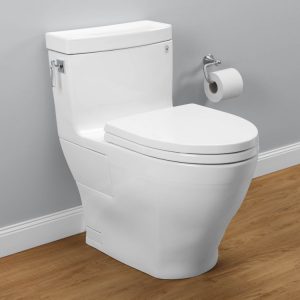 All Toto products come with a standard, one-year limited warranty.
Toto has a strong belief that their bathroom products will continue their high performance over time.
According to their customers, Toto gives a strong performance with few issues.
Customers continually give Toto products high satisfaction ratings in continued performance and consider the short warranty a non-issue.
Toilet Price
The Toto Aimes toilet comes in at a mid-range price compared to other Toto products. With the high performance of the Aimes Tornado Flushing System, you get a great value for the money.
Starting at under $1,000, the Aimes gives you affordable efficiency and ease of cleaning while maintaining a sleek contemporary design.
Toto has 100 years behind its innovative designs for a product that stands the test of time. Strict quality control means you'll never see builders grade products or defective model sales.
Possible Benefits & Drawbacks of the Toto Aimes Toilet
There's a lot to like about the Toto Aimes toilet. And as with all Toto products, there are some pros and cons. Here is a short list of what we like and what we think needs improvement.
What We Love About the TOTO Aimes
Contemporary and sleek design with fully concealed trapway
Several color choices
Tornado Flushing System
No rim hole design
Single lever flushing
Saves water at 1.28 GPF
Quiet operation
Meets federal and EPA standards
Skirted bowl
Includes SoftClose seat and lid
Universal height
Meets all Americans with Disabilities Act (ADA) standards
Easy to clean CeFIONtect (SanaGloss) finish
Easy installation
12-inch rough-in and adaptable to 10-inch and 14-inch rough-in
Possible Drawbacks
More expensive than other options
1-year limited warranty
May not be suitable for small children's rooms
Other TOTO Toilets to Consider
The Bottom Line
With the Toto Aimes toilet, you get outstanding performance with a proven consumer track record.
The Aimes uses a very small amount of water, 1.28 GPF, but has outstanding flushing power. With a Tornado Flushing System and no rim holes, the Aimes gets a clean bowl with every flush.
If looks are a concern, the Aimes delivers with its geometrically pleasing, one-piece design, that meets all ADA compliance requirements. The skirted base means the trapway is completely hidden.
Summary
Reviewer
Review Date
Reviewed Item
Author Rating