TOTO Promenade II Review – What Do We Love About This Toilet?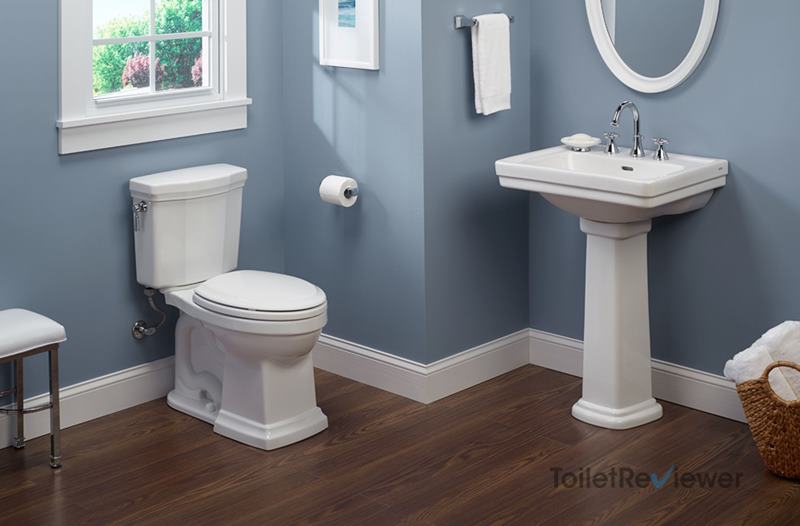 If you have ever heard of one particularly amazing product that has come out of Japan, it might be the Japanese toilet. Japanese toilets are typically seen in movies or nice homes. These toilets are also known to be made for more than relieving yourself; these toilets are made to truly better your life.
TOTO is a famous Japanese toilet manufacturer and is dedicated to making their products with the highest quality and best design. Not only does TOTO produce dependable products, but they are also known for being eco-friendly.
TOTO has been making toilets since 1917, with the purpose of adding ease and pleasure to your life, in the place where you never knew you needed it…the bathroom.
Out of all the toilets produced by TOTO, the Promenade II is among the best and most popular. This efficient and beautiful toilet is a great addition to any bathroom.
In this review, we will discuss all of the reasons why the Promenade II is an amazing toilet, and if it is the right choice for you.
Why Do We Love The TOTO Promenade II?
Sleek Design: The TOTO Promenade II is a versatile and great looking toilet that will fit into almost any bathroom.
With its sleek and classy design, it also has a universal height which makes it easy to use for a variety of people regardless of size.
ADA Compliant: This toilet meets ADA criteria. This means that it allows persons with disabilities to easily maneuver themselves and use this toilet without strain. Additionally, the Promenade II offers an elongated bowl for added comfort.
Superior Technology: Never again worry about the toilet seat slamming down or pinching the fingers of a child because the Promenade II offers slow-close technology. This means no noisy lid, no potential damage to the rim, and no waking up your partner in the middle of the night.
Durable Build: The TOTO Promenade II is made of vitreous china material. This is an extremely durable material, and also means that your toilet is easy to clean, lasting for many years to come.
Summary of Features
Eco Friendly
Despite also being great for your bank account, being eco-friendly primarily means that the TOTO Promenade II is better for the environment than most toilets.
If you currently have a toilet that was made in the early 1990s you might be using 3.5 gallons per flush!
federal law of the United States requires toilets to use no more than 1.6 gallons per flush. Despite this, the flushing system in the Promenade II uses only 1.28 gallons of water for each flush.
Tornado Flushing System
The Tornado Flushing System is patented and one of a kind. This system included in the Promenade II works by way of three different water jets. These jets are angled in just the right manner and, when flushed, produce a whirlpool-like effect within the rimless bowl.
After flushing the TOTO Promenade II, due to the centrifugal force of the water, any waste is suddenly whisked away. This results in a thoroughly cleaned surface, every time.
ADA Compliant
Whether you live with someone who is disabled, elderly, young children or you personally have any form of mobility issues, you will be happy to know that the Promenade II is ADA compliant.
This ensures that the seat of the toilet is slightly taller than your average toilet and makes it easy to access for people of all abilities, shapes, and sizes.
Seat Included
Not only does the TOTO Promenade II include a seat, but the seat is also a revolutionary soft-closing design.
This type of seat reduces noise both when opening and closing the lid. Allowing you to protect your toilet bowl and make less noise!
CeFiONtect Glazing
The bowl of the Promenade II is covered in CeFiONtect glazing. This type of glazing is designed to help avoid the build-up of germs and bacteria in the toilet bowl.
Rather than simply help dispose of your waste, this glaze works with your toilet water to clean the bowl while flushing.
Warranty
TOTO is a great company that will ensure your purchase is covered. Even if you are not purchasing directly from the TOTO website, the Promenade II includes a one-year limited manufacturer's warranty. If needed, you can find more information on the manufacturer's website.
Before You Buy
There are a few things to look out for before purchasing a TOTO Promenade II toilet for your home.
First off you need to know your measurements. For the Promenade II, your plumbing needs to be set up and ready for a 12-inch rough-in model. This is important because incorrect measurements can cause large gaps behind the tank, or simply the inability to install your toilet. 
You should also have a set budget in mind. Although the TOTO Promenade II is priced slightly higher than other models in the TOTO family, the Promenade II is a special toilet. We believe it is worth every penny, but your budget is something you definitely need to take into consideration before purchasing this toilet. 
This might seem silly for some, but the color of your new toilet is important. Imagine bringing your toilet home to realize it does not match your bathroom!
You have the choice of more than the standard white color with the Promenade II, it is actually available in five color options. Choose from Cotton, Bone, Colonial White, Sedona Beige, or Ebony to effectively match the design of your bathroom.
TOTO Promenade II Specs
Colors

#01 Cotton


#03 Bone


#11 Colonial White


#12 Sedona Beige


#51 Ebony


(Ebony is the only color not available with CeFiONtect glaze)

Models

MS814224CEFG (Available in colors #01, #03, #11, #12)
Includes CeFiONtect ceramic glaze and SS224 SoftClose seat


MS814224CEF (Available in color #51)
Excludes CeFiONtect ceramic glaze, includes SS224 SoftClose seat.


MS814224CEFRG (Available in color #01)
Includes right-hand trip lever, CeFiONtect ceramic glaze, and SS224 SoftClose seat.

Dimensions

28-1/2 x 17-3/4 x 31-1/4 inches

Seat Height

17-1/4 inches

Shape

Elongated

Material

Vitreous China

Weight

91 lbs

Flush

28 GPF

Codes/Standards

Meets and exceeds ASME A112.19.2/CSA B45.1


Certifications: IAPMO(cUPC), EPA Watersense, State of Massachusetts, City of Los Angeles.


Code Compliance: UPC, IPC, NSPC, NPC Canada.


Legislative Compliance: California AB715, California Green Building Code, City of Los Angeles Water Efficiency Ordinance, Buy American Act (BAA).


ADA compliant (when installed with a trip lever located on the approach side).
Long-Lasting and Versatile Toilet
Purchasing a toilet from a name that you trust is essential, and with over 100 years of toilet producing experience, TOTO offers it all. With competitive pricing and dependable products, you will never need to sacrifice quality when purchasing a TOTO product.
The TOTO Promenade II toilet offers a classical and unique design, with added modern technology. This toilet leads the industry to offer incredible style and unique design. Your toilet needs to be hygienic, but in a modern toilet, you should also expect quality and efficiency without wasting unnecessary water.
Choose a toilet from a brand you can trust. TOTO toilets are reliable and have proved the durability of their products for years. If you are looking for an eco-friendly toilet that will look great in every bathroom, the TOTO Promenade II is the option for you.