TOTO Carlyle II Review – Is This Toilet's Flush Really That Powerful?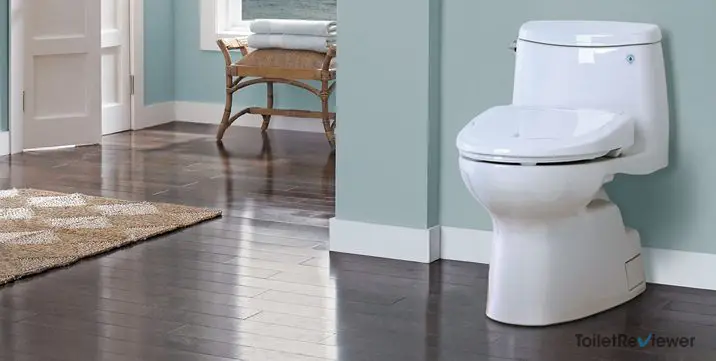 Purchasing a new toilet is usually a difficult decision. It's not only about finding a toilet that looks good, but you'll also want to consider how hygienic and powerful it is.
There are many options when it comes to replacing your toilet, but the Toto Carlyle II stands out from the crowd. It's literally one of the most powerful and efficient toilets sold by TOTO.
This toilet offers all the qualities you'd expect to get from a high-end potty – and it brings them quietly to your bathroom.
Toto Carlyle II Review – Is It The Quality We Were Promised?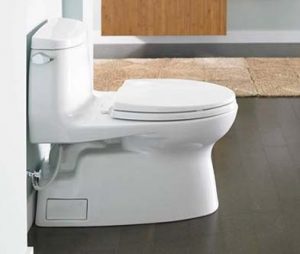 It's widely known that Toto manufactures some of the best toilets on the market.
Quality is almost guaranteed with most of their products, and that is the case with the Toto Carlyle 2.
The toilet is designed to save water with each flush, saving owners from expensive water bills and helping to preserve the environment.
The TOTO Carlyle II Is Efficient
It takes just a bit over 1 gallon per flush to fully cleanse the toilet bowl, making it one of the most efficient toilets we've reviewed.
Oddly enough, its high power doesn't impact its quiet performance. It functions very well, and it makes little noise while doing so.
Toto has done a remarkable job at creating a toilet that can fit into the space of most modern bathrooms, regardless of their size. The Toto Carlyle II has a compact but luxurious design that slots right into any setting.
This toilet has ups and downs, as you would expect from any product. Let's take a more detailed look at some of the Toto Carlyle II features and specifications.
Specifications of the Toto Carlyle II Toilet
| | |
| --- | --- |
| Model Number | MS614114CEFG#01 |
| Dimensions | 28.2 x 28.2 x 16.5 inches |
| Rough-In Size | 12-Inches |
| Weight | 110-Pounds |
| Bowl Shape | Elongated |
| Seat Height | Universal |
| Water Consumption | 1.28 GPF |
| Color Choices | Cotton, White, Beige, Bone |
| Warranty | 1-Year Limited |
Top Features from the Toto Carlyle II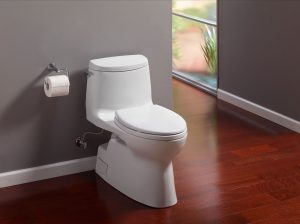 Apart from its luxurious design, the Toto Carlyle II is mainly known for one thing: its Tornado Flushing technology.
This powerful mechanic is what makes the toilet so powerful and quiet at the same time, placing it among the best Toto potties on the market.
The Toto Carlyle 2 is a one-piece toilet, which comes with an elongated bowl and a Universal height that standardizes its use for the benefit of everyone.
It's compliant with the ADA, and unlike some of its competitors, it also meets the EPA guidelines on efficient water use.
If you'd like to know the full extent of features offered by this toilet, we'll explain them all in the next few paragraphs.
Toilet Design
Toto took a lot of creative freedom when developing the Carlyle II toilet. It has a narrow, skirted shape that makes it look like a luxurious piece of bathroom equipment.
It looks very sleek, although some could find it a bit uncomfortable to scrub given the openings from which the water enters the bowl from the tank.
The best part about this toilet's design is its flushing system. Not only does it require less than one-and-a-half gallons of water to function, but it's also extremely efficient.
It uses a double cyclone mechanism, a sort of whirlpool maker that removes everything inside the bowl as quickly as you could wish.
Bowl Shape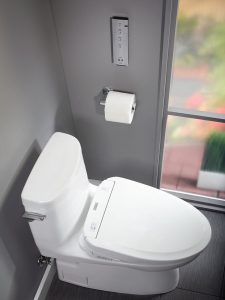 The bowl of the Toto Carlyle II has a rather compact shape, but it fits with the overall design of the product.
It's designed to be as efficient as possible when it comes to water distribution.
It's also a tad hard to scrub (because of its narrow shape) but it has an ever-clean design that keeps the toilet free of residue, even after months of use.
Although a bit hard to brush, the toilet's bowl design allows a free flow of water and doesn't permit any dust to accumulate.
You'll rarely need to clean the Toto Carlyle II, and even when you do need to do it, there shouldn't be any residue stuck on its bowl thanks to the smoothness of the design.
The design of this toilet goes hand-in-hand with its advanced flushing system. The shape allows the water to flow directly where it's needed, which is the reason why such a small amount of water is used per flush.
Toilet Height & Design
This toilet comes in a single elevation level, known as Universal height. It's a standard height for any toilet and it should feel comfortable for any owner to use.
This height should allow your feet to rest on the ground and not dangle while using the toilet.
If you're not tall, you shouldn't have any issues with this products height. Regardless, if you measure less than 5 feet, you might want to consider another option – your feet will almost assuredly not reach the ground if this is the case.
The seat itself comes included with your purchase (if you buy the toilet directly from the manufacturer).
It's soft and very comfortable – and it doesn't produce any strong slam noises when you close it after using it.
The Flushing System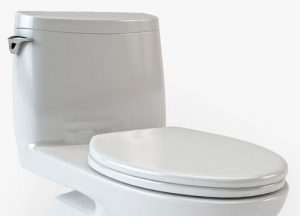 This product's design is modeled around an efficient flushing system.
The trapway can easily move residue without requiring a large amount of water, which means it's able to do a great job using between 1 and 1.3 gallons of water per flush.
The water channels of the toilet are well-positioned inside the bowl, maximizing the efficiency of the flushes. The siphon's design is very well implemented as well. It regulates the flow of water and allows the tank not to overflow.
The system, referred to by the manufacturer as the Tornado Flushing system, is one of the best flushing systems on the market. Its implementation in this toilet makes the Toto Carlyle II compliant with the EPA water efficiency rules.
How Does the Tornado Flushing System Work?
The Tornado Flushing system is canalized through two openings located on the upper area of the bowl. When the flush valve is opened, water starts to flow directly to these two openings.
These openings, known as waterways, are responsible for distributing all the water that comes from the tank into the bowl.
Solid Pressure Technology
The pressure with which the water comes through allows it to reach every area of the bowl. The system completely eliminates any trace of residue from the toilet and leaves it as clean as if you had manually scrubbed it off.
The process was computer-designed, making it very coordinated. This is also one of the secrets as to why the flow of water is so efficient; the company tested the process countless times before manufacturing the Toto Carlyle II for the masses.
Toilet Installation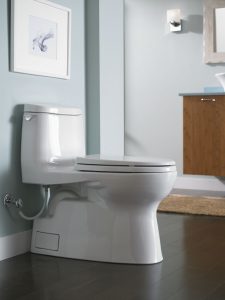 The Toto Carlyle II comes with an easy-to-install system, as most parts come pre-assembled and all you'll need to do is put it together and set it up.
Regardless, it's not as easy as it seems. If you want the toilet to work as advertised, you'll need to install everything perfectly.
We recommend hiring a professional if you're not sure of how to do it.
Keep in mind that you might need to change the location of your water pipes for this installation. If you hire a plumber, he might charge you quite a bit of cash to set it up.
Warranty
The Toto Carlyle II comes with a one-year limited warranty. Although its length doesn't inspire as much confidence as a 10-year warranty would, you're highly unlikely going to resort to it.
The Toto Carlyle II is made to last, and the flushing system should stay operating efficiently for many years.
Toilet Price
The price of the Toto Carlyle II is like the one you'd pay for other Toto products. If you want to get this toilet, you'll need to pay a little less than $1000 to do so.
As it may be costly to the average homeowner, the durability and quality are a given, should you choose to make your purchase.
Purchasing the toilet directly from TOTO may be more expensive and will likely take more time to ship to your home. Be sure you're purchasing from a trusted source if you're going to opt for a cheaper option.
Toto Carlyle II Benefits & Drawbacks
The Toto Carlyle II is an overall amazing toilet. It does have its own set of little flaws, but the toilet is durable, efficient and helps reduce water consumption.
It's not one of the cheapest options you'll find on the market, but it certainly is one of the best.
Top Benefits
Complies with the ADA as well as the EPA acts
Promotes the efficient consumption of water with 1.28 gpf requirement
Has a luxurious design
Stays clean even after months of usage
The seat is soft and comfortable
Universal Height makes this a good option for all sorts of buyers
Possible Drawbacks
You might need to hire an expert to help you install it
It has only one flushing option
Other TOTO Models
The Bottom Line
The Toto Carlyle II is a luxurious toilet that will fit directly into any bathroom thanks to its versatile and compact design.
It's manufactured by prioritizing an efficient water consumption system, a goal that is achieved through the implementation of the Tornado Flushing mechanic.
Although the toilet is rather expensive, it's an option you'll want to consider if you can afford to buy it. You'll be getting your hands on one of the best toilets on the market.
Summary
Reviewer
Review Date
Reviewed Item
Author Rating