The 5 Best Comfort Height Toilets – [2021 Reviews & Rankings]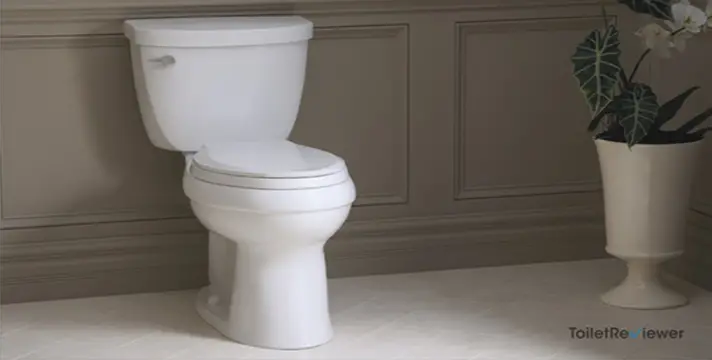 Comfort height toilets (also known as the "right height" toilets) have bowls that are 17 to 19 inches high. According to ADA, such toilets are best suited for seniors and disabled people.
Additionally, you will find comfort height toilets more comfortable and easier to use than traditional toilets.
We believe that the higher bowl height may be great for your back and knees, and can be really useful to taller individuals or people with mobility issues.
However, comfort height toilets aren't always comfortable for everyone. Health experts claim that such toilets allow for better posture and avoid back pain.
If you're a short person or have kids in the house, a higher toilet bowl may not be ideal for you.
While choosing the best comfort height toilet, there are several considerations you need to make. Consider such aspects as the bowl shape, flushing system, water efficiency and added convenience before shopping for one.
The Best Comfort Height Toilets for 2020
TOTO CST454CEFG#01 Drake Bathroom-Hardware, Cotton White
Item may ship in more than one box and may arrive separately
Double Cyclone Technology.does not come with a seat, it is just a bowl C454CUFG#01) and a tank (ST454E#01).
Powerful, quiet flush every time
Wide, 2-1/8-Inch computer designed trap way.Saves 20-Percent water over 1.6gpf toilets.
12 inches Rough-In
The easiest way to go while shopping for the best comfort height toilet is to buy from the best brands.
In this regard, TOTO is one of the global leaders in the industry. The Drake II Two-Piece Elongated Toilet is one of the most popular and best performing products by the manufacturer.
However, this product is not all about the renowned brand name; it is packed with an array of convenience and performance features. So, what exactly makes the Drake II superior to other comfort height toilets in the market?
Enhanced Performance
The exceptional performance of this unit has earned it a decent Maximum Performance (MaP) score.
The 800 Map score attained by the Drake II means that it is capable of moving more than 800 grams of solid waste in a single flush. Even so, you will find this unit to be highly efficient on water.
With regards to efficiency, the unit only uses 1.28 gallons of water per flush. As compared to traditional toilets that have an efficiency of 1.6 gpf, Drake II will save 20 percent of water per flush. Additionally, the toilet is equipped with a 3-inch flush valve.
These, coupled to the manufacturer's Cyclone flushing technology, allow for a faster and more powerful flushing experience.  With this model, you will also experience fewer clogs. This may be attributed to its CeFiONtect glaze technology that is meant to prevent clogs.
Pros
Features CEFiONITECT glaze technology
Uses Double Cyclone, Dual-flush technology
Comfortable universal height
Powerful and thorough cleaning performance
Efficient on water
Cons
Some users find this model relatively expensive
What if you had a comfort height toilet that delivers a good efficiency without sacrificing on the flushing power?
Well, this is exactly what the American Standard 2889216.020 H2Option Siphonic Toilet is meant to do.
Although this is a 1.6GPF toilet, it features the patent-pending siphonic action technology by the manufacturer.
This technology is designed to help prevent water wastage, get rid of more solid waste at a time and offer a quiet performance.
Owing to such features, this unit can easily move up to 1,000 grams of solid waste in a single flush while on the heavy Flush mode. While on the Light Flush Mode, the unit can move up to 400 grams of solid waste per flush.
Jet-Powered Siphon Technology
This technology essentially delivers the water to the bowl in two ways; through the rim and through a bowl jet.
The push of this H2Option jetted siphonic bowl, the siphon is activated by a push of the jet. Again, the pull resulting from the siphon jet creates a partial vacuum that sucks the waste from the bowl.
Additionally, this technology ensures that the water level in the bowl remains the same throughout the flush. This has been proven to result in a cleaner bowl, whilst using the least possible amount of water.
Speed Connect
In order to allow for easier and faster installation of the toilet, the manufacturer uses Speed Connect system on this unit. In this regard, the product comes pre-assembled and with factory installed grommets and bolts.
This has been proven to reduce connection time and eliminate loose parts. As such, the H2Options toilet is easier and faster, saving you about 30 percent of installation time.
Pros
Features PowerWash Rim for pressurized flushes
Easier and faster installation
Comparatively affordable
Offers a 12-inch rough in
Features a round-front, comfortable design
Features a Chrome plated push button actuator
Low consumption, high efficiency
Cons
Does not meet ADA requirements, hence not suitable for commercial installation
Unlike some of the best comfort height toilets available today, the
KOHLER 3810-0 Santa Rose
Toilet is both EPA Water Sense certified and ADA compliant.
The Santa Rosa may not be the most affordable option, but has several benefits to offer. So, why would you invest in this toilet?
Reduced Consumption
One of the best ways to reduce water consumption in your home is to install an efficient toilet. The Santa Rosa would be a great choice, in this regard. Despite being able to move large volumes of waster in a single waste, this toilet only uses 1.28 gallons per flush.
As a matter of fact, the toilet has an EPA Water Sense certification. In many municipalities, installing a toilet that has this certification will qualify you for rebates on water bills. All these will save you money on your monthly water bills.
Easy Cleaning
The cleaning efficiency associated with the Santa Rosa today may be attributed to its fully grazed trap, along with the powerful AquaPiston flushing system. In addition to being able to move large amounts of waste, this system is very efficient at cleaning the toilet bowl.
Cleaning the outer surface of this comfort height toilet is similarly easy. In this regard, the unit features smooth curves and does not have any hidden or hard to reach areas. As such, it is easy to clean and does not require you to use special cleaning agents.
Pros
Relatively easy installation
EPA WaterSense certified
Compliant with ADA requirements
Features a fully-glazed trapway
comes with a one-year limited warranty
Features an AquaPiston flushing system
Equipped with a Chrome trip Flush Lever
Cons
The toilet seat lid that comes with the unit is comparatively thin
SANIFLO Sanicompact - Dual-flush System - Residential
BONUS HALF BATH: The Sanicompact is a self-contained dual-flush toilet system used to install a half bathroom up to 9 feet below the sewer line, or even up to 120 feet away from a soil stack. For residential use only.
DUAL PURPOSE: The Sanicompact will also discharge gray water from a sink. The wastewater drains into a 1.25" hose connection in back of the toilet.
EFFICIENCY AT ITS FINEST: The standard dual flush version uses 1.28 gpf or 1 gpf and uses less water than any regular toilet but with the same efficiency. The push button activates a timer and a solenoid valve in order to fill and wash the bowl.
TECHNICAL SPECIFICATIONS: Motor: 0.5 HP oil-filled thermally protected; Noise level ≤ 53 dBA (Lp) (measured at 3 ft.); Discharge rate at 9 ft: 24 GPM; Certification code: CSA (IPC, NSPC); Connections: Sink
4 YEAR WARRANTY: All of Saniflo's products have a 2 year warranty with purchase, and an additional 2 years is added with registration. Our warranty program can offer peace of mind, should a problem arise.
This is arguably one of the best efficiency comfort height toilets in the market today.
With regards to water consumption, the unit only uses a gallon of water per flush. As the name suggests, this is a rather compact toilet.
As such, it is a perfect choice for installation in tight spaces.
Additionally, this product was designed to offer added convenience and ease-of-use for the disabled people. You will also find this product to be rather versatile.
Not only is it easy to install; it may be installed almost anywhere, including in the basement, ground floor, upper floor or in the garage.
No Need for a Toilet Tank
Having been designed to for installation in tight spaces—where conventional toilets cannot fit—this unit does not require a toilet tank. Instead, it uses macerating pump cycle and flushing action is automated. All you need to do is press a button positioned on the bowl's top.
Additionally, the flushing mechanism on the SANICOMPACT is electronically timed. As such, only a gallon of water can be dispensed by the toilet every time you are flushing. The discharge elbow that is located at the back of this unit may be rotated up to 360 degrees.
This is meant to allow for easy installation on almost any situation. The unit also features a pre-assembled non-return valve to prevent back flow in the elbow. Other than that, you will be glad to learn that the unit does not require any venting.
Pros
Aesthetically appealing design with Chrome hinges
Efficient on water
Ideal for installation in tight spaces
May be used to drain water from the sink as well
Backed by a 2-year warranty by the manufacturer
Cons
The installation needs to be carried out by a skilled professional
With regards to water efficiency and affordability, the Niagara 77001WHCO1 Stealth is one of the best comfort height toilets in the market.
The unit uses less than a gallon of water per flush. This leaves many people wondering whether it is effective at cleaning the bowl.
In order to allow to efficient cleaning of the bowl and flushing of solid waste, the toilet features a specialized flushing system. In addition to flushing water to the basin, the flushing system also serves as a siphon.
Pros
Highly efficient on water
Quiet flushing performance
Cleans the bowl thoroughly
Fairly affordable
Comes with a 10-year warranty
Comfortable seating height
WaterSense certified
Features a compact design
Cons
Does not come with installation bolts
Things You Need to Know Before Choosing a Comfort Height Toilet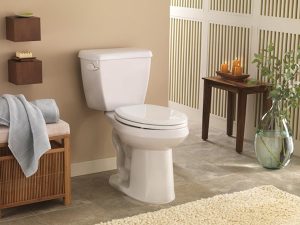 Basically, no bathroom—residential or commercial—will be complete without the right toilet.
Whether it is for the first time installation or just a replacement project, you must ensure that you get the right toilet for your bathroom.
As you may be aware toilets in the country are regulated by the Americans with Disabilities Act and the ADA.
Therefore, it goes without saying that it is better to get a product that has been certified by these two bodies. However, the choice of the right toilet goes beyond these two considerations.
So, what exactly should you look for in your new toilet? Discussed below are some of the key aspects you need to consider while shopping for the best comfort height toilet.
1. Toilet Height
To begin with, you need to worry about how high you would like your toilet to be. Toilet height is the measurement from the top of the toilet seat to the floor.
As you may have noticed, toilets are available in several height options, ranging from 15 inches to 19 inches.
With regards to toilet height, there are several aspects that you need to put under consideration, including:
The Elderly and Tall People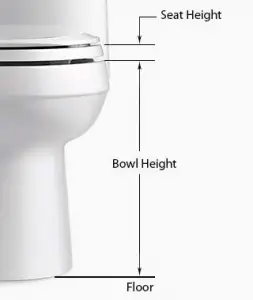 Tall people normally find it easy to sit on taller furniture. Similarly elderly people or people with joint problems will find it easier to use a taller toilet. As such, it is advisable to get a comfortable height, usually between 17 and 19 inches, toilet for your bathroom.
With such a toilet, it will be comparatively easier for the tall and elderly people to stand-up and sit-down without experiencing any joint and back problems. Again, you preferred toilet should have an elongated bowl.
Ideal for the Handicapped and Disabled
Do you have a disabled or handicapped person in your home or are buying a toilet for a public bathroom? In such a case, your preferred choice needs to comply with ADA requirements for the handicapped and disabled.
For the handicapped and disabled people, it is a requirement by the ADA for the toilet to have a height of between 17 and 19 inches.
If you have a member of family who uses a wheelchair, you will also need a lateral-sliding transfer. This will help transfer them to the toilet seat—preferably on the same height level.
For the sake of disabled and handicapped children, the toilet should be between 11 and 17 inches high.
In case you do not find a toilet that is high enough, it is advisable to get a wall-hanging model and set it at the right height. An automatic flushing system will also be great for such a toilet.
2. Gravity-Feed or Pressure-Assisted?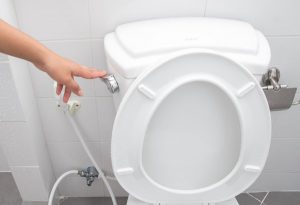 Currently, most of the available comfort height toilets use a gravity-feed mechanism.
However, there are still great models that use a pressure-assisted mechanism.
This being the case, you will need to choose the right one from these two options.
Pressure Assisted Comfort Height Toilets
This type of toilets is particularly ideal for larger families and toilets to be used in public facilities. In their functioning, these units compress air within a sealed tank. This will, in turn, generate pressure that will thrust waste down the toilet waste line,
With this type of toilets, you need to ensure that your water system offers water pressure of at least 25 pounds per square inch.
As compared to gravity feed toilets, pressure assisted models experience fewer clogs. However, these models are comparatively noisier.
Gravity Feed Comfort Height Toilets
These toilets feature a flush valve that solely depends on gravity. In this regard, the toilet will drop water down from the tank into the bowl to push the waste. Such toilets can work with low water pressure, as low as 10 pounds per square inch.
If you are looking forward to a more powerful thrust, you should get a model with a larger flush valve.
With regards to valve size, it is advisable to go for a 3-inch, 3½-inch or even a 4-inch valve. The problem with this type of toilets is that they are more susceptible to clogging.
3. Flushing System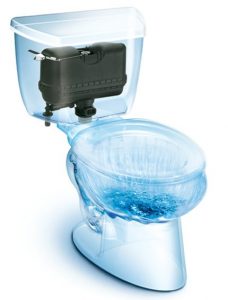 While all toilets are meant to flush the waste away, the various models use different flushing systems.
Well, the problem is that many homeowners do not remember to check this. The type of flushing system used on a toilet will determine its performance, to a great extend.
In this regard, here are some of the main toilet flush systems you should consider:
Dual-Flush System
This is a superior flushing system that allows you to select the amount of water to use per flush, depending on what you are flushing way. For instance, you can select the partial flush option to flush away liquid waste.
Such a system will help you save a considerable amount of water. However, there are some dual-flush toilets that do not have enough power on their partial flush mode.
Such models will often require you to flush two or more times to get rid of the waste; hence waste a lot of water.
This being the case, you need to ensure that the dual-flush toilet you choose it highly efficient. Most of the toilets that have been certified by WaterSense will serve this purpose.
TouchLess Flushing
Owing to technological advancements in the industry, it is now possible to flush the waste away without having to operate any lever.
Toilets using this technology feature a sensor that only requires you to wave your hand to activate the flushing system. Such a system is particularly ideal for the disabled and handicapped people.
Regardless of the flushing system you opt for, you need to ensure that the flush control meets ADA requirements. For instance, the flush control should not be positioned higher than 44 inches above floor.
Additionally, the flush system should not require more than 5 lbs of force to activate.
4. Toilet Trapways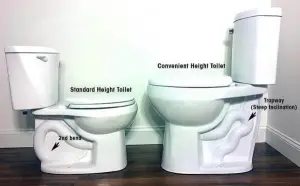 This is another one of the important, yet often forgotten considerations you need to make.
The trapway is the part of the toilet that carries the waste down from the toilet bowl, all the way to the pipe connecting the sewer line. To curb toilet clogging, it is advisable to go for toilets with glazed trapways.
While that is the most important trapway consideration, you may also need to choose a trapway design that you like. In this regard, there are three main trapway designs to choose from in the market today, including:
Concealed Trapways
Toilets with this trapway design often have a smooth trapway surface; hence are easier to wipe clean. For such toilets, low-profile bolt caps are best suited. As opposed to traditional raised caps, the low-profile bolt caps offer a smooth surface that is easier to clean.
Exposed Trapways
Most of the best comfortable height toilets today have this type of trapways. As the name suggests, the trapway may be seen from the outside—forming an S-shape. In most cases, toilets with this type of trapways use standard bolt caps.
Skirted Trapways
As opposed to the trapway designs described above, skirted trapways will offer you a uniform cleaning surface from back to front of the toilet. What many homeowners love about this type of trapways is that they do not have any exposed bolts.
As such, many of the toilets with skirted trapways do not require drilling, special tools or caulk during installation. You will find such comfortable height toilets relatively easier to install and clean.
4. Bowl Shape
Though not so important, you still need to choose the right bowl shape for your comfort height toilet(s). As you may have realized, different toilets have bowls of different shapes and sizes. So, which bowl shape is the right one?
Round-Front Toilets – these are a perfect solution for smaller bathrooms. Most of the round-front toilets measure between 25 and 29 inches from the bowl nose to the back of the tank.
Elongated Comfort Height Toilets – toilets with this type of basin often have a length of between 28 and 32 inches. They are a great choice for those looking for added comfort and room.
Compact Elongated Toilets – features a round toilet footprint, but offers the comfort of an elongated toilet basin. These save you about 10 percent of space, as compared to elongated basins.
Ready to Buy the Best Comfort Height Toilet?
According to ADA, taller toilets are best suited for the elderly, tall and disabled people. This is probably why an increasing number of homeowners today are opting for the best comfort height toilets in the market.
In order to buy the right unit from the hundreds of models available, you have to consider several things.
As discussed above, no two comfort height toilets are the same. In addition to your personal preference, you need to get a highly-efficient, reliable, affordable and easy to clean toilet.
All in all, this guide will help you choose the best comfort height toilet today.
Summary
Reviewer
Review Date
Reviewed Item
Author Rating