Not everybody has the luxury of a spacious, large bathroom. For that reason, many people look for space-saving solutions like compact toilets for small bathrooms.
Unless you're buying a high-end toilet like the ones from TOTO, most toilets are similar in shape. What actually makes a toilet more compact is its shape and length.
Just because a toilet is compact doesn't mean it is uncomfortable. Most compact toilets have an elongated bowl, which allows for a large toilet size.
The smarter the design of the toilet, the more comfortable you'll be. Also, compact toilets can still be efficient, offering features like a dual-flush system and self-cleaning capabilities.
The 7 Most Compact Toilets for Small Bathrooms
GALBA is no doubt the best small compact toilet you can purchase right now.
This model is recognized as one of the shortest toilets in the market. It compromises neither aesthetics nor comfort despite the small size.
Designed as a skirted one-piece unit, this toilet is extremely easy to clean and maintain.
It comes with a detachable seat, elongated bowl, and flat surfaces. The self-cleaning surface gives a perfectly clean flush while preventing any skid marks. Additionally, it prevents the toilet from scratching, rusting and changing color.
What We Love About This Toilet
There are many things you are going to love when it comes to this toilet. First of all, you'll love its look that features glazed surfaces. Its sleek design can turn any bathroom into a classy, stylish look.
Another thing you'll surely like about the Galba is its construction. It is designed to remain in great condition for many years, no matter how often you use it. That's because of the finest materials used in the construction of this toilet.
Furthermore, this small toilet is surprisingly powerful and efficient thanks to a dual flush system. This mechanism ensures that your throne stays clog-free all the while.
The only noteworthy downside is that the unit requires cleaning more frequently due to the low water level in the toilet bowl.
Pros
Highly efficient
Total comfort offered
Dual flushing system
Self-cleaning surface
Slow closing seat
Easy to install
Saniflo Sanicompact is definitely the greatest space-saving toilet these days. This petite compact toilet fits in just about any narrow space.
It is particularly suitable for a half-bath or a powder room in a very small location.
It should not come as a surprise. Just look at its dimensions – 18.25 x 14.5 x 15.75 inches. Given the fact that the water tank is mounted inside, this size is really impressive. But the size is not the only notable thing about this toilet.
Unique Design & One Click Flush
It also boasts a unique design that allows you to connect a sink. The dual flush is perfectly timed so that the amount of water used depends upon the water pressure.
You can trigger the flush by use of a button, flushing either 1 or 1.28 gallons of water based on whether you want to wash away heavy or light waste.
In addition to the electrical flushing system, the toilet uses a macerating mechanism that chops the waste and dirt into mush that can be pumped to the waste drain through a 1″ pipe. The wastewater gets removed from the wash basin. This is something that not many toilets offer.
Pros
Impressive durability
Uses the macerating system
Comes with a rotatable discharge elbow
Easy maintenance
Low water consumption
WaterSense certified
Cons
The installation may take longer
Quality control could be better
Here we have a compact toilet which comes with an elongated bowl, AquaPiston Flush Technology, and water tank.
Actually, the tank is integrated into the toilet with the goal of saving the space. It also keeps the lines clean. The lid and seat are included too.
Comfort Height(R) is another feature worth mentioning. By offering the chair-height sitting experience, this toilet caters to most adults. There's no doubt you'll have a good time while using the toilet.
Easy to Clean & Powerful Flushing
The materials used the design of the bowl makes it easy to clean the toilet. You will no longer have to worry about waste remaining in tight corners and dirt accumulating in your toilet.
The toilet also uses a powerful flushing system that ensures good performance and impressive cleaning efficiency. As a result, your toilet will always remain clean.
This water-efficient toilet uses approximately 1.3 GPF (gallons per flush), which is a moderate amount of water as compared to old 3.6-gallon toilets. This way it can provide water savings of about 16,000 gallons annually.
Pros
Seamless design
Easy to clean
Fully glazed
Compact in size
Comfortable
EPA WaterSense certified
This compact toilet is designed in such a way to seamlessly fit into any corner, allowing you to have more space. It is all about a water tank and a round bowl that takes up less space in the bathroom.
It's important to note that the toilet is ADA compliant and EPA WaterSense certified. In regard to the functionality, you can rest assured that the toilet can do the job just fine. Most importantly, you will feel comfortable when sitting on this compact toilet.
It comes with a 1.6-gallon single flush that can do the job just as good as the dual flush. The water is released at a strong pressure to clean off the toilet thoroughly. This means fewer clogs and higher performance. However, this flush mechanism can be a little complicated to the elderly.
A vitreous china construction makes cleaning a breeze. It features an ever clean antimicrobial surface.
Pros
Ingenious features
Easy to clean
ADA compliant
A variety of styles
Durable
Cons
Handle is slightly hard to push
Doesn't come with a seat
If you are one of those people who seek a luxurious, elegant, and convenient bathroom experience, TOTO is the right choice for you.
Its stylish appearance is completed with a semi-skirted base, elongated front bowl, and chrome push button.
If you are on a lookout for a top performance 2-piece compact toilet that fits perfectly in a small bathroom and meets ADA specifications, look no further. This toilet is very likely the one you are looking for. Yep, there are many good reasons to go for Toto.
Low Water Consumption & Easy Installation
However, most people will opt for this toilet because of low water consumption. Thanks to the advanced flushing system, the Aquia Dual Flush mechanism, you will be able to flush a specific amount of water you actually need.
In fact, you can choose between 1.6 or 0.9 GPF depending on the kind of waste. You'll reduce water conservation to about 1.15 gallons per day and save money on water bills in the end.
The installation is quite simple. For most people, it's not a big deal to put together two pieces; it can be done within a short period of time. The skirted design prevents the toilet from interfering with the water supply pipes. That makes the installation process faster.
Pros
WaterSense certified
Great dual flush capability
Universal height
Low consumption
Pretty compact
Cons
Not suited for commercial use
Prone to leaks
With an elegant design and ingenious features, this toilet can make most people get one for themselves.
Apart from its sleek finish to the bathroom, you will love this compact toilet because it is meant to be eco-friendly.
But there are also many other things you will like about the Woodbridge toilet, such as the soft closing seat.
High End Seat & Quiet Flush
This high-end seat is equipped with a stainless steel hinge. The soft closing design ensures that your kids can't slam down the seat anymore. It reduces the risk of damages or cracks.
The super glazed bowl allows for a more powerful and quieter flush. With the dual-flush system, this toilet minimizes the likelihood of dirt and limescale buildup.
In addition to these amazing features, the Woodbridge toilet is popular with many homeowners because of its fantastic price. This enables people on a tight budget to get much more for a relatively small price.
Pros
Soft closing seat for better comfort
Dual flush capability
Luxurious modern design
Easy to clean
Very affordable
Cons
Difficult to install
Must push and hold to activate the flush
The idea behind composting toilets is to recycle the waste that gets in rather than flushing it away. It's about the natural processes of evaporation and decomposition.
Since the water makes up over 90 percent of the waste, that liquid returns to the atmosphere through evaporation. The leftover solid materials get converted into fertilizer by means of decomposition.
This process involves quite a few things to get done. The waste must be composted without odor, while the liquid component should be evaporated effectively. Also, the compost is supposed to be easy and safe to handle.
Compact & Easy to Maintain
This self-contained toilet can do all of this efficiently and without the stench of compost. At the same time, it will save space in your bathroom. That makes it an ideal choice for people who want to go green by making use of compost.
The toilet is easy to maintain and clean. The container with liquids should be unloaded every other day or so. You can clean it with some water and a toilet brush. Furthermore, the toilet is surprisingly easy to handle and transport.
Pros
Environmentally friendly
Big compost capacity
Portable design
Easy to disassemble
Comes with a built-in fan
Cons
Side latches are tight
It requires emptying
Overpriced
Things You Must Know Before Buying a Compact Toilet
While all toilets have basic features and it is really hard to go wrong, you should be vigilant and wise when picking a toilet for a small bathroom due to the limited space.
Here's what you need to consider when choosing a small toilet.
Size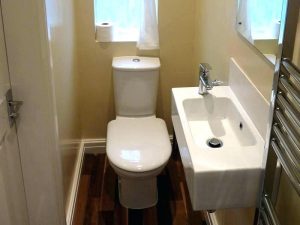 The size is definitely one of the most important factors when it comes to compact toilets.
Nobody wants to be hunched up and feel squeezed when using a toilet.
To prevent this, it's critical to choose a size that fits comfortably in your bathroom. However, make sure its size does not compromise overall comfort and functionality.
The height and width usually don't cause any issues. Nevertheless, you should consider the height because a too low toilet can ruin your bathroom experience.
Be Mindful of Length & Distance
Pay careful attention to the length, i.e. the distance between the front and back of the toilet. It will be a determining factor in your decision. Your best choice would be to pick out a slightly shorter toilet.
That would shave off a few inches and help you save a bit on floor space. So, how small should it be?
Typical toilet dimensions are somewhere around 27" (D) x 19" (W) x 26" (H). It goes without saying that a toilet needs to have smaller dimensions to be regarded as "small." You are advised to look for models that stay within the limit of 26″ lengthwise.
Space-Saving Shape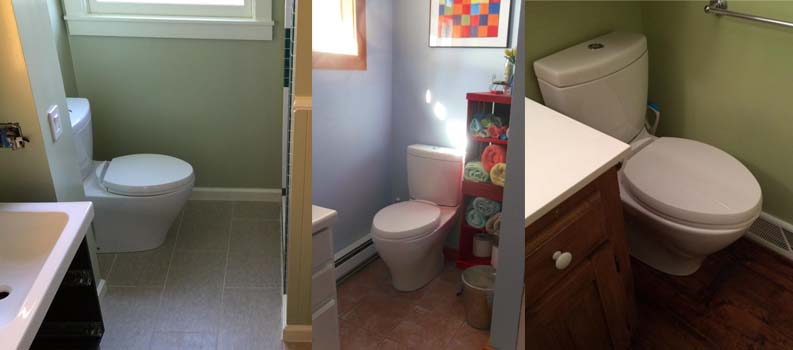 Most toilets are fitted with either an elongated or compact bowl. For both types, the width remains pretty much the same.
Elongated-style toilets tend to be about two inches longer than those with compact bowls.
Many people find the toilets with elongated bowls more comfortable. This is because the longer seat provides more thigh support.
If you're short on space but still want the convenience of an elongated bowl, then you should go with a hybrid compact elongated toilet.
A perfect example of a space-saving shape is Galba toilet (the first one on our list). This one-piece small toilet comes with an elongated bowl and well-rounded features that make fit into the same room as the round-front toilets.
Type: One-Piece vs. Two-Piece Toilets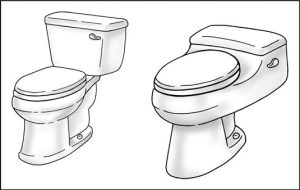 The type of construction can make a huge difference in space saving.
Basically, there are 2 types of toilets:
One-piece toilets
Two-piece toilets
In general, one-piece toilets are more space-friendly than their two-piece counterparts. The reason is obvious. Unlike 2-piece toilets, they are designed as one big unit so that the tank and bowl are joined together.
The benefits of such construction include effortless cleanup and clean finish. There are no seams to harbor grime or dust. The biggest downside is that these toilets come with a hefty price tag.
On the other side, the 2-piece toilets come with the bowl and water tank attached separately. So, if any of these parts should be replaced for some reason, you can safely remove it without having to touch the other.
Flushing Efficiency
Flushing efficiency is another factor to take into account. You'll want to keep your toilet clean while saving water at the same time.
That's why you should go for bathroom accessories that are made with water conservation in mind.
Select a model that allows for efficient cleaning. It is supposed to flush down the waste effectively and without using plenty of water.
Choose dual-flush toilets over those with the single flush system. If you prefer single-flush models, be sure to pick one that features a good flushing efficiency.
Installation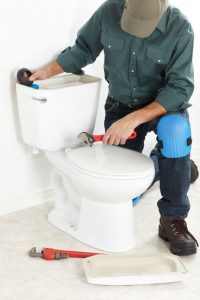 The different models have different requirements in terms of installation.
That may include the size of the tank, plumbing, and source of water, among others. Make sure that you choose a model that's easy to set up.
One-piece toilets are generally easier to install, as it is not necessary to connect the bowl to the tank. The installation comes down to one major task: getting the toilet in position.
With regard to the installation of two-piece toilets, the good thing is that you will able to deal with the bowl and tank separately. The total weight is divided between these two parts, which makes things a whole lot easier.
Space Saving Ideas for Small Bathrooms
Do you have a tiny bathroom? Don't despair. A small bathroom can be both stylish and functional.
You just need to find ways to maximize the available space and make the most of it.
Below are some space-saving tips and tricks to optimize space in a small bathroom.
Space Saving Toilets
One of the most effective ways to maximize the space in your small bathroom is to go with a compact toilet. Most of these units do not include external water tanks, which take up a lot of space. That's why they can fit into a tiny space without hassle.
With regard to the shape, compact toilets come with either an elongated (more common types on the market) or rounded bowl. They are both designed cleverly to take up less space in the bathroom.
Make sure that you know the exact dimensions of your bathroom before buying a toilet. It should perfectly fit in your bathroom.
Glass Doors or  Shower Curtains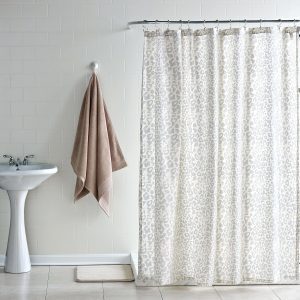 Use a glass shower door rather than a shower curtain. This can make your bathroom seem larger by creating the illusion of open space.
A glass shower door will give you the feeling that the shower area is not isolated from the rest of your bathroom.
Some people don't like clear glass doors, though. If so, choose a bright colored curtain rather than a dark one that can make your bathroom seem smaller.
Sliding Doors
Another way to maximize space is to use a sliding door. It is particularly useful for tiny bathrooms.
Not only will such a door save on space, but it will also make your bathroom more stylish by adding a modern touch to it.
Soft Colors
Use soft colors for the walls. Also, choose towels, accessories, and decorations items that come in vivid colors.
Just as with any other room, soft colors can make your bathroom look somewhat bigger. Strong colors, on the other hand, can make a small bathroom look even smaller.
Improve Functionality of Your Bathroom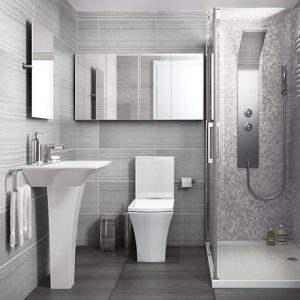 Some small bathrooms have a shower while others have a tub with a shower inside.
No matter what kind of bath you decide on, there are a few tricks that can keep a small functional.
If you would rather choose a bathtub than a shower, make sure you save space somewhere else.
For example, you can use a pullout faucet in your bathroom. It's also possible to save some space by using a washbasin that comes with tower bars.
Choose a small sink over a big one. Remove wall-mounted towers racks since they also occupy some space. Go for bathroom furniture with curved corners. All of this can improve the functionality of your bathroom and free up some space.
Ready to Save Space In Your Bathroom With a Compact Toilet?
We hope you've enjoyed reading this post. Our goal was to help people who have a small bathroom and want to save space for other accessories and items.
With a compact toilet, even the smallest bathrooms will look larger and more organized.
You could get familiar with the best compact toilets for small bathrooms in the market.
These space-saving toilets can make your bathroom look stylish and adorable without sacrificing comfort. There's something for everyone.
Summary
Reviewer
Review Date
Reviewed Item
Compact Toilets for Small Bathrooms
Author Rating