Best Macerating Toilets Of 2021 | Top 10 Upflush Toilets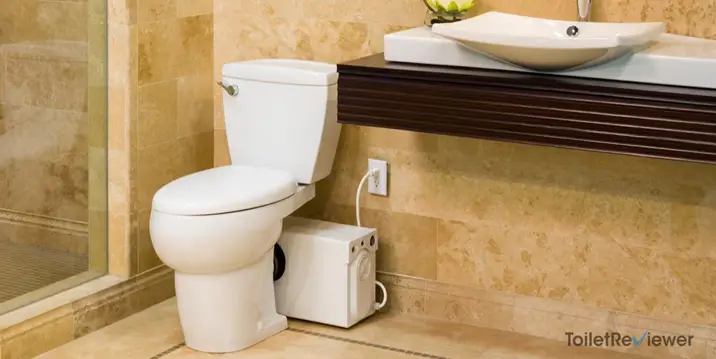 Macerating toilets can be installed in the most unusual locations. They can be used in homes that require a toilet to be placed far away from the main drain line.
The best macerating toilet will be powerful, resistant to clogs, and easy to clean. Before you buy a macerating toilet, consider its weight, size, and ease of installation. You should also consider its warranty, and how it looks.
In this detailed buyer's guide, we will look at the best macerating toilets for different types of applications. In addition to how they work, maintenance tips, and how to install one.
What Is A Macerating Toilet?
A macerating toilet is a type of toilet that chops up and liquefies solid waste to make it easier to move through pipes. Macerating toilets have a rotating blade that grinds solid materials like toilet paper and solid waste, so its far easier to pump thru small pipes with little pressure. This makes them the best toilets for basements.  (Source).
Best Macerating Of 2020
There's a reason why this macerating toilet remains one of the most popular on the market. And, there's more to it than just its relatively low price. The Ascent II boasts RazorCut technology, which ensures that any waste flushed down this toilet is obliterated in no time.
It takes only seconds for this toilet to pump waste and water far away. Additionally, it features an attractive design that makes it fit in with your bathroom decor.
Lightweight & Easy to Install
One of the keys to this toilet's popularity, however, is its light design and ease of installation. If you have to carry this toilet through a building to install it, you'll be glad that it weighs so little. The toilet is easy to install, because you won't even need to cut into the bathroom floor to install it!
This toilet is also one of the more efficient models out there. At only 1.28 gallons per flush (GPF), it will help to keep those water bills down.
What We Liked 
Lightweight
Low water consumption
Modern design
Easy installation
What We Didn't Like
The unit can be noisy when in use
The blade needs to be changed once per year
If you're looking for a toilet that will fit into a tight space and still give you the macerating power you need, this could be the one for you.
As the name implies, this toilet is made to fit into the smallest bathrooms. The unit comes with a built-in tank, which saves work when it comes to installation. This toilet is really light considering, weighing just 62 pounds. It's easy to handle by yourself, but we recommend getting a little help.
Plus, the small size of this toilet makes it one of the most efficient on the market when it comes to water consumption. This toilet only uses around a gallon of water per flush.
SANIFLO Sanicompact - Dual-flush System - Residential
BONUS HALF BATH: The Sanicompact is a self-contained dual-flush toilet system used to install a half bathroom up to 9 feet below the sewer line, or even up to 120 feet away from a soil stack. For residential use only.
DUAL PURPOSE: The Sanicompact will also discharge gray water from a sink. The wastewater drains into a 1.25" hose connection in back of the toilet.
EFFICIENCY AT ITS FINEST: The standard dual flush version uses 1.28 gpf or 1 gpf and uses less water than any regular toilet but with the same efficiency. The push button activates a timer and a solenoid valve in order to fill and wash the bowl.
TECHNICAL SPECIFICATIONS: Motor: 0.5 HP oil-filled thermally protected; Noise level ≤ 53 dBA (Lp) (measured at 3 ft.); Discharge rate at 9 ft: 24 GPM; Certification code: CSA (IPC, NSPC); Connections: Sink
4 YEAR WARRANTY: All of Saniflo's products have a 2 year warranty with purchase, and an additional 2 years is added with registration. Our warranty program can offer peace of mind, should a problem arise.
The chrome hinges on the lid are a nice touch, and overall this toilet feels like it's solidly built despite its small size and low weight. It also features a non-return valve to ensure that no wastewater returns to the bowl once it's been flushed.
It's common for macerating toilets like this one to have less water in the bowl than standard toilets. Be aware, though, that this can mean you need to clean the toilet more often.
Pros
Compact size
Light weight
Low water consumption
Great for small bathrooms
Cons
Low water level means it often needs cleaning after use
The pump can be noisy
This Nano toilet utilizes Turbine Technology to produce a powerful, clog-resistant flush.The compact size of this unit makes it a popular choice for those with smaller bathrooms.
In fact, as its name suggests, this model has a lot in common with the toilets you might find on a ship, where space is a significant consideration.
This marine toilet may be small, but it is just as powerful as some larger toilets.  It is in line with the new requirements for vessels below 50′ (45m).
Powerful Flush
The turbine technology in this model gives it a super powerful flush. This saves water by reducing the number of times you need to flush and makes sure your waste gets carried away effectively and efficiently.
This toilet is incredibly quiet. It uses 2 check valves and a water trap, which helps avoid any odor problems.
Thetford Marine Nano ECO MACERATING Toilet, 12V, White 38983
Smallest height 12V electric macerating toilet at only 11.6"H. Designed to fit on raised platform, as required.
Italian vitreous china; plastic seat and lid with slow close feature.
Very quiet, fast flushing cycle; low water use.
Also, order separate Install Kit with ECO switch: 38670 Pressure Water System or 38679 Raw Water System
Standard Port Sizes: 3/4" water intake, 1-1/2" waste discharge. Overall dimensions: 11.6" H, 14.6" W, 17.5" D, Base is 11.2" W
Choose between raw water and pressure water flush. The User-friendly Eco rocker switch helps reduce water consumption. In fact, this toilet only uses a measly 0.7 gallons per flush. All in all, this is a great macerating toilet that functions efficiently and reliably. It's no wonder it's such a popular choice.
Pros
Highly compact – ideal for small bathrooms
Powerful flush
Surprisingly quiet during operation
Very low water consumption
Cons
Less than 12 inches in height – designed to be used on a raised platform.
There's no need to break up your bathroom floor to install this macerating toilet.
Simply connect the pump to the spigot of the toilet and then hook up the toilet tank to the water supply. Connect the pump to the discharge pipe and turn on the power, and this toilet is ready to go.
Due to the nature of the pump and blade, macerating toilets will always be louder than regular toilets when in use. But this macerating toilet is remarkably quiet.
It also allows you to connect other bathroom fixtures, such as a sink and a shower, so that this toilet can function as the heart of your bathroom. This toilet allows you to create a bathroom up to 150 feet from the nearest soil stack thanks to its powerful pump. The 1.6-gallon flush strikes a good balance between power and water conservation.
And, the two-year warranty gives the buyer peace of mind that their purchase is the right one. All in all, this Saniflo macerating toilet is a solid choice.
Pros
Powerful pump
Quiet operation
Strong, efficient flush
Cons
The water level in the bowl is low, requiring regular cleaning
Expensive
With 1.6 gallons per flush, this toilet has the ability to get rid of what you put into it. With a stainless steel blade spinning at 3600 RPM, the macerator is more than up to the job of flushing waste away quickly.
In fact, this toilet can function even when it's as much as fifteen feet below the sewer line.
Installation of this macerating toilet is about as simple as it gets. Despite its impressive power, the pump is fairly quiet in operation, which you'll be glad if you need to use it late at night while people are sleeping nearby.
Don't let the ease of installation fool you, though. With a two-year manufacturer's warranty, this toilet is a solid and dependable workhorse, designed to get the job done.
Saniflo Sanibest Pro: Macerating Upflush Toilet Kit (with Elongated Bowl)
BONUS FULL BATH: THE Sanibest Pro is a 1 HP pump system used to install a complete bathroom up to 25 feet below the sewer line, or even up to 150 feet away from a soil stack. For residential and commercial use.
DUAL PURPOSE: The Sanibest will also discharge gray water from any sink, bath/shower, urinal and even a washing machine (indirect connection). The wastewater will drain into the system with built-in check valves on either side of the housing.
MAKES MAINTENANCE A BREEZE: The Sanibest Pro has an easy access service panel is located on top of the pump, allowing for easy access to the electrical components such as the capacitor, microswitch, electronic board & membrane for easy maintenance.
TECHNICAL SPECIFICATIONS: Noise level: ≤ 63 dBA (Lp) (measured at 3 ft.); Discharge rate at 25 ft: 19 GPM; Shut-off head: 38 ft; Certification code: CSA (IPC, NSPC), IAPMO (UPC); Connections: Rear outlet toilet, sink, shower/bathtub, washing machine
4 YEAR WARRANTY: All of Saniflo's products have a 2 year warranty with purchase, and an additional 2 years is added with registration. Our warranty program can offer peace of mind, should a problem arise.
Pros
Heavy duty construction
Two-year warranty
Powerful pump
Cons
Difficult to access blade if foreign objects clog the macerator
Supplied hoses can develop an odor over time and need to be replaced
Elongated bowls are all the rage these days, but if you're looking for something more classic, this macerating toilet could fit the bill.
The smaller bowl helps to keep the toilet's size down, making this toilet good choice for smaller bathrooms where space is at a premium.
At 100 pounds, this toilet shouldn't be too cumbersome for you to install yourself. Its powerful pump generates 10 PSI, so even if your water flow is weak, you don't need to worry about this toilet being up to the task.
If you're looking for a toilet with powerful macerating and pumping abilities that won't take up too much space in a crowded bathroom, this might be your best bet.
Saniflo SaniPLUS: Macerating Upflush Toilet Kit (with Standard Bowl)
BENEFIT : Install a bathroom anywhere without breaking up the floor!
KIT INCLUDES : SaniPLUS macerating bathroom pump + White toilet bowl (standard) + White toilet tank (Saniflo UPC#s 002, 003 and 005)
OPTIONS : For Elongated bowl and Extension pipe for behind wall installation, please see our other listings.
SHIPPING : Exclusive FREE same day shipping with UPS (receive in just 2-3 business days)
We guarantee our product is professionally foam packaged direct from warehouse for safe delivery
Pros
Lightweight
Easy to install
Space saving design
Cons
Connections don't last as long as they should before needing to be replaced
Low water level means multiple flushes may be required to fully clear bowl
This is a highly adjustable kit that can be purchased as an all-in-one solution to your toilet needs. The round design of this toilet helps to save space even in the smallest of bathrooms.
This toilet is as easy to install as the other macerating toilets mentioned above. All you need to do is connect the water supply to the toilet, the toilet to the pump and the pump to the discharge pipe. Then plug it in, and it's ready to go.
Pros
Space saving design
Easy installation
Can connect sink and shower to unit
Cons
Connections can be finicky and need to be connected just right to avoid leaking
Low water level
This toilet strikes a balance between saving space and still providing top-level performance. The round bowl makes it fit in smaller spaces while still being comfortable, and the toilet itself is a good height for people of various sizes.
This model also feels well-constructed. Some smaller toilets can feel fragile or cheap, but this feels like one that should stand up to long-term use. And when it comes to saving water, this toilet has a feature that is familiar from standard, non-macerating toilets. Its dual flush means that you can use only a half-flush when that's all you need, which helps to keep those water bills down.
All in all, it's a decent choice for a macerating toilet. But it does have some parts that may need to be replaced more frequently than you might like.
Pros
Easy to install
Fits in with most bathroom decor
Low water consumption
Cons
May need semi-regular maintenance
Liberty is a respected name in bathroom fixtures, and this toilet has some features that may make it a good choice for your bathroom.
For starters, it comes with a toilet seat, which isn't the case with all macerating toilets. That alone can save you another trip to the hardware store.
At 120 pounds, it's not the lightest toilet on this list. Installation is relatively straightforward, but the toilet's weight means you may need someone to help you move it into position.
What's most unusual about this toilet is that, instead of being connected to the main household power, the macerator can be powered by a 19-volt battery. This is a fantastic feature to have if you don't have power to your bathroom, or if your power supply is unreliable.
Macerating Toilet, Round, 1/2 HP, 115V
If macerator pump needs to be hidden behind the wall, use Liberty Pumps extension pipe K001184 (sold separately).
Improved cutter designwith RazorCutTM system.Stainless steel blades arereplaceable with heavy-dutyutility knife blades.
Advance run technology assures macerator bladesare running prior to debris entering the cutter basket.
IST switch technology provides for completeflush-out of debris in the cutter area reducingpotential clogging and jamming.
Solid state electronic switch system providesintelligent data for system operation and eliminatesolder style mechanical or diaphragm switches.
Pros
Battery powered – means toilet can be used during power cuts
Low water consumption of 1.28 gallons per flush
Powerful flush
Cons
Batteries need replacing and are more expensive than mains electricity
The unit can sometimes be noisy during operation
A macerating toilet really does give you the option to install a bathroom almost anywhere. This model has a sturdy construction that makes it a durable and popular choice for basement bathrooms.
Unlike many other models, this toilet has the macerating pump built into the plumbing of the toilet. This means less space taken up in your bathroom and gives it a look that is closer to a traditional toilet.
Beware though; if the macerator gets clogged or stuck, it's going to be difficult to access in this toilet. More difficult than in other models. Still, it's a comfortable toilet at a good height, and its performance is adequate for most users. It's certainly worth considering.
Bathroom Anywhere Macerating Elongated Toilet Bowl, White
Rear discharge toilet for use with the 1.28 gpf Bathroom Anywhere macerating toilet system
Upflushing toilet system features 1.28 gallon per flush
Contemprary styled elongated bowl
Includes slow close seat and cover and all necessary mounting hardware
18 1/2-Inch seat height complies with ADA guidelines and ANSI Standards A119.2.3
Pros
Sturdy construction means this toilet should last a while
Very easy to install
Cons
Macerator is difficult to access in the event of clogs
The pump is on the louder side
How Long Do Macerating Toilets Last?
Macerating toilets typically last about 15 years. They last as long as any other toilet, despite their extra equipment. All Saniflo toilets are guaranteed for up to 50,000 flushes.
How Much Do Macerating Toilets Cost?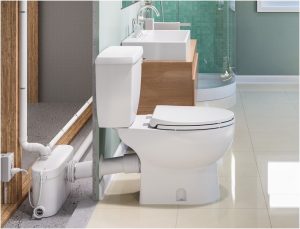 Also referred to as Macerating toilets, macerating toilets are designed to on top of your floor, so there's no need to install new plumbing.
The price of a toilet basically depends on its make and model. Most Macerating toilets cost between $800 and $1,600 each.
How Does A Macerating Toilet Work?
These toilets grind up solid waste and liquefy it. It can then be carried to the waste drain pine as small as 1 inch in diameter.
A macerating toilet features a blending or grinding mechanism that is designed to reduce human waste into a slurry before moving through plumbing. Macerating toilets are useful in cases where the water pressure is too low, or the toilet is being installed a considerable distance below the sewer drain pipe.
In contrast to conventional toilets, these toilets send the waste into a macerating unit that is situated either behind the toilet or in the wall.
Once in this unit, high-powered blades liquefy the waste, which is then pumped out of the unit through a normal pipe connected to the main drain line.
Is It Hard to Install A Macerating Toilet?
Macerating toilets aren't generally hard to install, but some models may prove tough to install on your own because of their weight. These toilets are actually easier to install than conventional toilets because you don't have to cut into the floor to install them.
Buyer's Guide: What To Look For Before Buying 
Water Consumption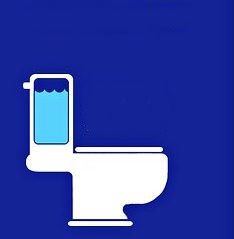 You want a toilet that does the job you bought it to do, but ideally, you also want a unit that's efficient. The less water your toilet consumes, the less each flush will cost you in water bills.
The water consumption of toilets is measured in gallons per flush (GPF). Around 1.6 GPF is a good standard to aim for. This won't be a big drain on your water supply, but it's enough for the toilet to do its job effectively.
Consider The Power Required
Regular toilets don't require a power supply to work. But due to the pump and spinning blades they contain, macerating toilets do.
It's important to consider how much power your toilet needs. Higher power usually means a stronger toilet that can push waste further to where it needs to go. However, it also means higher water bills.
Some macerating toilets run on batteries. This makes installation a breeze and means that such toilets can be used in areas where the power supply is unreliable or non-existent.
Be aware though, that batteries need to be replaced, which can add to both the time and expense of maintaining your toilet.
Macerating Toilet Design
If you've spent a lot of time making your bathroom look nice, you don't want to ruin it with an ugly toilet. Luckily, macerating toilets these days are available in a wide range of different sizes and styles to fit in with bathroom decor. Specifically, you don't want to choose a toilet that takes up too much space or one that's hard to clean.
Comfort Of Macerating Toilets (Macerating)
The comfort of your Macerating toilet is an aspect that is often overlooked. But it does matter, and it's worth thinking about before you make a purchase.
In particular, the height of your toilet has a big effect on its comfort and usability. And this is even more important for families, where multiple people of varying sizes and ages could be using the same toilet.
Where possible, it's a good idea to at least sit on any toilet you're thinking of buying. There's no need to feel embarrassed.Using the toilet is something every one of us does every day, so you want to make sure you've made the right decision.
How To Install A Macerating Toilet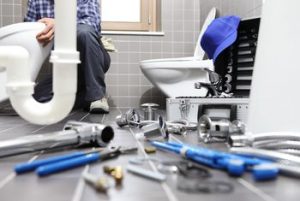 Macerating toilets use a rather unique waste discharge mechanism but are easier to install.
Check to see whether you need one, as building regulations mostly apply to drainage, plumbing, and ventilation systems.
Macerator Placement Considerations
For most macerator toilet systems, the macerator is a tank that sits behind the toilet itself. The toilet feeds directly into the macerator, which processes the waste and wastewater before evacuating it through a discharge pipe with the aid of an electric pump.
The macerator may also serve other bathroom fixtures, including a sink or shower, but can serve only one toilet. In many cases, the tank and its plumbing are all visible in the bathroom, but they may be concealed as well.
You may install the tank in the wall behind the toilet. To do this, you will require a longer extension piece to connect the toilet.
Go Vertical With The Waste Pipe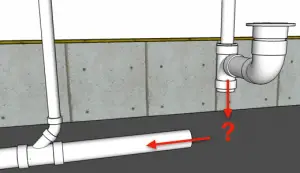 If your waste pipe needs to travel up at any point, keep the vertical portion as close to the macerator as possible.
There are limits to how long a discharge pipe can be. Again, note that every foot of vertical height is equivalent to 10 feet of horizontal run.
Lay the pipes strategically to avoid running out of allowable distance. The discharge piping can have only one vertical section.
Horizontal runs use gravity to move the waste, hence it should be installed with a standard 1/4 inch per foot downward slope as you approach the main drain.
Electrical Connections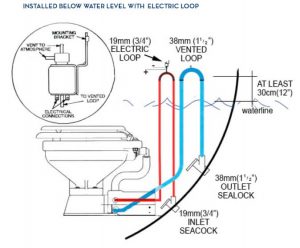 Even with some of the best macerating toilets, this type of toilet requires a connection to electricity. To make this easier, you need to have an outlet installed close enough.
This outlet should be located more than 40 feet  away from the shower. Since it is a bathroom installation, you need to make sure that the outlet is a Ground Fault Circuit Interrupter (GFCI) outlet.
Summary
Reviewer
Review Date
Reviewed Item
Author Rating