A macerating toilet carries an upflush toilet system. Such toilets send the waste to a component behind the toilet (usually a large container) or in a repository in the wall.
Macerating toilets function just like regular toilets, but with one key difference. Macerating toilets use a mechanism that grinds or blends human waste, which is then discarded away by pumping.
Such a mechanism is useful in situations where water pressure is low or if a certain person wants to install a toilet under the sewer drain pipe.
Macerating toilets don't require you to get a new pump. You can hook up the sink and the shower to the toilet and use the same pump to flush waste away.
Macerating toilets make bathrooms possible in places they otherwise wouldn't be. While they are more expensive than traditional toilets, they save you the hassle and cost of having to install a new plumbing system for your toilet.
While macerating toilets are ideal for cabins, workshops, and basements, they can also fit in some traditional homes that require a toilet to be placed far away from the main drain line.
The 10 Best Macerating Toilets for 2019
There's a reason why this macerating toilet remains one of the most popular on the market. And there's more to it than just its relatively low price.
The Ascent II boasts RazorCut technology, which ensures that any waste flushed down this toilet is obliterated in no time.
It takes only seconds for this toilet to pump waste and water far away. And it features an attractive design that makes it fit in with your bathroom decor.
One of the keys to this toilet's popularity, however, is its light weight and ease of installation.
If you have to carry this toilet through a building to install it, you'll be glad that it weighs so little. And you won't need to cut into the bathroom floor to install this unit.
This toilet is also one of the more efficient models out there. At only 1.28 gallons per flush (GPF), it will help to keep those water bills down.
Pros
Light weight
Low water consumption
Modern design
Easy installation
Cons
The unit can be noisy when in use
The blade needs to be changed once per year
If you're looking for a toilet that will fit into a tight space and still give you the macerating power you need, this could be it. As the name implies, this toilet is made to fit into the smallest bathrooms.
The unit comes with a built-in tank, which saves work when it comes to installation. And weighing just 62 pounds. It's easy to handle by yourself or with some help.
Plus, the small size of this toilet makes it one of the most efficient on the market when it comes to water consumption. This toilet only uses around a gallon of water per flush.
The chrome hinges on the lid are a nice touch, and overall this toilet feels like it's solidly built despite its small size and low weight. It also features a non-return valve to ensure that no wastewater returns to the bowl once it's been flushed.
It's common for macerating toilets like this one to have less water in the bowl than standard toilets. Be aware, though, that this can mean you need to clean the toilet more often.
Pros
Compact size
Light weight
Low water consumption
Great for small bathrooms
Cons
Low water level means it often needs cleaning after use
The pump can be noisy
The compact size of this unit makes it a popular choice for those with smaller bathrooms.
In fact, as its name suggests, this model has a lot in common with the heads you might find on board a ship, where space is a significant consideration.
The turbine technology in this model gives it a super powerful flush. This saves water by reducing the number of times you need to flush and makes sure your waste gets carried away effectively and efficiently. In fact, this toilet only uses a measly 0.7 gallons per flush.
All in all, this is a great macerating toilet for an additional bathroom that functions efficiently and reliably. It's no wonder it's such a popular choice.
Pros
Highly compact – ideal for small bathrooms
Powerful flush
Surprisingly quiet during operation
Very low water consumption
Cons
Less than 12 inches in height – designed to be used on a raised platform.
There's no need to break up your bathroom floor to install this macerating toilet.
Simply connect the pump to the spigot of the toilet then hook up the toilet tank to the water supply. Connect the pump to the discharge pipe and turn on the power, and this toilet is ready to go.
Due to the nature of the pump and blade, macerating toilets will always be louder than regular toilets when in use. But this macerating toilet is remarkably quiet. And it allows you to connect other bathroom facilities, such as a sink and a shower, to the pump so that this toilet can function as the heart of your bathroom.
This toilet allows you to create a bathroom up to 150 feet from the nearest soil stack thanks to its powerful pump. The 1.6-gallon flush strikes a good balance between power and water conservation. And the two-year warranty gives buyer peace of mind that their purchase is the right one.
All in all, it's a great choice for a macerating toilet.
Pros
Powerful pump
Quiet operation
Strong, efficient flush
Cons
The water level in the bowl is low, requiring regular cleaning
Expensive
With 1.6 gallons per flush, this toilet has the ability to get rid of what you put into it. And with a stainless steel blade spinning at 3600 RPM, the macerator is more than up to the job of flushing waste away quickly.
In fact, this toilet can function even when it's as much as fifteen feet below the sewer line.
Installation of this macerating toilet is about as simple as it gets. Despite its impressive power, the pump is fairly quiet in operation, which you'll be glad for if you need to use it late at night while people are sleeping nearby.
Don't let the ease of installation fool you, though. With a two-year manufacturer's warranty, this toilet is a solid and dependable workhorse, designed to get the job done.
Pros
Heavy duty construction
Two-year warranty
Powerful pump
Cons
Difficult to access blade if foreign objects clog the macerator
Supplied hoses can develop an odor over time and need to be replaced
Elongated bowls are all the rage these days, but if you're looking for something more classic, this macerating toilet could fit the bill.
The smaller bowl helps to keep the toilet's size down, making this unit a good choice for smaller bathrooms where space is at a premium.
At 100 pounds in weight, this toilet shouldn't be too cumbersome for you to install yourself. Its powerful pump generates 10 PSI, so even if your water flow is weak, you don't need to worry about this toilet being up to the task.
If you're looking for a toilet with powerful macerating and pumping abilities that won't take up too much space in a crowded bathroom, this might be your best bet.
Pros
Lightweight
Easy to install
Space saving design
Cons
Connections don't last as long as they should before needing to be replaced
Low water level means multiple flushes may be required to fully clear bowl
This is a highly adjustable kit that can be purchased as an all-in-one solution to your toilet needs, meaning you don't have to spend more time shopping around to get what you need. And the round design of this toilet helps to save space even in the smallest of bathrooms.
This toilet is as easy to install as the other macerating toilets mentioned above. All you need to do is connect the water supply to the toilet, the toilet to the pump and the pump to the discharge pipe. Then plug it in, and it's ready to go.
Pros
Space saving design
Easy installation
Can connect sink and shower to unit
Cons
Connections can be finicky and need to be connected just right to avoid leaking
Low water level
This toilet tries to strike a balance between saving space and still providing top-level performance.
The round bowl makes it fit in smaller spaces while still being comfortable, and the toilet itself is a good height for people of various sizes.
This model also feels well-constructed. Some smaller toilets can feel fragile or cheap, but this feels like one that should stand up to long-term use.
And when it comes to saving water, this toilet has a feature that is familiar from standard, non-macerating toilets. Its dual flush means that you can use only a half-flush when that's all you need, which helps to keep those water bills down.
All in all, it's a decent choice for a macerating toilet. But it does have some parts that may need to be replaced more frequently than you might like.
Pros
Easy to install
Fits in with most bathroom decor
Low water consumption
Cons
May need semi-regular maintenance
Liberty is a respected name in bathroom fixtures, and this toilet has some features that may make it a good choice for your bathroom. For starters, it comes with a toilet seat, which isn't the case with all macerating toilets. That alone can save you another trip to the hardware store.
At 120 pounds, it's not the lightest toilet on the list. Installation is relatively straightforward, but the toilet's weight means you may need someone to help you move it into position.
What's most unusual about this toilet is that, instead of being connected to the main household power, the macerator can be powered by a 19-volt battery. This is a fantastic feature to have if you don't have power to your bathroom, or if your power supply is unreliable.
Pros
Battery powered – means toilet can be used during power cuts
Low water consumption of 1.28 gallons per flush
Powerful flush
Cons
Batteries need replacing and are more expensive than mains electricity
The unit can sometimes be noisy during operation
A macerating toilet really does give you the option to install a bathroom almost anywhere. And this model has a sturdy construction that makes it a durable and popular choice for basement bathrooms.
Unlike many other models, this toilet has the macerating pump built into the plumbing of the toilet. This means less space taken up in your bathroom and gives it a look that is closer to a traditional toilet.
Of course, everything that's good will have a possible drawback. If the macerator gets clogged or stuck, it's going to be difficult to access in this toilet – more difficult than in other models.
Still, it's a comfortable toilet at a good height, and its performance is adequate for most users. It's certainly worth considering.
Pros
Sturdy construction means this toilet should last a while
Very easy to install
Cons
Macerator is difficult to access in the event of clogs
The pump is on the louder side
Factors To Consider Before Buying A Macerating Toilet
When you find yourself in need of a macerating toilet, nothing else will do.
But before you go out and start spending money, there are a few things that you should carefully consider before you make your choice.
Installation
Macerating toilets aren't generally hard to install, but some models may prove tough to install on your own. In such case, you may decide to hire a professional. In the event you'll need to hire someone for installation, the cost of the project will certainly be up there.
If you want to keep things simple, try to avoid choosing a toilet that will require you to break up the floor of your bathroom.
Some macerating toilets have the macerator in a box behind the toilet, and these are far easier and cheaper to install than those that have the macerating unit underneath the toilet, buried in the floor.
Water Consumption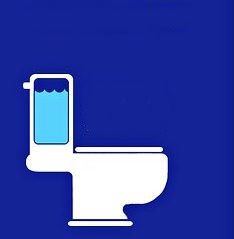 You want a toilet that does the job you bought it to do, but ideally, you also want a unit that's efficient. The less water your toilet consumes, the less each flush will cost you in water bills.
The water consumption of toilets is measured in gallons per flush (GPF). Around 1.6 GPF is a good standard to aim for. This won't be a big drain on your water supply, but it's enough for the toilet to do its job effectively.
Power
Regular toilets don't require a power supply to work. But due to the pump and spinning blades they contain, macerating toilets do.
It's important to consider how much power your toilet needs. Higher power usually means a stronger toilet that can push waste further to where it needs to go. But it also means higher power bills and potentially more difficulty during installation.
Some macerating toilets run on batteries. This makes installation a breeze and means that such toilets can be used in areas where the power supply is unreliable or non-existent.
Be aware though, that batteries need to be replaced, which can add to both the time and expense of maintaining your toilet.
Design
If you've spent a lot of time making your bathroom look nice, you don't want to ruin it with an ugly toilet.
Luckily, macerating toilets these days are available in a wide range of different sizes and styles to fit in with bathroom decor.
Specifically, you don't want to choose a toilet that takes up too much space, or one that's hard to clean.
Comfort
The comfort of your toilet is an aspect that is often overlooked. But it does matter, and it's worth thinking about before you make a purchase.
In particular, the height of your toilet has a big effect on its comfort and usability. And this is even more important for families, where multiple people of varying sizes and ages could be using the same toilet.
Where possible, it's a good idea to at least sit on any toilet you're thinking of buying. There's no need to feel embarrassed.
Using the toilet is something every one of us does every day, so you want to make sure you've made the right decision.
Benefits of Macerating Toilets
Flexible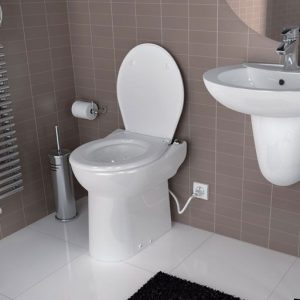 Because macerating toilets can be installed below the sewer line, they make it possible to install a bathroom where it would otherwise be impossible.
Macerating toilets make it possible to install bathrooms in basements, attics and other places where a regular toilet might not be an option.
Easy to install 
If you're moderately competent at DIY, you should be able to install a macerating toilet yourself. There's no need to break up the bathroom floor, or to go to the trouble and expense of hiring a professional plumber.
Affordable
The toilets themselves aren't too expensive, and the money you save on installation can be substantial. If you can install a macerating toilet by yourself, you'll save a lot of money over the cost of plumbing in a standard toilet.
Quick Setup
All you really need to put in a macerating toilet is a water supply, a power supply and a small diameter waste pipe. It's far quicker to install these than it is to run a larger drain pipe. You could put in a functioning bathroom in a single day if you use a macerating toilet.
Portable
Because they're so easy to set up, a macerating toilet can be moved quite easily. If the needs of your family change, you can move the toilet to a different room far easier than you could with a regular toilet. In fact, due to their portability, macerating toilets are often used on ships and RVs as well as in homes.
Things to Know About Macerating Toilets
How do macerating toilets work?
Macerating toilets use a spinning blade to chop up, or macerate, anything that goes down them. They then pump this water upwards to reach the sewer line.
Can a macerating toilet grind sanitary napkins, dental floss and other material?
No. You should never put anything down a macerating toilet other than human waste.
Can a macerating toilet run anywhere?
No. Like a regular toilet, a macerating toilet needs to be supplied with water. Most also need to be supplied with power, but some are battery operated.
Do I need existing plumbing to use a macerating toilet?
No. While you do need a water supply and a waste pipe, these can be small diameter pipes that are easy to run through a house. A macerating toilet lets you turn almost any room into a bathroom.
Our Final Review
Modern macerating toilets allow you to install a toilet in places where a regular bathroom would be impossible.
Remember, it's important to choose one that suits your needs. Size, power supply, water consumption and design are all factors that will affect the way you use your toilet.
Take the time to research carefully before you spend what could be a lot of money on a macerating toilet.
And, if you've found the perfect toilet, jump to the comments and let us know!
Summary
Reviewer
Review Date
Reviewed Item
Author Rating