Would you like to install a toilet in a bathroom that is situated far below the main drain line?  Not only are macerating toilets ideal, but they are also easy to install.
Upflush toilets don't require a major plumbing overhaul. This makes them the best toilets for basements.
Whether you plan to install one in your RV, cabin, workshop, or just a basement bathroom, macerating toilets installations work in unusual locations.
Such toilets can also fit in some traditional homes that require a toilet to be placed far away from the main drain line.
In this guide, you will learn the pros and cons of upflush toilets, their costs and maintenance tips.
Our macerating toilet reviews will also teach you how to install one and examine possible issues you may face with such toilets.
What Is A Macerating Toilet?
These are toilets that feature a blending or grinding mechanism that is designed to reduce human waste into a slurry before moving it via plumbing.
Basement toilets that flush up are useful in cases where the water pressure is too low or the toilet is being installed a considerable distance below the sewer drain pipe.
As opposed to conventional toilets, upflush toilets send the waste into a macerating unit that is situated in the wall or behind the toilet.
Once in this unit, high-powered blades liquefy the waste, which is then pumped out of the unit through a normal pipe connected to the main drain line.
To cater for the distance to the drainpipe, these pumping toilets are equipped with a grinder pump.
Usually located in the sump pit basin, the pump sends the liquefied waste off to the main drain. Macerating toilets are comparatively costlier than standard ones but are cheaper to install.
This is because connecting a small-diameter pipe to an existing system is much easier and less expensive than redoing the whole thing.
How Much Do Upflush Toilets Cost?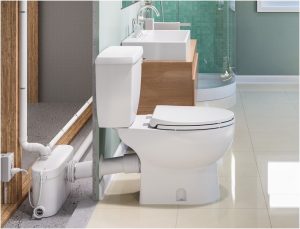 Also referred to as upflush toilets, macerating toilets are designed to on top of your floor, so there's no need to install new plumbing.
They also move waste up, against gravity, which means they can allow you to install a new bathroom below the level of your existing plumbing
The price of a below-grade toilet basically depends on its make and model. Most toilet manufacturers price their units between $800 and $1,600 each.
In addition to this, you should expect to spend about $370 for the installation of the unit, especially when not overhauling the entire plumbing system.
If you need to overhaul the plumbing system partially or entirely, the cost will be higher. Installing a toilet with a macerating pump along with a new plumbing system will cost you about $522.
Comparing the 10 Best Macerating (Upflush) Toilets 
There's a reason why this macerating toilet remains one of the most popular on the market. And, there's more to it than just its relatively low price.
The Ascent II boasts RazorCut technology, which ensures that any waste flushed down this toilet is obliterated in no time.
It takes only seconds for this toilet to pump waste and water far away. Additionally, it features an attractive design that makes it fit in with your bathroom decor.
Lightweight & Easy to Install
One of the keys to this toilet's popularity, however, is its lightweight and ease of installation.
If you have to carry this toilet through a building to install it, you'll be glad that it weighs so little. And you won't need to cut into the bathroom floor to install this unit.
This toilet is also one of the more efficient models out there. At only 1.28 gallons per flush (GPF), it will help to keep those water bills down.
Pros
Light weight
Low water consumption
Modern design
Easy installation
Cons
The unit can be noisy when in use
The blade needs to be changed once per year
If you're looking for a toilet that will fit into a tight space and still give you the macerating power you need, this could be it.
As the name implies, this toilet is made to fit into the smallest bathrooms.
The unit comes with a built-in tank, which saves work when it comes to installation.
This toilet is really light considering, weighing just 62 pounds. It's easy to handle by yourself or with some help.
Water Consumption Feature
Plus, the small size of this toilet makes it one of the most efficient on the market when it comes to water consumption. This toilet only uses around a gallon of water per flush.
The chrome hinges on the lid are a nice touch, and overall this toilet feels like it's solidly built despite its small size and low weight. It also features a non-return valve to ensure that no wastewater returns to the bowl once it's been flushed.
It's common for macerating toilets like this one to have less water in the bowl than standard toilets. Be aware, though, that this can mean you need to clean the toilet more often.
Pros
Compact size
Light weight
Low water consumption
Great for small bathrooms
Cons
Low water level means it often needs cleaning after use
The pump can be noisy
This Nano toilet utilizes Turbine Technology to produce a powerful, clog-resistant flush.
The compact size of this unit makes it a popular choice for those with smaller bathrooms.
In fact, as its name suggests, this model has a lot in common with the heads you might find onboard a ship, where space is a significant consideration.
This marine toilet may be small, but it is just as powerful as some larger toilets.  It is in line with the new requirements for vessels below 50′ (45m).
Highly Powerful Flush & Macerating Technology
The turbine technology in this model gives it a super powerful flush. This saves water by reducing the number of times you need to flush and makes sure your waste gets carried away effectively and efficiently.
This toilet is incredibly quiet and uses 2 check valves and a water trap, which helps it avoid any odor problems.
Choose between raw water and pressure water flush. The User-friendly Eco rocker switch helps reduce water consumption. In fact, this toilet only uses a measly 0.7 gallons per flush.
All in all, this is a great macerating toilet for an additional bathroom that functions efficiently and reliably. It's no wonder it's such a popular choice.
Pros
Highly compact – ideal for small bathrooms
Powerful flush
Surprisingly quiet during operation
Very low water consumption
Cons
Less than 12 inches in height – designed to be used on a raised platform.
There's no need to break up your bathroom floor to install this macerating toilet.
Simply connect the pump to the spigot of the toilet then hook up the toilet tank to the water supply. Connect the pump to the discharge pipe and turn on the power, and this toilet is ready to go.
Due to the nature of the pump and blade, macerating toilets will always be louder than regular toilets when in use. But this macerating toilet is remarkably quiet.
Further Review of this Saniflo Macerating Toilet
It also allows you to connect other bathroom fixtures, such as a sink and a shower, to the pump so that this toilet can function as the heart of your bathroom.
This toilet allows you to create a bathroom up to 150 feet from the nearest soil stack thanks to its powerful pump. The 1.6-gallon flush strikes a good balance between power and water conservation.
And, the two-year warranty gives the buyer peace of mind that their purchase is the right one. All in all, this Saniflo macerating toilet is a solid choice.
Pros
Powerful pump
Quiet operation
Strong, efficient flush
Cons
The water level in the bowl is low, requiring regular cleaning
Expensive
With 1.6 gallons per flush, this toilet has the ability to get rid of what you put into it.
Wth a stainless steel blade spinning at 3600 RPM, the macerator is more than up to the job of flushing waste away quickly.
In fact, this toilet can function even when it's as much as fifteen feet below the sewer line.
Installation of this macerating toilet is about as simple as it gets. Despite its impressive power, the pump is fairly quiet in operation, which you'll be glad if you need to use it late at night while people are sleeping nearby.
Don't let the ease of installation fool you, though. With a two-year manufacturer's warranty, this toilet is a solid and dependable workhorse, designed to get the job done.
Pros
Heavy duty construction
Two-year warranty
Powerful pump
Cons
Difficult to access blade if foreign objects clog the macerator
Supplied hoses can develop an odor over time and need to be replaced
Elongated bowls are all the rage these days, but if you're looking for something more classic, this macerating toilet could fit the bill.
The smaller bowl helps to keep the toilet's size down, making this unit a good choice for smaller bathrooms where space is at a premium.
At 100 pounds in weight, this toilet shouldn't be too cumbersome for you to install yourself. Its powerful pump generates 10 PSI, so even if your water flow is weak, you don't need to worry about this toilet being up to the task.
If you're looking for a toilet with powerful macerating and pumping abilities that won't take up too much space in a crowded bathroom, this might be your best bet.
Pros
Lightweight
Easy to install
Space saving design
Cons
Connections don't last as long as they should before needing to be replaced
Low water level means multiple flushes may be required to fully clear bowl
This is a highly adjustable kit that can be purchased as an all-in-one solution to your toilet needs, meaning you don't have to spend more time shopping around to get what you need.
The round design of this toilet helps to save space even in the smallest of bathrooms.
This toilet is as easy to install as the other macerating toilets mentioned above. All you need to do is connect the water supply to the toilet, the toilet to the pump and the pump to the discharge pipe. Then plug it in, and it's ready to go.
Pros
Space saving design
Easy installation
Can connect sink and shower to unit
Cons
Connections can be finicky and need to be connected just right to avoid leaking
Low water level
This toilet tries to strike a balance between saving space and still providing top-level performance.
The round bowl makes it fit in smaller spaces while still being comfortable, and the toilet itself is a good height for people of various sizes.
This model also feels well-constructed. Some smaller toilets can feel fragile or cheap, but this feels like one that should stand up to long-term use.
And when it comes to saving water, this toilet has a feature that is familiar from standard, non-macerating toilets. Its dual flush means that you can use only a half-flush when that's all you need, which helps to keep those water bills down.
All in all, it's a decent choice for a macerating toilet. But it does have some parts that may need to be replaced more frequently than you might like.
Pros
Easy to install
Fits in with most bathroom decor
Low water consumption
Cons
May need semi-regular maintenance
Liberty is a respected name in bathroom fixtures, and this toilet has some features that may make it a good choice for your bathroom.
For starters, it comes with a toilet seat, which isn't the case with all macerating toilets. That alone can save you another trip to the hardware store.
At 120 pounds, it's not the lightest toilet on the list. Installation is relatively straightforward, but the toilet's weight means you may need someone to help you move it into position.
What's most unusual about this toilet is that, instead of being connected to the main household power, the macerator can be powered by a 19-volt battery. This is a fantastic feature to have if you don't have power to your bathroom, or if your power supply is unreliable.
Pros
Battery powered – means toilet can be used during power cuts
Low water consumption of 1.28 gallons per flush
Powerful flush
Cons
Batteries need replacing and are more expensive than mains electricity
The unit can sometimes be noisy during operation
A macerating toilet really does give you the option to install a bathroom almost anywhere.
This model has a sturdy construction that makes it a durable and popular choice for basement bathrooms.
Unlike many other models, this toilet has the macerating pump built into the plumbing of the toilet. This means less space taken up in your bathroom and gives it a look that is closer to a traditional toilet.
Beware though; if the macerator gets clogged or stuck, it's going to be difficult to access in this toilet. More difficult than in other models.
Still, it's a comfortable toilet at a good height, and its performance is adequate for most users. It's certainly worth considering.
Pros
Sturdy construction means this toilet should last a while
Very easy to install
Cons
Macerator is difficult to access in the event of clogs
The pump is on the louder side
 Before Buying A Macerating Toilet (Buyer's Guide)
When you find yourself in need of a macerating toilet, nothing else will do.
But before you go out and start spending money, there are a few things that you should carefully consider before you make your choice.
Is It Hard to Install a Macerating Toilet?
Macerating toilets aren't generally hard to install, but some models may prove tough to install on your own.
In such a case, you may decide to hire a professional. In the event you'll need to hire someone for installation, the cost of the project will certainly increase.
If you want to keep things simple, try to avoid choosing a toilet that will require you to break up the floor of your bathroom.
Some macerating toilets have the macerator in a box behind the toilet. These are far easier and cheaper to install than those that have the macerating unit underneath the toilet, buried in the floor.
Water Consumption of Upflush Toilets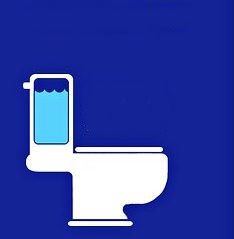 You want a toilet that does the job you bought it to do, but ideally, you also want a unit that's efficient. The less water your toilet consumes, the less each flush will cost you in water bills.
The water consumption of toilets is measured in gallons per flush (GPF). Around 1.6 GPF is a good standard to aim for. This won't be a big drain on your water supply, but it's enough for the toilet to do its job effectively.
Consider the Power Required
Regular toilets don't require a power supply to work. But due to the pump and spinning blades they contain, macerating toilets do.
It's important to consider how much power your toilet needs. Higher power usually means a stronger toilet that can push waste further to where it needs to go. However, it also means higher water bills.
Some macerating toilets run on batteries. This makes installation a breeze and means that such toilets can be used in areas where the power supply is unreliable or non-existent.
Be aware though, that batteries need to be replaced, which can add to both the time and expense of maintaining your toilet.
Macerating Toilet Design
If you've spent a lot of time making your bathroom look nice, you don't want to ruin it with an ugly toilet.
Luckily, macerating toilets these days are available in a wide range of different sizes and styles to fit in with bathroom decor.
Specifically, you don't want to choose a toilet that takes up too much space or one that's hard to clean.
Comfort of Macerating (Upflush) Toilets
The comfort of your upflush toilet is an aspect that is often overlooked. But it does matter, and it's worth thinking about before you make a purchase.
In particular, the height of your toilet has a big effect on its comfort and usability. And this is even more important for families, where multiple people of varying sizes and ages could be using the same toilet.
Where possible, it's a good idea to at least sit on any toilet you're thinking of buying. There's no need to feel embarrassed.
Using the toilet is something every one of us does every day, so you want to make sure you've made the right decision.
Benefits of Macerating Toilets
Flexible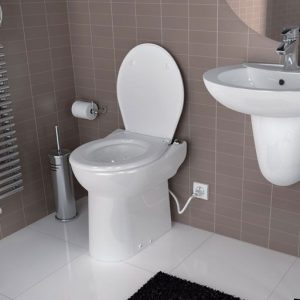 Because macerating toilets can be installed below the sewer line, they make it possible to install a bathroom where it would otherwise be impossible.
Macerating toilets make it possible to install bathrooms in basements, attics and other places where a regular toilet might not be an option.
Easy to install 
If you're moderately competent at DIY, you should be able to install a macerating toilet yourself. There's no need to break up the bathroom floor, or to go to the trouble and expense of hiring a professional plumber.
Quick Setup
All you really need to put in a macerating toilet is a water supply, a power supply, and a small diameter waste pipe. It's far quicker to install these than it is to run a larger drain pipe. You could put in a functioning bathroom in a single day if you use a macerating toilet.
Portable
Because they're so easy to set up, a macerating toilet can be moved quite easily. If the needs of your family change, you can move the toilet to a different room far easier than you could with a regular toilet. In fact, due to their portability, macerating toilets are often used on ships and RVs, as well as in homes.
What Are Some Possible Macerating Toilet Problems?
The discharge system in an up flush toilet is different from the one used in a conventional toilet.
Having been designed to dispose of human wastes upwards, macerating bathroom systems are associated with a number of problems and limitations.
Chemical Limitations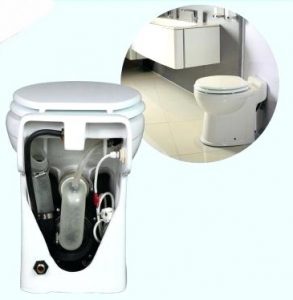 Using cleaning products outside of the manufacturer-approved list may expose your up flush toilet to corrosive chemicals.
This may end up damaging the upflush toilet's macerator unit. Certain bowl cleaners, especially the ones containing hydrochloric acid, may eat away at the unit's rubber parts.
Disposable Material Limitations
You will not be able to dispose of certain items in an upflush toilet that may otherwise pass through a standard toilet successfully. Tough materials, like female sanitary items or even condoms, may cause the toilet to clog.
Installation Limitations
Up flush toilets are not suited for just any toilet installation project. Local plumbing codes may forbid you from installing an upflush. Have a look at your local plumbing and building codes before buying one. This way, you will learn whether one is allowed in your home.
Pros and Cons of Upflush Toilets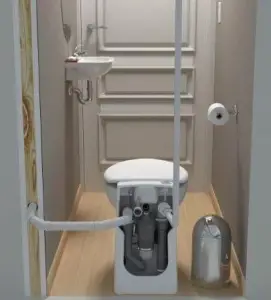 Owing to their unique construction, the best upflush toilet systems have a number of benefits to offer. The toilets are capable of pumping waste up an incline, which is cheaper when installing a toilet in a basement.
Alternatively, you would have to install a new plumbing system, which is a costly undertaking. Again, up flush toilet systems offer a safe and hygienic waste disposal solution and may be installed almost anywhere.
The toilets are also easy to install, with most of the manufacturers including instructions on how to install their product on your own. Since the various models are easy to move, they will allow you to install a temporary bathroom as well.
Provided that you use them in the right manner, upflush toilets have a relatively long lifespan. Some of the best upflush toilets for basements are known to last for 10 to 15 years when maintained properly.
With this type of toilet, you will be required to replace parts and components less often.
Macerating Toilet Cons
A cheap upflush toilet may save you some bucks but take longer to pump the tank. The pump on these units needs to be maintained regularly, especially the impellers.
If not maintained regularly, the pump will become slower gradually, which may impact on the overall performance o the toilet.
As compared to standard toilets, macerating toilets require more water to process waste and empty the tank. This will impact on water efficiency in your home.
You should also monitor the pump with every use to ensure that it does not run dry. Running the pump dry may damage it, void its warranty or blow a fuse.
Upflush Toilet Maintenance Tips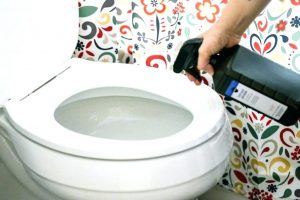 The various upflush toilet makes and models need to be maintained properly for enhanced durability and performance.
For instance, Saniflo upflush toilets require you to descale and cleanse using the recommended Saniflo's Descaler.
With proper maintenance, you can also avoid some of the common toilet issues, such as leaks and clogs.
Following installation, these are some of the maintenance tips you should observe to keep the macerating toilet at its best:
Clean Regularly
Just as is the case with conventional toilets, up flush toilets need to be cleansed and rescaled from time to time.
However, some cleaning chemicals are known to have a damaging effect on the pump parts and components. To avoid this, you should only use the cleaning chemicals allowed by the manufacturer.
Continuously Monitor the Toilet for Leaks
Look for wet areas on and around the toilet as well as on the water pipe that connects the toilet to the wall.
If you notice any leaks, call a plumber to repair it as soon as possible. Leaks can cause spikes in your water bill or even cause serious damage to the walls and flooring.
Only Flush the Allowed Materials
In addition to human waste, most upflush basement toilets can only flush toilet paper. Disposing anything else into the toilet may cause it to block or even damage the pump.
Avoid putting things like feminine sanitary products, paper towels, and cleaning wipes down the toilet.
Ensure That the Fill Valve is Operating as it Should
To observe this, you need to remove the tank lid and flush the toilet. After the tank has refilled, the fill valve should completely stop dispensing water.
If not, you should get a qualifies plumber to repair or replace it for enhanced water efficiency in your home.
Inspect the Shut-Off Valve
The water shut-off valve, also referred to as the stop valve, is the knob that cuts off the water supply to your toilet. The knob is often located behind or under the toilet.
Check to see whether it is tunable. If the knob is resistant or does not budge when turned, it is probably faulty and needs to be repaired.
Macerating Toilet Installation Tips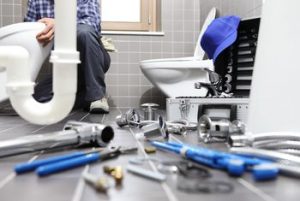 Upflush toilets use a rather unique waste discharge mechanism but are easier to install. Under normal circumstances, installing one may not require planning permission.
However, you need to check to see whether you need one as building regulations mostly apply to drainage, plumbing and ventilation systems.
Again, you need to ensure that the toilet is installed properly for enhanced performance and durability. While installing turn macerating toilet, here are some of the important installation tips you should observe:
Macerator Placement Considerations
For most of the basement macerator toilet systems, the macerator is a tank that sits behind the toilet itself.
The toilet feeds directly into the macerator, which processes the waste and wastewater before evacuating it through a discharge pipe with the aid of an electric pump.
The macerator may also serve other bathroom fixtures, including a sink or shower, but can serve only one toilet. In many cases, the tank and its plumbing are all visible in the bathroom, but they may be concealed as well.
You may install the tank in the wall behind the toilet. To do this, you will require a longer extension piece to connect the toilet.
It also requires that you install a removable wall panel behind the toilet, to allow for easy access to the tank for repairs if needed.
Go Vertical With the Waste Pipe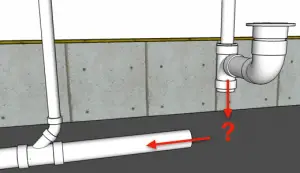 If your waste pipe needs to travel up at any point, you need to keep the vertical portion as close to the macerator as possible.
There are limits to how long a discharge pipe can be. Again, you need to note that every foot of vertical height is equivalent to 10 feet of horizontal run.
You need to lay the pipes strategically to avoid running out of allowable distance. The discharge piping can have only one vertical section.
Horizontal runs use gravity to move the waste, hence should be installed with a standard 1/4 inch per foot downward slope as you approach the main drain.
Maintain Gradual Bends
Most basement toilets are installed in places where standard toilets cannot function. With up flush toilets, the waste may have to travel a considerable distance down the pipelines to reach the main house drain.
To get the longest run possible, make a soft bend every time you have to turn a corner or change direction with the pipe.
For most installations, it is advisable to use "long turn" fittings for all bends. If this is not feasible, you should consider using two 45-degree elbows as opposed to a single 90-degree elbow to make a 90-degree turn.
Electrical Connections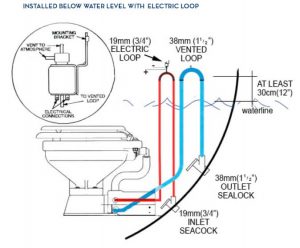 Even with some of the best Saniflo alternatives, the toilet requires a connection to electricity. To make this easier, you need to have an outlet installed close enough to the root.
This outlet should be located more than 40  away from the shower, as well. Since it is a bathroom installation, you need to make sure that the outlet is a Ground Fault Circuit Interrupter (GFCI) outlet. Therefore, It cannot be switch-controlled.
FAQ's About Macerating (Upflush) Toilets
How do macerating toilets work?
Macerating toilets use a spinning blade to chop up, or macerate, anything that goes down them. They then pump this water upwards to reach the sewer line.
Can a macerating toilet grind sanitary napkins, dental floss and other material?
No. You should never put anything down a macerating toilet other than human waste.
Can a macerating toilet run anywhere?
No. Like a regular toilet, a macerating toilet needs to be supplied with water. Most also need to be supplied with power, but some are battery operated.
Do I need existing plumbing to use a macerating toilet?
No. While you do need a water supply and a waste pipe, these can be small diameter pipes that are easy to run through a house. A macerating toilet lets you turn almost any room into a bathroom.
Get a Macerating Toilet for Your Basement or RV Now
Installing a bathroom in your basement is a rather complicated project. With such an installation, you either have to install a new plumbing system to accommodate a standard toilet or install the best upflush toilet models.
The latter option will save you money on installation costs and give you unmatched performance.
However, due diligence has to be taken while using basement toilets to ensure they last longer.
With this guide, you should have an easy time installing and maintaining a macerating toilet.
Summary
Reviewer
Review Date
Reviewed Item
Author Rating