10 Best Tankless Toilets of 2020 [Smart & Dual Flush]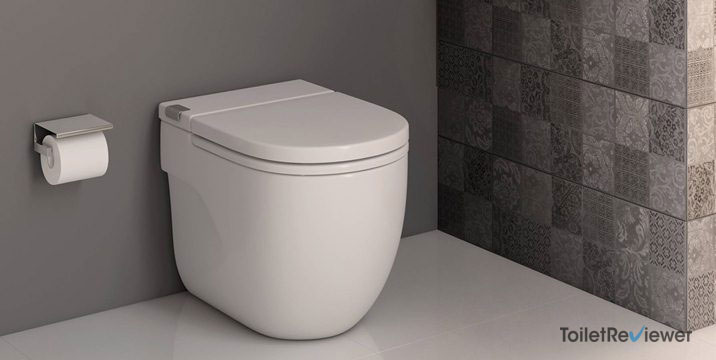 Tankless toilets are the newest craze when remodeling bathrooms. They are highly popular due to their low water consumption and space-saving characteristics. The ideal tankless toilet will be able to conserve energy, water, save space, and be comfortable. 
The best tankless toilet is the Sanimove 600W Macerator Pump Toilet. It has all of the necessities without being too overwhelming. It does not contain any special features such as a bidet or warming seat, but it does what it's supposed to do. It saves water, has a dual-flushing mechanism, it's affordable, and it's a small round bowl so it can fit in smaller bathrooms. 
If you need assistance choosing a toilet or don't know where to start, continue reading below for helpful information and our top tankless toilets. 
Best Tankless Toilets
1. Kohler Veil – Best Kohler Tankless Toilet
Kohler is a brand known to contractors and homeowners across the globe. They are known for their aesthetically pleasing and efficient appliances. The Kohler Veil floor-mounted tankless toilet is one of these products. It has a hefty price tag, but it's totally worth it in the long run. 
Dual Flush Design
The dual flush design gives you the option to use a full flush or a half flush. The full flush will use roughly 1.28 gallons and the half flush will only use 0.8 gallons. The full flush is best for waste disposal and the half flush is ideal for liquid disposal. This is a great toilet for those who are looking to conserve water if they utilize a well for their water. 
Self-Cleaning Function
The toilet is one of the dirtiest places in your whole home. Even with scrubbing, it remains covered in bacteria. This toilet has a handy self-cleaning function that uses UV light and electrolyzed water to sanitize wand surfaces. This means you'll never have to touch a bacteria-covered wand again. 
Fabulous Features
The features that this toilet comes equipped with are a bit overwhelming, but that's what makes the toilet worth the price. One of our favorite features is the motion-activated seat cover. The seat senses motion and will open and close so you don't have to touch it. 
Another nice feature is the heated seat. The heated seat ensures the seat is warm each time you use it with just the press of a button on the remote control. You can preset the settings on the remote control easily. 
There's also a warm-air drying system inside of the bowl. This is ideal for those with limited mobility who may not be able to wipe. The air drying system will ensure you are dry before you remove yourself from the seat. There is also a front and rear wash mode to provide warm water for cleansing. 
Pros
Integrated bidet

Dual flush for maximum water-saving

Direct water supply

Heated seat for ideal comfort

Remote control 

Motion-activated seat cover
Cons
More expensive than the others
The Neorest 700H by Toto is actually an integrated toilet that features an advanced washlet. The features of this toilet combine to offer you the best blend of luxury and ecology.
To begin with, this product has been proven to be compliant with both Universal Design and ADA requirements.
This toilet is highly functional and works as advertised. With regards to functionality, this dual flush tankless toilet by TOTO has a horde of features to speak of. You'll love the fact that this unit features an eco-friendly bidet washlet.
The components combine to offer one of the best luxurious and most economically friendly tankless toilets you can by today. One of the things you will come to like about this toilet is its powerful yet efficient flushing system.
This Toto toilet uses the renowned 'Tornado Flushing' system by the manufacturer. Also, this toilet features CeFiONtect technology for exceptional glazing.
Pros
Uses Tornado Flushing system by TOTO
Features CeFiONtect glazing
Uses eWater+ technology
Has several spray modes
Comes with an intuitive remote control
Allows for automatic flushing
Features bidet functionalities
Features a universal height design
Temperature control for the heated seat
Equipped with air deodorizer
Automatic lid opening and closing
Features a gentle aerated water spray
WaterSense and ADA compliant
Enhanced flexibility and versatility are some of the best selling points of this tankless toilet. Some consumers love to buy products by renowned manufactures, as far as bathroom products and accessories are concerned.
However, you should consider buying the Ove Decors Tuva Tankless Smart Toilet. In addition to its unique aesthetics, this toilet features an ergonomic design and is packed with an array of efficiency features. Unlike most of the leading tankless toilets today, this product has an integrated bidet.
Sale
Ove Decors Tuva Bidet Toilet Built-in Tankless Elongated, Automatic Flushing, Heated Seat, Soft Close, ECO Mode with Remote Control
The combination of the best features of a conventional high-quality ceramic toilet with the innovations of a modern advanced toilet.
Get the ultimate sanitary experience with the adjustable back & forth noozle massage position. Rear bidet (single jet) and lady femenine bidet (multiple jets).
Intelligent toilet will automatically flush after users departure and provide deodorizing experience.
Toilet with bidet built in designed to reduce electricity consumption and save water for environment.
Set your hygiene preferences.Adjust water and seat temperature, set soothing LED night light, adjust pressure and noozle massage.
Pros
Features an integrated bidet with a spray nozzle
Has adjustable temperature settings
Comes with a multi-function remote control
Highly efficient on water
Features a bidet dryer
Allows you to adjustable pressure, water temperature and heated seat temperature
Cons
The brand is relatively new in the market
If you're looking for a great toilet meant for a small bathroom, the Saniflo 023 Sanicompact Self Contained toilet is a great option. It can be installed in a bathroom up to nine feet below the sewer line and/or 120 feet away from a soil stack. It's ideal for residential bathrooms and you can connect a sink to it. 
SANIFLO Sanicompact - Dual-flush System - Residential
BONUS HALF BATH: The Sanicompact is a self-contained dual-flush toilet system used to install a half bathroom up to 9 feet below the sewer line, or even up to 120 feet away from a soil stack. For residential use only.
DUAL PURPOSE: The Sanicompact will also discharge gray water from a sink. The wastewater drains into a 1.25" hose connection in back of the toilet.
EFFICIENCY AT ITS FINEST: The standard dual flush version uses 1.28 gpf or 1 gpf and uses less water than any regular toilet but with the same efficiency. The push button activates a timer and a solenoid valve in order to fill and wash the bowl.
TECHNICAL SPECIFICATIONS: Motor: 0.5 HP oil-filled thermally protected; Noise level ≤ 53 dBA (Lp) (measured at 3 ft.); Discharge rate at 9 ft: 24 GPM; Certification code: CSA (IPC, NSPC); Connections: Sink
4 YEAR WARRANTY: All of Saniflo's products have a 2 year warranty with purchase, and an additional 2 years is added with registration. Our warranty program can offer peace of mind, should a problem arise.
Water Conservation
Today, water conservation is a feature that many homeowners are looking for. This toilet only uses 1-gallon of water per flush, which is lower than most tankless toilets since they use around 1.28-gallons per flush. You wouldn't know it, but just that little bit of difference can show dramatic changes in your water bill. 
The macerating pump cycle and flushing action are completely automatic just by pushing a button at the top of the bowl. Additionally, this is timed to allow 1-gallon of water to pass through the unit.
The automatic timer will go off and the water will enter the toilet to fill and wash the sides of the bowl. This ensures your toilet is always clean and ready for you to use with no odors or stains. 
Aesthetically Pleasing
Another feature that homeowners look for is an aesthetically pleasing toilet that will match their existing decor. The Saniflo toilet is equipped with a rounded bowl for space-saving abilities.
It's composed of porcelain material and is a gorgeous white color with chrome seat hinges. It measures 18.25 x 14.5 x 15.75 inches-the perfect size for a small bathroom. 
Pros
Small round bowl for ideal space saving

Macerating automatic pump cycle flushing action

1GPF

Affordable

Quiet flush
Cons
Reports of clogging issues

Only one flush option
Want a toilet with all the features you could possibly imagine? Bidet? Heated seat? Remote control functions? The Ove Decors Lena Smart toilet has all of that. You can do your business while remaining comfortable and warm. Who enjoys a cold toilet seat? Not us, that's for sure!
Sale
Ove Decors Tuva Bidet Toilet Built-in Tankless Elongated, Automatic Flushing, Heated Seat, Soft Close, ECO Mode with Remote Control
The combination of the best features of a conventional high-quality ceramic toilet with the innovations of a modern advanced toilet.
Get the ultimate sanitary experience with the adjustable back & forth noozle massage position. Rear bidet (single jet) and lady femenine bidet (multiple jets).
Intelligent toilet will automatically flush after users departure and provide deodorizing experience.
Toilet with bidet built in designed to reduce electricity consumption and save water for environment.
Set your hygiene preferences.Adjust water and seat temperature, set soothing LED night light, adjust pressure and noozle massage.
Optimal Cleansing
Don't ever touch your toilet again! This toilet has effective cleaning and modern hygiene technologies. The tankless design features a seat that flushes automatically when you are done doing your business. It flushes without the use of your hands and there is no waiting time between flushes. 
Fantastic Features
The Ove Decors also features a rear and "lady" bidet function. You can remain clean and hygienic each time you use the bathroom. 
Additionally, you will find that there are multiple settings for water ejection pressure, dryer, and heater.  You can do this all with a remote control.  You can set the control for each individual user. 
Moreso, this seat has a soft close function that prevents it from slamming, as well as a convenient LED night light. 
Water Conservation
EPA flushing guidelines require toilets that are WaterSense certified to use 20% less than 1.6-gallon toilets. The Ove Decors uses around 1-gallon of water each time it is flushed. This is unbelievably efficient and water-friendly. 
Heated Toilet Seat
Never start your day off on a cold toilet seat ever again! The seat can be pre-selected so that it's always at your optimal temperature with just the press of a button. You can adjust the heat settings with the wireless controller. 
Pros
Comes with a remote control

Heated toilet seat for comfort

Saves 20% less water than 1.6 GPF toilets

LED night light for convenience

Automatic hands-free flushing

Has a hygienic bidet
Cons
Elongated bowl takes up more space

Electrical outlet needed for 3' cord
A macerator toilet uses maceration that allows toilets to be installed with low water pressure. It uses a special mechanism to cut up waste. You can install them in basements, lofts, attics, ground floors, and more. They aren't very large, measuring only 18.5 x 10.6 x 16.7 inches, making them ideal for small spaces. 
Sanimove 600W Macerator Pump Toilet, 4/5HP Macerator Pump Built Into the Base, One Piece Toilet AC110V
DUAL FLUSH SYSTEM. Sanimove WC-Luxury has dual flush system, ECO FLUSH uses 0.75 Gallon of water per flush and the FULL FLUSH uses 1 Gallon of water per flush only.
AUTOMATIC SYSTEM. There is a built-in a 600W macerating pump inside the toilet, which can be connected to the sink. It not only drains the sewage of the toilet, but also drains the sewage of the sink. And it can pump sewage to a vertical height of 20 Feet or It can pump sewage 164 feet horizontally. But be sure to use 1-1/4'' or 1-1/2'' PVC hard pipe for connecting.
REMOTE CONTROL. It needs no toilet tank as the flushing action and macerating pump cycle is automatic after pressing a push button switch on left of the bowl. It also has a remote control, and you can also directly control the remote control to drain the water without bending over to press the buttons.
INSTALL ANYWHERE Sanimove WC-Luxury can be installed in many locations such as a loft/attic, upper floor, ground floor, basement and even a garage. It's very easy to install in areas such as under the stairway for a half bathroom or an additional half bathroom in a bedroom or garage conversion.
COMAPCAT SIZE. Macerating toilet size is: 20.86"x13.18 " x 18.11" and the bottom of toilet size: 16.92"x 10.23". The size is almost same as normal toilets, only difference is that install a grind pump inside of the toilet.
Low Pressure=Water Saving
Macerating toilets don't use any more water than a normal toilet and they are actually more environmentally friendly because they use less water. They are especially great in low-pressure areas and below sewage lines.
They can send waste to the line because it has been liquidized. It doesn't require a large hole for the drain, maybe a 1.25-inch or 1.5-inch pipe. 
Dual Flush Saving
The Sanimove toilet features a dual flush system. The eco-flush only utilizes 0.75-gallons of water per flush. The full flush only uses 1-gallon of water. After a while, you may begin to see a decrease in your water bill.
This particular setup is also great for those who have limited water from a well or in areas that experience frequent droughts. 
Automatic Flushing
Macerating toilets have an automatic flushing feature. There is no toilet tank required and the pump cycle is automatic after pressing a button on the left side of the bowl. This also helps keep the bowl sanitized as it fills with water and cleans the side of the bowl automatically.
Pros
Dual-flush feature

Pump is built into the base

Only uses 0.75-1 gallon of water per flush

Easy to install
Cons
Button to flush is on the side of the toilet rather than the top
The Woodbridge Smart Bidet toilet is a high-pressure toilet with tons of features that make your business more comfortable and enjoyable. No more cold seats, waste stuck to the bowl or slamming seats. Moreso, you can feel clean after each use with the posterior wash, feminine wash, and pulsating wash. 
The flush is highly efficient, quiet, and powerful. The siphon only uses 1.6GPF with a regular flush and only 1.0GPF with a half flush. The average is 1.28 gallons per flush. 
WOODBRIDGE B-0960S 1.28 GPF Single Toilet with Intelligent Smart Bidet Seat and Wireless Remote Control, Flush, Open and Auto Close, White
✅ [ADA Compliant Toilet]: Features 17-1/8" height from floor to seat. comfortable height seating, it makes visiting the toilet to be more comfort as there is less strain sitting on or standing up.
✅ [TOTALLY HYGIENIC]: Posterior wash, Feminine wash, Pulsating wash, Adjustable water pressure, hygienic filtered water
✅ [AUTOMATIC FLUSH]: the seat will activate the self-cleaning bidet/spray wand and follow by a powerful flush on your departure for hands-free operation
✅ [AUTO OPEN AND CLOSED]: Smart toilet features begin as you approach the toilet. The lid automatically opens hands-free to welcome you.
✅ [AIR PURIFICATION]: The deodorizer effectively cleans the air around the toilet using powerful air filters. Air is drawn in, passing through an ionized Carbon filter to eliminate unpleasant odors.
Automatic Flushing 
After you're done with your business, all you need to do is stand up and the toilet will do the rest of the work for you. It will activate its self-cleaning bidet/spray wand and then a powerful flush. If the power is out, you can still flush with a manual flush button. Don't ever worry about forgetting to flush ever again. 
Powerful Air Dryer
This is a function you don't see on many toilets-an air dryer. This is helpful for those who have mobility issues. The air dryer eliminates the need for toilet paper. This ensures you can leave the toilet refreshed, clean, and dry. Additionally, this can save on your toilet paper costs each year. 
Deodorizer
The Woodbridge toilet also comes equipped with an automatic air deodorizer. It cleans the air effectively using the air filters around the toilet. The air is sucked in and it then passes through an ionized carbon filter. This will eliminate unpleasant odors that may linger. 
Pros
Comes with a built-in deodorizer

Air dryer for those with mobility issues

Remote control for easy heater and bidet use

Air purification for odorless use

Lid has an auto-close and open function

Seat warmer

Automatically flushes
Cons
Elongated seat may take up too much space 
American Standard is another name known to contractors and homeowners. You can find their products in both commercial and residential applications. They are popular due to their reliability and functionality. Not only that, but they have fantastic water-saving abilities. 
High-Efficiency Flushing
The American Standard Madera is a high-efficiency toilet. It uses a direct-fed siphon jet action that helps clear waste easily and efficiently. It only uses 1.6 gallons of water per flush. It's a little more than some other tankless toilets, but this is because of the powerful jets to ensure waste is properly disposed of.
Self-Cleaning Flush Valve
The flush valve has a self-cleaning piston with an integral wiper spring. This helps reduce clogging. Furthermore, it's an ADA-compliant, non-hold open handle and automatically shuts off after flushing.
It also has a positive seal to provide a leak-free performance. It also has EPDM seals that are chloramines-resistant and an adjustable tailpiece for easy rough-in. 
Aesthetically Pleasing
An important feature of any appliance you buy for your home is its aesthetics. This toilet has a conventional glaze made from a vitreous china material in a simple white color. It's sure to fit in with any decor you may have. 
Pros
Self cleaning flush valve

High efficiency flushing

Aesthetically pleasing

Affordable
Cons
The Toto Washlet is chocked full of features that any homeowner would want. It's ADA compliant, CAL Green compliant, and WaterSense certified. It features everything from an auto-open seat to a warm air dryer. Let's dive into the most notable features of the Toto toilet. 
Toto MS920CEMFG#01 1.28-GPF/0.9-GPF Washlet with Integrated Toilet G400, Cotton White
WASHLET bidet seat toilet with integrated dual flush toilet with 3D Tornado Flush technology
Front and rear warm water cleanse with five adjustable temperature and pressure settings
The CEFIONTECT glaze and PreMist function gives the toilet bowl a lubricious quality that helps prevent waste from adhering
Features luxury auto open and close lid and seat with heated seat, warm air dryer, and air deodorizer for added comfort
Universal Height, ADA compliant, WaterSense certified, and CAL Green compliant.Trap Diameter:2-3/4 inch
Washlet Bidet Seat
The washlet bidet seat features a front and rear warm water cleanse. There are five temperature settings and pressure settings. You can choose the temperature that best suits your comfort level. There is also a warm air dryer within the toilet that is ideal for those who may not be able to wipe effectively.
CEFIONTECT Glaze
This high-tech bowl features a CEFIONTECT glaze and PreMist function. This function sprays the toilet bowl to ensure no waste builds up on it.
This is the perfect feature for those who may not be able to thoroughly or efficiently clean their toilets. This is also fantastic for hygiene reasons since the toilet is one of those most bacteria-ridden items in your home. 
Dual Flush 
The dual flush feature consists of two flush modes. A full flush uses 1.28 gallons of water whereas the half flush uses 0.9 gallons of water. The half flush is more for liquid waste and the full flush is for solid waste. For those who live in an area with well water or frequently in a drought, this is a feature that would greatly benefit you. 
Pros
Dual flush uses between 0.9 and 1.28 gallons of water per flush

PreMist function for optimal waste removal

Bidet seat

5 water temperature settings for maximum comfort
Cons
1.25" below the seat does not get cleaned by the mist

May be uncomfortable for larger individuals
This may not be the most water-efficient model in this guide, but it happens to be one of the best tankless toilets in the market today. This may be attributed to the unique set of features that the model has to offer residential bathrooms.
For instance, the toilet incorporates a seamless contemporary style into your bathroom decor for improved visual appeal. You will also love the fact that this toilet features an integrated bidet, and offers several 'smart toilet' capabilities.
Pros
Uses 1.8 water gallons per flush
Features a Smart sensor on the seat
Comfortable warm water cleansing
Fitted with built-in LED night lights
Features an appealing stainless steel finish
Equipped with replaceable dual nozzles
Backed by a 3-year manufacturer warranty
Features a built-in backup battery
Cons
Not so efficient on water
Floor Mounted Vs. Wall Mounted Toilet
No matter what, everybody needs some kind of toilet, whether it's a bucket or fancy hanging toilet with a bidet. There are many people who pick the cheapest toilet they can find without considering their space needs in the bathroom. This is why it's important to take the time to consider a toilet that is going to properly fit your bathroom and style needs. 
Some of the most popular types of toilets are wall and floor mounted. Let's check out the differences between the two: 
Wall-mounted toilets are installed with the tank inside of the wall. The bowl then is mounted to the wall and connected to the tank internally. These are modern and very minimalistic. They take up much less space than a traditional toilet. The space saved from the tank not being visible leaves the option to hang objects above the bowl or to put in a towel rack. 
Installation
When it comes to installation this is where it may get tricky. Wall-mounted toilets require a fixture inside of the wall. You would have to remove the drywall to install the tank. It requires more complicated plumbing and more time to perform the job. It's definitely more expensive than a traditional toilet installation. 
With a tankless floor-mounted toilet, the plumbing and installation are very simple, requiring just a few parts. The labor is less intensive and the toilet is generally cheaper overall. 
Height
Floor-mounted tankless toilets generally can't be adjusted to a specific height once it's installed. Wall-hung toilets, however, can be installed at various heights that can range from 15-16 inches off the ground. 
A downfall to a floor-mounted toilet's height is that it's more difficult and inconvenient to clean. There is a greater surface area that needs to be cleaned whereas wall-hung toilets only have one piece that needs to be cleaned. There will be no dirt buildup under the toilet since it doesn't sit on the ground. 
What To Look For When Buying A Tankless Toilet?
Now that you know what kind of toilets are available to you and the difference between a floor and a wall-mounted tankless toilet, let's dig into how you should decide how to buy one. We'll look at the power supply, type, flushing mechanism, bowl shape, and water consumption. 
Power Supply
Tank toilets depend on gravity once a valve has been opened after the lever is pressed to flush. A tankless toilet, however, relies on an electric pump that flushes the water rather than gravity and atmospheric pressure.
Tankless toilets are installed with electrical wires. When the power goes out, you won't be able to flush the toilet unless you have one that can work with and without power.
These toilets need to have a reliable supply of electricity to the home. Also, unless you're handy, this may be a difficult job since you have to hide the electric pump and tap into the home's power supply. 
Type
There are two types of tankless toilets which are floor-mounted and wall-mounted. Each one has its pros and cons, so let's take a look at both of them in detail: 
Wall Mounted
Wall-mounted toilets technically aren't tankless since they require housing within the wall. This housing holds a tank which is then connected to the toilet once it's mounted to the wall. These are quieter in the bathroom itself since the tank is in the wall, but it may be heard throughout the house since it's in the walls. 
In addition to being more difficult to install, they are even more pricey to fix. This is due to the fact that if there's an issue with the housing, the sheetrock needs to be ripped out and reinstalled. In addition to the repairs on the toilet itself, the wall repair is costly as well. 
On the plus side, wall-mounted toilets can be adjusted to suit your height needs. 
Floor-Mounted
Floor-mounted toilets are much simpler to install in terms of plumbing, but it's the electrical that may be an issue for simple homeowners. Since they use an electric pump, the pump has to be tied into your home's electrical system. 
Floor-mounted toilets can't be adjusted to fit your height, which may be an issue for those who are very tall or needs a higher toilet for medical reasons. As for space-saving, there really is no difference between the two since they both are tankless/have hidden tanks. The only way you can save a few inches of space is by choosing a rounded seat over an elongated seat. 
Flushing Mechanism
Tankless toilets rely on a flushometer to make the water clean the bowl. In general, flushometers need roughly 20 psi of water pressure to properly function. Since these types of toilets are directly connected to a water line, they are able to fill quicker and can be flushed again quicker than a tank toilet. 
The flushing mechanism is powered by an electric pump located in the bowl. There is a valve that is set to only allow a predetermined amount of water into the bowl after each flush. This keeps the toilet from overflowing. 
Bowl Shape
Do you prefer a round or elongated bowl shape? Lucky for you, whichever one you decide, most manufacturers make their toilets with both kinds of seats. The shape of the bowl does not take away from the style of the toilet, such as detailing or if it's one piece or two-piece. Rather, the only difference you will notice is the shape of the bowl itself. 
A round toilet bowl will extend several inches further than a round bowl does. As bathrooms grow in size, the elongated bowls become more popular due to it's more contemporary style. You will find that round bowls are associated more with smaller and older bathrooms. 
Now, the elongated bowls are going to be a little easier to clean than a round bowl. They have less of a crevice around the bottom than round bowls do. The longer shape makes it easier to see the front inside of the bowl, which can help with cleaning. 
As for comfort, the elongated bowl is more comfortable for sitting on and it's much easier for children to use. It's also more beneficial for those who have mobility issues. 
Water Consumption
Tankless toilets are much less water consumption than a standard toilet. An older standard toilet uses 3.5 gallons of water per flush whereas a tankless toilet uses anywhere between 0.5 gallons to 1.6 gallons. It's actually a law that states toilets are required to use no more than 1.6 gallons of water per flush. 
If you find a toilet with dual action flushing, we highly recommend one of these for optimal water conservation. If you need a powerful flush for waste, you can use a full flush. If you are only flushing a liquid, you can use a half flush. The whole flush uses around 1.28 gallons of water whereas the half flush uses around 1 gallon. 
How Much Do Tankless Toilets Cost?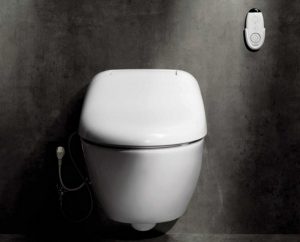 Tankless toilet prices range between $100 and $325 for a basic toilet. If you would rather have a specialty toilet with luxury options like a heated toilet seat, you should expect to spend $1,000 to $6,000.
Types Of Tankless Toilets
As the name suggests, tankless toilets do not have a tank. As such, they fall into the category of one-piece toilets. These toilets do not have a seam in between the tank and the actual toilet. This means that the toilet is easier to clean and does not require much installation space.
Tankless Toilets Vs Tank Toilets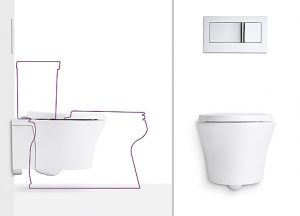 Whether tankless floor-mounted or tankless wall-mounted, tankless toilets differ from the standard two-piece tanked toilets in a number of ways.
Discussed below are several other ways in which these two toilet types differ.
Tank Toilets
Traditional tanked toilets have two main parts: the tank and the bowl. The tank is often raised above the bowl. This allows for a powerful gravity-aided flushing effect.
When flushed, a valve at the bottom of the tank opens, allowing water from the tank to flow down into the bowl and push the wastewater out through a siphon, situated at the bottom of the bowl.
With regards to design, you will have a choice of two-piece and one-piece tank toilets. In either case, you will find tank toilets to be relatively cheaper, as compared to tankless models.
Tankless Toilets
These are more expensive but are more appealing than tank toilets. Similar to tank toilets, water has to be delivered at high speeds to force the waste down the drain in a tankless toilet.
Since these units are connected directly to the plumbing system, without a water storage tank, they have specific water pressure requirements. In this case, the water has to enter the fixture at high pressure. In cases where the plumbing pressure is low, water pumps are used to boost it to the required pressure.
Tankless toilets come in a number of appealing, sleek, and space-saving designs. This makes them a preferred choice for many bathroom renovation projects today.
Tankless Toilet Pros
A tankless toilet, whether commercial or for residential application has a number of benefits to offer.
Saves on Water Consumption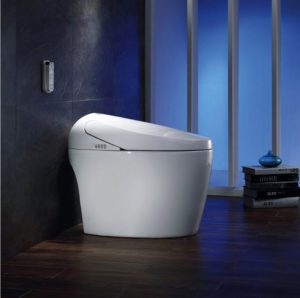 Modern tankless toilets have outstanding water efficiency ratings.
This alone makes them an ideal choice for homeowners looking forward to including high water efficiency in their homes.
Again, tankless toilets feature a dual-flush mechanism, which has been proven to save even more water. This is especially true with the more expensive models, like the ones made by TOTO.
Compact Design
The fact that these units do not require a tank means that they can be used in tight spaces. If your bathroom is small, this type of toilet can save you a considerable amount of space. This is particularly the case for the best wall mounted tankless toilet models.
Fewer Complications
As compared to tank toilets, tankless models have fewer parts, hence are less likely to break down. With a tankless unit, you will not have to worry about the floating balls, valves, and inlet valve maintenance issues associated with a tank toilet.
This makes tankless toilet models cheaper to maintain in the long run.
Aesthetically Appealing
Modern tankless toilets feature sleek and appealing designs to complement any bathroom decor. These toilets are renowned for their beauty and space-saving benefits. They will give your bathroom a nice, modern appearance.
Tankless Toilet Cons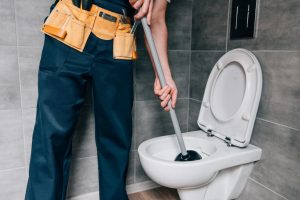 Although they are a preferred toilet option for many homeowners, tankless toilets have a few downsides.
On average, tankless models are generally priced higher than conventional ones, especially when they come with additional luxury features.
Again, the mist action is noisy in comparison to other toilet types. This is something you need to consider if you live in apartments where the walls are rather thin.
Summary
Reviewer
Review Date
Reviewed Item
Author Rating