10 Best Tankless Toilets – (2020 Reviews & Ultimate Buyer's Guide)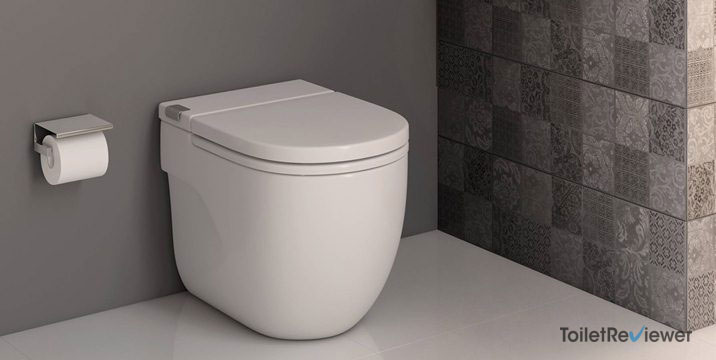 Tankless toilets are a type of toilet that dont require a water tank to function. The best tankless toilet will have a modern, contemporary deign, and will be very reliable. It will also have a good warranty.
These toilets offer way more than just aesthetic appeal in your bathroom. Their relatively small sizes mean that they also save space. Additionally, they have water-saving flushing systems.
The current standard specifies that tankless toilets (also known as flushometers) use no more than 1.6 GPF (Gallons Per Flush), but many toilet manufacturers today aim for around 0.8 GPF, which is equivalent to 3 liters (Source).
There are so many things you should know before considering a tankless toilet, namely whether or not you have great enough water pressure to run one. Before buying a tankless toilet, you'll want to consider factors like the size, flushing system and controls, level of customization, bowl shape, and toilet height.
In this review, we will examine all the top rated tankless toilets. All the toilets in this review will provide powerful tankless performance, whether you are trying to save a little space in a small bathroom, or you're just try to make it look a bit more modern.
Comparing The Best Tankless Toilets
The Neorest 700H by Toto is actually an integrated toilet that features an advanced washlet. The features of this toilet combine to offer you the best blend of luxury and ecology.

To begin with, this product has been proven to be compliant with both Universal Design and ADA requirements.

This toilet is highly functional and works as advertised. With regards to functionality, this dual flush tankless toilet by TOTO has a horde of features to speak of. You'll love the fact that this unit features an eco-friendly bidet washlet.

The components combine to offer one of the best luxurious and most economically friendly tankless toilets you can by today. One of the things you will come to like about this toilet is its powerful yet efficient flushing system.

This Toto toilet uses the renowned 'Tornado Flushing' system by the manufacturer. Also, this toilet features CeFiONtect technology for exceptional glazing.

Pros
Uses Tornado Flushing system by TOTO
Features CeFiONtect glazing
Uses eWater+ technology
Has several spray modes
Comes with an intuitive remote control
Allows for automatic flushing
Features bidet functionalities
Features a universal height design
Temperature control for the heated seat
Equipped with air deodorizer
Automatic lid opening and closing
Features a gentle aerated water spray
WaterSense and ADA compliant
Bio Bidet IB835 Fully Integrated Bidet Toilet System, White
All IN ONE DESIGN complete bidet seat and toilet in one package, Enjoy luxury like never before in a compact and refined design
DUAL NOZZLE provides a posterior wash for him and feminine for her, improves hygiene
ECO FRIENDLY Energy Save Mode reduce electricity and toilet paper, good for the environment
FEEL THE DIFFERENCE-Oscillating wide clean and pulsating message technology with bubble infusion
The BioBidet IB835 integrated bidet toilet system features an aesthetically appealing, floor-mounted design.

However, the unique contemporary beauty of this product is not its best feature. You'll find this model to be just as functional as it is beautiful.

As far as efficiency and performance are concerned, the unit has several notable features to offer.

To begin with, it is equipped with dual nozzles to offer a comfortable and thorough cleaning experience for both men and women. For enhanced comfort, the piece uses warm water, along with pulsating clean technology.

This eco-friendly toilet option is fitted with an intelligent body sensor that may be used to activate various functions of the bidet toilet combo. As a proof of high quality and reliable performance, the model comes with a 3-year limited warranty.

Pros
Easy to clean and use
Features an intelligent body sensor
Heated seat with adjustable temperature settings
Features dual cleansing nozzles
Features an energy saving mode
Automatic lid opening and closing
Features a wide clean oscillating system that has bubble infusion
Cons
Highly priced, yet doesn't have UV light
KOHLER K-5401-0 Veil Skirted 1 Piece Smart, Dual Flush Toilet in White
Materials: Vitreous china.
One-piece elongated bowl with integrated cleansing.
Dual flush 1.28 gpf (4.8 lpf) or 0.8 gpf (3.0 lpf) with a tankless design with direct water supply for a full or partial flush.
LED lighting illuminates the bowl to serve as a night-light.
Adjustable spray shape, position, water pressure, water temperature, pulsate, and oscillate functions for the bidet wand.
The elegant skirted design of this model is not only suited for any bathroom decor; its also really easy to clean.

Many of the owners of this model love it's solid and durable construction.

The bidet on this toilet is made of stainless steel. Similar to other leading tankless toilets on the market, the K-5401-0 Veil toilet is efficient on water and highly functional.

For example, most of it's users are impressed by it's self cleaning capability. The system is designed to sanitize the surface and wand using electrolyzed water.

Pros
Bowl fitted with LED nightlights
Features a stainless steel bidet
The seat closes quietly
Features a compact, tankless and seamless design
Comes with an LCD remote control
The remote is programmable for two different users
Uses direct water supply in your home
Features an elongated bowl
Fitted with a motion-activated closing and opening lid
Cons
With tine, the UV light may start to malfunction
Toto CT418FGNo.01 Aquia Wall-Hung Dual-Flush Toilet, 1.6-GPF and 0.9-GPF Cotton - CT418FG#01
Dual-flush flushing system, low consumption (1.6-GPF/6.0-LPF and 0.9-GPF/3.0-LPF)
SanaGloss ceramic glaze-prevents debris, mold from sticking to ceramic surfaces, leading to fewer chemicals and less water in cleaning
Universal Height
Wall-hung toilet can be paired with TOTO in-wall tank system as well as others;• SS204 SoftClose® seat (sold separately), SS114 SoftClose® seat (sold separately), SC134 commercial seat (sold separately), OR SC534 commercial seat (sold separately) is required • WT151M In-wall tank system (pex pipe) (sold separately) OR WT152M In-wall tank system (copper pipe) (sold separately) is required
The Toto Aquia wall hung toilet offers you a perfect blend of functionality and affordability in an efficient and beautiful toilet.

This toilet essentially has all the basic features you need in a compact and attractive design.

You'll be able to save on money and bathroom space and still be able to flush waste effectively. For a more sleek appeal, the manufacturer uses concealed installation hardware for this product.

You will also find the actual installation of the toilet quite easy and time-saving. Despite being compact and affordable, this toilet delivers powerful and water-efficient flushes.

Pros
Relatively easy to use and clean
Features concealed installation hardware
Uses powerful Dual Max flushing system by the manufacturer
Comparatively affordable
Features a universal height construction
Compliant with CALGreen requirements
Compact and space-saving
Cons
The toilet seat has to be purchased separately
KOHLER K-6299-0 Veil Wall-Hung Elongated Toilet Bowl, White
One-piece wall-hung toilet
Compact elongated bowl offers added comfort while occupying the same space as a round-front bowl
Mounting hardware is completely concealed, giving Veil a sleek, seamless look that is easy to clean
Includes wall-hung bowl with Grip Tight Reveal Q3 seat
Combines with the K-6284 In-Wall Tank and Carrier System to create a complete K-6303 Veil toilet
Are you looking for a tankless toilet that is efficient on both water and space? The wall hung k-6299-0 Veil by Kohler is a fantastic option.

As you may have learned, Kohler is one of the most reputable toilet manufacturers in the market today.

Just like the other products by the manufacturer, this wall-hung tankless toilet is of high quality and is highly functional.

For enhanced comfort, the manufacturer used an elongated bowl on this model. Also, the seat may be installed at your preferred height from the bathroom floor.

Aesthetically, the model is beautiful and may be used with almost any modern bathroom decor. The installation hardware for the unit is entirely concealed in the wall.

This gives your bathroom a clean and seamless appeal. You will also find this toilet affordable and very water efficient.

Pros
Saves on water and space
Features a solid and durable construction
Quiet closing toilet seat
Relatively affordable
Efficient bowl cleaning action
Features a dual flush system
Aesthetically appealing design
Cons
Complicated installation; has to be installed by an experienced professional
Sale
Saniflo 023 Sanicompact Self-Contained Toilet
Build a half bathroom for residential applications
Vertical pumping up to 9-Feet and 100-Feet horizontally
Allows the connection of a sink. Toilet that uses a minimum amount of water
Uses just 1-Gallon of water per flush
Stylish toilet seat with chrome hinges included.
Gone are the days of tankless toilets only being suited for public restrooms.

Nowadays, an increasing number of homeowners love the sleek, minimalist appeal offered by these toilets in their bathrooms at home.

This toilet features a compact design. This makes it a perfect fit for smaller bathrooms in your home.

As a matter of fact, the SANICOMPACT tankless toilet may be installed in bathrooms where a conventional toilet cannot fit.

With regards to efficiency, the unit uses just a gallon of water per flush. This toilet would be a great choice if you happen to have a disabled person in your home. In this regard, the product has been proven to be comfortable and easy-to-use for the disabled.

Pros
Comparatively affordable
May be connected to the sink seamlessly
Can pump water up to 100 feet horizontally and up to 9 feet vertically
Relatively affordable
Quite easy to install
Comes with a beautiful seat, featuring chrome hinges
Highly efficient on water
Perfect fit for half bathrooms
Cons
You may have to flush several times to clear solid waste from the bowl
Sale
TOTO SW3046#01 S500E Electronic Bidet Toilet Cleansing, Instantaneous Water, EWATER Deodorizer, Warm Air Dryer, and Heated Seat, Elongated Contemporary, Cotton White
A REFRESHING CLEAN FOR EVERYONE - Instant and continuous warm water stream will last as long you need it; AIR-IN WONDER WAVE provides a gentle, yet effective clean every time by infusing air into each droplet; Oscillating and pulsating functions
STEP INTO A LAVISH STANDARD OF LIVING – SoftClose heated bidet seat provides consistent warmth coverage over full seat surface; Air deodorizer neutralizes bathroom odors with powerful air filters; Adjustable warm air dryer provides easy clean up
CLEAN INNOVATIONS OFFER PEACE OF MIND - PREMIST helps prevent waste from adhering by misting the toilet bowl before each use; EWATER+ cleans the inside and outside of the wand before and after use and helps to clean the toilet bowl upon departure
EMBRACE YOUR UNIQUENESS - The convenient remote allows users to control and set personalized water cleansing settings. Provides luxury and cleanliness at your fingertips; 2 user memory settings for quick access
EXPERIENCE EVERYDAY EXCELLENCE – 50 Million WASHLET users agree TOTO electric bidet toilet seats are trusted and dependable with high-quality design for long lasting benefits; Easy, do-it-yourself installation; Top notch customer service support
This is one of the best tankless toilets today that features an integrated bidet.

In addition to the added bidet functionalities, you will find that this product has a lot more to offer.

For example, the powerful flushing experience is what owners of this toilet love the most. This enhanced flush power is provided by the 'Tornado Flush' system it uses.

As for the bidet, this toilet has thorough and comfortable warm water front and rear cleansing. And you'll love the fact that the water pressure and temperature on this toilet are adjustable.

For thorough flushing performance in single flush, this model uses 'CeFiONtect' and 'premist' technologies. Such innovations by the manufacturer have been proven to give the bowl unique lubricious qualities, making it easier for the waste to be flushed away.

Pros
Features Premist and CeFiONtect technologies
Delivers powerful flushes
Automatic lid closing and opening
Offers front and rear warm-water cleansing
Equipped with a heated seat
Adjustable pressure and temperature settings
Comes with an air deodorizer
Features a comfort height design
Cons
You may find this product to be a bit expensive
This may not be the most water efficient model in this guide, but it happens to be one of the best tankless toilets in the market today.

This may be attributed to the unique set of features that the model has to offer residential bathrooms.

For instance, the toilet incorporates a seamless contemporary style into your bathroom decor for improved visual appeal. You will also love the fact that this toilet features an integrated bidet, and offers several 'smart toilet' capabilities.

Pros
Uses 1.8 water gallons per flush
Features a Smart sensor on the seat
Comfortable warm water cleansing
Fitted with built-in LED night lights
Features an appealing stainless steel finish
Equipped with replaceable dual nozzles
Backed by a 3-year manufacturer warranty
Features a built-in backup battery
Cons
Not so efficient on water
Affordability, quality construction and a beautiful contemporary design are some of the best selling points of the Duravit Toilet Bowl Wall Mounted Starck Toilet.

This toilet is produced by Duravit, a leading German manufacturer known for high quality and durable bathroom equipment.

While most other wall-hung toilets feature a gravity-feed flush system, the Starck uses a pressure-assisted one. Because of this, this toilet has one of the most powerful flush systems you will ever see in a wall-mounted toilet.

Additionally, the toilet features a dual-flush mechanism for additional flush power. With regards to durability, the manufacturer uses solid ceramic to make the Duravit Starck. This construction has been proven to last for years without any problem.

Pros
Comes with Dura Fix 2 mounting
It is one of the best wash-down wall hung models
Produced by a renowned German manufacturer
Comparatively easy to clean
Relatively affordable
Lightweight and durable
Features a dual-flush, pressure-assisted flushing system
Features an easy-to-clean finish
Cons
Does not allow you to use a toilet seats by different manufacturers
Sale
Ove Decors Tuva Eco Smart Bidet Toilet Elongated Tankless Contemporary Desing, Automatic Flushing, Heated Seat with Integrated Multi Function Remote Control, White
Effective Cleansing: The seat will flush automatically on your departure to provide handsfree and cleanliness as convenient as ever. Choose from multiple settings for water sprayer pressure, heater and dryer. Manual and automatic flush.
Modern Hygiene: Tankless design offers an utlra slim look and means no waiting time in between flushes. Convenient LED Night Light. Adjust water temperature, water pressure, dryer temperature and heat seat temperature with the remote control.
Energy Efficient and User Friendly: WaterSense certified toilet meets strict EPA flushing guidelines, including at least 20% less water than 1. 6 gallon toilets. 1. 27 GFP (gallons per flush) single flush is efficient and water-friendly.
Heated Seat: Start your day and stay warm. Your seat will be heated to your pre-selected settings (if activated). The elongated seat will provide comfort and extreme hygiene. You can adjust the heating with the included remote control. Soft close seat prevents slamming.
Remote Control Functions: Remote control that configures your personalized cleansing settings providing ultimate control over features and functions.
Enhanced flexibility and versatility are some of the best selling points of this tankless toilet.

Some consumers love to buy products by renowned manufactures, as far as bathroom products and accessories are concerned.

However, you should consider buying the Ove Decors Tuva Tankless Smart Toilet.

In addition to its unique aesthetics, this toilet features an ergonomic design and is packed with an array of efficiency features. Unlike most of the leading tankless toilets today, this product has an integrated bidet.

Pros
Features an integrated bidet with a spray nozzle
Has adjustable temperature settings
Comes with a multi-function remote control
Highly efficient on water
Features a bidet dryer
Allows you to adjustable pressure, water temperature and heated seat temperature
Cons
The brand is relatively new in the market
How Much Do Tankless Toilets Cost?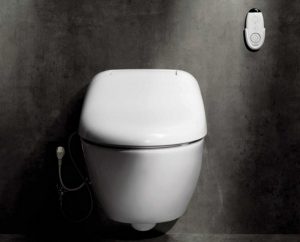 Tankless toilet prices range between $100 and $325 for a basic toilet. If you would rather have a specialty toilet with luxury options like a heated toilet seat, you should expect to spend $1,000 to $6,000.
How Do You Adjust A Tankless Toilet?
There is usually a brass screw used the regulate flushing pressure. This screw is usually located in the fitting that joins the valve to the supply plumbing. Clockwise reduces the amount of water in a flush, counterclockwise increases it.
Can I Put a Tankless Toilet In My Home?
Yes. Tankless toilets can be installed on the floor or mounted on the wall. Wall-mount toilets allows the adjusting of the seat height. A tankless toilet make your bathroom feel more spacious and less cluttered. 
How Does a Tankless Toilet Work?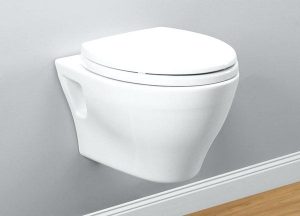 Tankless toilets are a modern option for homeowners looking for a cost-effective bathroom renovation option. These toilets don't need the water storage tank that's found in a conventional toilet setups.
Instead, they are connected directly to the plumbing system. Because of this, most of them require the supply line to have enough pressure to properly cleanse the toilet bowl.
With the best commercial tankless toilets, this will not be a problem as water supply lines in commercial buildings typically operate at high pressure levels.
However, installing one at home is a bit tricky as the pressure in most residential plumbing systems is too low to cleanse the bowl effectively.
When the toilet lever is operated, water rushes into the pump where its pressure is increased before being discharged into the toilet bowl.
Added Pressure
In their design, most tankless toilets for homes feature a small electric pump built into the main toilet chamber. Water has to go through this pump before it is flushed into the toilet bowl.
Leading commercial tankless toilets do not require a pump because the pressure in commercial systems is high enough to cleanse the bowl thoroughly.
Flushometers
Tankless toilets use approximately the same amount of water as a tank-type toilet, but the water enters the fixture at a greater pressure.
This is often achieved by sending the water through the line at a higher rate of speed. However, the size of the feed pipe is also an important consideration in this case.
Commercial buildings and some residential buildings have enough water pressure to power such a flush without any mechanical assistance.
Such tankless toilets are commonly referred to as Flushometers. Flushometers vary in requirements, with most of them requiring water pressure of between 15 and 20 psi.
Types Of Tankless Toilets
As the name suggests, tankless toilets do not have a tank. As such, they fall into the category of one-piece toilets.
These toilets do not have a seam in between the tank and the actual toilet. This means that the toilet is easier to clean and does not require much installation space.
Wall Hung Tankless Toilets
Rather than being installed on the floor like conventional toilets, these models are hung on a wall in the bathroom.
Such models are best suited for bathrooms that have a limited footprint. Most modern wall-hung tankless toilets feature an easy to clean, sleek design.
With such a toilet, the toilet bowl and flushing plate will be installed on one of the walls in your bathroom. This results in a more streamlined appeal that will save up to 12 inches of space.
Floor-Mounted Tankless Toilets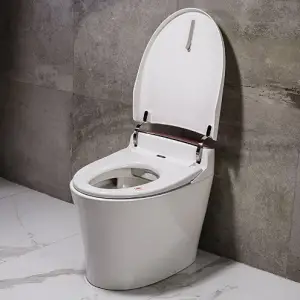 If you would rather have a model that sits on the bathroom floor, there are several things you should consider.
The toilet has to be of the right size for your bathroom. This is because floor-mounted toilets require more space, as compared to wall hung tankless toilets.
One of the measurements that's critical to take into account is the rough-in measurement.
This is essentially the measurement from the bolts that attach the unit to the floor to the wall behind the toilet. Most floor-mounted toilets in the market today have a 12-inch rough-in.
However, older homes may require a toilet with a 10-inch rough-in. If bathroom space is not a problem, you may also experiment with the best 14-inch rough-in tankless toilets.
Seat Height for Tankless Toilets
How high is the toilet seat from the bathroom floor? This measurement should be taken from the top of the toilet seat to the bathroom floor.
Different tankless toilet models have varying toilet heights, ranging from 15 inches to 19 inches.
Various tankless toilet models available today may be classified into three broad categories based on their height.
Here are the main tankless toilet height options you should consider.
Standard Height
These toilets have their seats positioned less than 17 inches above the bathroom floor.
Such tankless toilet models feature a low profile. Therefor, they are only suited for people of smaller or average stature.
Chair/Comfort Height Tankless Toilets
In these tankless toilet models, the toilet seat is usually positioned higher than 17 inches above the bathroom floor.
Most comfort height tankless seats have a height of between 17 and 19 inches. According to ADA requirements, such toilets are ideal for disabled people.
With the toilets positioned this high above the bathroom floor, people of all ages groups will have an easy time sitting and standing. Most of the best chair-height tankless toilets available today are ADA compliant.
Custom Height Tankless Toilets
What if you could have the toilet seat positioned at your preferred height? Well, this is now possible with the best wall hung tankless toilets on the market today.
These toilets can be installed at almost any height, between 15-3/8 inches to 28-1/2 inches.
These toilets allow you to set the seat at a height you find comfortable. Also, a raised toilet basin saves on space and makes it easier for you to clean beneath the toilet.
Bowl Shape Of Tankless Toilets
This is the other design aspect you should bear in mind while shopping for the best tankless toilet.
You may have noticed that these products have bowls of varying shapes and sizes.
So, what toilet bowl shape and size is ideal for your installation or replacement project?
The right tankless toilet bowl shape and size will depend on several things. Here are the three main shapes you should consider:
Round Front Bowls
Most traditional toilets have a round front for the bowl shape. In most round-front tankless toilet models, the bowl measures between 28-1/2 and 31-3/4 inches from the nose to the back.
Though considered to possess an older look, such toilets are known to save on space. However, such toilets are not as comfortable to use as the models discussed below.
Elongated Bowls
If you are looking for enhanced comfort in your tankless toilet, you should consider getting one that has an elongated bowl.
In this case, the bowl measures between 28-1/2 and 31-5/8 inches from nose to back. Such models are known to be very comfortable for people of different statues and ages.
Compact Elongated Toilets
Would you rather get a tankless model that couples a compact design with enhanced comfort?
In such a case, a tankless toilet with a compact elongated bowl would be the right choice. The comfort offered by such a bowl may be compared to that of an elongated bowl.
Even so, such a tankless toilet will save you about 10 percent of space in the bathroom.
Tankless Toilets Vs Tank Toilets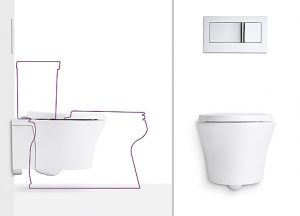 Whether tankless floor-mounted or tankless wall-mounted, tankless toilets differ from the standard two-piece tanked toilets in a number of ways.
Discussed below are several other ways in which these two toilet types differ.
Tank Toilets
Traditional tanked toilets have two main parts: the tank and the bowl. The tank is often raised above the bowl. This allows for a powerful gravity-aided flushing effect.
When flushed, a valve at the bottom of the tank opens, allowing water from the tank to flow down into the bowl and push the wastewater out through a siphon, situated at the bottom of the bowl.
With regards to design, you will have a choice of two-piece and one-piece tank toilets. In either case, you will find tank toilets to be relatively cheaper, as compared to tankless models.
Tankless Toilets
These are more expensive but are more appealing than tank toilets. Similar to tank toilets, water has to be delivered at high speeds to force the waste down the drain in a tankless toilet.
Since these units are connected directly to the plumbing system, without a water storage tank, they have specific water pressure requirements.
In this case, the water has to enter the fixture at high pressure. In cases where the plumbing pressure is low, water pumps are used to boost it to the required pressure.
Tankless toilets come in a number of appealing, sleek and space-saving designs. This makes them a preferred choice for many bathroom renovation projects today.
Tankless Toilet Pros
A tankless toilet, whether commercial or for residential application has a number of benefits to offer.
Saves on Water Consumption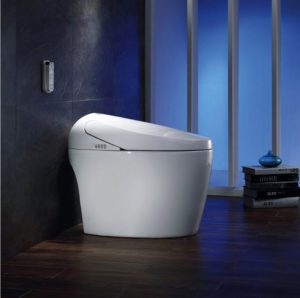 Modern tankless toilets have outstanding water efficiency ratings.
This alone makes them an ideal choice for homeowners looking forward to including high water efficiency in their homes.
Again, tankless toilets feature a dual-flush mechanism, which has been proven to save even more water. This is especially true with the more expensive models, like the ones made by TOTO.
Compact Design
The fact that these units do not require a tank means that they can be used in tight spaces.
If your bathroom is small, this type of toilet can save you a considerable amount of space. This is particularly the case for the best wall mounted tankless toilet models.
Fewer Complications
As compared to tank toilets, tankless models have fewer parts, hence are less likely to break down.
With a tankless unit, you will not have to worry about the floating balls, valves and inlet valve maintenance issues associated with a tank toilet.
This makes tankless toilet models cheaper to maintain in the long run.
Aesthetically Appealing
Modern tankless toilets feature sleek and appealing designs to complement any bathroom decor.
These toilets are renowned for their beauty and space-saving benefits. They will give your bathroom a nice, modern appearance.
Tankless Toilet Cons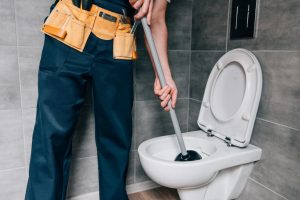 Although they are a preferred toilet option for many homeowners, tankless toilets have a few downsides.
On average, tankless models are generally priced higher than conventional ones, especially when they come with additional luxury features.
Again, the mist action is noisy in comparison to other toilet types. This is something you need to consider if you live in apartments where the walls are rather thin.
Common Issues and Problems Associated with Tankless Toilets
Ranging from leaks and toilet overflow to endless flushing, a tankless toilet is prone to a number of complications.
Here are some of the problems you should expect while dealing with a flushometer toilet.
Flush Issues
In rare cases, the tankless toilet may fail to flush entirely. This problem may be caused by a number of things, including a malfunctioning handle assembly.
The handle assembly on the toilet may jam or just break down, in which case the toilet fails to flush when the lever is operated.
This problem may also be caused by a faulty water supply valve or relief valve.
In other cases, the toilet may flush, but fail to deliver an adequate amount of water to complete the flush. When this happens, the toilet will initiate the flush successfully, but shut off almost immediately.
Another flush-related problem is when the toilet continually flushes for long periods without shutting down.
This results in lots of water rushing into the tankless toilet and may even splash bowl contents all over the bathroom floor. This problem occurs when the stop valve in the toilet fails to activate.
Toilet Leaks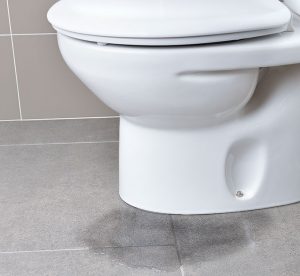 Similar to conventional toilets, tankless toilets are known to leak from time to time. In most cases, the toilets leak from the handle.
Some are also known to vibrate abnormally while flushing, causing water to leak from various points.
Regardless of the problem you are having with your tankless floor mounted toilet, its best to have a skilled professional inspect and repair it.
Tankless Toilet FAQ's
Tankless Toilet Won't Flush – What Should I Do?
This is often caused by a poorly seated flapper—a part that opens to let water flow into the toilet bowl.
The flapper is often attached to your toilet handle arm by a chain. This chain can sometimes become unhooked through rough usage.
You may also discover the chain or handle arm has broken; in which case it should be replaced. Finally, the flapper itself may be stuck due to corrosion at the joint or warping.
How to Flush a Tankless Toilet Without Water
The solution to this would be to flush the toilet with a bucket of water. You will need about a gallon of water to pour directly into the toilet bowl.
You should start slowly at first, then quickly add the remaining water into the bowl. The shape of the toilet and the pressure from the water in the bucket will push everything through the pipes.
Tankless Toilet Keeps Running – What Should I Do?
This problem may be caused by a number of things, all of which have different remedies. For instance, it may happen because the relief valve is not seating properly or the bypass orifice is clogged.
If this is the cause, you should disassemble the working parts and clean them thoroughly. A toilet may also run if the inside cover is damaged or cracked.
In this case, you need to replace the inside cover. If the line pressure has dropped too low, it may be insufficient to force the relief valve to seat. This will also cause a tankless toilet to continue flushing.
If this is the problem, you should shut off all control stops until the pressure has been restored, then open them again.
Noise Coming from Tankless TOILET
This may also be caused by a number of things. If you find your tankless toilet to be too noisy, the problem could be a leak in the toilet valves.
A malfunctioning fill valve or just accumulation of calcium deposits in the pipes. Once you have ascertained the real cause of the noise, you should either clean or replace the affected part.
Low Water Pressure from Tankless Toilet
With continued use, tankless toilets may develop a lazy or weak flush. This is commonly caused by a buildup of minerals such as calcium and lime, along with debris particles such as rust in the rim feed and jet holes.
To clear the jet, you may use a wire hanger. You need to make a small hook at the end of the hanger. Push the hanger up into the jet hole to fish out any debris that may be trapped in the jet passageways.
Tankless Toilet Installation Tips
As important as they are, toilets get old or break down with time.
When this happens, you will need to replace them with the best commercial tankless toilet models.
Whether it is a toilet replacement or you're installing a toilet for the very first time, its best to do it right.
For DIY tankless toilet installations, here are a few pointers to help you install the unit correctly:
Inspect and Replace the Flange
For replacement projects, you need to inspect the old flange for damage. If the flange is damaged or cracked, you have two choices; replace the flange or use a flange repair ring to reinforce the cracked one.
Though a temporary solution, this will hold the bolts to the floor more securely. Once complete, reattach the new flange or flange and repair ring to the floor using screws.
You may also use a drill bit to place your new bolts inside the flange before removing the rag from the sewer pipe.
Set the Toilet Bowl
You need to ensure that the closet bolts set are upright within the collar slots of the flange.
If so, place a brass washer around each bolt. While doing this, you have to ensure that the wax ring is thick enough for the floor beneath the toilet.
You may now proceed to line it up with the flat side down over the flange while pressing it into the pipe.
You should then line the bowl of the toilet over the ring and bolts carefully, probably with the help of a friend, before lowering it into position.
Be very careful not to twist or rock the bowl in the process, as doing so will break the wax seal and cause the toilet to leak.
With the bowl in place, press the bowl firmly into the wax seal and use a level to ensure that it is sitting evenly on the floor.
If the bowl is uneven, you may add waterproof or stainless-steel shims beneath to balance it out. For minor variations, a few stainless-steel washers will suffice.
Attach the Bowl to the Floor
Having positioned the bowl, you should place another washer and nut on top of each bolt and tighten them to secure the bowl.
Tighten the nuts alternatively so as not to apply too much pressure to one side of the bowl (this may loosen the wax seal).
Be mindful of the direction of the wrench as well to avoid cracking the porcelain. Cover each bolt with a bolt cap when you're done.
At this point, you may also trim each bolt using a hacksaw. Having installed the bowl, you should now connect the toilet to the supply line.
For this stage, you should follow the manufacturer's instructions as the procedure varies from one model to another.
Ready to Install a Tankless Toilet in Your Bathroom?
Affordability, ease of use, water efficiency and performance are some of the most important things you should consider while shopping for a conventional toilet.
Summary
Reviewer
Review Date
Reviewed Item
Author Rating