Bidet toilet combos are the ultimate thing when it comes to bathroom lavishness. Such toilets combine a traditional toilet bowl with the luxury of a bidet toilet seat.
And, there's no need to measure your current toilet. Bidet toilet combos arrive with both pieces together, replacing your existing toilet entirely.
If you are remodeling your bathroom and want to spice up its look, these toilets can add major appeal to any bathroom décor. Bidet toilet combos function similarly to bidet seats that attach to your toilet and offer the same cleansing features.
Some functions you can expect include heated seats, warm dryers, warm water, nozzle adjustability, and other functions by using the remote control. Also, most models have a deodorizer function after each use of your toilet.
As bidet toilet combos include a traditional bowl, you have the ability to use the automatic or manual flushing function, whichever you prefer.
While choosing a bidet toilet for your home, you will have to consider aspects like bowl shape, adjustable temperature, pressure, quality, control type, power source, and more.
The Best Bidet Toilet Combos for 2019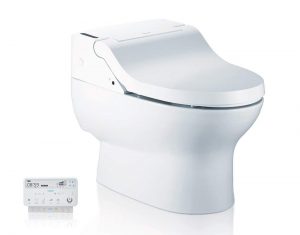 If you are looking for the best high-end bidet toilet combo, few models available today can beat the BioBidet IB-835 Integrated Bidet Toilet.
Ranging from a sleek modern design to modern-touch cleansing technology, this product has it all. This is one of the most expensive products in this review, but is actually worth every penny.
This may be attributed to the many luxury and performance  features it has to  offer. So, what makes this BioBidet product one of the best bidet toilet combo today?
Relatively to Install on your own
This bidet toilet combo costs a relatively high amount of money to buy. As such, you would not wish to incur additional costs to have then unit installed, right?
In this regard, the IB-835 got you covered. This model is essentially designed for enhanced ease of installation. This is why you are going to have a  very easy time installing this unit on your own.
In order to make this possible, the product comes with an easy-to-follow installation guide. Again, the manufacturer endured that you get all the required installation parts for every order.
If you are having a hard time installing your BioBidet IB-835, you may as well get in touch with the customer support team.
Innovative Remote Control
This product comes with an innovative and highly advanced  wireless remote control. This handheld remote features an opaque backlit LCD window. Unlike many other remote controlled bidet toilet combos in the market, the BioBidet IB-835 remote control is touch capable.
Another thing users love about this remote control is it's transparent LCD window. Through this window, you will be able to view your current selections. You will also love the cool ambience associated with the blue backlit LCD screen of the remote control.
As you will come to learn, this remote control feature is unique in it's own way. In this regard, it allows you to select and adjust each function using the intuitive touch controls of the remote control. You may not believe this, but this unit allows you to flush the toilet using the remote control as well.
Pros
Backed by a 3-yearvlimited warranty
Features a unique 2-in-1 nozzle system
Comes with a wireless remote that features an LCD window
Adjustable warm air dry
Oscillating, wide cleaning
Fitted with an intelligent body sensor
Equipped with a powerful deodorizer
Adjustable heated seat
Cons
You may find this model to be very expensive
Technological advancements, good looks and a wide range of features are some of the best selling points of the Toto Neorest 700H.
The product has been proven to offer one of the best blends of luxury and ecology in the industry today.
Many users love the fact that the bidet toilet combo is compliant with Universal Design and ADA requirements. Other than that, the unit has a horde of luxury and performance features to offer, including:
Powerful Flush Performance
Although the bidet is a key component, this is still a toilet. As such, you still need to worry about the flushing performance of the product. In this regard, the Neorest 700H does not frustrate. The manufacturer uses the powerful Toto Cyclone Flushing system on this model.
Enhanced Comfort
Superior engineering and a range of comfort features allow this model to offer an unparalleled level of comfort in the industry.  The eWater+ technology, for instance, is meant to ensure that the bowl remains clean and hygienic at all times
Again, the product features a warm air dryer and Wonderwave Spray technology. These are essentially meant to keep you refreshed whenever you are using the toilet. According to most of the current users of this unit, the Nearest 700H simply transforms the bathroom into a relaxation Oasis.
Pros
Features SanaGloss
Supports remote control and automatic flushing
Uses eWater+ technology by the manufacturer
Delivers a powerful cyclone flushing experience
Compliant with ADA and Universal Design requirements
Cons
A bit sophisticated, hence hard to install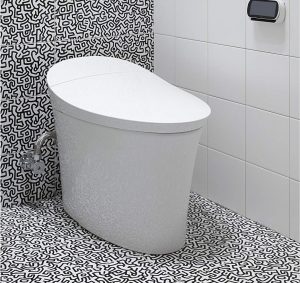 Would you rather have a more compact toilet option that features an integrated cleansing functionality?
Then you should really consider buying the Kohler K-5401-0 Veil Skirted One-Piece Smart, Dual Flash bidet toilet combo.
With regards to size, this model applies a minimalistic as well as ergonomic design. While that is the case, you will love the fact that it offers a unique set of features for the best hygiene as well as enhanced comfort. Other things you will come to like about this model include:
Enhanced Ease of Use
As far as ease of use is concerned, this Kohler bidet toilet combo is really intuitive. I n this case, the manufacturer has equipped the model with a range of convenience features. For instance, this unit allows for hands-opening and closing .
Additionally, it comes with a touch-screen capable remote control and is fitted with an LED nightlight.  The lid used on this product is designed to open and close slowly and gently without slamming.
Pros
Comes with a touchscreen remote control
Features a compact, one-piece design
Made of high quality Vitreous China material
Fitted with a dial flush system
Equipped with an elongated bowl for enhanced comfort
Has an ELD nightlight
Allows you to adjust spray position, shape and water pressure
Cons
May end up flushing just part of the water, resulting to poor flushes
Are you looking for an affordable bidet toilet combo or just want a unit that delivers a silent, yet powerful flush experience?
The WoodBridge T-0008 will offer you just that. In addition to these, this product has a range of other superior capabilities.
As a matter of fact, this unit has features and capabilities that may be compared to those of the more expensive bidet toilet combos. Some of the desirable aspects of this unit include:
Quality and Elegant Construction
Elegant craftsmanship and quality construction are some of the attributes this manufacturer is known for. In this regard, the T-0008 Luxury Bidet Toilet combo features a contemporary design. Owing to this quality construction, everything on this unit works just as it is expected to.
The bidet seat, for instance, fits perfectly. Still on the design, you will love the fact that this combo features a comfort height design. The product also has an elongated bowl for enhanced comfort. Other comfort features you will like on this product include:
A feminine wash, posterior wash and a heated seat. Unlike many other bidet toilet products, this unit is fitted with a safety On/Off sensor.
Pros
Has self-cleaning nozzles
Fitted with gentle massage and oscillating pulse functions
Adjustable water pressure
Hygienic posterior wash, pulsating wash and feminine wash
Filtered hygienic high efficiency WaterSense certification
Cons
The Seat on this unit is somewhat narrower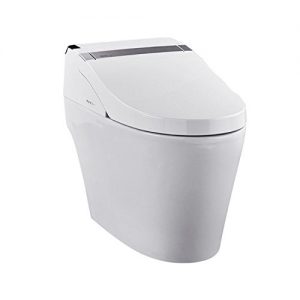 Modern appeal, functional experience and efficient performance are some of the things current users love about the ProStock electronic bidet w/ integrated toilet.
With regards to water efficiency, this unit feature a dual flush system. The higher setting uses 1.6 gallons of water while the lower setting uses just 1.0 gallons of water per flush.
As far as efficiency, this bidet toilet combo is compliant with WaterSense requirements. Despite being user friendly and highly efficient, you will find this unit to be highly affordable
Flexibility
Though affordable, this model offers much flexibility. For instance the product offers powerful settings for enhanced convenience and hygiene. However, you will find the bidet toilet combo to be very flexible. In this regard, it features controls for regulating such features as pressure and temperature.
Pros
Comes with a chrome tee for connecting the bidet to the water supply
Adjustable pressure, temperature
Custom spray modes
Relatively easy to install and use
Has front and rear warm water cleansing
Cons
The flush action is somewhat weak
Things You Need to Know Before Choosing a Bidet Toilet Combo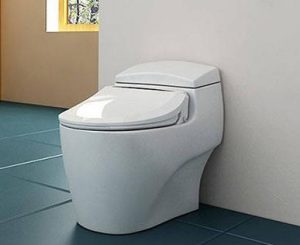 As far as hygiene and comfort in your bathroom are concerned, nothing can beat the now popular bidet toilet combos.
Would you like to have a better, more relaxing and hygienic toilet experience in your bathroom? Well, You should consider investing in one of the best bidet toilet combos available today.
As important as these appliances are, choosing the right one can be a daunting task. Again, bidet toilet combos do not come cheap. As such, you cannot afford to make a mistake.
So, how should you go about it? Discussed below are some of the main things you should consider while shopping for the best bidet toilet combo.
1. Bowl Shape
Just as is the case with a regular toilet, you still need to choose the right bowl shape while shopping for the best bidet toilet combo. In this regard, there are two main bowl shape options to choose from; elongated bowls and round bowls.
To begin with, you need to consider the amount of space you actually have in the bathroom. When compared to rounded bowls, elongated toilet bowls are relatively larger. This makes bided toilet combos with an elongated bowl ideal for installation in larger bathrooms.
For smaller bathrooms, a rounded bowl bidet toilet combo will allow you to save a few inches of precious space. For enhanced comfort, it is advisable to opt for a comfort height combo—whereby the seat is between 17 and 19 inches from the floor.
2. Cleansing Capacity and Level of Comfort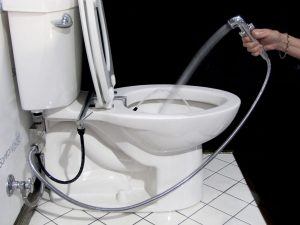 Secondly, you have to consider the comfort and functionality features that the product has to offer. With regards to comfort, you need to choose a bidet toilet combo that features the right seat.
For instance, a preheated toilet seat will make the seat more comfortable to sit on during the cold weather.
Other aspects you should consider, in this case include:
Self-Cleaning Ability
Another thing you should pay attention to is the self-cleaning ability of the bidet on your preferred product. In this regard, it is advisable to go for units that feature wads for both feminine and posterior wash.
The wand on your preferred bidet toilet combo should also allow you to adjust the spray width as well as the position of the nozzle.
Temperature and Pressure Controller
What about the water pressure? This is something a considerable number of homeowners tend to overlook while choosing the best bidet toilet combo. Truth be told, some of the leading models in the market today release water under high pressure—something some users are not comfortable with.
To ensure that your product is comfortable for all users, it is advisable to go for a bidet toilet combo that allows you to regulate the water pressure. The same case applies to the water temperature. An adjustable seat temperature is better than a static setting.
3. Bidet Controls
How are the variable settings on the bidet controlled in your preferred bidet toilet combo? Most of the leading bidet toilet combos available today are equipped with a control panel. This panel has all the dials and knobs you need to alter the variable settings of the bidet.
While most of these products use a control panel, there are other models that use wireless remote controllers. As you can imagine, the remote controlled units are easier to calibrate and convenient to use.
4. Drying System
Having a bidet toilet combo that features a great spray system is great, isn't it? Well, you will still need to dry out the wetness afterwards.
To make this easy and comfortable, some of the best bidet toilet combos available today feature a drying system as well.
Not only does an air drying functionality eliminate the need for toilet paper, it is more comfortable to use. This may be attributed to the pampering experience associated with such systems. In this regard and dryers are some of the best bidet drying systems today.
However, you still need to ensure that you get the best air dryer. To begin with, it is advisable to go for the warm air dryers—preferably the ones with adjustable temperature settings. Not only will such a system help you save on tissue paper, it will also prevent chafing.
Again, you also need to consider the following aspects of the drying system on your bidet toilet combo:
Air deodorizer
LED night light
Oscillating cleans
Self-cleaning nozzle
Pre and after mist functionality
Automatic close/open lid capability
Such are some of the features that make a bidet drying system superior to others in the market today.
5. Power Source
Bidet toilet combo models that have warm air drying systems and seat heating capabilities require a power source for them to work. While this is the case, you need to know that not all of them require a connection to electricity.
Well, most of these units need to be plugged to a source of electricity for them to function. However, there are other models that operate on batteries. The battery-operate models are best suited for homes that are not connected to the grid.
Such units are also a great choice for bathrooms that do not have a socket. The good thing about these bidet toilet combos is that they continue to work even when electricity is interrupted.
6. Power Efficiency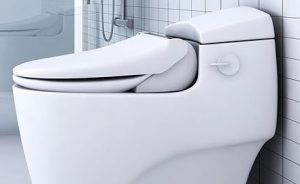 Bidets are essentially electrical appliances. As such, it will be wise for you to consider energy efficiency while shopping for the right one.
If you are looking forward to making your home more energy efficient, you should go for models with a better efficiency rating.
Again, a model that features a power saving mode will come in handy. Units with this feature are essentially designed to prevent unnecessary flushes as well. In this regard, the unit will also limit the amount of water used during heavy usage.
7. Self-Cleaning Nozzles
There is a growing concern among bidet users today that the unit may harbor and spread infections. Well, this is only possible if high hygiene is not observed.
First things first, it is important to ensure that the bidet and wand remains clean at all times. Therefore, a unit that features self cleaning nozzles will be the perfect choice.
In addition to an effective self cleaning system, some of the best bidet toilet combos also feature a sterilizing option. Such systems have been proven to be effective at killing germs and bacteria in the product
8. Number of Nozzles
Lastly, but not the least, you also need to worry about the number of nozzles your preferred bidet toilet combo has.
Basically, more cleaning nozzles make a bidet set more efficient at cleaning. A good number of the leading bidet toilet combos available today have two to three nozzles.
This number of nozzles will be more effective at speaking the water over a larger area. Additionally, a larger number of nozzles make the seat feel cleaner and more comfortable to use.
Bidet Toilet Combo FAQs
Q: What is the difference between a bidet and a heated toilet seat?
A. To begin with, bidets offer more functionality beyond heating. Heated seats, on the other hand, only allow you to alter the temperature of the seat. With regards to the price, bidets are more expensive than heated seats. This is mainly because bidets offer more features.
Q: Does a bidet toilet combo have to be plugged into a power source?
A. Most of the bidet toilet combos available today are designed to plug into an output socket. However, there are other models that are battery-operated. You need to choose that will best suit your needs.
Final Verdict
Many homeowners today think of bidet toilet combos as luxury products. While some of these units may seem somewhat costly, they are actually worth every penny.
In order to be on the safe side and get the best value for your money, you need to choose the right toilet carefully. Most leading brands today offer beautiful products that will augment the visual appeal of any bathroom.
Additionally, the various products reviewed in this guide will offer better hygienic standards in your bathroom. With this guide, choosing the best bidet toilet combo should be a walk in the park.
Summary
Reviewer
Review Date
Reviewed Item
Author Rating