5 Best Bidet Toilet Combos – (2021 Reviews & Buyer's Guide)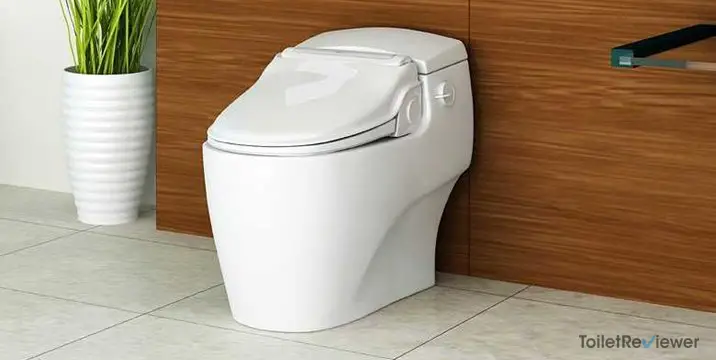 Based on statistical findings, the best toilet bidet combos can reduce the use of toilet paper in your bathroom by about 75 percent. This translates to about $300 in toilet paper costs every year.
In addition to reading reviews by current users, there are several other factors you should consider while buying such a toilet. For instance, consider buying a toilet bidet combo that is efficient on water, cleans thoroughly, and is comfortable enough within your budget.
In this regard, you should consider such aspects as customizable temperature and pressure settings, durability as well as features and capabilities of the unit. Throughout this guide, you will learn what toilet bidet combos are, how they work, and what you should consider while shopping for the right one.
How Much Do Bidet Toilet Combos Cost?
The cost of bidets varies significantly depending on the type of bidet, its capabilities, as well as brand, and model.
For those on a budget, entry-level bidet seats are often priced between $50 and $200 apiece. This cost includes the price of the combo and the labor charges for installation.
As compared to these, toilets with a bidet came at a higher price point depending on whether they are electric or not and the features they offer.
Non-electric toilet and bidet sets are rather affordable, with some models priced at $250 to $600 each. However, luxury bidet toilet combo models by the leading brands are costlier to buy.
For instance, Kohler Bidet Toilet Combo models are priced between $990 and $4,500. On the high-end, you can get toilet bidet combos priced between $5,500 and $7,000.
If you like to get a bidet attachment, and not a combo (way cheaper) check out LuxeBidet
Best Bidet Toilet Combos
The unit features a technologically advanced Washlet and is designed to deliver a remarkable blend of ecology and luxury.
The Neorest 700H is a fully integrated system with innovative toilet and bidet features. With prices around $4,865 apiece, this is one of the high-end toilet bidet combo that will offer you great value for money.
Highly Durable & Reliable Toilet
The product is designed with the highest quality materials and features durable construction to ensure longevity and reliability. It also meets both Universal design and ADA needs and is suited for people of all ages.
Some of the innovative features offered by this TOTO toilet and bidet combo include the renowned TOTO's Tornado flushing system, remote control, eWater+ Technology as well as spray modes featuring WonderSpin and WonderWave technology.
The unit also features automatic flushing and CEFIONTECT technologies by the manufacturer. The bowl has an extraordinarily smooth, ion-barrier surface to help keep the bowl cleaner for a longer period.
Pros
Features SanaGloss
Supports remote control and automatic flushing
Uses eWater+ technology by the manufacturer
Delivers a powerful cyclone flushing experience
Compliant with ADA and Universal Design requirements
Cons
A bit sophisticated, hence hard to install
2. TOTO G400 Washlet  – Wall Mounted Toilet Bidet Combo
This universal height, ADA-compliant unit is one of the best Japanese toilet bidet combo models you can get.
The toilet features an integrated bidet, all in a compact design. With regards to aesthetics, the Washlet G400 features a sleek, low profile skirted one-piece Elongated front bowl design. In its functioning, the model uses a 3D Tornado Flush system that delivers an efficient 1.28 or 0.9 GPF.
Other G400 appealing features include the innovative CEFIONTECT ion barrier glaze technology by the manufacturer. It is also designed to restrict the accumulation of debris and mold on its ceramic surfaces.
Toto MS920CEMFG#01 1.28-GPF/0.9-GPF Washlet with Integrated Toilet G400, Cotton White
WASHLET bidet seat toilet with integrated dual flush toilet with 3D Tornado Flush technology
Front and rear warm water cleanse with five adjustable temperature and pressure settings
The CEFIONTECT glaze and PreMist function gives the toilet bowl a lubricious quality that helps prevent waste from adhering
Features luxury auto open and close lid and seat with heated seat, warm air dryer, and air deodorizer for added comfort
Universal Height, ADA compliant, WaterSense certified, and CAL Green compliant.Trap Diameter:2-3/4 inch
The integrated bidet toilet also features remote control operated front and rear warm water washing as well as adjustable temperature and pressure control capabilities.
In order to reduce the frequency of cleaning and save water, the model couples the renowned CeFiONtect and Premist technologies by the manufacturer.
The Woodbridge B0950S is one of the most affordable compact, one-Piece Dual Flush toilets with an integrated bidet. The unit features feminine wash, posterior wash as well as pulsating wash, and adjustable water pressure.
WOODBRIDGE B0970S-3.0 Smart Bidet Tankless Toilet Elongated One Piece Chair Height, Auto Flush, Foot Sensor Operation, Heated Seat with Integrated Multi Function Remote Control in White
✅ [ADA Compliant Toilet]: Features 17.3" height from floor to seat. comfortable height seating, it makes visiting the toilet to be more comfort as there is less strain sitting on or standing up
✅ [HANDFREE FLUSH]: Off-seat flushing, button flushing, foot sensing flushing and remote control flushing. Real hand free design.The built-in battery also ensures normal flushing in case of power outage.
✅ [TANKLESS AND BOOSTER PUMP]: Spacious tankless design directly uses water from water pipe, and booster pump improves flush performance at low or inconsistent water pressure, operated on water pressure greater than 0.07 Mpa (dynamic) or 0.8 Mpa (static)
✅ [TOTALLY HYGIENIC]: Self-cleaning bidet/spray wand, Posterior wash, Feminine wash, Pulsating wash, Adjustable water pressure, hygienic filtered water
✅ [AUTO DEODORIZATION]: Lightless catalyst generate catalytic reaction under lightless conditions, eliminate harmful air pollutants and convert pollutants into harmless water and carbon dioxide to achieve deodorization and air purification from source.
The model also offers hygienic filtered water. For enhanced versatility, the model has a number of customizable settings, including water temperature, and pressure, dryer temperature, and a heated seat.
The toilet itself features automatic flush capabilities; it is designed to detect your departure and trigger the toilet to flush automatically.
The deodorizer functionality will effectively clean the air around the toilet using its powerful air filters.
The air is drawn in, passed through an ionized carbon filter, eliminating unpleasant odors in the process. The unit also offers instant warming comfort using its instant water heating technology for both the water and the seat.
4.KOHLER K-5401-0 – Best Kohler Bidet and Toilet Combo
This universal height, ADA-compliant unit is one of the best Japanese toilet bidet combo models you can get. The toilet features an integrated bidet, all in a compact design.
KOHLER K-5401-0 Veil Skirted 1 Piece Smart, Dual Flush Toilet in White
Materials: Vitreous china.
One-piece elongated bowl with integrated cleansing.
Dual flush 1.28 gpf (4.8 lpf) or 0.8 gpf (3.0 lpf) with a tankless design with direct water supply for a full or partial flush.
LED lighting illuminates the bowl to serve as a night-light.
Adjustable spray shape, position, water pressure, water temperature, pulsate, and oscillate functions for the bidet wand.
With regards to aesthetics, the Washlet G400 features a sleek, low profile skirted one-piece Elongated front bowl design.
In its functioning, the model uses a 3D Tornado Flush system that delivers an efficient 1.28 or 0.9 GPF. Other G400 appealing features include the innovative CEFIONTECT ion barrier glaze technology by the manufacturer. It is also designed to restrict the accumulation of debris and mold on its ceramic surfaces.
The integrated bidet toilet also features remote control operated front and rear warm water washing as well as adjustable temperature and pressure control capabilities.
In order to reduce the frequency of cleaning and save water, the model couples the renowned CeFiONtect and Premist technologies by the manufacturer.
Pros
Comes with a touchscreen remote control
Features a compact, one-piece design
Made of high quality Vitreous China material
Fitted with a dial flush system
Equipped with an elongated bowl for enhanced comfort
Has an ELD nightlight
Allows you to adjust spray position, shape and water pressure
Cons
May end up flushing just part of the water, resulting to poor flushes
The elongated, one-piece T-0008 integrated bidet toilet includes a smart toilet and an advanced bidet seat. The combo offers temperature-controlled wash functionality and comes with an efficient air dryer.
Though affordable, this toilet is durable and is among the best in the industry.
Many of its users love the fact that it is quiet in operation and delivers a powerful flushing experience. Even so, you are less likely to experience any leaks, clogs or flushing problems with this model.
Sale
WOODBRIDGEE T-0008 Luxury Bidet Toilet, Elongated One Piece Toilet with Advanced Bidet Seat, Chair Height, Smart Toilet Seat with Temperature Controlled Wash Functions and Air Dryer
Include WOODBRIDGE one-piece toilet and luxury bidet seat. Bidet seat fits the toilet perfectly
WOODBRIDGE chair height toilet not only meets ADA standards, must have a 17-19" floor to bowl rim height with seat included, but also offer more comfort to taller people and people who have a hard time getting up from a low seat.
Map Flush 1000 Grams:Best Maximum Performance Flush score of 1000 grams. Highly Recommended Map Scoring Toilet
Modern design: sleek, low profile skirted elongated one-piece toilet, comfort height, water sense, high-efficiency
Hygiene: posterior wash, feminine wash, pulsating wash, adjustable water pressure, hygienic filtered water
With regards to bidet capabilities, the combo offers feminine wash, posterior wash, and pulsating wash functionality.
You will also get adjustable water pressure settings and hygienic filtered water. The integrated bidet on this unit is specifically designed for the same Woodbridge One-Piece Toilet.
You will also love the low-profile, sleek skirted design of the toilet that has been proven to work with almost any bathroom décor.
Pros
Has self-cleaning nozzles
Fitted with gentle massage and oscillating pulse functions
Adjustable water pressure
Hygienic posterior wash, pulsating wash and feminine wash
Filtered hygienic high efficiency WaterSense certification
Cons
The Seat on this unit is somewhat narrower
A unique design and contemporary finish of this toilet are coupled to some of the best bidet capabilities in the industry. The model features a low-profile timeless beauty that will complement any modern bathroom décor. The toilet base is made of an exquisitely fluid ceramic shell.
Bio Bidet IB835 Fully Integrated Bidet Toilet System, White
All IN ONE DESIGN complete bidet seat and toilet in one package, Enjoy luxury like never before in a compact and refined design
DUAL NOZZLE provides a posterior wash for him and feminine for her, improves hygiene
ECO FRIENDLY Energy Save Mode reduce electricity and toilet paper, good for the environment
FEEL THE DIFFERENCE-Oscillating wide clean and pulsating message technology with bubble infusion
Its sleek and classic low-profile design is inspired by Bio Bidet. For many users, the USPA Integrated Bidet on this unit is a marvel. It is mainly designed to offer a modern touch of cleansing elegance.
The model was recently updated to include a seamless skirted design. This gave it a uniform and clean look.
It comes with a blue backlit wireless remote that features modern technology to give you enhanced control over the refreshingly clean and dry cleansing as well as automatic flush.
Pros
Backed by a 3-yearvlimited warranty
Features a unique 2-in-1 nozzle system
Comes with a wireless remote that features an LCD window
Adjustable warm air dry
Oscillating, wide cleaning
Fitted with an intelligent body sensor
Equipped with a powerful deodorizer
Adjustable heated seat
Cons
You may find this model to be very expensive
This is another one of the best toilet bidet combos within an affordable range. It is renowned for its enhanced ease of use, comfort, and superior bidet capabilities.
Just like some of the high-end models, this ProStock toilet bidet combo comes with an integrated electric bidet. Despite being an affordable combo, the product offers features and capabilities that may be compared to those offered by the costlier integrated bidet toilet options. The first thing that will attract you to this unit is its beauty and functional appeal.
Some of its superior features include rear and front warm water cleansing as well as adjustable water pressure and temperature settings.
Unlike most products within its range, the combo offers custom spray modes for enhanced comfort. Additionally, it comes with a heated seat with customizable temperature settings.
Pros
Comes with a chrome tee for connecting the bidet to the water supply
Adjustable pressure, temperature
Custom spray modes
Relatively easy to install and use
Has front and rear warm water cleansing
Cons
The flush action is somewhat weak
What is a Toilet Bidet Combo?
Washlets, bidet seats and toilet bidet combos are some of the commonly confused terms as far as bathroom fixtures are concerned.
While all of them are designed to clean your underside after using the toilet, they do not refer to the same thing. A bidet toilet combo is essentially a toilet that integrates bidet capabilities.
These fixtures come as a single unit, whereby the bidet capabilities are built into the toilet bowl by the manufacturer.
In most cases, a toilet bidet combo offers such luxury capabilities as warm water, deodorizers, a warm air drier and a heated toilet seat.
As opposed to traditional bidets—that came as stand-alone fixtures—toilet bidet combos are compact two-in-one products that will save a considerable amount of bathroom space.
The toilet and bidet use the same plumbing. Though a luxurious addition to any bathroom décor, best bidet toilet combo models do not come cheap. To save on installation costs some homeowners opt for bidet seats.
Bidet Seats
As opposed to toilet luxury bidet toilet combos, bidet seats are aftermarket add-ons that may be installed on a conventional toilet to give it bidet capabilities.
With this option, you only need to remove the toilet seat in your toilet and install a bidet seat in its place.
What About Washlets?
This is a term used by Toto—one of the best toilet bidet combo manufacturers—to refer to its bidet seats. Washlets are basically Toto toilet seats with other integrated capabilities.
Such high-end bidet models offer such features as endless warm water, warm air dryers, deodorizers, heated seats, wireless remote controls. Also, adjustable nozzles, as well as manual and automatic flushing.
Toilet Bidet Combo Installation Cost
In addition to installation equipment and parts, you also need to budget for the installation of the toilet. Basically, the various toilet bidet combo models for sale come with all the required installation parts.
The cost of hiring a plumbing technician varies from one state to another and mainly depend on the qualification and experience of the professional. On average, you should expect to pay an installation contractor between $50 and $250 per hour to install a combo bidet and toilet fixture.
How to Use a Bidet Toilet Combo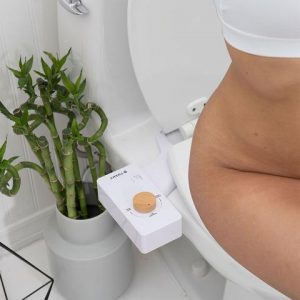 Whether it is the traditional stand-alone units or the modern, cost-effective options, bidets are particularly beneficial to people with a restricted range of motion.
For instance, toilet bidet combo for elderly and the best wall hung toilet bidet combo models are suited for people recovering from surgery or suffering from physical disabilities.
All in all, the leading toilet bidet combo models offer a convenient and hygienic way of cleaning your underside after using a toilet.
However, some people are having a hard time using them. Here a couple of tips to help you use a bidet toilet combo appropriately.
Use the Toilet as You Normally Would
Sit on the toilet seat and finish up your business as you would on a normal toilet. Once you are done, wipe yourself using toilet paper to get rid of excess faces.
With some of the best toilet bidet combo models, you will not be required to do this. However, it is considered to be more hygienic. Throw the toilet paper into the toilet bowl and flush the contents away.
Position Yourself for Further Bidet Cleansing
You may straddle or sit on a bidet facing forward or backward, depending on the configuration of nozzles and the part you would like to clean.
When you sit facing the controls, it will be easier for you to operate and regulate the bidet, unless yours comes with remote control.
If you have pants on you may need to remove them before you sit on the bidet.
Make the Adjustments
Adjust the strength and temperature of the water jets in accordance with your preferences. If the combo has both cold and hot water controls, start by turning the hot water control on.
You should then proceed to turn the cold-water control until you have a water temperature you find comfortable.
You need to check whether the model requires you to continually hold controls for the jets to stay on. If not, you should be cautious as a slight touch could send out jets that are too strong for your comfort.
If you find the water jets rather uncomfortable, you may stretch your hand for them to hit the hand first.
You may then use the diverter leaver to configure the jets appropriately. This leaver is often positioned behind the taps or in between them.
You will be required to press or pull the control lever to operate it, depending on the bidet toilet combo model you are using
Adjust Your Position Accordingly
Move until you are in a position where the jets of water hit the area you are trying to clean. Some models allow you to sit, hover or squat.
Few bidets have actual seats on them, allowing you to sit on the rim of the bidet instead of squatting over it.
Once you are done, you may use a clean towel or toilet paper to dry yourself. The more advanced models will have warm air dried for this
Choosing a Bidet Toilet Combo (Buyer's Guide)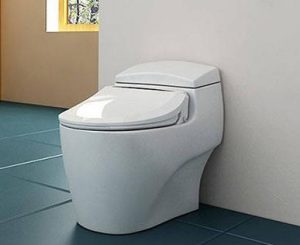 As far as hygiene and comfort in your bathroom are concerned, nothing can beat the now popular bidet toilet combos.
Would you like to have a better, more relaxing and hygienic toilet experience in your bathroom?
Discussed below are some of the main things factors to consider when shopping for toilets with a bidet.
1. Bowl Shape
Just as is the case with a traditional toilet, you still need to choose the right bowl shape. There are two main bowl shape options to choose from; elongated bowls and round bowls.
Consider the amount of space you actually have in the bathroom. When compared to rounded bowls, elongated toilet bowls are relatively larger. This makes bided toilet combos with an elongated bowl ideal for installation in larger bathrooms.
For smaller bathrooms, a rounded bowl bidet toilet combo will allow you to save a few inches of precious space. For enhanced comfort, it is advisable to opt for a comfort height combo—whereby the seat is between 17 and 19 inches from the floor.
2. Cleansing Capacity & Level of Comfort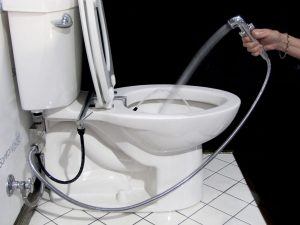 Consider the comfort and functionality features that the product has to offer.
With regards to comfort, you need to choose a bidet toilet combo that features the right seat.
For instance, a preheated toilet seat will make the seat more comfortable to sit on during the cold weather.
Self-Cleaning Ability
Another thing you should pay attention to is the self-cleaning ability of the bidet on your preferred product. It is advisable to go for units that feature wads for both feminine and posterior wash.
The wand on your preferred bidet toilet combo should also allow you to adjust the spray width as well as the position of the nozzle.
Temperature and Pressure Controller
What about water pressure? This is something a considerable number of homeowners tend to overlook while choosing toilets and bidet sets.
Truth be told, some leading models release water under high pressure—something some users are not comfortable with.
To ensure that your product is comfortable for all users, it is advisable to go for a bidet toilet combo that allows you to regulate the water pressure and temperature.
3. Bidet Controls
How are the variable settings on the bidet controlled in your preferred bidet toilet combo?
Most models are equipped with a control panel. This panel has all the dials and knobs you need to alter the variable settings of the bidet.
While most of these products use a control panel, there are other models that use wireless remote controllers. As you can imagine, remote-controlled units are easier to calibrate and convenient to use.
4. Drying System
Having a bidet that features a great spray system is great, isn't it?
Well, you will still need to dry out the wetness afterward. To make this easy and comfortable, nearly all bidet toilet combos have a drying system.
Not only does air drying functionality eliminate the need for toilet paper, but it is also more comfortable to use.
This may be attributed to the pampering experience associated with such systems. Not only will such a system help you save on tissue paper, but it will also prevent chafing.
5. Power Efficiency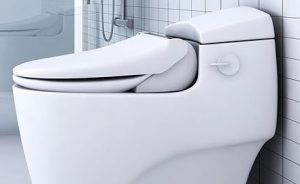 Bidets are essentially electrical appliances. Consider energy efficiency while shopping for the right one.
If you are looking forward to making your home more energy-efficient, you should go for models with a better efficiency rating.
A model that features a power-saving mode will come in handy. Units with this feature are essentially designed to prevent unnecessary flushes as well. This way, your toilet will also limit the amount of water used.
7. Self-Cleaning Nozzles
There is a growing concern among bidet users that the unit may harbor and spread germs. Well, this is only possible if high hygiene is not observed.
It is important to ensure that the bidet and wand remain clean at all times. Therefore, a unit that features self-cleaning nozzles is crucial.
In addition to an effective self-cleaning system, some of the best bidet toilet combos also feature a sterilizing option.
8. Number of Nozzles
Last but not least, you also need to worry about the number of nozzles your preferred bidet toilet combo has.
More cleaning nozzles make a bidet set more efficient at cleaning. Most bidets today have two to three nozzles.
This number of nozzles will be more effective at speaking the water over a larger area. Additionally, a larger number of nozzles make the seat feel cleaner and more comfortable to use.
FAQ's About Bidet Toilet Combos
Q: What is the difference between a bidet and a heated toilet seat?
A. To begin with, bidets offer more functionality beyond heating. Heated seats, on the other hand, only allow you to alter the temperature of the seat. With regards to the price, bidets are more expensive than heated seats. This is mainly because bidets offer more features.
Q: Does a bidet toilet combo have to be plugged into a power source?
A. Most of the bidet toilet combos available today are designed to plug into an output socket. However, there are other models that are battery-operated. You need to choose that will best suit your needs.
Ready to Enjoy Comfort with an All-in-One Toilet and Bidet Solution?
Both European toilet bidet combos and some Japanese manufacturers offer equally functional and ergonomic units.
In addition to affordability, you need to look for a model that is efficient on water and electricity. Your preferred combo should also offer the toilet and bidet features you need.
Consider buying models by renowned manufacturers and trusted brands like TOTO, BioBidet, Woodbridge, and Kohler, as discussed above.
All in all, this guide will help you choose the right toilet bidet combo as per your budget and installation needs.
Summary
Reviewer
Review Date
Reviewed Item
Author Rating