The 10 Best TOTO Toilets – (2021 Reviews & Ultimate Guide)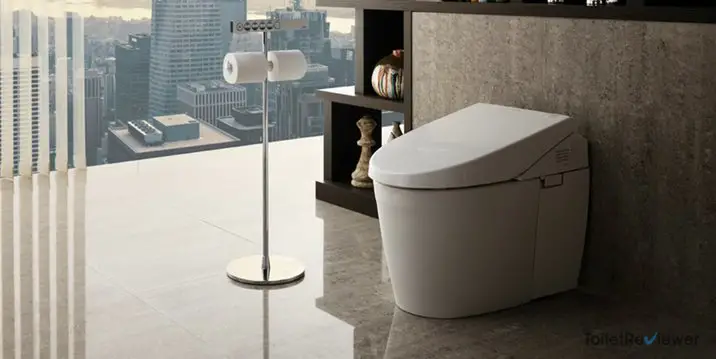 TOTO is known for making high-performance, reliable, and innovative toilets. They are a Japanese manufacturer that is committed to solving common toilet problems such as comfort, health, and ease of use.
TOTO toilets offer features like heated seats, a rear cleansing function, and an air-purifying systems. The air dryer function in most of these toilets eliminates the need for toilet paper. Plus, you'll never have to worry if you forgot and left the lid up, as most TOTO models have self-closing seats.
With various TOTO toilet types and designs, you'll have to consider aspects like configuration options, water consumption, and flushing systems. These toilets are usually installed in high-end restaurants, stadiums, airports, hotels, and millions of traditional homes.
In this write up, we will take a look at all the top TOTO toilets. All the toilets in this review will add a modern look to your bathroom while being easy to clean, whether you are a plumber who installs toilets for a living, or you're performing your first DIY toilet install.
How Much Do TOTO Toilets Cost?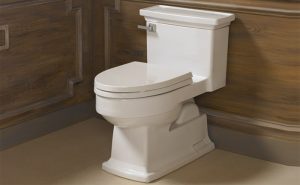 TOTO toilet prices range between $250 to $9,000, depending on the model you choose to buy.
For example, the TOTO Drake 2-Piece Ada Toilet is priced just under $250, while the TOTO Neorest 750H is the most expensive model, at $9,000.
Comparing the 10 Best TOTO Toilets Models
TOTO CST454CEFG#01 Drake Bathroom-Hardware, Cotton White
Item may ship in more than one box and may arrive separately
Double Cyclone Technology.does not come with a seat, it is just a bowl C454CUFG#01) and a tank (ST454E#01).
Powerful, quiet flush every time
Wide, 2-1/8-Inch computer designed trap way.Saves 20-Percent water over 1.6gpf toilets.
12 inches Rough-In
The
Toto Drake II
toilet is rated the best for a reason; it offers a desirable blend of the best toilet qualities.
Ranging from a powerful flushing system and a comfortable height-to-water-usage ratio, this product has it all.
The Drake II is equipped with a powerful and reliable 'Power Flush' flushing system.
This system delivers approximately 1.28 Gallons per flush (GPF). As compared to conventional 1.6 GPF toilets, the Drake II saves about 20 percent of water per flush.
The Universal height seating position of this toilet makes it comfortable to use for people of varying age groups. This toilet is also approved by ADA and has been proven to meet EPA 'WaterSense' standards. This product features a Chrome trip lever on its left-hand side.
Pros
Features a hole-free rim design
Comparatively affordable & easy to clean
Equipped with a powerful flushing system
Offers a more comfortable seating position
Uses 'Double Cyclone', Dual Flush Technology
ADA approved
Features CEFiONITECT glaze to prevent particles from adhering to the sides
Cons
Flushing the toilet is really noisy
Sale
If you do not have much space for a toilet in your bathroom, you need to opt for a compact design.
In this regard, the Ultramax Elongated model by Toto would be a great choice. The Ultramax also has a rather reduced rough-in; 12 inches.
With regards to performance, the system is equipped with a 3-Inch flush valve and 'G-Max' siphon jet system by the provider.
Such a system has been proven to rapidly draw water into the bowl and flush it out forcefully. The comparatively large siphon jet in this toilet is what delivers the power for its superior single flush performance.
This product comes with a 'SoftClose' toilet seat by the manufacturer. This seat features the latest Smart Seat Technology as well as ergonomic design features.
Another thing you will love about the toilet seat is its unmatched high-impact construction. The seat is specifically designed to prevent injuries and the small sound associated with toilet seats.
While it may seem cheap among other more expensive TOTO models, it is anything but that when it comes to durability and overall value.
Pros
Quiet toilet seat closing performance
Uses 'SoftClose' hinge system
Secure tightening by the molding bolts
Relatively easy to install
Features a sleek, one-piece, high-profile design
The trapway is fully glazed
Features a wide, 3-inch flush valve
Cons
Has a relatively large footprint
TOTO Aquia
is one of the most affordable toilets by the brand. This may be due to the fact that the toilet does not come with a toilet seat and tank.
As such, you will have to buy those separately prior to installation. Additionally, the design of this product allows you to save on space.
The installation of the product is somewhat easy since you just have to hang it on the wall. However, you will need strong fixtures on the wall to support its weight, and the weight of the user.
Despite having a dual-flushing mechanism, you will find this model to be very efficient when it comes to water savings.
This toilet features 'SanaGloss' ceramic glaze technology. This technology is meant to prevent mold and debris from sticking onto its surface. As such, you will need less water and chemicals to clean the toilet.
Remarkable Aesthetics
The Aquia Toilet by Toto features a sleek and modern design that is sure to enhance the appeal of the aesthetics  of almost any bathroom.
Being a universal height toilet, the Aquia has a bowl height of 16 inches. As you can see, this is taller than a standard water closet.
Such a design is meant to give you more room and comfort whenever you sit on the toilet. As compared to conventional toilets, this product can save you up to 25 percent on your water bills.
Pros
Comfortable universal height
Features 'SanaGloss' ceramic glaze technology
Comparatively affordable
Works with several TOTO tanks
Relatively easy to install
Quality and durable construction
Cons
Does not come with a tank and toilet seat
TOTO MW6042034CUFG#01 WASHLET+ UltraMax II 1G One-Piece Elongated 1.0 GPF Toilet and WASHLET C100 Bidet Seat, Cotton White
WASHLET+ bidet seat and toilet, specially designed to conceal the WASHLET water supply and power cord
PREMIST- using incoming water supply, a misting of the toilet bowl is performed before each use to help prevent waste from adhering
Adjustable front and rear warm water washing with three temperature settings and five pressure settings. Oscillating stream option
SoftClose heated seat, automatic air deodorizer, and warm air dryer with three variable settings
1.0 gallons per flush 1G technology with TORNADO FLUSH system with CEFIONTECT glaze to reduce bowl friction
Designed for nearly everyone, the WASHLET+ is one of the best ways to introduce yourself to the technology by TOTO.
The combination of the TOTO UltraMax II 1G One-Piece Elongated Toilet and the C100 WASHLET attachment is one of the best combinations by the brand.
It is designed with a concealed connection, making cords and hoses not visible for great appeal. The technology behind it is beautiful as well. This integrated system is easy to use and control, whether washing or drying.
This toilet is sleek, not complicated, and not too expensive in comparison to some traditional models. It has just the right amount of customization.
Top Innovation from the TOTO C100 Bidet
Using the 'Pre-Mist' technology by TOTO, the incoming water supply performs a misting of the toilet bowl before each use.
The Innovative 'AIR-IN WONDER WAVE' technology gives off a effective, yet gentle water stream. The water is then injected with air to enlarge the droplets. This provides a gentle cleanse.
Pros
Adjustable front and rear warm water
'SoftClose' heated seat, automatic air deodorizer, and warm air dryer
1.0 gallons per flush 1G technology with 'TORNADO FLUSH' system
'CEFIONTECT' glaze to reduce bowl friction
Cons
May be a bit too high if you are shorter than 5″6
TOTO is all about having as many features as possible, and the Neorestis the top of the line when it comes to electronic and smart toilets.
If you read the specifications of the Neorest NX1 before, you know this toilet is next-level good.
Features like the 'eWater+', 'Actilight', and 'Pre-mist' may be available in other toilets, but it's these features along with others that make this one a worldwide favorite.
Firm BUT SUPER COMFORTABLE Seat
The toilet seat literally hugs your behind. Take a look at the curve-up part of the toilet's seat; it is firm yet comfortable for almost any user who gave this toilet a try. In fact, we couldn't find any negative reviews about its comfortability.
The seat's base contours with the bowl-top curvature gives off more stability than a flat bowl top. This comfort height toilet immense comfort for elderly people or ones with back pain or other mobility issues.
The larger 18-7/16″ wide seat will ensure you are feeling comfortable when sitting. Think about it like sitting on the most comfortable sofa ever.
A UNIQUE Rimless Bowl
Unlike the previous Neorest models, the Neorest NX1 possesses a rimless bowl that completely eliminates any dirt from sticking to it.
Pros
Wide, elongated bowl
New, improved rimless bowl
'CeFIONtect' coating
Powerful and more efficient 'Tornado flush'
Premisting with 'eWater+' for better flush efficiency and disinfecting the bowl
Adjustable spray pressure & water temperature
Toilet bowl cleaning, seat opening and closing & hot air drying
Cons
The most expensive TOTO toilet model
Replacements parts can get costly
A comfortable seating position, decorative appeal, water efficiency, and lasting performance are some of the best selling points of the TOTO Eco Soiree Toilet.
In order to maximize the cleaning power of the 1.28 gallons, the product harnesses the power of gravity and water.
Powerful Cleaning Action
To do this, it uses the innovative 'Double Cyclone' Flushing system by the manufacturer. Instead of rim holes—that only make cleaning cumbersome, this system features two nozzles.
This system was specifically designed to deliver a thorough cleaning action, whilst using the least possible amount of water.
Not only does this allows for easier cleaning of the toilet; it prevents dirt and bacteria from getting trapped
Durable Comfort
Like many other one-piece toilets by TOTO, the Eco Soiree comes with a 'SoftClose' seat.
Additionally, the ergonomic design of the product includes High Gloss Polypropylene and molded bumpers. Such components have been proven to be resistant to chemicals/cleaning agents.
Pros
Features a built-in 'SoftClose' hinge system
Comes with top tightening mounting bolts
Quiet lid closing performance
Features a 'Double Cyclone' Flushing system
Efficient on water
Durable and appealing design
Cons
Cleansers may ruin the high gloss finish
Are you concerned about water efficiency in your home? You can now save even more money on your water bills with an efficient toilet installed in your bathroom.
This toilet has been certified by WaterSense, and in addition to being a product by a popular brand, the Vespine II happens to have a load of efficiency and convenience features to offer.
As a matter of fact, many experts in the industry think of it as a great-buy TOTO toilet. So, what makes this model stand out?
Sturdy Construction
There is no point if getting a toilet that is substandard and is likely to break down after a few months right?
Just like the other products by this manufacturer, this product is made of durable and strong materials. Additionally, the construction of this toilet offers a nice aesthetic appeal.
The two-piece design, along with its skirted bowl, for instance, will enhance the appeal of any bathroom.
The beauty of the toilet is further enhanced by its 'SanaGloss' finish. This finish makes the surface easier to clean as well.
Powerful Flush
You will also love the powerful flush mechanism used on this toilet. In this regard, the manufacturer uses a 'Tornado Flush' system in Vespine toilets.
Pros
Highly efficient on water
Comparatively easier to clean
Features a powerful 'Tornado Flush' System
Fitted with a Chrome trip Lever
Compliant with ADA requirements
Features 'SanaGloss' finish
Cons
You may experience some splash backs while flushing the toilet
A considerable number of states today offer rebates to homeowners who install water efficient toilets in their homes.
To qualify for these rebates, you have to install units that are really efficient, such as the TOTO Neorest 700H Dual –Flush Toilet.
In addition to the innovative siphon jet technology by the manufacturer, this model uses a minimal amount of water on every flush.
To flush liquid waste, you should use the lower setting that dispenses 0.8 gallons of water per flush.
For solid waste, the more powerful 1.0 gallon per flush mode will come in handy. Regardless of the mode you are using, this toilet will save a significant amount of water.
Here are some more features that make this toilet a must buy. 
Approvals
Owing to its superior design and water-saving capabilities, the Neorest 700H has been approved by the ADA. In this regard, the toilet is considered to be safe and convenient to use for people of all age groups as well as for the disabled people.
Superior Design
The design benefits of the Neorest 700H go beyond aesthetic appeal. To begin with the model is rather compact. This makes it a perfect fit for smaller bathrooms. Again, the product features 'SanaGloss' finish, which keeps it sparkling clean for a long period.
Pros
High efficiency siphon jet flush mechanism
Features a 'SanaGloss' coating
Powerful dual cyclone flushing experience
Allows for remote control
Features 'eWater+' Technology
Offers automatic flushing
Cons
Some people find the model too expensive
Toto MS920CEMFG#01 1.28-GPF/0.9-GPF Washlet with Integrated Toilet G400, Cotton White
WASHLET bidet seat toilet with integrated dual flush toilet with 3D Tornado Flush technology
Front and rear warm water cleanse with five adjustable temperature and pressure settings
The CEFIONTECT glaze and PreMist function gives the toilet bowl a lubricious quality that helps prevent waste from adhering
Features luxury auto open and close lid and seat with heated seat, warm air dryer, and air deodorizer for added comfort
Universal Height, ADA compliant, WaterSense certified, and CAL Green compliant.Trap Diameter:2-3/4 inch
This may be one of the most expensive toilets in this guide, but is worth the price.
With regards to approvals, this product has been certified by WaterSense and is compliant with requirements by both the ADA and CAL Green.
This is probably why a considerable number of homeowners are opting for this model, despite its high price tag.
As for the design, the product comprises of an integrated dual-flush toilet and a WASHLET bidet. Some of the things consumers like about the toilet are:
Powerful and Efficient Flush
You do not want a toilet that requires you to flush more than once in order to push the waste down the drain.
In order to avoid such a scenario, the Washlet Integrated Toiled offers a powerful flush for more efficient cleaning experience.
In this regard, it uses 3D 'Tornado Flush' technology and inner basin surface is coated with 'CEFIONTECT' glaze. With such features, the system is capable of cleaning the basin thoroughly, even on the low flush setting.
Luxury Features
Unlike other toilets by TOTO, the Washlet Integrated Toilet is packed with luxury features for added comfort.
For instance, the product is equipped with a luxury open and close lid. Additionally, this product boasts of a heated seat surface.
The toilet also features air deodorizer and a warm air dryer, all of which make it a luxurious, high-end product of choice. You will also love the fact that the product is a Universal Height toilet.
Pros
Packed with a horde of luxury features
Uses 3D 'Tornado Flush' technology
Features two efficient flush modes
Has a 'Pre-Mist' function
'CEFIONTECT' glaze lining
ADA, CAL Green and WaterSense compliant
Features a sleek modern design
Cons
Relatively hard to install
The UltraMax II is another affordable toilet by this manufacturer. Despite being affordable, this system is equipped with a powerful flush system—the 'Tornado Flush' system.
This flush system is specifically designed to efficiently clean the bowl in a single flush, whilst reducing water consumption.
This is one of the best comfort height toilets by the manufacturer, which makes it a great choice for the elderly and disabled people.
Other than its affordability, here are other qualities that will make want to buy the UltraMax II. 
Efficient Bowl Cleaning
Toto is very innovative when it comes to equipping its toilets with flushing systems. In this regard, the UltraMax II is equipped with the powerful 'Tornado Flush' system by the manufacturer. Additionally, this toilet has two nozzles instead of holes in the rim.
Such a system is designed to generate a centrifugal flush action to help clean the bowl more efficiently. This, coupled with the 'CEFIONTECT' layer on the bowl, allow the system to use less water per flush.
Pros
Comes with a 'SoftClose' seat
Effect on water
Relatively easy to clean
Powerful, yet quiet flushes
Cons
You may find the overall footprint of the toilet a bit larger
Are Toto Toilets Better Than Kohler?
That really comes down to a matter of opinion, but we feel that TOTO has the best toilets on the market. They have the highest quality, and best reputation for quality compared to any other toilet.
Do Toto Toilets Clog? 
TOTO toilets are great, but they aren't clog-proof. They can clog just as easily as any well made toilet. If you don't use it the right way, you could have problems.
Before Buying a TOTO Toilet – Buyer's Guide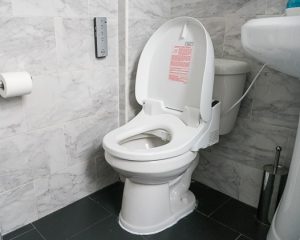 You don't need to an industry expert to know that TOTO is one of the best toilet brands in the world.
For years, this high-end Japanese brand has been a preferred toilet choice for thousands of homeowners and contractors.
All TOTO toilets are known to offer the best blend quality, durability and aesthetic appeal. However, choosing the right one for your installation or replacement project can be difficult to decide on.
What Is the Standard Height for TOTO Toilets?
For TOTO toilets, standard units measure about 15 inches from the top of the seat to the ground. Leading toilet dealers and manufacturers offer two toilet options; universal height and standard height.
Comfort height or the universal height toilets are taller and measure between 17 and 18 inches from the top of the seat to the floor.
Universal height toilets are known to be more comfortable; hence more preferred by homeowners, especially for elderly people.
What Is The Best TOTO Flushing System? 
G-Max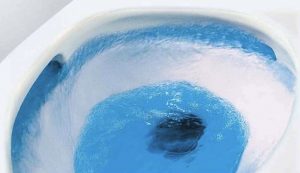 This is the best and most widely used flushing system by TOTO toilets. The 'G-Max' model has a 3-inch flush valve and a fully glazed trap.
The powerful siphon jet action is also great for cleaning the bowl in no time.
The 'G-Max' uses 1.6 GPF or gallons per flush. However, in some states, you may only use toilets of 1.28 GPF or less. If this is true in your region, you may have to opt for a different TOTO toilet model.
E-Max
This toilet is quite eco-friendly, but still has the power and mechanism of the 'G-Max' model. Using just 1.28 gallons per flush, it saves water and is quite efficient. This toilet is also quiet and provides a clean shutoff, no matter the water pressure.
Dual-Max
The 'Dual-Max' flushing system by TOTO offers a balanced design. This flushing system allows you to choose between 0.9 or 1.6 gallons per flush, whatever amount you desire. This eco-friendly toilet model reduces your average water consumption to just 1.13 gallons per day.
Double Cyclone
This flushing system takes on the power of gravity and centrifugal force at once to flush the toilet in an environmentally friendly manner.
Water drops down from the toilet's tank and pushed out of two nozzles. These nozzles then force water to surround the bowl, cleaning as the toilet flushes.
'Double Cyclone' toilets by TOTO use exactly 1.28 gallons of water per flush. This makes them legal in any state or region.
Cyclone
This flushing mechanism is found in the high-end Neorest models.  This system is quite similar to the 'Double Cyclone' system, only it uses just one mighty and powerful nozzle.
The Cyclone is quiet in operation, as the Neorest models have no tank. The water used per flush here varies from just 0.8 to 1.6 gallons, making it highly popular.
Tornado
This is TOTO latest flushing system. The technology behind the 'Tornado system' puts three separate water jets to work, located inside of the toilet bowl.
The 'Tornado system' washes any waste or marks quickly and efficiently.
TOTO toilets with the'Tornado system' don't have a rim along their upper edge. This greatly reduces the possibility of germs in the creases of the bowl, making it easy to clean.
Get Ready To Buy A TOTO Toilet For Your Home
Buying a toilet by TOTO requires considerable consideration. Before making a purchase, one should consider the cost, flushing system, and features you need.
Our TOTO toilet comparison here compared the best rated TOTO toilets in order, ranging from $250 models, all the way up to $9,000 models.
These ratings include elongated models, electronic bidets, wall hung models, and more.
We even compared TOTO to brands like Kohler and American Standard, showing why TOTO toilets really are worth the money.
What's your favorite TOTO toilet model and what features are you looking for?
Summary
Reviewer
Review Date
Reviewed Item
Author Rating