As the average person uses a toilet around 2,500 times a year, it's important to choose the best toilet for you and your bathroom (Source).
Whether you are remodeling your bathroom, replacing an old and malfunctioning toilet, or installing one for the first time, it is advisable to get a toilet that is stylish, efficient and effective.
Before choosing a toilet for your home, you should consider the toilet size, type and style, efficiency, flushing system, and plumbing requirements.
Before purchasing a toilet, you'll want to measure the rough-in, or distance from the wall to your toilet's bolt cap. This distance will determine what type of toilet you can install.
Toilets come in many different styles and types. Some styles include traditional, contemporary, modern, and eclectic toilets.
Popular types of toilets include tankless, wall-mounted, portable, compact, macerating, and comfort height toilets.
The cost to install a traditional toilet professional by a plumber is between $110 to $330. If you choose to install a toilet by yourself, make sure you do so properly, or it may be costly to replace or fix. In rare cases, toilet installation or repair can cost as much as $700.
In this guide, we'll help you choose the best toilet to buy based on price, flush performance, water efficiency, accessibility, and other technological features.
Comparing the Top 10 Best Toilets for 2020
At a cost of less than $500, the TOTO Drake II has one of the most powerful flush systems for a mid-level toilet.
Thanks to its technology, this toilet can save 20% more water than most 1.6 GPF toilets.
The TORNADO FLUSH Technology offered by TOTO showcases a hole-free rim design and dual-nozzles, both which provide a robust centrifugal rinse.
Some of the features you will come to love about this product include:
Aesthetical Appeal
This is actually the first thing that will draw you to this toilet—it is simply beautiful. The high profile design of the toilet includes such components as the bowl to tank hardware, tank to bowl gasket as well as the required bolt caps.
The various components come together to form a sleek product that is a great fit for any modern decor.
Unparalleled Performance from the TOTO Drake II
You may be upgrading the toilet to enhance the appeal of the bathroom. However, you cannot overlook the performance of your preferred toilet.
Fortunately, this is one of the areas TOTO is known to excel. To begin with, the product is equipped with the innovative Tornado Flush mechanism by the manufacturer.
Although the toilet only uses 1.28 gallons per flush, it delivers a powerful and efficient flushing performance. The effectiveness of the cleaning action by this product may also be attributed to its unique CEFIONTECT bowl technology.
TOTO Drake II Price
The TOTO Drake II is priced at under $420, but prices may vary depending on where you buy this toilet.
If you want to learn more, read a detailed review of the TOTO Drake II toilet.
Pros
Features a comfortable universal height construction
Delivers a powerful 1.28 GPF performance
Features COFIONITECT glaze technology
Uses double cyclone, dial flush mechanism
Relatively efficient on water
ADA compliant
Cons
You may need to flush severally while on the lower flow rate setting.
Available in several colour options, thebH2Option Siphonic toilet is specifically designed to help you save on water bills, without compromising on style or performance.
In addition to the relatively low water expenditure per flush, the unit uses the patent-pending Siphonic action technology by the manufacturer.
This intervention has resulted in one of the best water efficiency rating in the industry today. In this regard, the heavy flush mode uses only 1.6 GPF while the light flush mode uses only one gallon per flush.
Regardless of this amazing efficiency, the two modes have been proven to deliver a powerful cleaning action. The heavy flush mode of the toilet, for instance, is capable of moving up to 1000 grams of solid waste in a single flush.
Pros
Equipped with a Power wash rim
Features Siphonic Action technology
Top mounted Chrome-plated push button
Relatively easy to clean
Efficient on water
Cons
Does not come with a toilet seat
You may think of this brand as a renowned mark of quality. The WoodBridge T-0001 model, for instance features elegant craftsmanship as well as quality construction.
As a result, the T-0001 happens to be one of the best contemporary style toilets you can buy today.
With regards to performance, this product has been proven to deliver powerful, yet quiet flushes.
The efficiency with which this system cleans the bowl may be attributed to its fully glazed flush system. Additionally, this has allowed for a clog-free and leak-free experience for its users today.
The toilet comes with a unique Soft Closing Seat. This high-quality toilet seat features a stainless steel seat hinge for enhanced durability.
You will find this seat relatively easy to remove during maintenance or while cleaning the toilet. Just like the other components of the toilet, this seat is designed to offer you unmatched durability.
Pros
Backed by friendly customer support
Features a modern, luxurious design
Compatible with numerous bathroom decors
CSA, High-efficiency and UPC Certification
Features a Siphon flush system
Fully glazed flush system
Comes with a Soft-closing high end toilet seat
Relatively easy to clean
Features a skirted trapway
Cons
Rather complex to install
The low 1.28 GPF water consumption is a great selling point, but is definitely not the only reason you should invest in this toilet.
Like many other toilets by this manufacturer, the Santa Rosa has a myriad of impressive features to offer.
The comfort height design of the toilet is one of the desirable aspects of this product. The Santa Rosa essentially offers a chair-height construction.
This makes it easier and more comfortable for the aged and disabled people to use the toilet. The fact that it is a one-piece toilet means that it is compact. As such, the product may be installed in smaller bathrooms.
The unit is equipped with an aquaPiston Canister flush system. This mechanism forces water to flow into the bowl from all directions for a thorough cleaning action.
Pros
Features a compact elongated bowl
Features a comfort height design
The tank and bowl are integrated for easier cleaning
Comes with a toilet seat and lid
Efficient on water
Would you rather buy a more compact toilet for a smaller bathroom or a tight space?
Well, the SANICOMPACT 48 is a toilet worth your consideration. As a matter of fact, this product is small enough to fit into spaces where conventional toilets cannot.
The compact design may be attributed to the fact that this toilet does not have an external water tank.
Instead, the unit features a built-in electric flushing system. Additionally, this product is rather versatile. In this regard, it may be used to discharge wastewater from a sink, in addition to human waste.
As a guarantee of quality and performance, the manufacturer offers a two-year warranty on this toilet, from the date of purchase. With regards to efficiency, the toilet may be rotated up to 360 degrees to meet various installation requirements.
Pros
May be installed in a wide range of tight spaces
Features an easy-to-operate push button
Uses one gallon of water per flush
May be rotated up to 360 degrees
Requires minimal installation space
Features a non-return valve
Allows for connection to a sink
Cons
Some homeowners find this toilet to be expensive
For less than $200, Niagara offers you one of the most efficient, ADA compliant toilets—the 77001WHCO1 Stealth toilet.
Though efficient on water, this unit uses a pressure-assisted flush mechanism to guarantee thorough cleaning performance.
With regards to water consumption, this product is categorized as an ultra-high efficiency toilet. This is because it only uses 0.8 gallons of water in every flush.
You can imagine the much money this will save you on water bills in the long run. As you can see, the unit will save you money on purchase as well as on your monthly water bills. In accordance with ADA requirements, this toilet features a comfort height design.
This, along with its elongated bowl shape, makes the toilet more comfortable to use for the disabled and aged people. The flush control for this toilet is positioned on top of the tank for easier reach.
Pros
Highly efficient on water
Comparatively affordable
Quiet, yet powerful flushes
Uses pressure-assisted flushing mechanism
Not susceptible to clogging
Cons
Does not come with a toilet seat.
This may not be the most affordable toilet option, but is a great product by a renowned manufacturer.
Just like the other Toto products, the Aquia Dual flush toilet is of high quality, is durable, efficient and delivers impeccable performance.
To begin with, this product delivers dual flush performance at its best. In this regard, it is equipped with a powerful Dual-Max flushing system by the manufacturer.
While this is a powerful and efficient flushing system, it does not require much water. As a matter of fact, this product has been certified by WaterSense for enhanced efficiency.
The dual flush may be selected using a chrome push-button that is built into the toilet. You will also love the fact that this is a comfort height toilet model. The elongated skirt of the unit enhances its visual appeal and makes the toilet easier to clean.
Click here to read a full review of the TOTO Aquia toilet.
Pros
Features a powerful dual-max flush system
Features a comfort height design
Fitted with a chrome flush option push-button
Has a 12-inch rough-in
Equipped with an elongated skirt
Cons
The mounting system of this toilet is not supported by the flange
Get yourself a product that is specifically designed for enhanced efficiency and ultra-low water consumption—the American Standard Concealed Trapway Cadet 3 Toilet.
With a flow rate of 1.28 GPF, this product has been proven to save about 20 percent of water. As such, the toilet is compliant with APA WaterSense requirements.
The toilet is equipped with a smooth-sided Siphon action jetted bowl. This results in enhanced cleaning efficiency by the flush system. Over the years, this toilet model has been proven to offer high performance and experience minimal clogs.
Just like the other leading models by this manufacturer, this toilet features the innovative Cadet 3 flushing system by American Standard. With regards to efficiency, this system can move up to 1,000 grams of solid waste in a single flush.
Pros
Features a pressurized rim
Fitted with EverClean surface
Delivers a powerful one-flush performance
Features Cadet 3 flush system by the manufacturer
Backed by a 5-year manufacturer warranty
Equipped with a chemical-resistant 3-inch flush valve
Cons
You may fins it a bit challenging to install
9. KOHLER K-3819-0 Toilet – The Best Toilet for Easy and Fast Installation
As one of the best mid-range priced toilets, the KOHLER K-3819-0 has a number of unique efficiency and convenience features to offer.
To begin with, this toilet is equipped with class Five flushing technology.
This technology was essentially designed to move heavier wastes. Over the years, this model has surpassed the expectations of many by delivering superior bulk-flushing performance.
The large flush valve used in the toilet allows for a more rapid release of water. This, coupled with a direct-fed jet, makes it possible for the system to flush heavier wastes from the bowl in a single flush. Fast and easy installation is another thing consumers love about this product.
The ease of installation may be attributed to state-of-the-art DryLock Fast Install System used on the toilet by the manufacturer. With this system, you will jot need bolt holes to secure the toilet tank. All you will need is a socket wrench for securing the tank to the bowl.
Pros
Water is released to the bowl from all sides
Features a durable canister construction
The canister seal material is 90 percent less exposed
Delivers a leak-free performance
Has a long-lasting red seal
Features a comfort height toilet design
Easier and faster to install
Cons
Does not come with a toilet seat
If you are looking for the best toilet to be installed in a public bathroom, your preferred model should be ADA compliant.
In this regard, the Eco Soiree One-piece toilet is one of the best today.
Additionally, this toilet has several features that make it stand out from the rest. For instance, this efficient system uses a double cyclone flushing system by the manufacturer.
In its functioning, this system capitalizes on the force of gravity and the weight of water to deliver a powerful cleaning action using just 1.28 gpf. The seat used on the toilet is the innovative SoftClose seat by Toto. This smart seat technology is both ergonomic and comfortable.
Read a more detailed review of the TOTO Eco Soiree here.
Pros
Equipped with Toto's SoftClose Smart seat
Aesthetically appealing
Features a chrome trip lever
Fitted with an elongated front bowl for enhanced comfort
Features a high profile tank
Uses a double cyclone flushing system
Compliant with ADA requirements
Top Tips & Considerations Before Buying a Toilet (How to Pick One)
Before buying a new toilet, there are many different factors that you need to account for.
We want to help you find the best toilet for your needs. Below, you'll find such considerations. Let's dive in.
Toilet Seat Shape
Whether or not you knew it, you probably love a certain seat shape. Typically, toilet seats are either round or elongated.
Elongated seats have a slightly more ovular shape whereas round seats are more circular.
Typically, elongated seats are the most popular toilet seat shape. In reality, though, this is still a matter of personal opinion. Test both seat shapes and decide which one you are most comfortable using for the long-term.
Water Efficiency
Certain toilets use more water while flushing than others. If you are somebody who is concerned with water consumption, opt for a low-flow model that uses less water for each flush.
Even though the difference between traditional toilets and low-flow models is a half-gallon or so of water use, it really adds up. If you want to avoid using altogether, consider buying a composting toilet.
Installation Requirements
The installation process needs to be something that you consider before deciding on any model. Certain toilets have needs that you may not be able to provide.
Getting a tankless toilet, for example, means that you need to have enough water pressure for it to even work properly.
Then, there are also toilets that don't require any sophisticated tools or background knowledge to install on your own. In any case, be sure to consider what the installation process looks like so that you don't end up encountering any problems.
Toilet Configuration
Once you have decided on the type of toilet to buy, next you'll have to decide on the configuration type.
In this regard, you'll need to choose between one-piece and two-piece toilets.
Each of these configurations has a unique set of benefits and downsides. However, your choice will be influenced by your personal preference.
So, what does each of these configurations has to offer?
One-Piece Toilets
One-piece toilets are heavier and costlier. However, they are relatively easier to install and clean. Such toilets are best suited for modern and contemporary bathroom decors.
Currently, there are various types and designs of one-piece toilets, ranging from the modern low-profile designs to others that resemble two-piece toilets—with relatively high tanks.
Regardless of your preferred design, one-piece toilets are a preferred configuration for thousands of homeowners today.
Two-Piece Toilets
This is actually the most common type of toilet you can buy. As the name suggests, the toilet comes in two main parts: the tank and the toilet seat. In most cases, the two parts are sold separately.
Most of these toilets do not come with a tank. If the two-piece is your preferred toilet configuration, you'll have to budget for that. The preference of these toilets over the one-piece toilets is mainly because of their affordability.
However, the seam—a part where the two toilet parts join—accumulates dirt easily. Again, cleaning these toilets is not as easy as is with one-piece toilets.
Toilet Size
Different homeowners have varying preferences when it comes to toilets. Regardless of your preferences, you must ensure that you get a toilet of the right size. You have to consider where and how the toilet will fit in the bathroom.
This is particularly the case for smaller bathroom installations. Just to be on the safe side, it is advisable to take actual measurements of the installation space.
As far as toilet size is concerned, here are some of the considerations you need to make.
What is the Toilet Rough-In?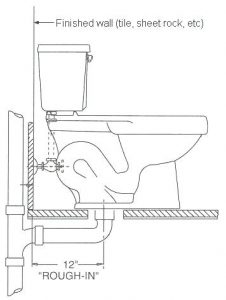 This is essentially the distance from the wall behind the toilet to the center of the closest bolt cap.
Most homes today have a rough-in of 12 inches. However, older homes may have a rough-in of 10 to 11 inches.
If you are replacing another toilet, it is advisable to take this measurement before removing the old toilet.
If the toilet currently installed in your bathroom has four closet bolts, you should measure from the center of one of the rear bolts.
With this measurement in mind, you should the distance from the back to the center of one of the mounting holes in your new toilet.
As a guide, your preferred toilet should have a rough-in distance that is shorter than the measurement you took in the bathroom. If you intend to install your new toilet in a tight space, you need to consider other dimensions as well.
Also, don't forget to measure the distance between the flange bolts to the wall or the nearest object. This will help you decide whether the side clearance is enough for the toilet you intend to buy.
Toilet Height (According to ADA Toilet Clearance & Requirements)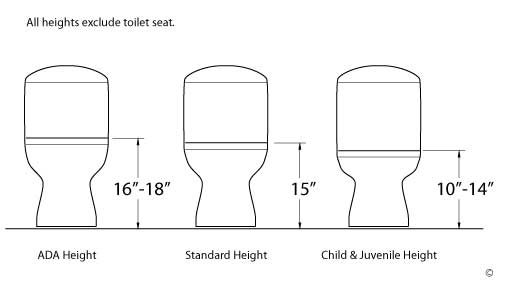 Whether your bathroom is small or spacious enough, you have to buy a toilet with the right seating height. To comply with ADA standards, toilet seat heights must be no less than 17" from the floor but can be as high as 19″.
A standard toilet is just 15 inches in height. Comfort height toilets, also known as "right height" toilets have the same height mandated by the ADA, between 17 and 19 inches. This does not include the toilet seat.
In addition to being more user-friendly, comfort height toilets are also more comfortable to use and ideal for tall and elderly people.
If you have children in the house, you may require a shorter toilet. Such a toilet should be between 10 and 14 inches tall.
The Difference Between a Standard Toilet and a Macerating Toilet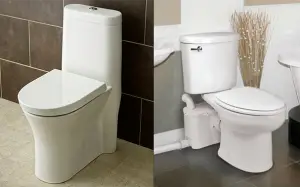 There are many times where a macerating toilet might need to be installed as opposed to a standard toilet.
A standard toilet uses the force of gravity and siphoning to move all of your waste into the drainage system. If the drainage line is above where you want to put the toilet, not of high-quality, or too far from your toilet location, a standard toilet might not be able to handle its job.
After all, it isn't always easy to move solid waste through pipes. Traditional toilets don't actually break down solid waste. These are all reasons why people will get macerating toilets instead.
Macerating Toilets are Easy to Install
When flushed, a macerating toilet will send solid waste through a grinder which will break down and liquefy the waste. Since macerating toilets liquefy solid waste, they are easily installed in places where a traditional toilet simply won't work.
Traditional toilets are usually just as loud as macerating toilets, despite the fact that macerating toilets have a separate grinder. Unless you have circumstances which force you to use macerating toilets, though, traditional toilets are usually the better option.
Difference Between Round and Elongated Toilets
The two most common toilet shapes are round and elongated. Both of these toilet designs have their own unique set of perks.
For starters, it's important to note that they are both just as capable of handling the job of waste removal.
Round toilets are really great for those who want to save a couple of extra inches of space in their bathroom. Since the diameter of a round toilet seat is two inches shorter (16.5") than an elongated bowl (18.5"), many people get a round model to save a little bit of space.
The main reason people choose elongated toilets over round toilets is that they find them to be more comfortable.
They have a slightly larger seat which resembles the shape of an oval. In any case, the main difference between round and elongated toilets is the size of the bowl and seat.
Common Issues of Toilets
Toilet Clogging
Having a clogged toilet is a common problem. This is when the toilet is not able to flush, and instead fills up the bowl with water when you try to flush. This happens because the pipe is clogged up.
Usually, all you need to do to fix a clogged toilet is using a plunger. A plunger will force the clogged up particles to go down the drain, making it so you can use the toilet again.
Water Leaks into Bowl
There are many reasons why water may leak into the toilet bowl.
If you notice that water runs into the bowl when you aren't using it, it could be because the water level in the tank is too high. It also can be due to a leak in the flush valve.
Tank Fills Slowly
Have you ever tried to flush your toilet, but weren't able to get it to flush?
This could be due to the water level in the tank. Without enough water in the tank, the toilet won't be able to flush.
Usually, this has something to do with the water pressure.
Loose Flush Handle
Having a loose flush handle is one of the most common problems to have with your toilet.
If loose enough, it can even keep the water running into your tank continuously.
Usually, all you need to do is open up the tank and tighten the connection or replace the handle completely.
Toilet Leaking from the Base
If you enter your bathroom one day and notice a large puddle of water on the floor, it is usually because the wax ring isn't doing its job properly.
To fix this, you will need to take out the toilet and replace the wax ring.
Typically, this can be fixed in a day or so on your own without professional help. However, people who aren't very handy might just choose to call the plumber and have them fix the leak.
Best & Top Rated Toilet Brands
There are many toilet brands to choose from. Each brand usually has its own unique set of perks.
Whether it be the type of toilet, the price, or quality, it's important to know what each brand does the best and what they are most known for.
Let's go ahead and take a look at each of the most popular toilet brands.
TOTO

TOTO is one of the first companies which should come to mind when you think of high-quality toilets. After first opening their doors for business in 1917 in Japan, they quickly established themselves as an authority in the plumbing fixture industry.
Today, TOTO is the world's largest toilet manufacturer. With locations in 9 different countries and some of the most luxurious and feature-packed toilets on the market, this is a great brand to shop from if you want one of the absolute best toilets
One of the common problems with top-quality brands like TOTO is that their products are not always too affordable. However, as we can see with reasonably-priced options like the TOTO Drake II, they have many options that balance price and quality very well.
Kohler

Founded all the way back in 1873, Kohler Co is a manufacturing company that sells many types of home improvement products.
The most noteworthy of their products are their plumbing fixtures. Based out of Kohler, Wisconsin, the company now serves the global market with many locations around the world.
Kohler produces many different types of toilets. They are known for being reasonably-priced, easy to install, and relatively water-efficient. They have both one-piece and two-piece toilets and are durable enough to last a lifetime.
If you are searching through many different of the best toilets but find yourself limited by budget constraints, Kohler is usually a good brand to turn to.
Saniflo

Owned by Group SFA, Saniflo was founded in 1958. After starting from humble beginnings designing equipment for wastewater treatment plants, SFA soon took off after creating the toilet macerator. This soon revolutionized the entire industry, making it easier to install toilets in any location of your home.
Saniflow should be a top toilet brand for those who want a macerating toilet, in particular. Due to their experience and long background crafting and perfecting the design of their macerating toilets, they are widely seen as one of the best macerating toilet manufacturers.
Each toilet produced by Saniflo goes through rigorous testing and manufacturing standards so that they are ISO-certified. This is an internationally-recognized and heavily sought-after certification for businesses to have.
American Standard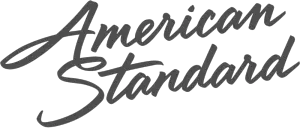 Founded only back in 1929, American Standard Companies Inc. was a successful global manufacturer of many home improvement products for decades.
After changing owners and switching the name to American Standard Brands in 2008, the brand still continues the tradition of producing high-quality bathroom products.
American Standard toilets come in many different sizes, types, and levels of water use. They are known for being relatively easy to install without any tools. American Standard toilets are especially popular for being self-cleaning and water-efficient.
Although many of the best toilets from American Standard aren't as quite as affordable as certain other brands, they are also usually a little nicer than your average residential toilet.
Delta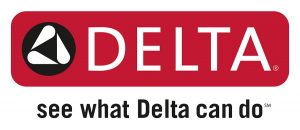 Delta is a subsidiary of Masco Corporation, which is one of the world's leading home improvement product manufacturers. Founded in 1954 as a faucet manufacturer, the company soon also found success in producing toilets.
Delta is known for producing some of the best toilets on the market and their reasonable prices. At the same time, they also produce just about any other fixture or part that you may need in your bathroom.
If you need a new toilet seat, tank, paper holder, faucet handle, and so on, Delta Faucet probably has you covered. They are also one of the best brands to buy from since you can usually expect to find just about anything you need in your bathroom.
Duravit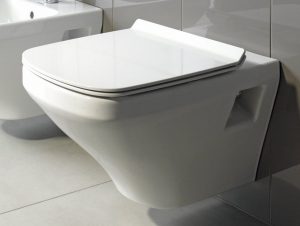 Duravit is another one of the heavy-hitters in this industry.
Founded all the way back in 1817 by German entrepreneur Georg Friedrich Horn, Duravit started as a humble earthenware factory.
It wasn't until in the 1900s that they started producing toilets and other bathroom fixtures. Today, Duravit boasts some of the best finishing material quality on the market.
They also produce many different types of toilets. They are most widely known for producing modern-looking toilets that are built to last.
In order to help your Duravit toilet keep the shine that it had when you first receive it, it's important to clean routinely. Perhaps even a little more so than what you might do with certain other brands.
Types of Toilets to Consider
There are many different potential styles and designs for you to choose from if you are considering a new toilet purchase.
To help you speed up your search and find the best toilet which matches your needs, let's go ahead and look at some of the most popular types of toilets.
Low-Flow Toilets
Low-flow (or low-flush) toilets are popular among those who want to cut back on the amount of water that they use.
There are also certain jurisdictions that require citizens to use low-flow toilets. Although there have been some problems with these toilets in the past, they have come a long way.
The average toilet uses 1.5 or more gallons of water each time that it is flushed. Low-flow toilets, on the other hand, use right around one gallon each flush. As you do the math, you can see how having a low-flow toilet will help you save tons of water.
In the past, low flow toilets weren't always as efficient as other toilets. It was common for people to flush the toilet twice after uses, making it so that they didn't help save water at all. Nowadays, this issue no longer exists.
Dual-Flush Toilets
A dual-flush toilet is designed to let the user have more control over how much water is used during the flushing process.
There are two different buttons or handles installed on these models. The smaller button will flush with less water, whereas the larger button will use more water.
Liquid waste is much easier to flush down a toilet than solid waste. The idea for dual flush toilets is to use less water for liquid waste and more for solid waste. This is why many people see it as another great way to conserve water.
First designed by Japanese manufacturer TOTO in 1960, the first dual-flush toilet was nothing short of revolutionary. Equipped with a built-in hand-washer and the ability to reuse water, many dual-flush toilets cut back on features like this.
Composting Toilets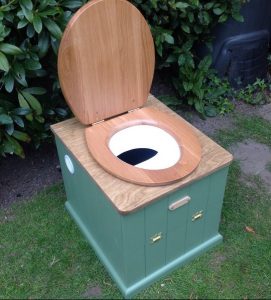 Composting toilets (or dry toilets) are the absolute best solution for those who want to save water.
They are also popular options for those who want to use their waste for something practical such as creating soil for your home garden.
Using carbon additives to promote airflow and decomposition, composting toilets turn human waste into fresh compost. Since they don't have to connect to water, they are also great for campsites, national parks, off-grid homes, highway rest stops, and so on.
Much of the trouble with owning a composting toilet comes when it is time to move your compost. If the model's tank isn't easily emptied and dumped out, this can be an uncomfortable job to handle. It's important that there is also a nice ventilation system so that the smell won't start bothering you.
Portable & Camping Toilets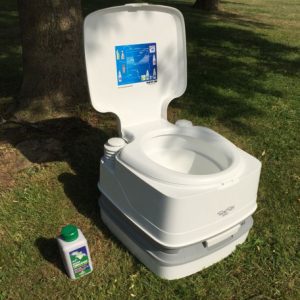 Unless you own an RV with your own residential-style bathroom, handling your business out in the middle of nowhere isn't always easy or enjoyable.
This is why many people take portable toilets with them out on camping trips.
Portable toilets are not only great for camping but any sort of outdoor activity where you won't have easy access to public bathrooms.
Portable toilets can often come with two separate tanks. One for loading water to flush, and one for the waste itself.
Certain portable toilets are completely waterless and only have a seat and tank for storing waste. In any case, they are a great option for those who need to take a toilet on the go with a limited budget.
Macerating Toilets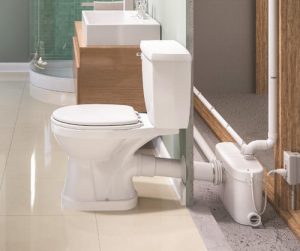 Also known as grinder toilets, macerating toilets are great for folks who cannot install a traditional toilet in their home due to plumbing issues.
When flushed, a macerating toilet sends your waste into a trap of blades that grind up and liquefy your solid waste.
This makes it so that even those with weak and easily clogged drainage systems can still have a great toilet. If your bathroom location is too far from the main drain, below the level of the main drain line, or if you live in a location with sub-par draining systems, a macerating toilet might be your solution.
Although a bit more expensive than a typical toilet, getting a macerating toilet is usually done because of necessity. You might think that they are inherently a lot noisier than a typical toilet, they are usually about as loud as a standard toilet when used.
Tankless Toilets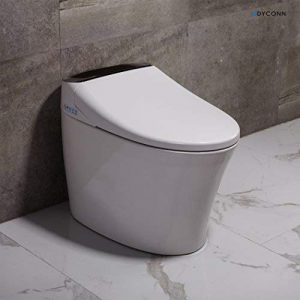 Just about any average residential toilet has a tank attached. After each flush, the tank is emptied and refilled from your home's water source.
A tank is usually attached to the toilet because residential water lines don't always have the water pressure levels necessary to siphon all the waste down the bowl at the push of a button.
Tankless toilets have a smaller and more compact design that looks more modern than toilets which depend on tanks. This also makes them a lot less prone to leaks.
If you live in an area with enough water pressure or are willing to install separate pumps to help boost your water pressure, a tankless toilet is one of the best toilets to consider. Although more expensive than usual, they offer their own unique set of perks.
---
Choosing the Right Toilet for Your Bathroom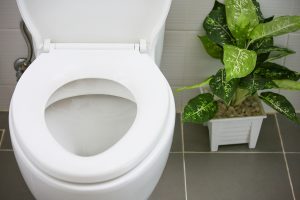 Are you currently remodeling your bathroom or are you installing a Toilet for the very first time?
Regardless, you will have to choose the right toilet. Choosing the best toilet can confusing, especially if you do not know what to look for.
Like many other homeowners, you probably are looking for a modern toilet that has advanced features. However, such models are pricey. While this is the case, a higher toilet price tag is no guarantee that you are buying the best toilet.
In order to buy the best, you'll have to consider several aspects of toilets.
The Various Styles of Toilets to Consider
As you may have noticed, the are quite a few types of toilets to choose from.
Before you decide on what to buy, you need to understand the various types of toilets and the purpose of each.
Traditional Toilets
As the name suggests, these toilets will conjure up your memories of the golden era.
With regards to design, most traditional toilets feature classic detailing, with ceramic flush handles and beveled edges.
In a bid to offer a more authentic appearance, some of these units are equipped with wooden seats.
Traditional toilets come in both comfort-high and low-level designs. Regardless of your preferred toilet height, traditional toilets will suit any vintage bathroom decor.
Wall-Hung Toilets
These are some of the best space-saving toilets. As the name suggests, wall-hung toilets are meant to hang on your bathroom wall.
One of the things you will come to like about these toilets is that they are fairly flexible, allowing you to set the toilet seat at your preferred height.
Once installed, wall-hung toilets appear as though they are floating above the bathroom floor. With this type of toilets, the pedestal or cistern will be concealed. As such, they are considered to be the best toilets for designer bathrooms.
In addition to saving space, most wall-hung toilets feature simple and clean lines that will be a great addition to almost any modern bathroom decor.
Classic Integrated-Base Toilets
Toilets with an integrated base are now available for units with a two-piece and one-piece configuration.
Such units are equipped with a full-flush bottom. An increasing number of homeowners are now opting for toilets with an integrated base because of their sleek appeal.
Owing to their sleek appearance, such toilets are considered to be a perfect fit for almost any modern bathroom design today.
In addition to their good looks, integrated-base toilets are also easier to clean.  This is because the toilets feature smooth and rounded edges and corners.
In-Wall Toilets
Are you looking for a low-profile toilet or simply a minimalistic design that looks great?
With these toilets, you will have to choose between the tankless models and the ones that need a water tank.
With in-wall toilet models, the bulky and often large parts of the toilet are concealed inside the bathroom wall. Such a model does not require much installation space. As such, they are best suited for small and narrower bathrooms.
However, these toilets are comparatively expensive to buy and need to be installed by skilled professionals, which will also increase the cost.
The Different Types of Toilet Flushing Systems
All toilets are designed to flush human waste down the sewage line. However, various models of toilets use different flushing mechanisms to do this.
While shopping for the best toilet, you need to ensure that you get one with an efficient, dependable and powerful flush system.
Over the years, toilet manufacturers have developed better flushing systems for enhanced performance and effectiveness, while minimizing water consumption. You'll also need to choose a unit with a flush valve that is wider than 3 inches.
Gravity-Flow Flush System
Gravity flush systems use the weight of the water falling from the tank to the bowl to generate flushing pressure.
What completes the flush is a siphoning action that cleans the bowl at the same time.
Since there isn't a complex mechanism involved here, gravity flush systems are low maintenance and quiet in operation.
However, gravity-flow flushing systems are more susceptible to clogging than the pressure-assisted flush systems. Clogging is more prevalent in toilets with narrower flush valves that are less than three inches.
Pressure-Assisted Flush System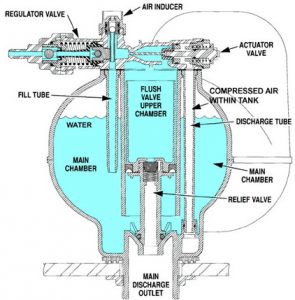 In their functioning, toilets with this flush mechanism use pressurized air to push water out of the tank and into the toilet bowl.
As a result, a pressure-assisted flush is known to more powerful and efficient.
Toilets using a pressure-assisted flush system are much less likely to get clogged, due to their force and power.
Unlike gravity flush toilets, pressure-assisted flush toilets can get more waste down and in less time.
However, this system is comparatively noisier in operation. Additionally, toilets with this flush system may be costlier and more expensive to maintain.
Dual Flush System
Dual flush toilets have a fairly large trapway and a flushing design that pushes waste down the drain.
Because there's no siphoning action, the system needs less water for every flush.
The trapway, having a larger diameter, makes it incredibly effortless for waste to leave the bowl. Dual flush toilets save up to 68 percent more water than a traditional low flow toilet. This is because dual-flush toilets only use half a flush for liquid waste.
Dual flush toilets also don't clog as often as traditional toilets. This is because they need less water to flush efficiently. However, dual flush units are costlier than low flow toilet designs.
Such toilets retain just a bit of water in the bowl. Flushing once won't always get rid of all the waste. Even when applying full flush mode, you may experience streaking at times. However, it won't get clogged easily.
Frequently Asked Questions on Toilets (FAQs)
HOW DO TOILETS WORK?
The anatomy of a toilet is actually quite simple. When one flushes a toilet by pushing down the flush handle, the float valve is lifted up. This pushes the water in the toilet's tank to move into the bowl and flush down the waste.
As the water migrates from the tank to the bowl, the flapper goes down again to seat on the flush valve. Next, the toilet's flapper shut off the water supply to the bowl. Then, the fill valve starts working, adding water again to the tank to prepare for the next flush.
HOW MUCH DOES A TOILET WEIGH?
Most one-piece toilets weigh around 88 pounds, whereas two-piece toilets weigh about 55 pounds. One-piece toilets are heavier due to the fact the toilet itself and the bowl cannot be separated. Two-piece toilets can be separated, making it easier and less heavy to move.
ARE ALL TOILETS THE SAME SIZE?
The short answer is no. There are many types of toilets out there, all come in different sizes. The dimensions for a standard toilet is normally between 28–30″ deep, about 20″ wide, and roughly 27–32″ high. Such toilets have and have a rough-in of between 10 to 14 inches.
However, comfort height toilets, for example, have rims that stand between 17 to 19 inches high from the floor.
What could be causing weak/poor flushes in my toilet?
With time, flushes by your toilet may become weaker and or inefficient. This may be caused by several things, including toilet bowl clogging and clogged sewer line or vent lines. The poor flush may be as a result of poor settings or even worn out parts.
Get Ready to Choose the Right Toilet For Your Home
After reading this review guide, you should know that choosing the right toilet for your bathroom will depend on a number of factors.
This includes the toilet style you like, the right price range for your budget, and features you seek like a powerful flushing system, self-closing seat, and more.
Depending on your intended use, you may choose to get a low flow toilet, dual-flush, or even a portable one.
Before setting on a toilet, decide if you want a one-piece or two-piece toilet. Additionally, decide if you prefer an elongated or round bowl shape.
More importantly, though, choose a toilet with the right height for you and with the correct rough-in.
Summary
Reviewer
Review Date
Reviewed Item
Author Rating