Whether you are remodeling your bathroom, replacing an old and malfunctioning toilet or installing one for the first time, you need to proceed with due diligence.
As you may have noticed, the best toilets won't be cheap. To ensure that your money is well spent, it is advisable to get a toilet that is stylish, efficient and effective.
Choosing the right toilet does not have to be a cumbersome undertaking. As a matter of fact, you do not need the help of a plumbing contractor to choose the best toilet.
As you will learn later in this guide, this choice requires you to consider such aspects as the toilet size, type and style, efficiency, flush system and plumbing requirements.
Even with such considerations in mind, you will still be left with many toilet models to choose from.
The 10 Best Toilet of 2019
The best products today are often by the well renowned and reputable manufacturers. The TOTO Drake II two-piece toilet is no exception.
Toto is a world leader in making efficient, high quality, durable and high-performance toilets today.
However, this product is not one of the best toilets today simply because it is produced by a global leader, it actually has a horde of innovative features to boast of. Some of the features you will come to love about this product include:
Aesthetical Appeal
This is actually the first thing that will draw you to this toilet—it is simply beautiful. The high profile design of the toilet includes such components as bowl to tank hardware, tank to bowl gasket as well as the required bolt caps.
The various components come together to form a sleek product that is a great fit for any modern decor.
Unparalleled Performance
You may be upgrading the toilet to enhance the appeal of the bathroom. However, you cannot overlook the performance of your preferred toilet.
Fortunately, this is one of the areas TOTO is known to excel. To begin with, the product is equipped with the innovative Tornado Flush mechanism by the manufacturer.
Although the toilet only uses 1.28 gallons per flush, it delivers a powerful and efficient flushing performance. The effectiveness of the cleaning action by this product may also be attributed to its unique CEFIONTECT bowl technology.
Pros
Features a comfortable universal height construction
Delivers a powerful 1.28 GPF performance
Features COFIONITECT glaze technology
Uses double cyclone, dial flush mechanism
Relatively efficient on water
ADA compliant
Cons
You may need to flush severally while on the lower flow rate setting.
Available in several colour options, thebH2Option Siphonic toilet is specifically designed to help you save on water bills, without compromising on style or performance.
In addition to the relatively low water expenditure per flush, the unit uses the patent-pending Siphonic action technology by the manufacturer.
This intervention has resulted in one of the best water efficiency rating in the industry today. In this regard, the heavy flush mode uses only 1.6 GPF while the light flush mode uses only one gallon per flush.
Regardless of this amazing efficiency, the two modes have been proven to deliver a powerful cleaning action. The heavy flush mode of the toilet, for instance, is capable of moving up to 1000 grams of solid waste in a single flush.
Pros
Equipped with a Power wash rim
Features Siphonic Action technology
Top mounted Chrome-plated push button
Relatively easy to clean
Efficient on water
Cons
Does not come with a toilet seat
You may think of this brand as a renowned mark of quality. The WoodBridge T-0001 model, for instance features elegant craftsmanship as well as quality construction.
As a result, the T-0001 happens to be one of the best contemporary style toilets you can buy today.
With regards to performance, this product has been proven to deliver powerful, yet quiet flushes.
The efficiency with which this system cleans the bowl may be attributed to its fully glazed flush system. Additionally, this has allowed for a clog-free and leak-free experience for its users today.
The toilet comes with a unique Soft Closing Seat. This high-quality toilet seat features a stainless steel seat hinge for enhanced durability.
You will find this seat relatively easy to remove during maintenance or while cleaning the toilet. Just like the other components of the toilet, this seat is designed to offer you unmatched durability.
Pros
Backed by friendly customer support
Features a modern, luxurious design
Compatible with numerous bathroom decors
CSA, High-efficiency and UPC Certification
Features a Siphon flush system
Fully glazed flush system
Comes with a Soft-closing high end toilet seat
Relatively easy to clean
Features a skirted trapway
Cons
Rather complex to install
The low 1.28 GPF water consumption is a great selling point, but is definitely not the only reason you should invest in this toilet.
Like many other toilets by this manufacturer, the Santa Rosa has a myriad of impressive features to offer.
The comfort height design of the toilet is one of the desirable aspects of this product. The Santa Rosa essentially offers a chair-height construction.
This makes it easier and more comfortable for the aged and disabled people to use the toilet. The fact that it is a one-piece toilet means that it is compact. As such, the product may be installed in smaller bathrooms.
The unit is equipped with an aquaPiston Canister flush system. This mechanism forces water to flow into the bowl from all directions for a thorough cleaning action.
Pros
Features a compact elongated bowl
Features a comfort height design
The tank and bowl are integrated for easier cleaning
Comes with a toilet seat and lid
Efficient on water
Would you rather buy a more compact toilet for a smaller bathroom or a tight space?
Well, the SANICOMPACT 48 is a product worth your consideration. As a matter of fact, this product is small enough to fit in spaces where conventional toilets cannot.
The compact design may be attributed to the fact that this toilet does not have an external water tank.
Instead, the unit features a built in electric flushing system. Additionally, this product is rather versatile. In this regard, it may be used to discharge wastewater from a sink, in addition to human waste.
As a guarantee of quality and performance, the manufacturer offers a two-year warranty on this toilet, from the date of purchase. With regards to efficiency, the toilet may be rotated up to 360 degrees to meet various installation requirements.
Pros
May be installed in a wide range of tight spaces
Features an easy-to-operate push button
Uses one gallon of water per flush
May be rotated up to 360 degrees
Requires minimal installation space
Features a non-return valve
Allows for connection to a sink
Cons
Some homeowners find this toilet to be expensive
For less than $200, Niagara offers you one of the most efficient, ADA compliant toilets—the 77001WHCO1 Stealth toilet.
Though efficient on water, this unit uses a pressure-assisted flush mechanism to guarantee thorough cleaning performance.
With regards to water consumption, this product is categorized as an ultra-high efficiency toilet. This is because it only uses 0.8 gallons of water in every flush.
You can imagine the much money this will save you on water bills in the long run. As you can see, the unit will save you money on purchase as well as on your monthly water bills. In accordance to ADA requirements, this toilet features a comfort height design.
This, along with its elongated bowl shape, makes the toilet more comfortable to use for the disabled and aged people. The flush control for this toilet is positioned on top of the tank for easier reach.
Pros
Highly efficient on water
Comparatively affordable
Quiet, yet powerful flushes
Uses pressure-assisted flushing mechanism
Not susceptible to clogging
Cons
Does not come with a toilet seat.
This may not be the most affordable toilet option, but is a great product by a renowned manufacturer.
Just like the other Toto products, the Aquia Dual flush toilet is of high quality, is durable, efficient and delivers impeccable performance.
To begin with, this product delivers dual flush performance at its best. In this regard, it is equipped with a powerful Dual-Max flushing system by the manufacturer.
While this is a powerful and efficient flushing system, it does not require much water. As a matter of fact, this product has been certified by WaterSense for enhanced efficiency.
The dual flush may be selected using a chrome push-button that is built into the toilet. You will also love the fact that this is a comfort height toilet model. The elongated skirt of the unit enhances its visual appeal and makes the toilet easier to clean.
Pros
Features a powerful dual-max flush system
Features a comfort height design
Fitted with a chrome flush option push-button
Has a 12-inch rough-in
Equipped with an elongated skirt
Cons
The mounting system of this toilet is not supported by the flange
Get yourself a product that is specifically designed for enhanced efficiency and ultra-low water consumption—the American Standard Concealed Trapway Cadet 3 Toilet.
With a flow rate of 1.28 gpf, this product has been proven to save about 20 percent of water. As such, the toilet is compliant with APA WaterSense requirements.
The toilet is equipped with a smooth-sided Siphon action jetted bowl. This results in enhanced cleaning efficiency by the flush system. Over the years, this toilet model has been proven to offer high performance and experience minimal clogs.
Just like the other leading models by this manufacturer, this toilet features the innovative Cadet 3 flushing system by American Standard. With regards to efficiency, this system can move up to 1,000 grams of solid waste in a single flush.
Pros
Features a pressurized rim
Fitted with EverClean surface
Delivers a powerful one-flush performance
Features Cadet 3 flush system by the manufacturer
Backed by a 5-year manufacturer warranty
Equipped with a chemical-resistant 3-inch flush valve
Cons
You may fins it a bit challenging to install
9. KOHLER K-3819-0 Toilet – The Best Toilet for Easy and Fast Installation
As one of the best mid-range priced toilets, the KOHLER K-3819-0 has a number of unique efficiency and convenience features to offer.
To begin with, this toilet is equipped with class Five flushing technology.
This technology was essentially designed to move heavier wastes. Over the years, this model has surpassed the expectations of many by delivering superior bulk-flushing performance.
The large flush valve used in the toilet allows for a more rapid release of water. This, coupled with a direct-fed jet, makes it possible for the system to flush heavier wastes from the bowl in a single flush. Fast and easy installation is another thing consumers love about this product.
The ease of installation may be attributed to state-of-the-art DryLock Fast Install System used on the toilet by the manufacturer. With this system, you will jot need bolt holes to secure the toilet tank. All you will need is a socket wrench for securing the tank to the bowl.
Pros
Water is released to the bowl from all sides
Features a durable canister construction
The canister seal material is 90 percent less exposed
Delivers a leak-free performance
Has a long-lasting red seal
Features a comfort height toilet design
Easier and faster to install
Cons
Does not come with a toilet seat
If you are looking for the best toilet to be installed in a public bathroom, your preferred model should be ADA compliant.
In this regard, the Eco Soiree One-piece toilet is one of the best today.
Additionally, this toilet has several features that make if stand out from the rest. For instance, this efficient system uses a double cyclone flushing system by the manufacturer.
In its functioning, this system capitalizes on the force of gravity and the weight of water to deliver a powerful cleaning action using just 1.28 gpf. The seat used on the toilet is the innovative SoftClose seat by Toto. This smart seat technology is both ergonomic and comfortable.
Pros
Equipped with Toto's SoftClose Smart seat
Aesthetically appealing
Features a chrome trip lever
Fitted with an elongated front bowl for enhanced comfort
Features a high profile tank
Uses a double cyclone flushing system
Compliant with ADA requirements
Things You Need to Know Before Buying a Toilet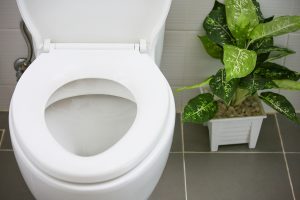 Are you currently remodeling your bathroom or are installing a Toilet for the very first time?
Regardless of the case, you will have to choose the right toilet. While this is the case, choosing the best toilet can be a daunting task, especially if you do not know what to look for.
Like many other homeowners, you probably are looking for a modern toilet that has advanced features. However, such models often come at a high price. While this is the case, a higher toilet price tag is no guarantee that you are buying the best toilet.
As such, you should not solely base your choice of a toilet on the price. So, how should you go about this choice?
In order to buy the best product your money can afford, there are several things that you need to consider:
1. Toilet Type and Design
As you may have noticed, there are numerous types of toilets in the market today.
Before you decide on what to buy, you need to understand the various types of toilets available today.
In this regard, here are some of the main types of toilets you should consider:
Wall-Hung Toilets
These are some of the best space-saving toilets available today. As the name suggests, these models are meant to hang on your bathroom wall.
One of the things you will come to like about these toilets is that they are fairly flexible, allowing you to set the toilet seat at your preferred height.
Once installed, wall-hung toilets appear as though they are floating above the bathroom floor. With this type of toilets, the pedestal or cistern will be concealed. As such, they are considered to be the best toilets for designer bathrooms.
In addition to saving space, most wall-hung toilets feature simple and clean lines that will be a great addition to almost any modern bathroom decor.
Depending on the brand you buy from, you may need to buy the mounting frame and cistern separately. This obviously means additional costs, which should be avoided whenever possible.
Classic Integrated-Base Toilets
Toilets with an integrated base are now available for units with a two-piece and one-piece configuration.
Such units are equipped with a full-flush bottom. An increasing number of homeowners are now opting for toilets with an integrated base because of their sleek appeal.
Owing to their sleek appearance, such toilets are considered to be a perfect fit for almost any modern bathroom design today.
In addition to their good looks, integrated-base toilets are also easier to clean.  This is because the toilets feature smooth and rounded edges and corners.
Close Coupled Toilets
If you are looking for a more traditional appeal in your new toilet, the best close coupled toilets will be a great choice. These toilets are referred to as close coupled because the bowl and cistern are closely positioned in such units.
With regards to design, these units feature a floor-standing unit and an exposed cistern, just behind the seat. Depending on the manufacturer, flushing mechanisms vary from one close coupled toilet to another.
In this regard, some of these products feature traditional handles while others are equipped with modern Chrome-coated button flush systems.
More advanced toilets will also offer you the ability to control water flow. Close coupled toilets come in an array of shapes and sizes to suit different bathroom decors.
Ranging from classic elegance to simplistic modern designs, there are numerous options to choose from. Some brands even offer fully shrouded designs for close coupled toilets.
In-Wall Toilets
Are you looking for a low-profile toilet or simply a minimalistic design that looks great?
Regardless of the case, the best in-wall toilet brands will be a perfect choice.
With these toilets, you will have to choose between the tankless models and the ones that need a water tank.
With in-wall toilet models, the bulky and often large parts of the toilet are concealed inside the bathroom wall. Such a model does not require much installation space. As such, they are best suited for small and narrower bathrooms.
However, these toilets are comparatively expensive to buy. Additionally, such units need to be installed by skilled professionals, which will also increase the cost.
High-tank Toilets
Toilets within this category are best suited for homeowners looking for an old-fashioned appeal in their bathrooms.
In this regard, most of the high-tank toilets available today are retro. Although such units work the same way as two-piece toilets, their tanks are set higher on the wall.
The problem with these old-fashioned toilets is that they are not readily available. As such, they are mote expensive, as compared to other types of toilets in the market.
Contemporary Toilets
These toilets are mainly characterized by simple shapes as well as precise and clean lines.
Some people may think of such toilets as outdated, but the modern contemporary toilets are really impressive, with most models featuring such things as water-saving dual flush systems and push buttons.
Most of the contemporary toilets available today feature a fully shrouded design. In other words, these toilets are designed to sit flush to the bathroom wall.
When properly installed, these models do not show any part of plumbing. As such, you will have no awkward crannies and nooks.
For enhanced hygiene, some contemporary toilets are even equipped with the latest rimless technology. In addition to being easier to clean, such a design prevents the build-up of bacteria and other germs in your toilet.
Traditional Toilets
As the name suggests, these toilets will conjure up your memories of the golden era. With regards to design, most traditional toilets feature classic detailing, with ceramic flush handles and beveled edges.
In a bid to offer a more authentic appearance, some of these units are equipped with wooden seats.
Traditional toilets come in both comfort-high and low level designs. Regardless of your preferred toilet height, traditional toilets will suit any vintage bathroom decor.
2. Toilet Configuration
Once you have decided on the type of toilet to buy, the next decision you need to make is the toilet configuration type.
In this regard, you need to choose between one-piece and two-piece toilets.
Well, each of these configurations has its unique set of benefits and downsides. However, your choice will—to some extend—be influenced by you personal preferences.
So, what does each of these configurations has to offer?
One-Piece Toilets
These are basically heavier and costlier. However, they are relatively easier to install and clean. The various one-piece toilets available today are best suited for modern and contemporary bathroom decors.
Currently, there are various types and designs of one-piece toilets in the market, ranging from the modern low-profile designs to others that resemble two-piece toilets—with relatively high tanks.
Regardless if your preferred design, one-piece toilets are a preferred configuration for thousands of homeowners today.
Two-Piece Toilets
This is actually the commonest type of toilet you can get today. As the name suggests, the toilet comes in two main parts: the tank and the toilet seat. In most cases, the two parts are sold separately.
Many homeowners today are misled by the price of these units only to realize that the product does not come with a tank.
If the two-piece is your preferred toilet configuration, you need to budget for the tank as well. The preference of these toilets over the one-piece toilets is mainly because of their affordability.
However, the seam—a part where the two toilet parts join—accumulates dirt easily. Again, cleaning these toilets is not as easy as is with one-piece toilets.
3. Installation Requirements
Different toilets come in varying sizes and component-options. Any plumbing contractor will tell you that your preferred toilet needs to meet installation needs.
However great a toilet model may appear to be, it will be of no use if it is not of the right size or have the right components for your bathroom.
As such, the best toilet should meet your installation requirements as well. So, what are some of the main installation considerations that you need to make?
Toilet Size
Different homeowners have varying preferences when it comes to toilets. Regardless of your preferences, you must ensure that you get a toilet of the right size. In this regard, you have to consider where and how the toilet will fit in the bathroom.
This is particularly the case for smaller bathrooms, cloakroom or I en-suite installations. Just to be on the safe side, it is advisable to take actual measurements of the installation space.
As far as toilet size is concerned, these are some of the considerations you need to make:
Toilet Rough-In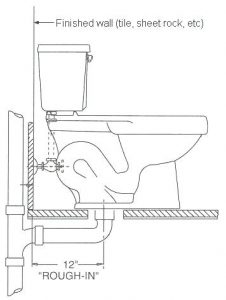 This is essentially the distance from the wall behind the toilet to the center of the closest bolt cap.
If you are replacing another toilet, it is advisable to take this measurement before removing the old toilet.
If the toilet currently installed in your bathroom has four closet bolts, you should measure from the center of one of the rear bolts.
With this measurement in mind, you should the distance from the back to the center of one of the mounting holes in your new toilet.
As a guide, your preferred toilet should have a rough-in distance that is shorter than the measurement you took in the bathroom. If you intend to install your new toilet in a tight space, you need to consider other dimensions as well.
In addition to the rough-in distance, you should also measure the distance between the flange bolts to the wall or the nearest object. This will help you ascertain whether the side clearance is enough for the toilet you intend to buy.
Toilet Height
Whether your bathroom is small or spacious enough, you have to buy a toilet with the right seating height.
If you will be installing the toilet in a public bathroom, your choice will be limited to comfort height toilets—with a seat height of between 17 and 19 inches.
For the case of public toilets, your preferred unit needs to be compliant with ADA requirements. Additionally, a toilet meant for use in a public bathroom needs to be easy to use by the disabled. In this case, the comfort height toilets are recommended.
In addition to being more user-friendly, comfort height toilets are also more comfortable to use and ideal for tall people and the aged.
However, you may need to opt for a shorter height, if you have kids in the house. All in all, the right toilet height is rather relative and depended on several factors.
Direction of the Soil Pipe
This is another installation consideration you need to make while shopping for the best toilet.
Soil pipe is essentially the outlet connected to the soil stack—a pipe that serves as the outlet for the sewage system in your home.
The soil pipe is the outlet through which wastes from the toilet will be flushed to the soil stack. The type of toilet you buy will, to some extend, determine how this connection will be made.
With an in-wall toilet, for instance, the soil pipe may only be connected to the soil stack either vertically or horizontally. A close-coupled type of toilet, on the other hand, is more versatile.
With a close coupled toilet, this connection may be made in several ways, including horizontally, vertically, to the right or to the left. This being the case, it is advisable to first check the position of the soil stack, in relation to where you would like to have the toilet installed.
Plumbing Connections
Lastly, but not the least, you need to consider the various plumbing connections to the toilet. Different types of toilets require different types of plumbing connections.
For example, a back to wall type of toilet will require you to buy a concealed cistern, which is often sold separately.
With a wall mounted type of toilet, you may also need to invest in wall mounting components, in case your preferred model does not come with them.
Regardless of the case, having to buy additional installation components separately will cost you more money. This is something you need to avoid, if you are working on a limited budget.
4. Flush System
All toilets are designed to flush human waste down the sewage line.
However, the various models available today use different flushing mechanisms to do this.
While shopping for the best toilet, you need to ensure that you get one with an efficient, dependable and powerful flush system.
Over the years, toilet manufacturers have developed better flushing systems for enhanced performance and effectiveness, while minimizing water consumption.
As far as toilet flushing systems are concerned, you need to choose a unit with a flush valve that is wider than 3 inches. Other than that, you still need to choose the flushing system you find appropriate.
In this regard, these are the main flush systems you should consider:
Gravity-Flow Flush System
Toilets with this type of flush system use the weight of the water falling from the tank to the bowl to generate flushing pressure.
In order to enhance the efficiency of such products, some manufacturers are known to add a siphoning action to such toilets.
As compared to other flushing systems, this one requires minimal maintenance and is quieter in operation. However, gravity flow flushing systems are more susceptible to clogging than the pressure-assisted flush systems discussed below.
Clogging is more prevalent in toilets with narrower flush valves, less than three inches.
Pressure-Assisted Flush System
In their functioning, toilets with this flush mechanism use pressurized air to push water out of the tank and into the toilet bowl. As a result, this type of flush system is known to be more powerful and efficient. Toilets using a pressure-assisted flush system are known to clog less often.
However, this system is comparatively noisier in operation. Additionally, toilets with this flush system a costlier to buy and may prove to be more expensive to maintain.
Dual Flush System
A dual flush system allows you to control water flow rate in the toilet. Such toilets often come with two flow rate choices: a high flow rate—which is more powerful and ideal for flushing solid waste and a low flow rate.
The low flow rate is less powerful, but helps you conserve water when flushing liquid waste.
Frequently Asked Questions on Toilets (FAQs)
On average, how long can toilet parts last?
The durability of toilet parts and components depends on various aspects, such as quality and use. Under normal residential use, the parts on your preferred toilet should last for at least the period covered by the manufacturer warranty. However, chemically treated water can reduce the durability of toilet parts to a couple of years.
What is the toilet rough-in?
This is the distance between the wall behind a toilet and the center of the nearest bolt cap. This is usually an indication of where the center of the drain is positioned on the floor. Most homes today have a rough-in of 12 inches. However, older homes may have a rough-in of 10 to 11 inches.
How can I find the leaking point in a dual flush toilet?
Put enough food color into the water tank to change the color of the water. Leave the toilet unused for about 30 minutes and then check for food color staining in the bowl. If the bowl is stained, the leakage is most probably through the flush valve.
What could be causing weak/poor flushes in my toilet?
With time flushes by your toilet may become weaker and or inefficient. This may be caused by several things, including toilet bowl clogging and clogged sewer line or vent lines. Again, the poor flush may be as a result of poor settings or even worn out parts.
Our Final Verdict
While there are numerous makes and models of great toilets in the market today, choosing the right one for your home may be a daunting task.
As you have learned throughout this guide, this choice requires you to make several considerations.
For toilets meant for public bathrooms, you should get a unit that is compliant with the pre-set requirements, such as ADA requirements. Regardless of the case, this guide will help you choose the best toilet money can buy.
Summary
Reviewer
Review Date
Reviewed Item
Author Rating