15 Best Toilets Of 2021 [Detailed Buyers Guide]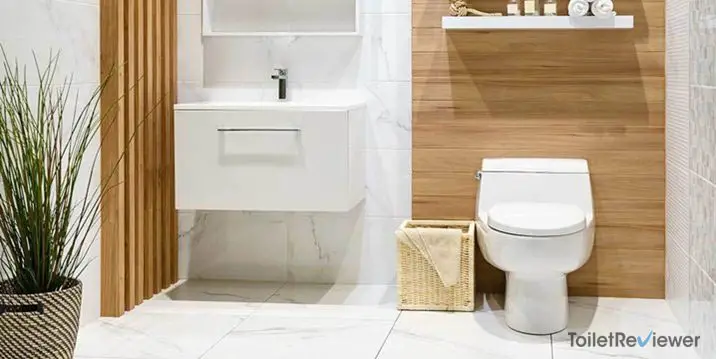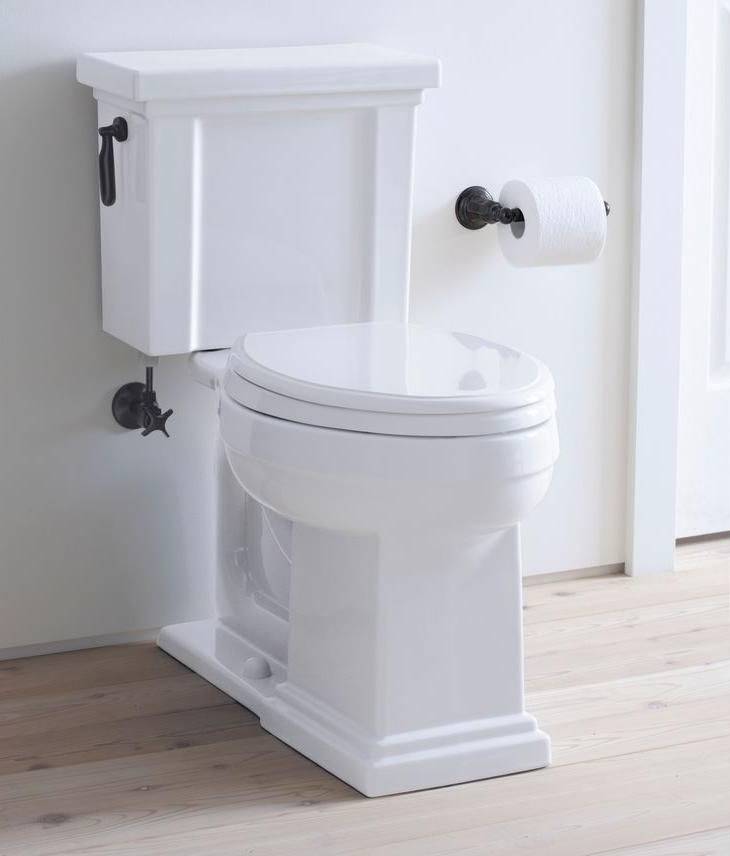 If you're looking for a new toilet but have no idea where to start, you've come to the right place. A toilet is an important part of your home.
It's an object that is going to last many years to come, so it's only logical that you would want to invest in a product that is going to be durable and won't require a ton of maintenance. 
The best toilet will save you both water and money. A toilet shouldn't use any more than 1.6 gallons of water per flush according to the law (Source).
With toilets that only use 1.6 gallons, you will end up saving up to 16,500 gallons of water per year, which can also save you money. Additionally, a good toilet will be comfortable and durable. Don't settle for something just because it's cheap and "looks" comfortable. 
This guide will give you a little insight into what a good toilet looks like and it also gives our top 15 picks for the best toilets. 
What Is The Best Toilet? 
Out of these 15 toilets, we chose the Winzo Elongated One-Piece Toilet as our top pick. This is the best overall toilet for a variety of reasons. 
The main reason we chose the Winzo Elongated One-Piece Toilet is because it has all of the features that make up the ideal toilet. It has the dual-flush technology that either uses 0.8 or 1.6 gallons per flush. This is ideal for water-conscious individuals who are looking to save water. 
Additionally, this toilet has a comfort height feature. It sits as high as a regular chair would, which makes it perfect for seniors or those who have trouble going from sitting to standing or vice versa. 
Lastly, it has a powerful flush valve and a fully glazed trapway for powerful flushing, which means no clogs, no leaks, and no other issues. You can check out the whole review below as well as check out some of the other options you have for toilets that range from one-piece to smart technology bidet toilets.
Comparing The Top 15 Toilets
| Model Name | GPF | Size | One or Two-Piece | PRICE |
| --- | --- | --- | --- | --- |
| Toto UltraMax II | 1.28 | | One-piece | Check Price |
| American Standard Cadet | 1.1 | 30.25 x 20.5 x 29.25 inches | Two-piece | Check Price |
| Toto Promenade II | 1.28 | 28.5 x 16.25 x 29.25 inches | One-piece | Check Price |
| Toto Washlet | 1.28 | 28.62 x 15.37 x 26.93 inches | One-piece | Check Price |
| Woodbridge T-0019 | 1.28 | 31 x 18 x 28 inches | One-piece | Check Price |
| KOHLER Santa Rosa | 1.28 | 31 x 20.75 x 29 inches | One-piece | Check Price |
| American Standard Champion 4 | 1.6 | 17.75 x 29.75 x 29.5 inches | One-piece | Check Price |
| KOHLER Memoirs | 1.28 | 18.88 x 28.38 x 31.13 inches | Two Piece | Check Price |
| HOROW HWMT Small | 1.6 | 25 x 13.4 x 28.4 inches | One-piece | Check Price |
| Winzo Elongated | 1.6 | 28.25 x 16 x 28.25 inches | One-piece | Check Price |
| Saniflo SaniAccess3 | 1.6 | 10 3/4 x 18 3/4 x 6 3/4 | Two-piece | Check Price |
| Aqua-Magic V RV Toilet | N/A | 15.75 x 18.25 x 19.00 inches | One-Piece | Check Price |
If you have well water, then you know how it can feel. The hardness leaves your skin dry and cracked. If it does that to your skin, what do you think it is doing to your toilet?
The surface where water constantly sits is being eaten by hard water from your well. To spare the life of your toilet, you should consider the Toto UltraMax II toilet, and here's why. 
The Toto UltraMax II toilet features a CEFIONTECT glaze that lubricates the bowl to prevent particles from sticking.
Its smooth glaze prevents particles from sticking to the bowl. This means you won't find unsightly yellow/brown stains forming on your bowl. It's really no match for your hard water. 
One-Piece Design
The one-piece design is both aesthetically pleasing and easier to clean as opposed to the two-piece design. Since the gap between the tank and the bowl has been removed, there's no place for dirt and debris to hide. Additionally, a huge benefit of the one-piece design is that there is no threat of leaking from bolts or gaskets that two-piece toilets have. 
Minimal Water Usage
This toilet uses minimal water due to the features above. Combine those two plus the 1.28GPF Tornado Flush technology, and you'll save water, time, and money. 
The Tornado Flush utilizes a hole-free design with two nozzles that creates a phenomenal centrifugal flush to rinse the bowl more thoroughly. This leads to frequent toilet cleanings, minimizes water usage, no harsh chemicals are needed, and you don't have to spend time scrubbing.
Pros
Tornado flush technology for fewer cleanings

Hard water protection saves you from unsightly stains

Convenient one-piece design

SoftClose seat for quieter use
Cons
Toilet clogs frequently

Poor design for a plunger
If you're looking for a toilet for your commercial property, the American Standard Cadet is our top pick for that. It features an elongated bowl, water-saving technology, and an EverClean surface to ensure the toilet is always ready to use and clean. Here are some notable features: 
The American Standard Cadet features low water consumption and meets EPA WaterSense criteria. It only uses 1.1 gallons per flush, using 31% les water than other toilets with 3.5 gallons per flush.
If you are using these toilets in a commercial building, the combination of all the toilets' water-saving abilities can save you a significant amount of water and money. 
EverClean Surface
The EverClean surface is a permanent glaze additive that is coated on the piping to protect your pipes from algae, fungus, mildew, bacteria, and mold that could stain or deteriorate your toilet. The EverClean surface is super smooth and easier to keep clean, even after many years of constant use. 
Jet Flush Technology
The American Standard Cadet is equipped with a pressure-assisted siphon jet. This feature helps eliminate clogs efficiently and effectively. No more fussing with plungers or multiple flushes. This feature is especially handy if these toilets are being used ina commercial building. Plungers may not be supplied and then you have to take care of the issue yourself or call a maintenance man, costing you more money. 
Pros
Low water consumption

EverClean surface for minimal cleaning

Jet flush technology allows for less clogging

Meets EPA WaterSense criteria
Cons
Does not come with the toilet seat

Louder than standard toilets
The Toto Promenade II was our choice for the best toilet for a septic system for a variety of reasons. It's equipped with the Tornado flush system and only uses 1.28 gallons of water per flush and it's CALGreen, ADA, WaterSense, and CEC compliant. 
Tornado Flush System
The tornado flush system is a hole-free rim design that has two nozzles to create a centrifugal washing action. It works by using high pressure to rinse the bowl more efficiently.
Its centrifugal flush leads to fewer cleanings and rids the bowl of fungus, bacteria, stains, and more. Additionally, you won't need to utilize harsh chemicals to keep your toilet bowl clean and fresh. 
Aesthetically Pleasing Design
The Toto Promenade II is a one-piece unit. This eliminates gaps where dirt and debris can hide. This means easier cleaning and no odors. Additionally, there's no concern for leaks from bolts or gaskets due to this one-piece design. Not only that, but it's unbelievably aesthetically pleasing when combined with its chrome flush handle. 
CEFIONTECT Glaze
The CEFIONTECT glaze is a feature that can help save time and money. This glaze is smooth and gives the toilet a lubricious quality that prevents particles from sticking to the surface.
It protects your popes as well as the bowl itself. You can easily clean the bowl if needed. Combine this with the Tornado flush technology and you may never have to scrub your bowl again. 
Pros
Low water consumption

CEFIONTECT glaze for easier cleaning and protection

Softclose seat means no more seat slamming

Elongated one-piece toilet design

Aesthetically pleasing

Tornado flush technology for more efficient flushing
Cons
Smart toilets are a perfect addition to any home. Why? Because they give you the technology a traditional toilet can.
Not to mention, some of the features may be helpful for those who are unable to perform certain tasks. Let's check out some of the wonderful features of the Toto Washlet Toilet. 
Bidet Seat
The bidet seat has a bunch of features packed into one item. First, the auto open and close lid. We love this feature! This eliminates any hand to seat contact where bacteria can thrive. Simply push a button on the remote and the seat open and closes for you. 
Next, the heated seat. The heated seat gives you a comfortable surface to do your business. There is an integrated sensor that keeps the seat between 82 and 97 degrees. This eliminates those cold shocks first thing in the morning. 
Let's talk about the dryer! Yes, this seat features a dryer. It creates a flow of warm air to dry your front and bottom. This is ideal for those who may not be able to wipe themselves.
This is especially true when you pair it with the cleansing function. It cleans your rear, rear soft, and front areas with a pleasant spray with strong pressure. 
Automatic Flushing
Again, no more touching a bacteria-ridden toilet! The automatic flushing action ensures your toilet is flushed each time right after you remove yourself from the seat. No more touching handles or forgetting to flush your business down. 
Water Conservation
The 3D Tornado flush has three powerful nozzles that give your toilet a centrifugal rinsing action. Combine it with the dual-action 0.9 or 1.28 gallons per flush feature, and you can save time and water. You only have to flush once and the tornado action takes care of the rest for you. 
Pros
Dual-action technology lets you choose how much water you need to use

Heated seat for maximum comfort

Five settings for bidet water pressure

Tornado flush technology

Self-cleaning wand

Automatic lid

Remote control for easy operation
Cons
The Woodbridge T-0019 is one of the quietest toilets on the market and also one of the most affordable. Pair these two together and you have a well-working, acceptable toilet for everyday use. 
This one-piece toilet is unbelievably quiet. It features a siphoned flush design that uses 1.28 gallons of water. Each year, you can save up to 16,500 gallons of water with this technology. The powerful flushing ensures there are no clogs, no leaks, and no other problems. 
Easy to Clean Design
The Woodbridge is one of the easiest toilets to clean currently on the market. The surface is completely smooth, leaving nowhere for dirt and debris to hide. The fully concealed trap-way offers absolutely no bends or corners where dust or anything else can linger. Additionally, there are no unsightly plastic caps or mounting holes to be seen. 
Aesthetically Pleasing Design
The luxurious modern design of this one-piece toilet gives your bathroom a clean, sleek look while complimenting various styles such as traditional. Modern, craftsman, and more. It's constructed of shiny porcelain material that's constructed to last. 
Pros
Soft-closing toilet seat

Powerful and quiet flushing

Easy to clean material

Comfortable design

Aesthetically pleasing
Cons
Inconvenient location of the seat bolts

Doesn't work well for taller individuals
6. Winzo Elongated – Best Toilet For Water Conservation
Water conservation is important, especially if you live in an area where water does not come easily, especially if you have a well or there are frequent droughts.
The Winzo Elongated One-Piece Toilet is the best for water conservation as it only uses 0.8/1.6 gallons per flush on average. 
Powerful Flush
Save water and money with the Winzo toilet. The powerful double cyclone flush system only uses 0.8 gallons of water for a half flush and 1.6 gallons of water per flush for a full flush. A half flush would be more for liquid disposal whereas a full flush is for waste disposal. 
Comfort Height Elongated Bowl
This 17" tall toilet features a high-quality elongated bowl. It's ADA compliant and makes standing and sitting easier for most adults. Additionally, there's a soft closing seat that closes quietly and gently. You can easily remove it with the quick release design. This makes it simple to install, maintain, and remove. 
Easy to Clean Design
Life is crazy sometimes and we don't always have the time to clean our toilets. This is why the easy-to-clean design on the Winzo toilet can save a ton of time and energy without feeling guilty about it. This toilet has a skirted trapway with a super sleek look. There are no corners or grooves for dirt and dust to build up on. The double nozzle flush function creates much less trapped dirt, leading to less cleaning. 
Pros
Easy to clean design

Soft-close seat for quiet use

Elongated bowl for comfort

Water-saving technology

Powerful cyclone dual flush
Cons
There were no cons found for this product
7. HOROW HWMT – Best Toilet For Small Bathroom
Finding a decent toilet for a small bathroom or half-bath can be a harrowing task. Either a toilet is too big, too loud, or doesn't have the features you are looking for. Lucky for you, we found you the perfect toilet for your small bathroom.-the HAROW HWMT toilet. 
Compact One-Piece Design
The HOROW HWMT toilet is a small and compact one-piece toilet fit for your tiny bathroom. It is 2" shorter than an elongated seat and the height is 16.5 inches.
The one-piece design leaves no space for dirt and debris to build up, making it simple to clean. It can be easily installed using two big opening holes on the side of the toilet for simple floor mounting. 
Quiet & Powerful Flush
This tiny toilet packs quite the punch. Its powerful flush ensures there are no clogs when waste is disposed of. It has dual-flushing capabilities. You can use a half flush for liquids and a full flush for solids. A half flush uses only 1.1 gallons per flush and a full flush uses 1.6 gallons per flush. 
Top Flush Button
To flush this tiny toilet, there is a button on the top of the tank. The button is split into two. One button is for a half flush and the other is for a full flush. No more unattractive handles sticking out from the side of the tank. 
Pros
Easily fits in small spaces

Quiet flush

Dual flush design for water conservation

Easy to clean

Soft-close toilet seat
Cons
Finding a toilet for basement use isn't the easiest task. You have to find a toilet compatible with the location of your sewer line or soil stack. We found that the Saniflo SaniAccess3 is the best toilet for basement use and here's why: 
Unique Flush System
The flush system of this toilet is unique and works well. The water supply that the toilet is connected to will fil the tank and when you press the flush valve, the water will enter the bowl, cleaning the bowl and walls. 
The water is then flushed to the rear into the macerator tank. This triggers a pressure system which then activates the macerator blades. These blades break down solid waste into small pieces. This is why there isn't much water needed for flushing. 
The best part about this toilet is that it's strong enough to send water 15 feet up to the next sewer connection. This is efficient and effective, but it's not the quietest process. 
Water Conservation
The Saniflo toilet doesn't use as much water as traditional toilets. The average toilet uses around 4-gallons of water per flush. The Saniflo toilet only uses 1.6 gallons per flush. This is all thanks to the macerating system, which as we said earlier, cuts down the need for so much water. 
Pros
Can connect to sinks, showers, and urinals

Water-efficient

Can be installed up to 15 feet below the sewer line

Powerful flush

Durable
Cons
Noisy flush

May require professional installation
If you or somebody in your household is prone to large bowel movements, then an uncloggable toilet is something to consider. The American Standard Champion 4 has been labeled as a clog-free toilet. Let's check out some of the features: 
Clog-Free Performance
This particular toilet has a large flush valve and a 2 ⅜ inch fully glazed trap way. With these two features combined, a clog is virtually impossible. Don't bother buying a plunger since there is no reason for you to need one. The only way this toilet will clog is if you stuffed a whole roll of toilet paper in it, which we don't suggest doing. 
Water Conservation
This toilet not only ensures a clog-free performance, but it also saves on water consumption. The system only requires 1.6 gallons of water for a decent flush. The standard toilet uses almost 4 gallons of water per flush, but with stricter laws in place, toilets are required to use 20% less water consumption. 
Right Height Seating
The American Standard Champion 4 boasts of its right height seat. This feature ensures you are comfortable while sitting and standing alike. This is particularly helpful for the elderly who may have trouble standing up from a seat too low or sitting on a seat too high. The rim height measures 16-½" for comfort and ease of use. 
EverClean Surface
If you aren't a fan of cleaning toilets, then you'll love this feature. The EverClean surface ensures your toilet bowl stays cleaner for a longer period of time. The smooth surface leaves no possibility for waste to stick to the bowl. 
Pros
Virtually uncloggbable

Great height for everybody

Powerful flushing abilities

Affordable

Great water saver
Cons
EverClean surface doesn't work well

Cheap plastic toilet seat included
10.Toto Neorest – Best Bidet-Toilet Combo
Need a little something extra with your toilet? The Toto Neorest 700H is a fantastic integrated toilet with a luxury bidet.
It has a ton of helpful features and even a remote control to optimize its performance and your satisfaction. Here are some of the most advanced features of the Toto Neorest: 
Clean Synergy
This toilet and washlet have plenty of technologies that work together in harmony. First, we have the tornado flush feature. This is a hole-free design that offers dual-nozzle bowl cleansing. It creates centrifugal rinsing action, giving you a cleaner bowl after each use. Just because it's powerful doesn't mean it uses a ton of water. It actually only uses 1 gallon of water per flush. 
The CEFIONTECT glaze will rid your toilet of microscopic gaps where waste can hide. In unison with the EWATER+ technology that mists the bowl and wand with electrolyzed water, you can rest assured knowing your toilet is clean without having to lift a finger. 
Auto open and Close Lid & Flush
This is probably one of our favorite features of any toilet. The auto open and close lid and flush make it so you don't have to touch the toilet. Bacteria can live on the toilet lif and can spread if you touch it and don't wash your hands.
This toilet seat adds convenience and sanitation to your overall experience. When you are done doing your business, simply stand up and the toilet will do the rest of the work for you. Never leave the bathroom wondering if you flushed again. 
Pros
Convenient nightlight

Auto-flush technology

Auto open and close lid

Tornado flush feature 

Unbelievable water conservation 

Warm air dryer and Wonderwave spray bidet function
Cons
Very pricey

Poor customer service
On a boat, it may not be practical to have an actual toilet plumbed in. Rather, a portable toilet allows you to move it around, dump it properly, and store away when it's not in use.
The Camco Portable Travel toilet was considered to be the best toilet for a boat due to these following reasons: 
Portable & Convenient
Since it's portable, you can take this toilet literally anywhere you need. It holds 5.3 gallons of waste and 2.5 gallons of freshwater for flushing. There is a convenient cap on the top of the tank that allows you to add fresh water to the tank. When you have filled up the waste tank, simply it out at an RV dump station or composting pile. 
Lightweight & Compact
The Camco Travel Toilet is ultra-durable and super lightweight. It only weighs 11.5 pounds but it can support up to 330 pounds. This is due to its durable polyethylene construction. It's also very convenient. It has integrated handles for easy portability. There are also side latches to secure the top tan to the bottom tank. 
Pros
Portable and compact design makes traveling easy

Integrated handles for simple carrying

330 lb weight limit

Holds 5.3 gallons of waste

Durable construction
Cons
Flush valve difficult to pull

Latches don't stay clipped
Kohler toilets are well known in the residential and commercial industries. They have spectacular features, are aesthetically pleasing, and are generally affordable. We chose the KOHLER Santa Rosa toilet as our top KOHLER toilet for a variety of reasons such as these: 
One-Piece Design
One-piece design toilets are one of our favorites. Their design leaves no place for dust and debris to build up. There are no nooks or crannies for anything to hide in. This makes the toilet super easy to clean. If you didn't know already, the one-piece design integrates the tank and bowl into one simple design. It's not only convenient but aesthetically pleasing. 
AquaPiston Canister
The KOHLER Santa Rosa is equipped with an AquaPiston canister. This allows the water to flow into the bowl from all sides, creating an extremely powerful and effective flush.
It may seem like it would use a lot of water, but it actually conserves water. It only uses 1.28 gallons per flush, saving up to 16,500 gallons of water per year without sacrificing the performance of the toilet. 
Compact & Comfortable
This toilet features a comfort height design that offers chair-height seating that makes sitting and standing easier, especially for the elderly. The compact bowl is both elongated and comfortable while using the same amount of space that a round-front bowl would. It only measures 31 x 20.75 x 29 inches. 
Pros
Powerful flush performance without wasting water

AquaPiston canister allows for effective waste disposal

Easy installation

Compact & comfortable seat

One-piece toilet makes for easier cleaning 

Great water conservation 
Cons
Minimal tank surface size 

Uncomfortable seat
Here we have another American Standard toilet that makes the list. This time, it's for the best toilet under $500. We understand that sometimes you have to follow a budget, which is why we made this category.
Let's take a look at what this American Standard toilet has to offer.
EverClean Surface
The EverClean surface is something we have seen a lot on this list. It's a coating inside of the toilet bowl that keeps the growth of stain and odor-causing bacteria to a minimum.
It also does a lot of cleaning work for you. The glaze additive will also keep mildew, algae, and fungus that can cause staining of the pipes at bay. With each flush, the waste stuck to the bowl will disappear. 
PowerWash Rim
The PowerWish rim ensures you receive a powerful flush each time you use the toilet. Paired with the EverClean coating, your toilet will remain clean and odor-free. Additionally, the PowerWash rim won't waste water or use any more water than needed. It only uses 0.92/1.28 gallons per flush compared to the traditional 3.5 gallons per flush. 
Dual Flush Technology
Dual flush technology is one of our favorites. It's the perfect way to conserve water while receiving a powerful flush when it's only absolutely necessary. With dual flush toilets, you have the option to use half water or full water flushes. Half water only uses 0.92 gallons of water and is more for liquid waste. Full water flushes use 1.28 gallons of water and are more for solid waste. 
Pros
Dual flush technology for optimal water saving

EPA WaterSense certified

EverClean surface stops odors and bacteria growth

Affordable

PowerWash rim means less for you to clean
Cons
Does not come with a seat

Prone to clogging
14.KOHLER Memoirs – Best Toilet For Seniors
Seniors often have trouble going from a standing to a sitting and back to a standing position while going to the bathroom.
We chose the KOHLER Memoirs Comfort Height Toilet for a number of reasons, but mostly because it is equipped with comfort height seating. Here are some of the other features of this toilet: 
The comfort height feature makes sitting and standing up easier for seniors because it sits at chair height.
This will ensure they are more comfortable while using the toilet as well as removing themselves from the toilet. Pair this with the optional elongated toilet for even more comfort and stability. 
AquaPiston Technology
AquaPiston technology ensures that the toilet only flushes once and that it's efficient. It allows the water to flow into the bowl at 360 degrees around the whole bowl.
This increases the effectiveness and power of the flush and ensures no waste is left behind. Don't let that make you think you are using more water. You are actually going to be using 1.28 gallons of water per flush, saving you up to 16,500 gallons of water per year. 
Aesthetically Pleasing
It may not matter to some seniors, but to others, aesthetics is important. This toilet can be purchased in either a cream color or white color and is constructed of vitreous China. It has a sturdy two-piece design, which may require more cleaning than a one-piece design. It's floor-mounted and comes equipped with an attractive chrome flush valve. 
Pros
Aesthetically pleasing

Comfortable for seniors to sit on and depart from

Round front bowl is ideal for smaller bathrooms

AquaPiston canister allows for powerful and effective flushes

Affordable
Cons
Does not come with the seat or supply line

May be too tall for seniors less than 5'
Last on our list is the best toilet for an RV. We chose the Aqua-Magic V RV Toilet for a number of reasons.
It's easy to use, is a classic style with a taller seating height, and it can be used in all recreational vehicles. Let's break down some of the features of the Aqua-Magic V. 
Single Pedal System
The single Pedal System is perfect for an RV. You only have to push it down halfway to fill the bowl with water and push it all the way to flush the waste down. You can cover the bowl 100% with this system, allowing no waste to stick or be left behind. 
Lightweight & Comfortable
The Aqua-Magic V toilet is lightweight, only weighing 10 pounds. It measures 15.75 x 18.25 x 19 inches and is easy to transport when needed. It can be easily installed and its high-profile offers taller seating for superior comfort. 
Pros
Lightweight for convenience and portability

Tall seating suitable for everybody

Textured lid that sheds water and resists scuffs

Reduces water consumption
Cons
Cheap water valve

Can't be returned
Buyers Guide: What To Look For In A Toilet
The toilet you choose is one of the most important items in your home. Sure, color and price may be a deciding factor, but how much water it uses and how well it performs can matter much more.
A great running toilet will conserve water and generate enough power to clean the bowl without having to flush more than once. A poorly chosen toilet can leave you with a faulty product that requires maintenance over and over again for the next 10-years or more. 
If you need help choosing a high-performance toilet that will work well with your bathroom and budget, then read what we have to say about what to look for in a toilet. 
Water Usage
Toilets that use 1.6 gallons of water per flush or less have been the federal standard since 1996. The older models may have claimed to save water, but didn't because they didn't have the power that the newer models have today. 
Manufacturers have made many improvements to their toilets. This includes larger flush valves, larger trap-ways, and a more powerful flow of water so you don't have to flush more than once. 
A toilet that you should take into consideration is a dual-flush model. These allow you to choose how much water you want to use. A half flush will only use around a gallon or less of water whereas a full flush will use roughly 1.28 gallons of water. You can choose a half flush for liquid waste and a full flush for solid waste. 
One Piece vs Two Piece
You may not think it matters, but there are certainly advantages and disadvantages to both one and two-piece toilets. 
One-piece toilets have a sleeker design and are easier to clean. Since it's only one piece, there are no cracks for debris and dust to hide in. You can simply wipe the toilet down in one motion rather than around cracks and crevices.
Additionally, one-piece toilets are more compact in height and more durable. A downfall of one-piece toilets is that they are generally more pricey and they offer fewer rough-in options. 
Two-piece toilets on the other hand offer more options for height, style, and rough-in options. They are much easier to ship than a one-piece and they are less expensive than one-piece toilets. Unfortunately, two-piece toilets are more difficult to clean and are more likely to leak and/or break. 
Accessibility
Accessible toilets are a necessity for those who have a disability or don't have the means to properly sit on a regular toilet. Comfort height toilets are more for individuals, such as seniors, who can't sit down or stand up without issues. These toilets sit at chair height to accommodate those who have these issues. 
A comfort height toilet is ADA (Americans with Disabilities Act) compliant and sits 17 to 19 inches from floor to seat. Standard toilets only sit 15 inches from floor to seat. 
Comfort height toilets and standard toilets come in a variety of styles and colors. You can also get them in one-piece or two-piece designs. Two-piece designs are cheaper but are prone to leaks. One-piece toilets are more expensive, but there's a minimal chance of leaking. 
Furthermore, those with constipation issues will find that a standard toilet is best for evacuating their bowls because they are lower to the ground and the hips need to be slightly below the knee height. The low height of the toilet will best accommodate these needs.
Pressure Assist
Plumbers all over the world have said that pressure-assist toilets are more water-efficient than gravity toilets. As with any other item, there are certainly pros and cons of pressure-assist toilets. 
Pressure assist toilets are popular because of how efficient they are. Thanks to the forceful flush, there is rarely a need to flush the toilet twice. Moreso, these toilets only use 1.1-1.2 gallons of water per flush as opposed to a single-flow that uses 1.6 gallons of water per flush. 
On the other hand, pressure-assist toilets are louder than gravity toilets. This is because of the high-pressure system that ensures the bowl is completely clean and the waste is gone.
Additionally, the valves are much more difficult to push down since there is so much force behind it, which may not be suitable for a child or strength-impared adult to operate. Lastly, they are more expensive to purchase and can cost upwards of $1,000 and their parts are harder to find, which may lead to repair costs in the future. 
Dual Flush
Dual flush toilets are wonderful if you are looking to choose how much water you use during each flush. There are generally two options for flush volume, which is a half and a full flush.
Dual flush toilets save money and water at the same time. They use no more than 1.6 gallons of water per flush for a full flush. Look for a toilet with the WaterSense label on it. This is an indication that it performs well and it's "green". 
Additionally, they clod less since they use gravity to remove waste through a large trapway. They have a powerful flush which may lead you to not even have to use the low flush option. 
Now, unfortunately, these types of toilets may be difficult to install, they are hard to clean, and the buttons may be confusing. All-in-all, the pros definitely outweigh the cons for dual flush toilets. So definitely consider one of these toilets if you want to save water and money. 
Bowl Shape
The shape of the toilet bowl matters greatly for a variety of reasons. They both function similarly, but are different sizes and may not fit with the bathroom you are trying to put it in. It's important to take consideration of the bowl shape seriously. 
Elongated bowls are generally more comfortable for people to sit on. They offer a wider area for those with mobility issues to get on and off. They're also easier for children to use without making a mess. Round bowls offer less space for sitting. 
Elongated bowls take up 2 inches more of space than a round bowl does. A toilet will need to be at least 21 inches from the wall in front of it to pass most building codes. For smaller bathrooms, the 2-inch savings you get from a round bowl is more practical. 
Lastly, you may not realize it, but elongated toilets are generally easier to clean than a round bowl. There is less of a crevice with an elongated bowl than with a round one, making it easier to get the brush in. The longer shape also allows you to see the front interior of the bowl easier than a round one. 
Height
We kind of covered this inaccessibility, but the height of the toilet matters greatly, especially if you have a child or senior in your home. Toilets that comply with the Americans with Disabilities Act have a taller bowl height of between 17-19 inches rather than the standard and much shorter size of 15 inches.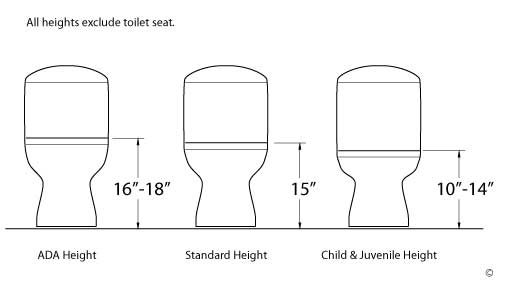 Taller toilets may be harder for kids and shorter individuals to sit on and stand up from. You will see toilets with a comfort height option, which means it sits at the same height a chair would. This is ideal for seniors since they can easily get on and off from it. 
If you suffer from constipation or another issue that has you sitting on the toilet a lot, consider a shorter profile toilet. This will allow your knees to be above your hips, allowing for the waste to pass easier and it also helps avoid hemorrhoids. 
What is the Toilet Rough-In?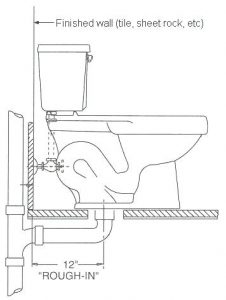 This is the distance from the wall to the center of the closest bolt cap.
Most modern homes have a rough-in of 12 inches. Older homes may have a rough-in of 10 to 11 inches.
If you are replacing a toilet, rather than performing a new install,  it is advisable to take this measurement before removing the old toilet.
If the toilet currently installed in your bathroom has four bolts, you should measure from the center of one of the rear bolts.
As a general rule, your preferred toilet should have a rough-in distance that is shorter than the measurement you took in the bathroom. If you intend to install your new toilet in a tight space, you need to consider other dimensions as well.
Also, don't forget to measure the distance between the flange bolts to the wall or the nearest object. This will help you decide whether the side clearance is enough for the toilet you intend to buy.
Types Of Toilets To Consider
There are many different potential styles and designs for you to choose from if you are considering a new toilet purchase.
Composting Toilets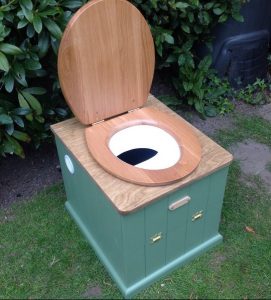 Composting toilets, also known as dry toilets are the absolute best solution for those who want to save water.
They are also popular options for those who want to use their waste for something practical such as creating soil for your home garden.
Using carbon additives to promote airflow and decomposition, composting toilets turn human waste into fresh compost. Since they don't have to connect to water, they are also great for campsites, national parks, off-grid homes, highway rest stops, and so on.
Much of the trouble with owning a composting toilet comes when it is time to move your compost. If the model's tank isn't easily emptied and dumped out, this can be an uncomfortable job to handle. It's important that there is also a nice ventilation system so that the smell won't start bothering you.
Portable & Camping Toilets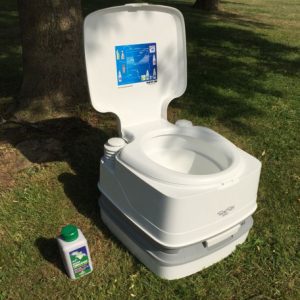 Unless you own an RV with your own residential-style bathroom, handling your business out in the middle of nowhere isn't always easy or enjoyable.
This is why many people take portable toilets with them out on camping trips.
Portable toilets are not only great for camping, but they are also great for any sort of outdoor activity where you won't have easy access to public bathrooms.
Portable toilets can often come with two separate tanks. One for loading water to flush, and one for the waste itself.
Certain portable toilets are completely water-less and only have a seat and tank for storing waste. They are a great option for those who need to take a toilet on the go with a limited budget.
Macerating Toilets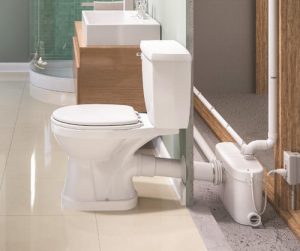 Also known as grinder toilets, macerating toilets are great for folks who cannot install a traditional toilet in their home due to plumbing issues.
When flushed, a macerating toilet sends your waste into a trap of blades that grind up and liquefy solid waste.
This makes it so that even those with weak water pressure and easily clogged drainage systems can still have a great toilet. If your bathroom location is too far from the main drain, below the level of the main drain line, or if you live in a location with sub-par draining systems, a macerating toilet might be the best option.
Although a bit more expensive than a typical toilet, getting a macerating toilet is usually done because of necessity. You might think that they are inherently a lot noisier than a typical toilet, they are usually about as loud as a standard toilet when used.
Tankless Toilets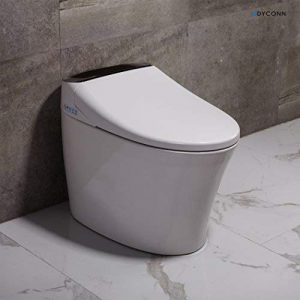 Just about any average residential toilet has a tank attached. After each flush, the tank is emptied and refilled from your home's water source.
A tank is usually attached to the toilet because residential water lines don't always have the water pressure levels necessary to siphon all the waste down the bowl at the push of a button.
Tankless toilets have a smaller and more compact design that looks more modern than toilets that depend on tanks. This also makes them a lot less prone to leaks.
If you live in an area with enough water pressure, or you're willing to install separate pumps to help boost your water pressure, a tank-less toilet is one of the best toilets to consider.
Best & Top Rated Toilet Brands
There are many toilet brands to choose from. Each brand usually has its own unique set of features.Whether it be the type of toilet, the price, or quality, it's important to know what each brand does best and what they are most known for. So, lets take a look at each of the most popular toilet brands.
TOTO

TOTO is one of the first companies which should come to mind when you think of high-quality toilets. After first opening their doors for business in 1917 in Japan, they quickly established themselves as an authority in the plumbing fixture industry.
Today, TOTO is the world's largest toilet manufacturer. With locations in 9 countries and some of the most luxurious and feature-packed toilets on the market, this is a great brand to to choose if you want the absolute best toilet.
One of the common issues with top-quality brands like TOTO is that their products are typically pretty expensive. However, as we can see with reasonably priced options like the TOTO Drake II, they have many options that balance price and quality very well.
Kohler

Founded in 1873, Kohler Co is a manufacturing company that sells many types of home products.
The most noteworthy of their products are their plumbing fixtures. Based out of Kohler, Wisconsin, the company now serves the global market with many locations around the world.
Kohler produces many different types of toilets. They are known for being reasonably-priced, easy to install, and relatively water-efficient. They have both one-piece and two-piece toilets and are durable enough to last a lifetime.
If you are searching through many different toilets but find yourself limited by budget constraints, Kohler is usually a good brand to turn to.
Saniflo

Owned by Group SFA, Saniflo was founded in 1958. After starting from humble beginnings designing equipment for wastewater treatment plants, SFA soon took off after creating the toilet macerator. This soon revolutionized the entire industry, making it easier to install toilets in any location of your home.
Saniflow would be a top toilet brand for those who want a macerating toilet, in particular. Saniflo is widely seen as one of the best macerating toilet manufacturers because they have a lot of experience and a long background crafting and perfecting the design of their macerating toilets.
Each toilet produced by Saniflo goes through rigorous testing and manufacturing standards so that they are ISO-certified. ISO, or 'Industry Standards Organization' is an internationally-recognized and heavily sought-after certification for businesses to have.
American Standard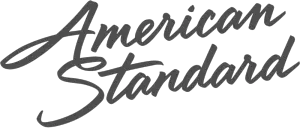 Founded in 1929, American Standard Companies Inc. has been successful global manufacturer of many home improvement products for decades.
After changing owners and switching the name to American Standard Brands in 2008, the brand still continues their tradition of producing high-quality bathroom products.
American Standard toilets come in many different sizes, types, and levels of water use. They are known for being relatively easy to install without any tools. American Standard toilets are especially popular for being self-cleaning and water-efficient.
Although many of the best toilets from American Standard aren't quite as affordable as certain other brands, they are also usually a little nicer than your average residential toilet.
Delta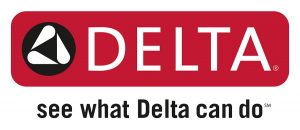 Delta is a subsidiary of Masco Corporation, which is one of the world's leading home improvement product manufacturers. Founded in 1954 as a faucet manufacturer, the company soon found success in producing toilets.
Delta is known for producing some of the best toilets on the market, they are also known to have pretty reasonable prices. At the same time, they also produce just about any other fixture or part that you may need in your bathroom.
If you need a new toilet seat, tank, paper holder, faucet handle, etc, Delta has you covered. They are also one of the best brands to buy since you can usually expect to find just about anything you need in your bathroom in their inventory.
Duravit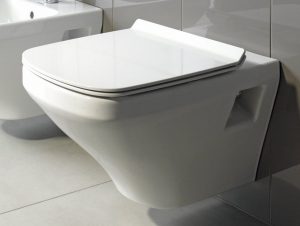 Duravit is another one of the heavy-hitters in this industry.
Founded  in 1817 by German entrepreneur Georg Friedrich Horn, Duravit started as a humble earthenware factory.
It wasn't until in the 1900s that they started producing toilets and other bathroom fixtures. Today, Duravit boasts some of the best finishing material and build quality on the market.
They produce many different types of toilets. Duravit is most widely known for producing modern toilets that are built to last.
In order to help your Duravit toilet keep the shine that it had when you first received it, it's important to clean in regularly. Perhaps even a little more so than what you might do with certain other brands.
What Are The Best Toilets For The Money
When looking for a toilet that may be the best for your money, there are many considerations. You have to not only look at the price but the features that come with it. 
We have found that many individuals prefer dual flush toilets because they can control how much water they are using. You can choose to use over a gallon of water or less than a gallon of water per flush. 
You don't want to consider something like a bidet if you aren't going to use it all of the time. These units are generally very expensive since they are full of fancy technology.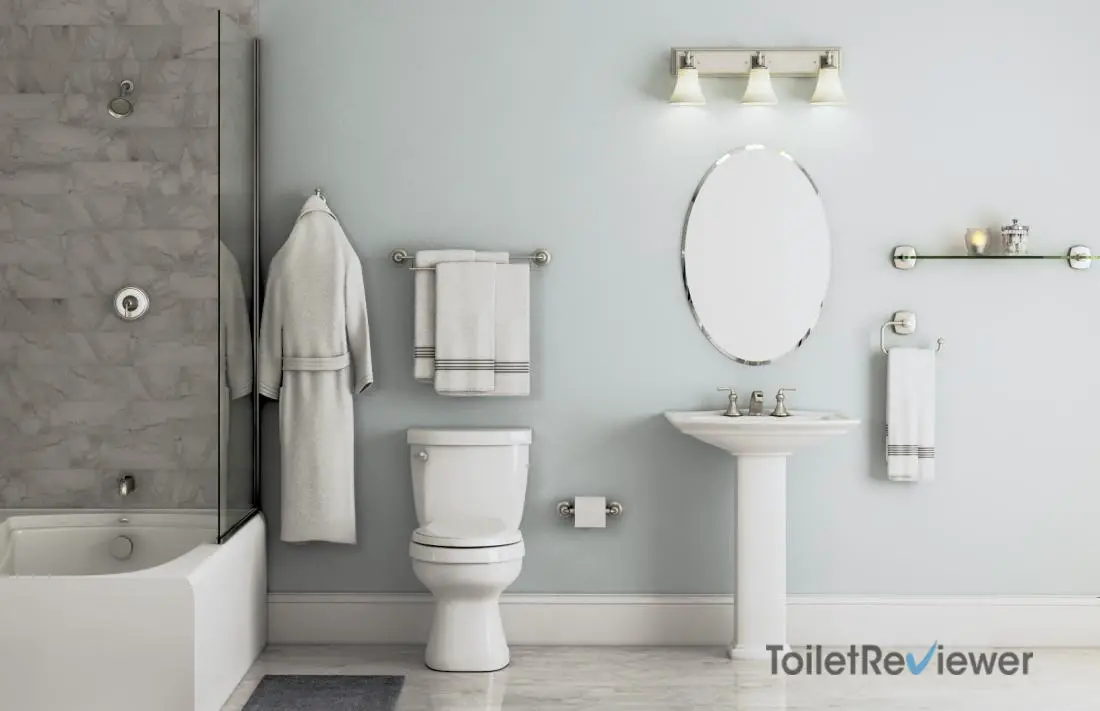 If you don't want to be bothered with cleaning your toilets, then you may want a toilet that has the EverClean technology mixed with power flush technology, such as the American Standard toilets. The EverClean toilets have a coating on them that keeps the waste from building up. 
Additionally, Think about the type of mount that your toilet needs. By that, we mean wall mounted or floor mounted. A wall wall-mounted toilet will need another part built inside of the wall, which requires a little bit of contracting work.
Floor mounted toilets are your traditional toilets that just mount to the floor and tap into your existing plumbing. These are generally cheaper and last longer. 
Overall, we suggest a floor-mounted toilet with dual flush technology, non-clogging, and water-saving capabilities with some kind of power-flush technology for optimal sanitizing and cleanliness as well as low water consumption. If you are looking for toilets under 200, check out this post.
Summary
Reviewer
Review Date
Reviewed Item
Author Rating