The 5 Best Toilets Under $200 – [Top Models Reviewed]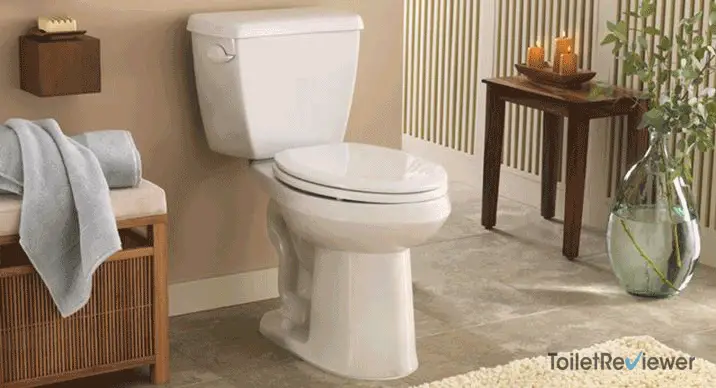 Whether you're living in a house or an apartment, a toilet is a necessity. Maybe you plan to do a complete bathroom renovation and replace an old toilet. Other times, you will need to remove a broken toilet.
Whatever the case, you will want to find the best deal for the money. If you are on a budget and can't afford to spend more than $200 on a toilet, you might think your choices are very limited.
However, you will be surprised at how many toilets in this price range offer good value for money. There are a lot of fancy toilet designs that will exceed your expectations.
Despite being affordable, these base models operate at much the same level as more expensive, modern options. Their flushing system is both effective and efficient, while the construction is sturdy and durable.
In this guide, we will review the best toilet options under $200 and examine features for each model. We will help you find a toilet that suits your needs and your budget.
Comparing the 5 Best Toilets Under $200
Sale
At under 200 dollars,
TOTO Entrada
is an excellent value for money. This elongated two-piece toilet boasts a close-coupled design that makes it easy to clean. It comes with a chrome-plated overside lever attached at the tank.
This ADA-compliant toilet also features the 1.28 GPF E-Max flushing system that is engineered to save water. It is equipped with a 3-inch flush valve that provides a powerful and consistent flush.
Additionally, there is a pilot-operated relief valve that makes sure a flush is quiet. That combination of unique features ensures that your toilet is spotless. The elongated bowl is very comfortable and stylish.
Pros
Consistent flow
Large siphon jet
Universal height
ADA-compliant
Quiet operation
Cons
The handle is a bit loose
If you are looking for a cheap wall-hung toilet, look no further. The
TOTO Aquia
is a safe bet. This
compact toilet
is great for powder rooms and small bathrooms.
As for the flushing system, it comes with a Dual-Max system. It allows you to choose between a light partial flush (0.9 GPF) and heavy full flush (1.6 GPF). The gravity flush is very powerful so that all the waste is eliminated quickly.
With nice sleek lines and a white cotton color, this small ceramic toilet will add to the looks of your bathroom. Apart from that, the sleek lines will also make it easier for you to keep your toilet clean. Please note that the seat is not included.
Pros
Dual max flushing system
Easy to maintain
CalGreen compliant
Compact design
Dometic 300 Series Gravity-Flush RV Toilet - Powerful Triple-Jet Action Flush with Adjustable Water Level - Standard Height Flush with Foot Pedal for RVs, Trailers, and Outdoor Campers
COMPLETE WASTE REMOVAL: The Dometic 300 series gravity-flush RV toilet features a powerful triple-jet action flush that ensures complete waste removal with each use, keeping your RV clean and odor-free.
EFFICIENT OPERATION: The efficient foot pedal operation with adjustable water level makes it easy to use and control water usage. You can customize the water level to match your needs, helping you conserve water during extended trips.
RESIDENTIAL STYLE: This toilet offers a residential-style design, providing you with the comfort and familiarity of home while on the road. The elongated seat and full-size height make it easy to use and comfortable, even for extended periods.
DURABLE CONSTRUCTION: The Dometic 300 is constructed using high-quality materials that ensure durability and longevity. It is built to withstand the harsh RV environment and can provide reliable service for years to come.
EASY TO INSTALL: This toilet is designed to be easy to install, making it an ideal choice for RVers looking to upgrade their existing toilet. The simple installation process can be completed in just a few hours, and all the necessary hardware is included in the package.
If you're tight on money but still want a decent toilet, this is a good choice for you. The Dometic 300 toilet is aimed at RVs and campers in particular. With standard height and full seat, it ensures convenience when away from home.
This small toilet is equipped with a triple-jet flush which ensures the bowel is cleaned properly with each flush. There is a foot pedal that actuates the flush.
Besides, the toilet comes with a drop-away ball and valve system. It makes sure there's always the water in the bowl. Note that the toilet lacks the water tank in the back, unlike most models on the market. This can help save space.
Pros
Fewer moving components to deal with
Easy to install
Water saving
Great for RVs
Cons
Sprayer is a bit awkward
The seat is flimsy
Sale
The first thing worth mentioning is
high efficiency
. This one-piece ultra-efficient toilet saves water by using 1.1 gallons per flush without sacrificing functionality. The flush is quite strong, so you will have peace of mind knowing that waste will be removed completely.
The next thing to point out is the EverClean surface that prevents mold, mildew, and bacteria from collecting on the toilet surface. This ensures that the toilet is odorless and stain-free too.
You will also appreciate a siphon jet technology. Combined with PowerWash rim, it allows you to  cleanse the toilet bowl with every flush. Last but not least, it's important to note that this toilet meets EPA criteria for performance and efficiency.
Pros
Siphon jet bowl technology
High efficiency
Strong flush
EPA WaterSense certified
The Kohler toilet is a good option for those looking for a cheap standard-height toilet that works well and looks nice. It's particularly suitable for small bathrooms.
It features a 12″ round bowl, which allows most people to use the toilet comfortably. The bowl is made from white porcelain that is not only sleek but also very durable.
While it's not extremely water-efficient, this affordable toilet can flush the waste just fine. Being referred to as a class Five (R) toilet, it is proven to provide plenty of flushing power. That's why it never clogs.
Lastly, this toilet is provided with pre-installed tank bolts. This makes it easier to install the toilet.
Pros
Good flushing power
Easy to install
Looks nice
Fairly durable
Cons
When flushing, the handle should be held down for a prolonged time
Not so efficient
Toilets Under $200 Buying Guide
Before making a purchase, you should understand the basics of toilets. Make your choice based on the following considerations.
Durability: You will want a toilet that will last you a lifetime. So take the time to check the materials used and finishes as well. They both play an important role in making the loo remain sturdy over time.
Comfort: Obviously, you will want to feel comfortable while using a toilet. Keep in mind that you'll be using your very day toilet for years. That's why comfort should be high on the list of your priorities.
Seat: The toilet seat is an important accessory you should include in your research. Remember that many toilets don't come with a seat. While cheaper toilets usually come with the standard plastic seat, there are also soft close, padded, and heated options.
Rim cleaning: Look for brands that cater to effective cleaning requirements. Some toilet rims have holes that let water pump through, thereby giving an effective cleaning. Others are designed in such a way that water directly flows into the bowl.
Bowl and tank: Traditional toilets typically come in two pieces – tank and bowl. They are more affordable than 1-piece models. While elongated bowls offer more space when sitting, round toilets are better priced in most cases.
Installation: Most toilets are easy to install, so you are likely to get it done yourself by following manufacturers' directions. Sometimes tank bolts are pre-installed to reduce installation time. Nevertheless, many people choose to hire a plumber to avoid messing around with water connections.
Tips on How to Install a Toilet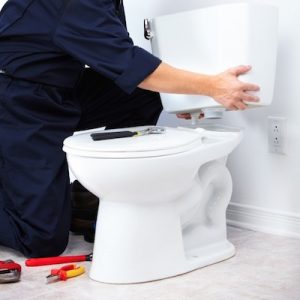 Even though installation is a no-brainer, it's best to leave this job to an experienced plumber. It is especially advised if you've never dealt with toilets before. If you still want to do it on your own, follow these tips:
Ensure secure fit – Make sure the toilet bolts match the anchor bolts on the floor in your bathroom.
Connect pipes properly – You also need to ensure that the tubing underneath the bowl fits the wastewater pipe under the toilet.
Hook up water to the toilet – Finally, you should bring clean water into your toilet. You can do it by connecting the tubing or water supply. The water supply line is supposed to connect to the toilet tank and your home water supply too.
Toilet Cleaning and Maintenance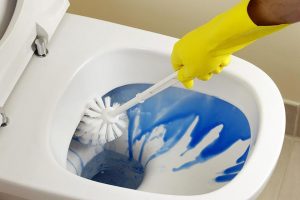 Like other heavy-use home appliances and fixtures, the toilets require regular maintenance and cleaning. This involves cleaning inside and outside the bowl, as well as maintaining a clean bowl.
Rather than cleaning up a big mess from time to time, you need to keep up with maintenance and cleaning regularly. This way you will avoid a huge mess and keep your toilet in good working condition.
As for the toilet cleaners, toilet bowl cleaner tablets can do a good job of keeping your toilet hygienic. They ensure that the water is clean all the time while keeping the bowl immaculate. A toilet brush and baking soda come in handy here.
User Feedback & Reviews: What People Said
It is always a good idea to read through user reviews before buying something. The same is true for toilets. So, let's see what people said about toilets.
Common Complaints
Honestly, most toilets do not come with a lot of significant problems. Water wastage is one of the most common concerns, though. Dual-flushing and cyclone toilets are designed to address this problem by saving water wherever possible.
Another difficulty some users face is a clogged toilet. That being said, you should choose a toilet that provides a powerful flush to save yourself the hassle of unclogging a toilet. Yet make sure it is water efficient at the same time.
Most Common Praises
When it comes to positive reviews, many people say that the toilets are easy to install and maintain. Aside from this, they often to speak positively about the minimalist look of a small tank and the flushing mechanism.
Even the cheaper options flush quickly and look nice. They are usually a bit smaller, but many people find it perfect for small bathrooms.
What Is the Best Toilet Under $200?
Now that you know what to look for when buying a toilet, you can make an informed decision. If you are on a budget, you may have difficulty finding great value for your money. That's because the best toilets usually go from $250 to $500.
As you could see, there's a decent number of good toilet options under 200 dollars. While they are not as sophisticated as more expensive toilets, performance and functionality are not compromised.
We recommend buying toilets from reputable companies such as Toto, American Standard and Kohler, as you can't go wrong with them.
But, if you opt for another option, make sure it is water-efficient and capable of flushing down both solid and liquid waste.