TOTO Aquia Toilet Review – Is It The Most Classy Two Piece Toilet?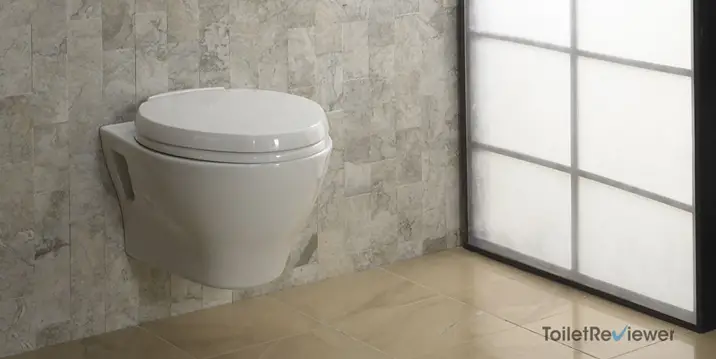 With its close-coupled two-piece design, the Toto Aquia is a high-efficiency toilet like its sister, the Toto Drake II. However, the Aquia is the luxury edition with features not found on the Drake II model.
Like the Toto Drake II, The Aquia has efficient solids flushing with its double cyclone flushing with dual-max flush technology.
The Aquia's Universal height and seat shape mean it meets the American Disabilities Act (ADA) specifications. However, due to button flushing instead of a lever, the Aquia isn't fully ADA compliant.
Read more about the Toto Aquia details in our review below.
Toto Aquia Toilet Review – Quick Overview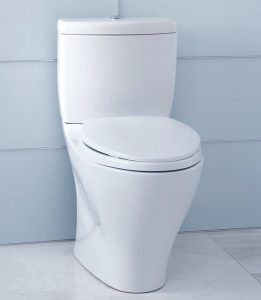 Toto Aquia toilet two-piece toilet design is ideal for small bathrooms. This compact yet durable modern toilet is affordable and comes in a variety of colors.
Such colors include the Cotton White, Colonial White, Sedona Beige, and Ebony.
The two chrome buttons on top of the tank activate the high-power dual-max flushing system, efficiently moving solid and liquid waste.
The Toto Aquia Toilet Is Quite Classy
The small tank of the Aquia adds a classy style to any bathroom. High gloss CeFIONtect finish enhances the Aquia's stylish look while improving cleaning and disinfecting maintenance. A single push of the flush button helps keep the toilet bowl sparkling clean.
Besides durability and convenience, the Toto Aquia competes with other high-efficiency toilets. With its 0.9 or 1.6 gallons per flush, depending on the button used, Aquia reduces water consumption and saves you money.
A 15.25-inch Universal height means this toilet meets most of the ADA compliance requirements. Only the push button instead of lever flushing keeps the Aquia from being fully compliant.
Specifications of the Toto Aquia Toilet
| | |
| --- | --- |
| Model Number | CST412MFNo.11 |
| Dimensions | 31.25 x 15.38 x 27.5-Inches |
| Rough-In Size | 12-Inches |
| Weight | 110-Pounds |
| Bowl Shape | Elongated |
| Seat Height | Universal |
| Water Consumption | 1.6 GPF |
| Color Choices | Cotton, Colonial White, Bone, Ebony, Sedona Beige |
| Warranty | 1-Year Limited |
Features of the Toto Aquia Toilet
This two-piece toilet has a design perfect for small and tight spaces. The Aquia is compact and elegant, fitting stylishly in any bathroom and comes loaded with great features.
Aquia is simple to use and clean yet provides the user with comfortable seating. Below are some of the Toto Aquia's best features.
Toilet Design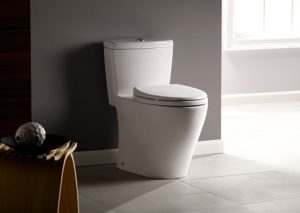 The two-piece Toto Aquia toilet has a small, compact design, making it perfect for smaller bathrooms and powder rooms.
Being a lightweight toilet with a 30-pound base and 60-pound tank, the Aquia is easy to move, place and install. This toilet is also perfect as a corner toilet.
Aquia's sleek modern design has a smooth, glossy finish that's easy to clean thanks to its SanaGloss or CeFIONtect finish. The high-tech, ultra-smooth glaze prevents solid waste from sticking to the bowl surface.
The Aquia Comes In Various Colors
Like other Toto products, you get a variety of color choices to pair with most bathroom color schemes. The Aquia comes in Cotton, Colonial White, Bone, Ebony, and Sedona Beige with Ebony not available in CeFIONtect (SanaGloss) glaze.
A semi-skirted base has the look of a skirted design without the interference with the wall water supply pipe. Made from vitreous china, the Aquia features a chrome, dual button flush on the tank top.
As with any toilet design, there are some flaws. In the case of the Aquia, the two-piece design can be problematic.
While it's rare and usually preventable, the two-piece toilet has a higher risk of leaks between the bowl and tank.
Bowl Shape
The elongated bowl is what many users consider one of Toto Aquia's best features. Not only does the bowl style make it easy to use the toilet, but it gives maximum seating comfort.
Health care professionals recommend the elongated bowl for the elderly or those suffering from disabilities or back problems. The bowl style helps support the thighs and distribute body weight evenly, providing users with optimal comfort.
Besides providing added user comfort, the elongated style bowl has a larger holding capacity, making clogging and overflow less risky.
Seat Height
Toto Aquia two-piece toilet has a Universal height, making it partially ADA standards compliant.
The only thing keeping the Aquia from being completely compliant is the two-button flushing system instead of lever flushing.
The total bowl height is 15.25-inches making it more comfortable for taller adults and the elderly.
As with all drake toilets, the Aquia does not include a seat which you must buy separately. Most standard elongated seats work with the Toto Aquia toilet.
Flushing System Design
The dual-max flushing system makes the Toto Aquia a best water-efficient toilet available. Dual-max pushes solid waste down the drain with efficiency meeting EPA Water Sense requirements.
A flawless, two-button flush means the Aquia runs quieter than other toilets with less chance of the buttons sticking.
There are many benefits to the dual-max flushing system, including:
Reduced water consumption
Less environmental impact
Lower water bills
Fewer maintenance requirements
You can choose between a half system, or 0.9 gallons per flush or a full 1.6 gallons per flush, depending on your needs.
About the Low Flush Option
However, if you choose the low flush option, it won't always leave the toilet as clean as the higher power option does.
Aquia has a Maximum Performance (MaP) score of 500 out of 1,000. A lower MaP score means the solid waste cleaning isn't as efficient as professionally tested single flush toilets.
But most owners agree, once you learn how long to hold down the buttons, using the Toto Aquia gets easier. With a dual button toilet, you can't push and release like with a traditional flushing toilet.
You must hold down the solid waste button for about 5 seconds for a complete, bowl-cleaning flush. Even after 5 seconds, you may not get a completely clean bowl, and it needs a second flush.
Even though the two buttons flush system doesn't clean as well, the semi-skirted bowl helps boost the cleaning power.
Water Consumption
With the Toto Aquia's low water consumption, you can use the toilet in any city or state. The compact toilet uses little water during flushing meeting the EPA Water Sense certification of 1.6 gallons max per flush.
Older traditional toilets use 6-gallons of water per flush, on average making them a huge water waster. The federal government sets GPF requirements at 1.6 gallons for any toilets manufactured and installed.
The Toto Aquia exceeds the federal 1.6 GPF standard with a 1.28 GPF water consumption. Aquia's lower water consumption makes it eligible for utility provider rebates in certain locations.
Cleaning and Maintenance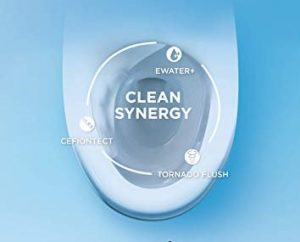 With a powerful flushing system and semi-skirted design, the Aquia is easier to maintain and clean than many standard toilets.
By quickly and efficiently removing solid waste you spend less time cleaning.
The elongated shape helps with quicker bowl cleaning, and the CeFIONtect finish keeps buildup to a minimum. A small amount of cleaner and disinfectant helps keep your Aquia sparkling.
High-quality vitreous china and chrome buttons add to the durability of the Toto Aquia. With little chance of breakage and fewer clogs, the Aquia is a good investment for years of continual use.
Toilet Installation
As with other Toto products, the Aquia installation is fairly basic, requiring a few DIY skills and simple tools.
If you can turn screws and your piping is in place, you do not need to hire a professional plumber. An approximate 12-inch rough-in size, connecting from the waste pipe center to the wall makes installation easy and quick.
The compact size and two-piece design mean the toilet is lighter and easier to move, place and install. Everything you need to install your toilet, except for tools and a seat, comes in the box.
Toto's Warranty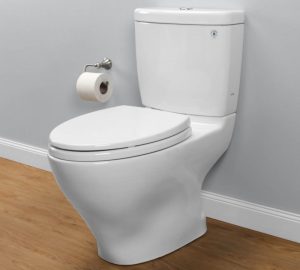 Like most toilets available on the market, the Toto Aquia comes with a standard, one-year limited warranty.
Being a top brand, Toto has a firm belief in their products standing up and performing well over time.
Even through heavy use, Toto continues to perform with few issues. The Toto top performance is what makes it a top scorer with a high satisfaction rate among its loyal customers.
Price for the Toto Aquia
This particular Toto toilet model comes in at the mid-range in pricing. While the price is higher, it has some nice features to justify paying more.
Like with all Toto products, you get a great value for your money compared to other toilet brands. The high Aquia price gives you water efficiency, sturdier and sleeker finishes, and superb quality.
By spending more on a Toto product, you get the company's strict quality control practiced on their entire product lineup. Toto never offers defective models at a discounted price or a separate builder's grade product.
This attention to product quality means you always get a high-standard finished item.
Pros & Cons of the Toto Aquia Toilets
Like anything else, the Toto Aquia has a few pros and cons. Here are some of the ones that we feel are the most important.
Pros
Contemporary and sleek design
Several color choices
Small and compact to fit most bathrooms
Dual-max flushing system for lower water consumption
Two-button flushing 1.6 GPF and 0.9 GPF
Quiet operation
Meets federal and EPA standards
Elongated, semi-skirted bowl
Universal height
Meets most of the Americans with Disabilities Act (ADA) standards
Easy to clean CeFIONtect (SanaGloss) finish
Easy installation
Cons
Two-button flush is less powerful than a single lever
More expensive than other options
Doesn't completely comply with ADA standards
1-year limited warranty
Two-piece design is harder to clean
May not be suitable for small children's rooms
Ready to Buy the TOTO Aquia Toilet?
Toto Aquia's sleek contemporary design makes it the perfect addition to any home. The small compact size takes up little space and works well in smaller powder rooms and bathrooms.
However, we don't recommend placing this toilet in younger children's rooms. The Aquia, with its dual-flush mechanism, meets all your basic requirements while saving water and money.
You may need to replace the dual-flush button more frequently than a regular flushing mechanism. If button replacement is not an issue, then the price you pay for the Aquia is money well spent.
Finally, check out our latest guide on how to paint behind the toilet, as many TOTO toilet owners face this dilemma.
Summary
Reviewer
Review Date
Reviewed Item
Author Rating