TOTO Drake II Review – Is It Really a High Efficiency Choice?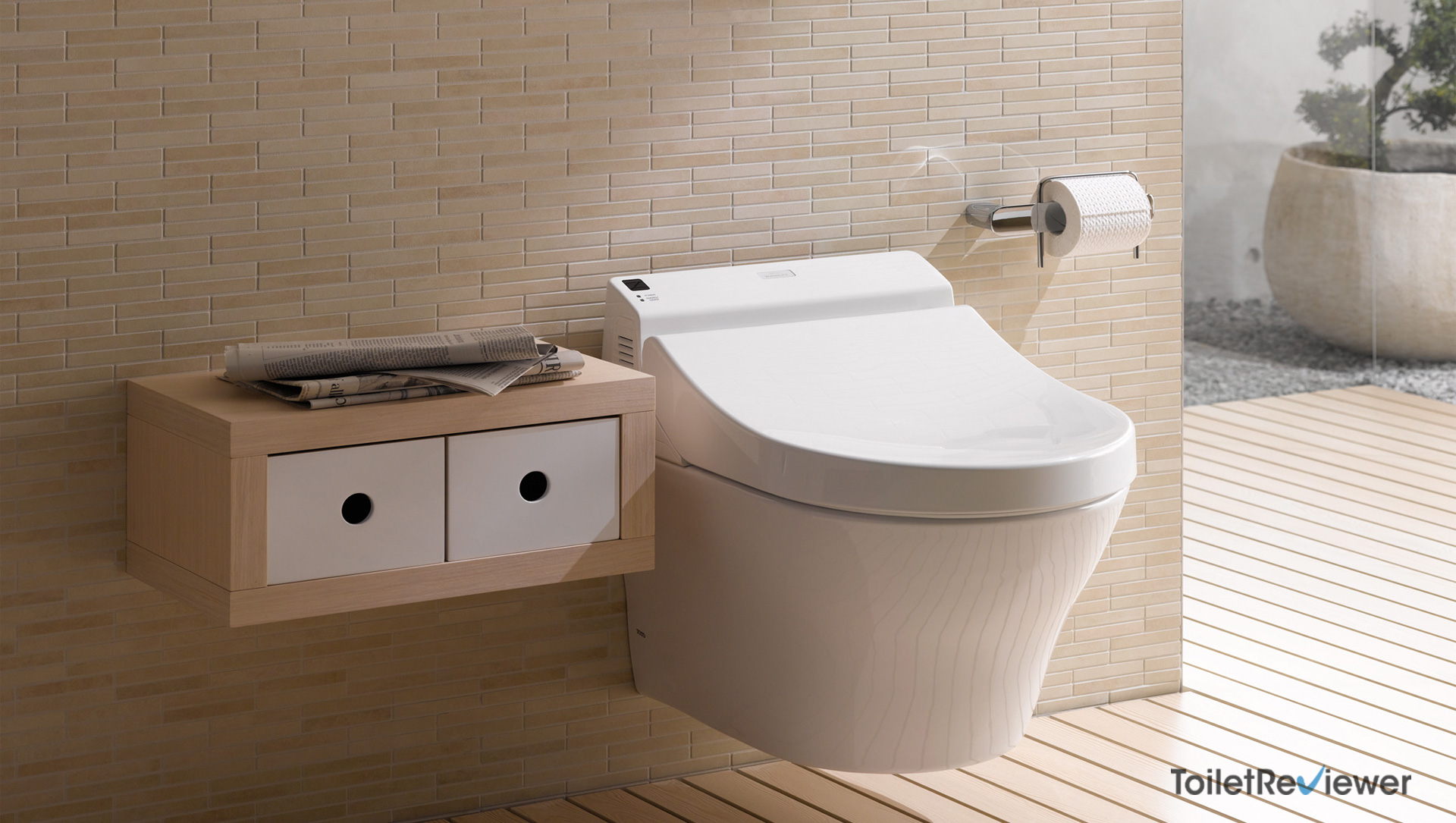 With high quality and efficient solids flushing, the Toto Drake II is a top choice in water-saving toilets. Coming in towards the top of the performance list of TOTO toilets, Drake II is also one of the least expensive.
Professional plumbers and customers alike, call the TOTO Drake II the best two-piece toilet available. TOTO's double cyclone flushing technology, tall seat level, and high profile tank, make the Drake II a top pick.
Let our in-depth review help you determine if the Drake II is your best choice for a high-efficiency toilet.
Reviewing the TOTO Drake II Toilet
The Toto Drake II enters the market as the improved model of the Toto Drake two-piece toilet.
While the basic Toto Drake is still a great toilet choice, the classier Drake II offers more advanced features.
After two years on the market, the Drake II has a continual popularity growth. The original Drake model still serves as a popular basic workhorse two-piece toilet, but Drake II offers more.
SanaGloss, Toto's signature glazed finish, gives the Drake II a high-end finish like toilets at twice the price.
Toto Drake II Boasts Some Impressive Features
But Drake II's new features don't stop at cosmetics. A better bowl wash for solids and improved water conservation goes beyond satisfying consumer expectations.
Besides the new features, add a century of reliability with top-of-the-line products, and the Drake II satisfies your bathroom needs.
The ADA compliant Toto Drake II toilet comes in a variety of versions. In this review, we are covering the most popular version, the CST454, elongated bowl with SanaGloss 1.28 GPF.
The standard Drake II has a left-handed trip lever while the Drake II ADA has a right-hand trip lever. While the standard and the ADA have slight differences, the functionality and build are the same.
Specifications of the Toto Drake II Toilet
| | |
| --- | --- |
| Model Number | CST454CEFG |
| Dimensions | 28.8 x 16.5 x 29.4-Inches |
| Rough-In Size | 12-Inches |
| Weight | 69.8 Pounds |
| Bowl Shape | Elongated |
| Seat Height | Universal |
| Water Consumption | 1.28 GPF |
| Color Choices | Cotton, Colonial White, Bone, Ebony, Sedona Beige |
| Warranty | 1-Year Limited |
Features of the Toto Drake II Toilet
With all the features of the Toto Drake II toilet, there aren't many negatives to list. The design is clean and contemporary and fits most decors, and it comes at an affordable price.
Here are a few of the features that make the Toto Drake II toilet a great option for any bathroom.
Toilet Design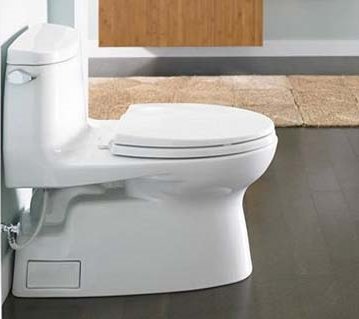 The two-piece Toto Drake II combines a high profile tank with an elongated bowl for a sleek, smooth flowing design.
Toto's SanaGloss or CeFIONtect finish gives Drake II a smooth, glossy look making any bathroom look modern and elegant.
All the Toto toilets feature  SanaGloss or commonly CeFIONtect glaze, except for a couple of lower end Toto models.
This high-tech glaze is ultra-smooth and keeps waste from sticking to the surface. The Ebony color is the exception and comes in standard glaze only.
Toto Drake II's Measurements
A slim tank measuring 28.8 x 16.5 x 29.4-inches means it takes up less space than most elongated bowl toilets.
Toto gives their Drake II and Vespin II this slimline tank with the Vespin sporting a skirted bowl. Since the rim is a no-hole design, the Drake II stays cleaner and has a seamless design.
No matter your bathroom color, Toto gives you a variety of colors to choose for your new toilet. The Drake II comes in Cotton, Colonial White, Bone, Ebony, and Sedona Beige, something for every bathroom color scheme.
However, every toilet design has its flaws. While the two-piece design makes the Drake II easier to move, it also makes it harder to keep clean.
Plus, as with all two-part toilets, you have a risk of leaking between the tank and bowl. But, this problem is rare and usually preventable.
Bowl Shape
Perhaps the best feature of the Toto Drake II is the bowl shape. An elongated design makes the toilet easy to use while providing maximum comfort.
Doctors and other health care professionals recommend elongated bowls for people with back problems, disabilities, or the elderly.
The elongated bowl has extra space that helps support thighs while evenly distributing body weight for optimal comfort.
Besides user comfort, the elongated bowl has a larger capacity for reducing clogging and overflow risk. However, if you have space constraints, Drake II also comes in a round bowl design.
Seat Height
Toto Drake II is a Universal height toilet that meets the Americans with Disabilities Act (ADA) standards. The total, 16-inch bowl height means more comfort for the elderly, taller, and most adults.
The height is great for master baths, but it might be too tall for a child's room or guest baths.
The Drake II doesn't include the toilet seat, but most standard elongated seats fit.
Flushing System Design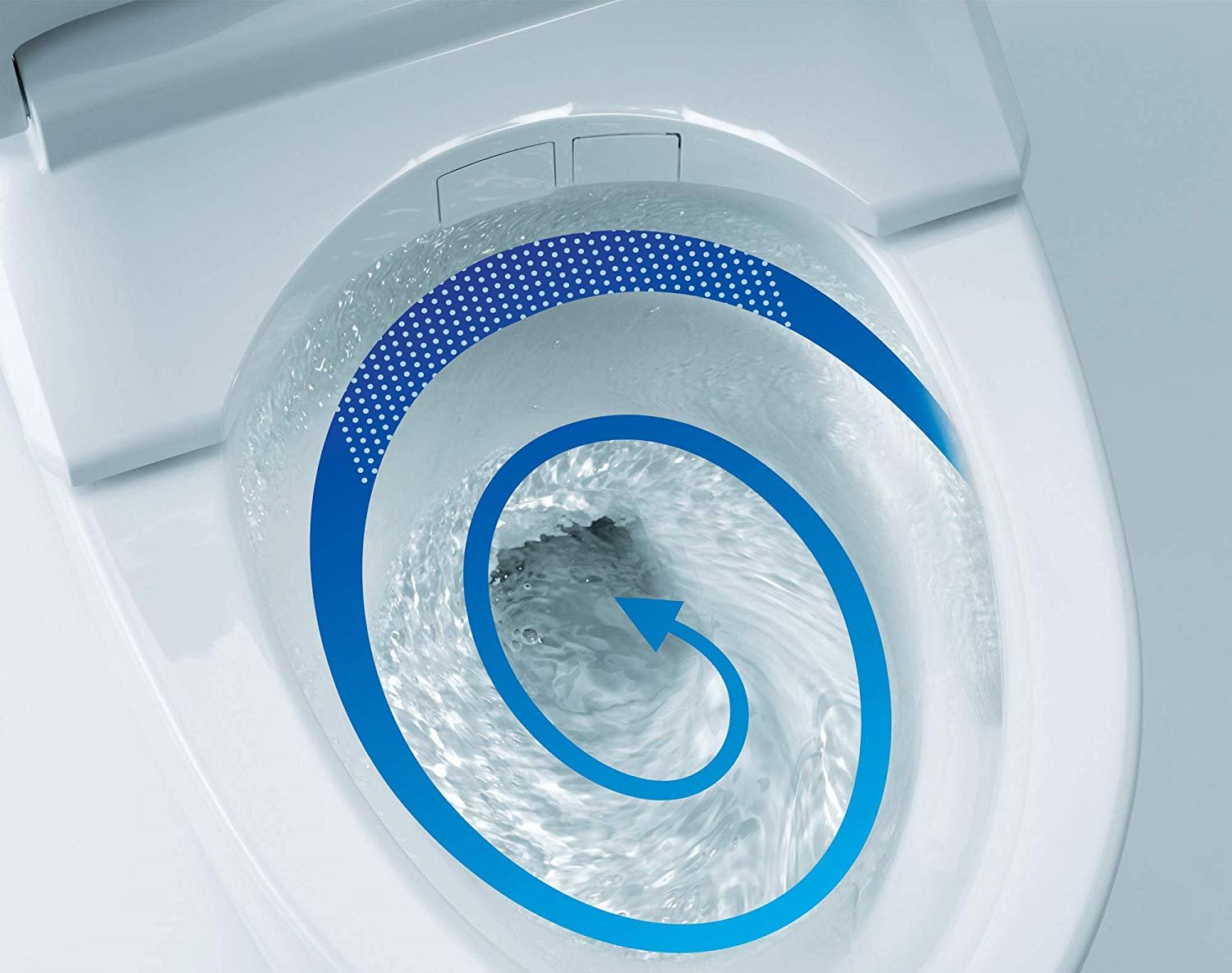 The computer-designed trap-way of the Drake II is wide at 2-1/8-inches. This wide design means any waste gets flushed without clogging.
Toto even tests their trap-way design, showing that small objects or toys accidentally dropped in can flush.
The Drake II and its high-tech flushing efficiently flush the waste away. The unique design of the Drake II flushing system uses natural gravity for full force flushing.
Innovative double cyclone flushing consists of two mini water cyclones working at once to create a whirlpool in the bowl.
One of the Best Flushing Systems Out There
Without rim holes, tank water speeds to the bowl and uses a strong force to push waste down the drain.
With the innovative double cyclone, Drake II not only flushes better but flushes faster. The successful action of the Drake II flushing scored an 800 MAP in testing.
The double cyclone, gravity, and a tower-flush mechanism create a clean and powerful flush using less water.
Drake II's high-power flushing system lacks a dual flushing ability and has an average noise level. It's not extremely loud, but it's not quiet either. You also get some noise while the tank refills.
Water Consumption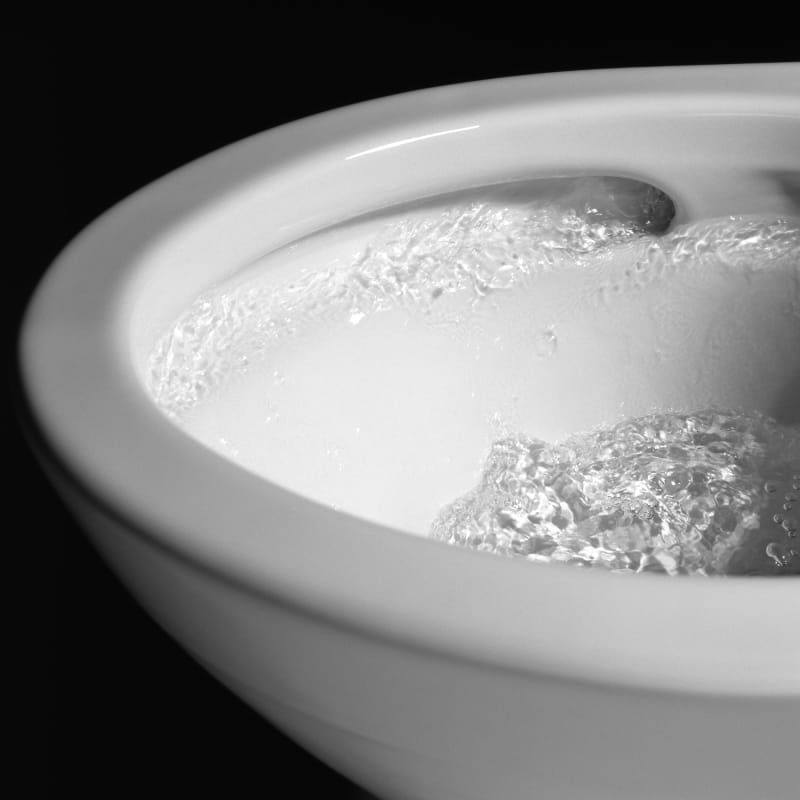 Traditional older toilets consume, on average, 6-gallons of water each flush. By today's standards, this is too much-wasted water.
The federal government issued standard requirements for all toilets manufactured and installed.
The Gallons per Flush (GPF) standard set by the government is 1.6 gallons, or less, each flush.
Even More Efficient Than Industry Standards
Toto's Drake II has a GPF rate of only 1.28 gallons for solid and liquid waste flushing. Drake II's low GPF rate is 20% less than government standards. This low 1.28 GPF also meets the EPA WaterSense strict toilet flush standards as well as stricter state standards.
One of the biggest problems with today's water-efficient toilets is the need for double and triple flushing at times. However, Toto solves this problem with its "flush once" cyclone flushing system.
The Drake toilet models use less water and are more efficient than most dual flush toilets available. Toto continues improving water efficiency and recently released a 1.0 GPF version, not widely available yet.
Cleaning and Maintenance
The high-efficiency Drake II cleans with each flush with customers reporting little to no clogging or skid marks. With an almost self-cleaning ability, the Drake II requires less cleaning maintenance with a better user experience overall.
Toilet Installation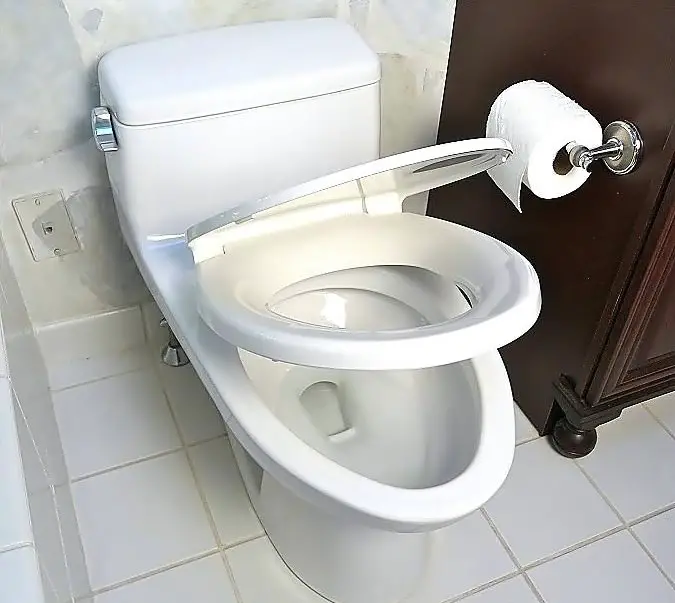 The installation for Toto's Drake is pretty basic, only requiring light experience and simple hand tools.
Anyone with basic DIY skills can install the Drake II with its standard 12-inch rough-in from wall to waste pipe center.
Since the Drake II is a 2-part toilet, with separate bowl and tank, it's easy to move, place, and install. You get everything you need for installation except for the tools and the seat which you purchase separately.
Toto Warranty
The Toto Drake II comes with a one-year limited warranty, which is a short-term warranty and fairly standard across the market.
However, Toto is a top brand that believes in the ability of its products standing up to heavy use. Toto continually receives 5-star reviews with a high satisfaction rate.
TOTO Drake II Price
The Toto Drake II commands a higher price than most two-piece toilets. However, you get a better value for the money compared with other popular brand toilet models.
While you may pay less with other brands, the finish, quality, and water efficiency isn't as good.
Spending less isn't always the best choice. Toto practices stricter quality control than many of the best-selling toilet brands.
You won't find discounted defective models or builder grade toilets from Toto. By practicing good quality control, you have the assurance Toto delivers an above standard finished product.
Benefits & Drawbacks of the Toto Drake II Toilet
As with anything we buy, it comes with pros and cons. It's up to the consumer to decide what is most important.
Top Benefits
High-quality product
Strong recommendations from professional plumbers and consumers
Efficient, meeting federal and EPA guidelines
Environmentally friendly
High flushing performance
Double cyclone flushing system for efficiency
CeFIONtect (SanaGloss) glaze for a smooth finish and easy cleaning
Elongated comfort bowl
The Universal height that meets Americans with Disabilities Act (ADA) standards
Slim profile and contemporary design
Color choices
Easy to install
Some Drawbacks
Noisier than two flush systems
No dual flushing
Solid and liquid waste uses the same water amount
Two-piece toilet design is harder to keep clean
Tall seat height is difficult for small children and some adults
Higher price than basic, entry-level two-piece toilets
Other TOTO Toilets to Consider
Ready to Buy the Toto Drake II?
If the higher price isn't an issue, then the Toto Drake II toilet is the best two-piece efficiency toilet available. Drake II gives you a good basic efficiency toilet with high-quality finishes and extremely effective flushing ability.
However, Drake II comes with some downsides like a higher noise level and the taller Universal height seat. Depending on the location of the new toilet, these cons may or may not be an issue for you.
The Drake II does a great job of taking care of basic requirements you expect from a standard high-efficiency toilet. With its double cyclone flushing and extra-wide trap way, the Drake II is a good option.
Summary
Reviewer
Review Date
Reviewed Item
Author Rating