Toto Washlet C200 Review – Is It The Best Mid-Range Bidet?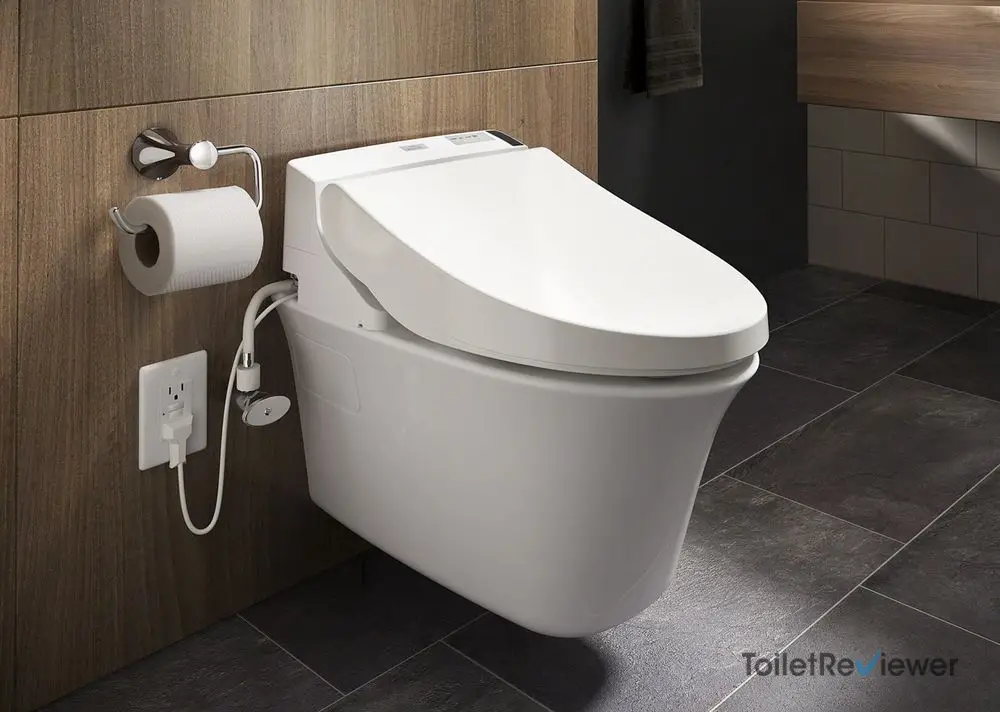 Best known for manufacturing top-performing toilets, TOTO also has an impressive lineup of luxury bidet toilet seats.
The newest TOTO mid-range seat, the C200 Washlet, comes with all the features you expect from an affordable bidet seat.
In this guide, we'll review these features, along with the benefits and drawbacks of this model.
Toto C200 Washlet Review – Quick Facts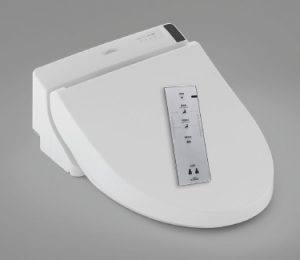 When it comes to personal cleansing, nothing works better than a bidet.
However, the benefits of a bidet's use don't stop there. Bidets also provide benefits far beyond the basic self-care.
Conserves toilet paper and water use
Water use means a more effective cleansing
Gentle and therapeutic for the skin
Less toilet paper means safer for septic and sewer systems
Cost-effective
The C200 has a contemporary streamlined look and comes loaded with features in an affordable Washlet model.
A forward or backward nozzle position gives you an adjustable water stream to conform to your body. For a broader wash area coverage, the C200 nozzle has an oscillating feature.
Top Features for the Toto C200
Water temperature and pressure adjustments make the wash even more effective. A reservoir water tank heating system, heated seat and warm air dryer make the C200 comfortable to use.
For added convenience, the wireless remote control provides easy to see and access operation buttons.
The remote comes with presets for two users and a wall mounting kit for an easy remote access location. A new rectangle shape means added comfort when holding the remote.
Other features included with the Toto C200 is a self-rinsing spray nozzle, pre-mist bowl spray, and built-in deodorizer. The energy saver mode and soft closing lid and seat round out the C200's set of robust features.
Specifications of the Toto C200 Washlet Bidet Seat
| | |
| --- | --- |
| Model Number | SW2043#0-Round SW2044#01-Elongated |
| Dimensions | 18.875 x 15.375 x 7.375-Round 23.5 x 19 x 9-Elongated |
| Weight | 16 – Pounds |
| Material | Plastic |
| Seat Shape | Round or Elongated |
| Power Cord Length | 3.94-Feet |
| Bidet Spray Type | Vertical |
| Color Choices | Cotton White, Sedona Beige |
| Warranty | 1-Year Limited |
Features of the Toto C200 Washlet Bidet
Most Toto Washlet bidet seats have some of the same features, but each Toto seat performs differently.
Each bidet seat model has its own set of specific features. As the feature complexity differs with each model so does the cost. The C200 falls mid-range on the Toto pricing scale.
In addition to the standard features found on all Toto Washlet models, you also get added luxury features: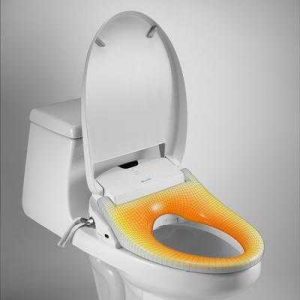 PreMist Water Spray
Oscillating and Pulsating Spray
Warm Water Cleansing
Instant Heated Water
Adjustable Water Temperature
PressureSelect
Rear Soft Spray
Rear Cleanse
Front Cleanse
Self-Cleaning Wand
Variable Temperature Drying Settings
Auto Deodorizer
Auto Open/Close Lid
Night Light
Now that we've covered the main features of the Toto C200 Washlet bidet toilet seat, let's take a closer look.
Toilet Seat Design
The C200 bidet seat has a larger profile than a standard toilet seat. A smooth cover slopes up to the unit rear and is up to 9-inches tall at its highest point.
The elongated seat measures 23.5-inches from front to back and 19-inches across. Slightly smaller, the round-shaped model is 18.875-inches front to back and 15.375-inches across.
Four indicator lights on the seat's right side connect to the corresponding features, power, seat, energy saver, and water. All operation buttons are located on the remote control and not the seat itself, which we discuss below.
To the rear left side of the C200 seat, in a recessed area, is the water and power supply connections. The cubby hole keeps the cords out of sight. An exhaust vent housing the air deodorizer sets on the rear right side of the bidet unit.
Wireless Remote Control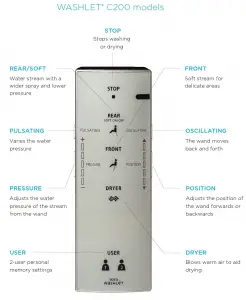 With a smaller, slimline rectangular shape, the Toto C200 Washlet remote is easy to hold and operate.
The wireless remote measures 7-inches long by 2.4-inches wide and includes a magnetized wall mount bracket. Start and operate your C200 while holding the remote in your hand.
Being a two-sided device, the wireless remote has controls on both sides. On the front of the remote, you'll find common functions, while the back has an LCD screen and a menu for user settings.
Function buttons included on the front of the remote are Stop, Rear Wash, Front Wash, Dryer, and two user preset buttons. To the left side is a pulsating wash on and off and water pressure increase and decrease. Along the remote right side are the oscillating wash and water pressure control.
More on the LCD Screen & Remote
The LCD screen on the remote back has a menu setting for adjusting water, seat, and air dryer temperatures. There's also a setting for activating and deactivating other functions including air deodorizer, cleaning, pre-misting, and others. You also have a lockout setting preventing anyone from making adjustments to the settings.
Even though the Toto C200 has a long list of features, the wireless remote is an easy-to-use device. All buttons are clearly labeled with a button placement based on usage.
The LCD menu on the remote back uses navigation arrows with an easily understandable layout. Once programmed, there is little need to make adjustments from the remote back. The intuitive remote design means the more common buttons are where you need them.
Bidet Functions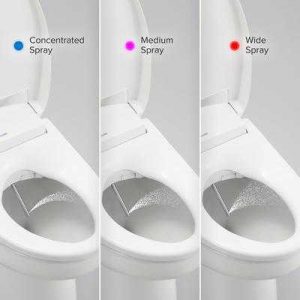 A single, dual-action spray nozzle has a port for feminine spray wash and another port for posterior spray wash.
The adjustable nozzle gives you five different settings for positioning and adjusts when using the front or posterior wash.
Most electric bidets have an adjustable nozzle giving users an effective spray position, a huge advantage over the non-electric bidets. If you like a gentle wash, the rear wash has a soft spray function that delivers a milder water pressure.
Five Adjustable Settings
Besides an adjustable nozzle, the C200 has five adjustable settings for water pressure and water temperature. Heated water temperatures range from about 94° F to a high of 104° F.
One downside to the Toto Washlet C200 is the heated reservoir tank. If you use the heated water wash for a long period, you may use all the warm water.
If you deplete the warm water, it only takes a few minutes to refill the tank and heat the water. To conserve the warm water, just press the stop button.
Another popular feature is the oscillation function where the wash nozzle moves in a back and forth washing motion. This spray function covers a larger cleaning area.
Relaxing and Soothing Wash
Combining the oscillation with the pulse wash gives the user a soothing and therapeutic wash. Anyone suffering from bathroom sensitivity and discomfort can benefit from this bidet function.
The auto open and close, non-slam lid and seat is a favorite feature among Toto Washlet users. A built-in sensor at the back of the bidet seat detects movement and the lid opens when someone approaches. Ninety seconds after getting up, the lid closes automatically.
The sensor also operates an auto nightlight that comes on when approaching and turns off as the lid closes when walking away. A simple press of the remote button and both the seat and lid open and close.
Cleaning and Disinfecting
The pre-misting feature of the Toto C200 Washlet bidet seat coats the toilet bowl when you set down. Pre-misting wets the bowl surface, making it easier for solid waste to slide off the side.
This improves the chance for less sticking. A disadvantage to the C200 is the lack of the second misting with an eWater+ feature for easier cleaning and disinfecting.
Other Luxury Features
The Toto C200 isn't the highest-luxury Washlet, but it has great standard features for a mid-range bidet seat. But, all the Washlet models offer some features you won't find in many standard bidet seats.
Features not found in other seats include:
Wireless remote control with magnetized wall mount
Added softness with the aerated water stream
Adjustable five-position spray nozzle
The spray nozzle is self-cleaning
Adjustable water pressure
Adjustable water temperature
Oscillating wash setting
Pre-mist bowl feature
Warm air drying
Built-in air deodorizer
Heated seat with temperature control
Slow closing lid and seat
Auto on/off night light
Auto power save mode
Self-diagnostic function
Other TOTO Toilets to Consider
Alternatively, you can view our full list of TOTO toilets.
Pros and Cons of the Toto C200 Washlet Bidet Seat
The mid-priced Toto C200 Washlet bidet seat has many quality features and functions not found in other models.
TOTO uses only the highest quality parts for manufacturing all its products, guaranteeing you a great addition to your bathroom. But, as with every other product on the market, the C200 has a list of pros and cons.
Pros
Auto open/close no slam lid
Pre-misting feature
Automatic deodorizer
Slimline remote control
Five-position spray width water nozzle
Self-rinsing nozzle
Oscillating spray function
Adjustable water temperature and water stream force
An adjustable air drying temperature
Adjustable heated seat
Auto night light
Energy Saver
Cons
Higher price, starting around $700
No eWater+
Small hot water reserve
Pulsating function not great
Can't sit on the lid
Best suited for Toto toilets
Difficult installation with measurements in metrics
Extra cost for Toto specific installation parts
Short, 1-year limited warranty
Ready to Buy the TOTO C200 Toilet?
Once you get past the installation process, the Toto C200 Washlet bidet toilet seat adds value to any home.
Bidets give you better hygiene for disease prevention while helping with conditions like constipation, diarrhea, and hemorrhoids. A TOTO Washlet also helps you feel cleaner while being environmentally conscious.
Having a bidet in the home saves you money by lessening toilet paper use and lowering the risk of paper clogs in pipes. Installing a C200 Washlet bidet won't stop all toilet paper use, but it lessens how much paper you use.
However, it's likely using less toilet paper is the reason you're considering a C200; hygiene is the reason.
The intuitive Toto's Washlets have luxury features through continual design improvements for the best cleansing experience possible.
Summary
Reviewer
Review Date
Reviewed Item
Author Rating