TOTO Washlet C100 Review – Is This Bidet Really a Game Changer?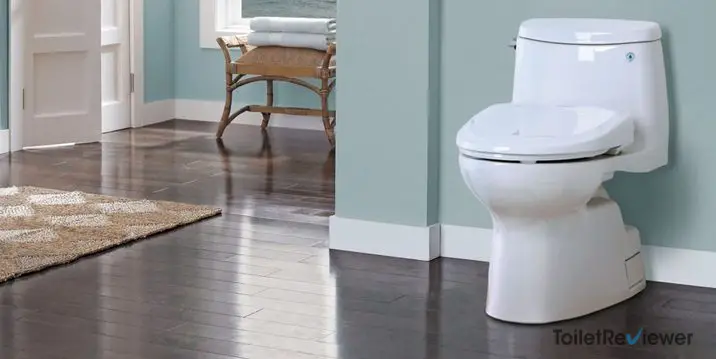 Toto shows itself as a leader in the area of bathroom fixtures, and bidets are no exception.
While the Washlet C100 isn't one of the top models for TOTO, it is the best buy among the entry-level toilet seats. Also, you may want to consider taking a look at the TOTO c200.
In our Washlet C100 review, we'll look into what makes this toilet seat worth the time and money. Our guide lists the features you should consider when buying a bidet toilet seat.
If you want a toilet made by TOTO that offers fantastic features for a worthy investment, the C100 is a good place to start.
TOTO Washlet C100 – Electronic Toilet Seat Review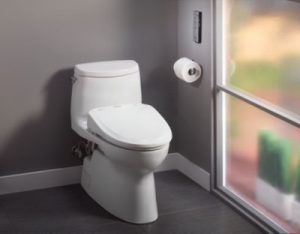 The Toto Washlet C100 electronic toilet seat is one that brings you smart bathroom technology.
Washlet C100's elongated bidet seat offers the perfect balance between quality, style, and price.
A streamlined design with a good variety of included options offers the user a hygienic and refreshing experience.
The seat is a soft close with standard front and rear wash. With a tank reservoir model, you get immediate warm water when you press the button.
Toto stands out from the competition with a control panel that includes warm air dryer, auto deodorizer, and spray controls.
Except possibly having to add an electric outlet by the toilet, the Washlet is easy to install.
Specifications of the Toto Washlet C100 Electronic Toilet Seat
| | |
| --- | --- |
| Model Number | SW2033 or SW2034 |
| Dimensions | 20.875 x 18.8125 x 7.375-Inches |
| Weight | 16 Pounds |
| Material | Plastic |
| Seat Shape | Elongated |
| Power Cord Length | 3.94-Feet |
| Bidet Spray Type | Vertical |
| Color Choices | Cotton White, Sedona Beige |
| Warranty | 1-Year Limited |
Features of the Toto Washlet C100 Toilet Seat
With the features of the Toto Washlet C100, you get a money-saving, environmentally responsible product.
The Washlet reduces the need for toilet paper, saving the trees and water needed to manufacture each roll.
Here we'll go a little deeper into the great features of the Washlet C100 Bidet toilet seat.
Toilet Seat Design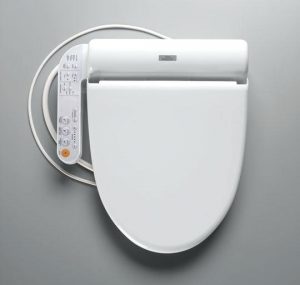 The C100 Washlet is the most basic bidet toilet seat model in the Toto seat lineup. An easy to see control panel sets to your right side when you sit on the toilet.
You have LED lights to indicate use functions and the on / off wand cleaning settings.
Some of the use buttons included on the control panel:
Power
Seat
Water
Energy Saver
Low, Medium, and High Dryer Settings
Front and Rear Wash
Soft Rear Wash
Stop
5 Water Pressure Levels
5 Washing Points Positions
The extensive button list has a slight learning curve, but once learned, the control panel is easy to use.
More About The Seat's Design & Dimensions
Washlet C100 is an elongated toilet seat, about 18.5-inches long from back mounting bolts to the seat front. The seat fits most one or two-piece toilets, but may not fit a one-piece French curve toilet.
The overall size of the C100 is 20 7/8-inches long by 18 13/16- inches wide, including the side control panel.
The Washlet Cl00 only comes in the elongated seat style and two colors; Cotton White and Sedona Beige.
Even though the C100 isn't the greatest looking bidet seat available, it has some great features we'll discuss further.
Customizable Cleansing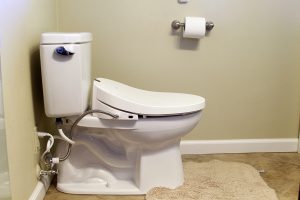 With the customizable Washlet C100, you get three cleansing settings: Front, Soft Rear, and Rear.
The Front spray is a bidet spray setting for women, giving a personal hygiene experience. The Rear spray cleanses with a full spray while the Soft Rear uses mild water pressure for cleaning.
Each of the spray settings includes an oscillating feature, with a back and forth wand motion, that washes more thoroughly.
Customizable cleansing lets you adjust water pressure and wash position by pushing a button on the side control panel. You get five different washing positions and five water pressure choices and nozzle cleaning.
Nozzle, Water Pressure, and Other Features
The nozzle is easy to clean with a wand cleaning feature by pressing the wand cleaning on/off button. The wand also extends for cleaning and has a five-minute auto retraction.
In addition to water position and pressure, you get water temperature adjustment abilities ranging from 95° F to 104° F. Toto recommends 100° F for the ideal cleansing water temperature.
Rounding out the customization list is the C100's customizable air dryer and heated seat. Air adjustments start low at 86° F to high at 140° F.
The heated seat has a temperature adjustment of 82° F to 97° with an energy saver of 79°F. Or you can choose to turn the seat heat function off.
Pre-Mist Function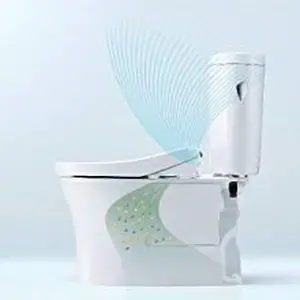 For easier cleaning and an overall cleaner feel, the Toto Washlet C100 comes with a pre-mist function.
As soon as you sit on the C100 seat, a mist sprays around the inside of the toilet bowl.
This pre-misting action makes it easier for solid waste to slide off the surface without adhering to the bowl sides.
Pre-mist helps aid the cleaning process which means less bowl scrubbing, and it turns off and on as you need it.
There's no hot water supply to plumb in since the toilet seat heats the water for you. But, you do need an electrical outlet near the toilet.
Passive Functions
One of the things consumers seem to like best about the Toto Washlet C100 is its passive use features.
These passive features add functions you won't find on a standard bidet toilet. Passive features are the small things that give your bathroom experience a luxurious feeling.
Features like:
Soft close lid and seat mean no more loud banging lid that constantly falls
A 24/7 heated seat that stays warm, so it's ready whenever you are
Energy Saver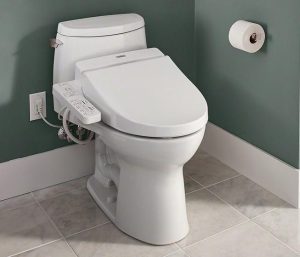 The Energy Saver is a feature unique to Toto bidet toilet seats.
Energy Saver conserves energy during times of infrequent use like bedtime and daytime hours when everyone's gone.
The Saver is a smart function that automatically determines less frequent and no use periods. Your seat uses a learning period of about ten days before it recognizes toilet use habits.
Once the C100 learns, your seat automatically launches into energy saving mode as long as the feature is turned on. During times of less use, the C100 automatically goes into Energy Saver mode and lowers the seat temperature.
Smart Technology for When You're Not Using the Toilet
During no use periods, both the water heating element and the heated seat turn themselves off. If someone uses the toilet during Energy Saver mode, the warm water and seat heaters turn back on.
However, it takes 10 and 15 minutes, for them to get warm. It's easy to determine if your Energy Saver mode is on by looking at the control panel display.
You get a green LED light when the Energy Saver is turned on. Once the Washlet seat enters Energy Saver mode, you get an orange LED light.
Deodorizer
The Toto Washlet C100 comes with a built-in deodorizer, a great feature for an introductory priced bidet toilet seat.
Automatic deodorization function starts the moment you sit down, then stops two minutes after you get up. If you want control over deodorization, you can turn the feature off or on whenever you prefer.
The deodorizer comes with an easy to clean the filter. Toto recommends cleaning the filter monthly. You can find the deodorizer filter on the right side of the toilet seat. Clean the filter by unplugging the power and removing the filter.
Using a soft bristle toothbrush, scrub the entire filter area. Let the filter set until completely dry then plug the power cord back in. Cleaning the filter is simple, straightforward, and easily done.
Why Buy the Toto Washlet C100 Bidet Toilet Seat?
Buying a bidet toilet seat is a big investment.
Being a frequent use item, you want to make sure your bidet seat lasts for many years.
You also need a bidet seat that matches your needs.
Here are a few reasons for buying a Toto Washlet C100 bidet toilet seat:
A heated seat with warm water and customized cleaning options
You prefer a control panel with smart technology
Control panel should attach to the toilet seat
Your bidet seat should help you save energy
Easy to clean and odor free toilet
Warm air dryer for minimizing toilet paper use
A price point under $500
Some Pros and Cons of the Toto Washlet C100 Bidet Seat
Like any other product, the Toto Washlet C100 bidet seat has a set of pros and cons. Below is a listing of what we feel are C100's best and not so great features.
Pros
Heated water and seat
Energy Saver option with smart learning
Lowers seat and water temperature during low use periods like bedtime
Turns heat to seat and water off during periods of no use
Easy to install with an approximate 20-minute installation time
Cons
No pulsating or message cleansing
Can't completely turn off unit without unplugging it
Reservoir tank very large at 7.3-inches high
Some reports of inadequate room for connecting t-fitting to the toilet tank
Some toilets may not accommodate the C100 seat
Not the nicest looking seat with its bulky profile
Ready to Buy the TOTO C100 Toilet?
If you want a feature-loaded bidet toilet seat at a reasonable price, the Toto Washlet C100 is the answer.
Jampacked with what customers want, the C100 comes from the company that invented the luxury bathroom appliance.
The C100 comes with multiple washing settings and a pre-mist bowl setting not found in most bidet seats.
Other sought-after features including the effective deodorizer make this a seat with a long list of robust features.
Even without a massage function, we believe that the C100 is a great investment.
Summary
Reviewer
Review Date
Reviewed Item
Author Rating