7 Best Portable Camping Toilets – (Reviews & Buyer's Guide 2021)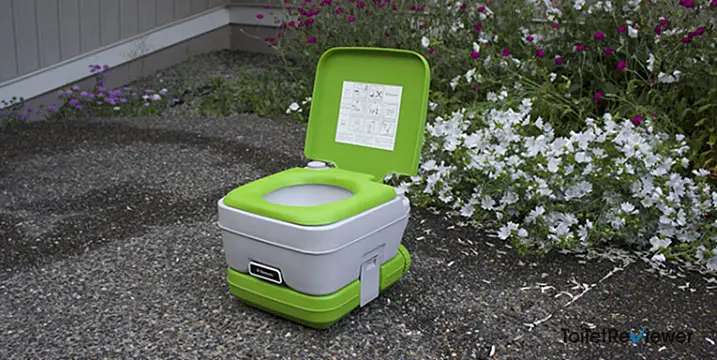 A portable camping toilet, also known as a portable camping latrine, is a toilet that has everything it needs to function built in. The best portable camping toilet will be very durable, have a large seat, and will have a detachable storage tank.

When traveling, hiking, or camping, it's always best to dispose of your waste in a sanitary manner. If you get a portable camping toilet, you will be able to properly dispose of your waste, and drastically increase the quality of your outdoor experience. 

Finding the right portable toilet can be difficult. There are lots of details to take into consideration, such as tank size, price, and weight. It's important to consider the toilet's stability and build quality. We found and organized all of this information for you.

In this article, we will be taking a look at all the top rated portable camping toilets. All of the toilets in this review will allow you to bring your bathroom with you, whether you are an avid outdoorsman, or you are just going on an annual camping trip.
Comparing The Best Portable Camping Toilets
Camco Premium Portable Travel Toilet | 2.6 gallon | Three Directional Flush and Swivel Dumping Elbow (41535), White
Detachable Holding Tank: 2.6-gallon holding tank is detachable for easy emptying
Prevents Leaks and Odors: Holding tank seals firmly to prevent escaping leaks and odors
Pump Flush: Fresh water holding tank uses a pump flush action to effectively rinse the bowl of the toilet; Flush Capacity: 4-gallons
Durable Construction: Made of durable ABS resin
Size: Measures 13 5/8-inches (H) x 16 5/16-inches (W) x 18 5/8-inches (D); The outside width of the seat measures 12 5/8-inches the inside width is 8 13/32-inches
This portable toilet is manufactured by one of the most renowned and respected brands in the industry – Camco.
Like many of the other products by this manufacturer, the Camco 41535 Premium Portable Travel Toilet has several unique features and capabilities to offer.
Compared to its competition, this product features a larger seat, as well as an increased bowl size.
However, these are not the only things that make this Camco product one of the best portable toilets today.
Here are some other great features of the 41535 premium portable travel toilet:
Intuitive Waste Tank
As you will learn later in this guide, the waste storage tank is the most important component of any flushable portable toilet. To begin with, the waste storage tank used on this product is detachable. This makes the toilet relatively easy to empty once the waste tank is full.
The detachable tank on this product may not be that large, but it seals firmly to prevent odor from leaking out of the tank. The storage tank on this Camco toilet can hold up to 2.6 gallons of waste.
This means that the product is lightweight and portable, even with a full tank. For easy cleaning and more efficient emptying of the tank, the interior of this detachable tank features a glossy surface.
Effective Latch Mechanism
The manufacturer uses a latch mechanism that is comparatively easy to operate and highly secure. This makes the latch system used to secure the detachable tank on this product easy to operate using a single hand.
To remove the flush tank, all you need to do is toggle a single locking latch, which can also be operated with one hand. The latch system on this toilet is spring-loaded. This enables automatic re-attachment of the tank, and makes this portable toilet easier to use and more intuitive.
Enhanced Durability
Like other products by this manufacturer, this premium travel toilet features a good construction quality and is made of high quality materials.
This camping toilet features a removable lid. This lid may be latched for easier transportation of the product, or even removed completely for easier cleaning of the toilet.
This lid is made of durable ABS plastic, and is highly durable and capable of sealing in unpleasant odors in the toilet. For enhanced portability, the product features a compact design.
Additionally, you will also find this toilet to be relatively lightweight, weighing only 42.5 pounds when full and about 11 pounds when empty.
Pros
Features a compact and lightweight design
Tank made of high quality ABS material
The interior of the tank is slick for easier emptying
Equipped with an effective sliding gate valve
Uses a pumping flush action to clean the bowl
Features a 2.6-gallon detachable waste tank
Cons
The latch may start to leak odor after some time.
This is precisely what the Luggable Loo portable toilet has to offer. It's the smallest portable toilet on this list.
This product features a rugged design and is made of quality materials.
These alone make the toilet strong and capable of withstanding the wear and tear associated with most outdoor activities.
The Luggable Loo portable toilet has been proven to be ideal for such activities as hunting, camping and boating expeditions.
This portable toilet has plenty more features to offer a camping enthusiasts, some of which include:
Large Capacity
Most portable toilets offer only a limited storage capacity. The Luggable Lou, however, offers a high capacity 5 gallon waste tank. 
The high capacity tank allows this toilet to be used by five to ten people over the weekend without having to empty the tank. The Luggable Loo is one of the best portable toilets in the market, and it can be used by the entire family.
Easy to Use
The Luggable Loo is a bucket design that features a snap-on cover and has a hinged toilet seat on top. Despite its large capacity, it's got a compact design; requiring minimal floor space for storage and transportation. 
You will also like the fact that this product may be used with a double doodie bag. This makes the toilet ideal for use whenever you intend to spend more time in the woods. The standard Double Doodie bag by Reliance products fits on this toilet seamlessly.
This allows for easy disposal of waste and virtually no clean up after using the toilet. It's important to note that you'll have to buy the cover and toilet seat separately.
Pros
Larger 5-gallon waste storage tank
Features a simple and compact bucket design
Equipped with a leak-free strap-on lid
May be used with standard Double Doodie bags
Durable rugged construction
Economically priced
Relatively lightweight
Cons
The lid and cover have to be purchased separately
Porta Potti White Thetford Corp
[VERSATILITY]: Award-winning, top-of-the-line portable toilet, suited for RVs, boats, trucks, vans, healthcare, medical, camping and even off-the-grid lifestyle, with a 4 gallons fresh water tank capacity and a 5.5 gallons waste water capacity
[DESIGN]: Sleek, modern, and homelike look, Porta Potti Curve comes with a comfortable seat height, increased bowl size, and battery-powered flush
[FUNCTIONALITY]: Easy to use and clean, Curve has an ergonomic carrying handle, an integrated toilet paper holder, and a tank level indicator
[SANITARY]: Odorless and leak proof, the portable toilet has a sealed valve to prevent odors from escaping and a rotating pour-out spout for emptying the waste water tank without backsplashes
[OPTIONAL]: The hold down kit helps secure the portable toilet to the floor, holding it in place while you're on the road and Water fill adaptor
Although this toilet is lightweight and compact enough for other travel-related applications, it is best suited for use in Trucks, Vans and RVs.
One of the most appealing aspects of this product is its compact and aesthetically pleasing design.
You will find that this flushable toilet offers generous water and waste capacities.
The ThetFord Porta Potti Curve Portable toilet comes with a 4-gallon fresh water tank and a 5.5-gallon waste tank. Other features that make this product one of the best portable toilets today include:
Enhanced Durability and Ease of Use
In addition to having a modern and sleek design, this toilet features solid construction for enhanced durability. Compared to other camping toilets within this price range, the Porta Potti is more intuitive.
This may be attributed to the many convenience and performance features the toilet has to offer.
This toilet is equipped with a battery-powered flush system, a comfort height seat, and a larger bowl. These features make this toilet more comfortable and easier to use.
This toilet features an improved tank-carrying handle, as well as a pivoting pour area. Such features, in addition to the easily accessible waste holding tank, make the tank easier to empty and clean.
Integrated Toilet Paper Holder & Level Indicator
Unlike its competitors, this product has a long list of innovative features to offer. This toilet comes with an integrated toilet paper holder.
This holder is conveniently positioned for easy access, and to ensure that the toilet paper remains out of sight whenever it's not in use.
Another example is the tank level indicator. This indicator is very accurate and will help you monitor the level of both the freshwater and waste storage tanks in your toilet.
Pros
Can support up to 56 flushes
Features tank level indicators
Comes with an integrated toilet paper holder
Controls are conveniently positioned
Features an easy pour out spout
Comparatively easier to clean
Leak-proof, sanitary and odorless performance
Palm Springs Outdoor 5 Gal Portable Outdoor Camping Recreation Toilet
Self-contained portable toilet for camp site, boat, RV, or other recreation
Sturdy full-size seat/lid; lushes like residential toilet; matte finish conceals scratches
3-gallon freshwater holding tank and 5-gallon waste-water holding tank
One-piece, leak-proof tanks made of high-density polyethylene
Arrived fully assembled; 16.5" high x 13.5" wide x 12" deep; weighs 9.75 lbs
If you are looking for an affordable product, you do not have to sacrifice quality or performance.
The Palm Springs portable outdoor recreation toilet is made from quality materials, and has several unique features to offer.
This is one of the most affordable portable toilets you can buy today.
Despite its remarkable affordability, the product features a comfortable and sturdy full-sized toilet seat. Over the years, this toilet has been proven to be suited for use in recreation vehicles, boats, and camping applications.
So, what exactly makes the Palm Springs Portable Outdoor Recreation Toilets stand out?
Durable and Quality Construction
Buying a portable toilet of the best quality and with a durable construction will also be a great value. The Palm Springs Outdoor 5-gallon Portable Outdoor Recreation Toilet is very stable and has a high weight capacity. This toilet  will remain intact for years to come.
This toilet features a drain valve that is double sealed. This valve ensures that no odor leaks out of the storage tank.
In order to provide enhanced durability, the manufacturer uses corrosion-resistant, heavy-duty side locks on this product.
Finally, the surface of the toilet is coated with a durable matte finish. Not only does this enhance its durability, but it also looks nice. 
Compact and Lightweight Design
Basically, the best portable toilet needs to be lightweight and compact in size. This is exactly what this toilet is designed to offer. The product comes fully assembled and only weighs 9.75 pounds when empty.
Simpler Flush Mechanism
Enhanced ease of use is another thing users love about this product. It is designed to flush in a similar manner to a conventional bathroom toilet. The toilet is equipped with an intuitive push-button that triggers the flush system.
With a simple press of this button, the toilet will release enough fresh water to flush down the waste and clean the bowl.
Pros
Relatively easy to set up and use
The drain valve is double sealed
Features a lightweight and compact design
Quality and durable construction
Features a scratch-resistant matte finish
Relatively affordable
Equipped with a large waste storage tank
Has integrated carry handles
May be used with bags as well
Priced below $100, this toilet is comparatively bulkier than most, but that's mostly due to its large capacity storage tank. 
The portable toilet comes with a 4.8-gallon tank. This tank may make the toilet heavier and less portable, but it ensures that you do not have to empty the toilet so often. The large freshwater tank used on the toilet will ensure that you get more flushes per refill.
In addition to these, there are several other aspects that make the Visa Potty one of the best portable toilets today, including:
Efficient Piston-Pump Flush System
The performance of the flush system used on this toilet compares to the type used in a conventional bathroom. 
This system is designed to deliver a two-directional rinse action, for thorough cleaning performance on both sides of the toilet bowl.
Vented Tank
This is another efficiency feature you will definitely love about the Visa Potty portable toilet. It comes with a detachable sprout. This spout may be connected to the waste storage tank for an easier and more efficient emptying experience.
Pros
Made of thermoplastic for enhanced durability
Features a comfortable and stable seat
The holding tank has a vent for easier discharge
Fitted with fresh water and waste level indicators
Comparatively easy to use, empty and clean
Comes with a deep bowl for enhanced comfort
Cons
The toilet is somewhat bulky
As you may have realized already, this portable toilet is somewhat different from the other products reviewed in this guide.
While most portable toilets are simply compact in size, this one is foldable. Whenever you are not using the toilet, you can easily fold it up for storage. As such, the product requires minimal space for storage and transportation.
In addition to its enhanced portability and affordability, this toilet has several features and benefits to offer, such as:
No Assembly Required
This toilet can be folded into the size of a briefcase. No worries, though, you will not be required to assemble the toilet when you decide to use it. This is one of the best bag portable toilets available today, and it's easy to set up and use.
For enhanced comfort, this toilet has a full-sized toilet seat. The toilet is  supported by 3 legs that have been proven to be sturdy and stable. These legs give the toilet the stability it needs, even on uneven grounds.
For further support, especially when the toilet is being used by heavier people, the lid may be removed and used as a stand. The product uses a bagged disposal method to collect and dispose of waste.
Pros
Supplied bags have chemical powder to convert liquid waste into solid
May be folded into the size of a briefcase
Features a removable mesh holder to support the collecting bag
Features a comfort height toilet design
Comes with a lid to cover the seat overnight
Comes with one waste-bag
Can support up to 500 pounds
Cons
The foldable design may affect its durability, if not used appropriately.
SereneLife Portable Toilet with Carry Bag – Indoor Outdoor Toilet with CHH Piston Pump & Level Indicator – 5.3 Gallon Large Waste Tank – 100-120 Flushes for RV, Camping, Hiking & Boating
CONVENIENT, COMPACT, AND PORTABLE – The SereneLife portable toilet is small enough to fit in the trunk of your car but large enough to sit on comfortably. Its 37x41x35cm size means you can take it with you wherever you need to go, in a tent or on the road.
LARGE CAPACITY OF UP TO 120 FLUSHES – Our extra-large tank of 5.3 gallons holds more sewage than ever before, saving you the hassle of changing it often. Flush it up to 120 times with confidence – the waste tank level indicator will let you know when to empty it.
LEAK-PROOF AND ODORLESS DESIGN – To prevent unnecessary messes or spills, our design features a rotating emptying spout, allowing you to quickly and discreetly empty it when full. And it has a double-sealed drain valve to keep any nasty smells in.
STURDY AND EASY TO CLEAN – This leak-proof cassette toilet for RV travel is crafted from high-density, premium quality polyethylene for a corrosion-resistant travel toilet. It is an easy-to-clean material that is highly durable, making it perfect for your adventures.
DO YOUR BUSINESS ANYWHERE – Take our small, portable toilet anywhere you need to go. From camping, caravan, or trailer vacations with your family to boating trips with friends, use this portable bathroom both inside and outside with ease.
This may not be the most affordable product in this review, but it happens to be one of the best portable toilets you can buy today.
To begin with, the product offers one of the best capacities in the category. It's waste tank measures a whopping 5.3-gallons! 
With such a large capacity, the toilet may be used by several people for a longer period of time without having to empty the tank. It's  fitted with a 3.2-gallon freshwater tank.
Such a large fresh water tank can sustain up to 50 flushes before it needs to be refilled. Other than these, the toilet has several other impressive features, including:
Powerful Flush System
The SereneLife Outdoor Portable Toilet is one of the best flushable portable toilets you can buy today. The superior cleaning action associated with this system comes from its Bellows Pump mechanism.
This pump mechanism is exclusive to SereneLife products and features a 3-way flush nozzle. The system will clean the toilet bowl thoroughly every time you pull the flush lever, regardless of the type of plunger you are using.
Pros
An easy to access waste holding tank
Equipped with a double sealed drain valve
The toilet seat on this product comes with an attached cover
Comparatively affordable
Offers large tank capacities
Delivers a powerful flush action
Stable and robust construction
Cons
Some users find it somewhat expensive
How Much Do Portable Camping Toilets Cost?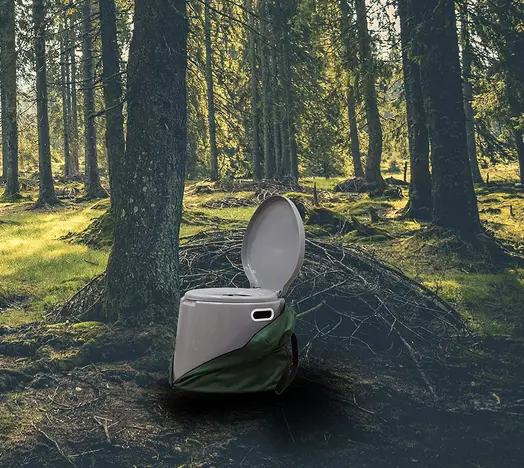 A basic portable camping toilet costs between $20 and $35. If you are looking for more features, such as high capacity tanks, expect to spend between $70 and $110.
High-end portable camping toilets are often priced above $150 but include features such as the ability to be folded.
How Do Camping Toilets Work?
Portable camping toilets rely on internal tanks to provide a place for the waste to go and a source of water to make it all work. To use a portable camping toilet, you must have some water in the water tank, and some space available in the waste storage tank.
Can You Poop In A Portable Camping Toilet?

Absolutely. All portable camping toilets support both liquid and solid waste. The waste is stored in a tank that needs to be changed after a certain amount of uses.
How Do You Empty A Portable Toilet?

Emptying a portable camping toilet is simple. All you have to do is dump it at an approved disposal facility. Some of the nicer portable camping toilets feature a removable waste storage tank, making this process even easier.
Do Camping Toilets Smell?
No, actually. They don't. Portable camping toilets have been around for a while, so their designs have reached a decent level of maturity. All portable camping toilets provide some form of odor blocking mechanism.
Before Buying a Portable Camping Toilet (Buyer's Guide)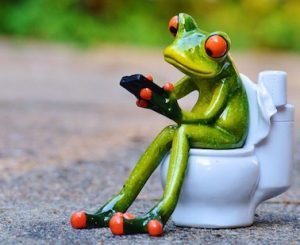 Portable toilets are designed for enhanced portability and ease of use.
The right camping toilet will depend on how you intend to use it.
In addition to being lightweight, the best portable toilet has to be suited for the intended application.
How to Use A Portable Camping Toilet
Regardless of their design, portable camping toilets are fitted with a treated reservoir directly below the toilet seat. As compared to standard toilets, small portable toilets for camping work rather differently.
To use this type of toilet:
SIT DOWN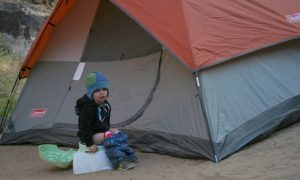 Using the toilet while standing can be messy as it may lead to splashes.
Once you are done, it is advisable to wipe yourself using RV-type biodegradable toilet tissue.
This is particularly recommended when using TV/Marine sewage holding tanks or chemical toilets.
With other camping toilets, you may use just any regular toilet paper because the waste tank will eventually be emptied into a septic system.
Flushing a Portable Camping Toilet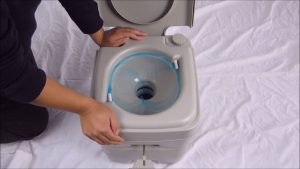 To flush a portable toilet, you need to open the waste reservoir at the base of the toilet, and discharge the waste before flushing.
To do this, you should pull the "T" handle, often situated at the center of the front of the toilet base. This will open the sliding door and will allow the waste to drop directly into the waste reservoir tank.
You should then proceed to flush the toilet by pushing the flushing valve on the toilet. 
If one flush is not sufficient, you may push the flush valve again to flush the bowl a second time. However, you should avoid using too much water, as it will fill the waste reservoir tank faster.
Close the waste reservoir lid by pushing the 'T' shaped handle.
How To Empty A Portable Camping Toilet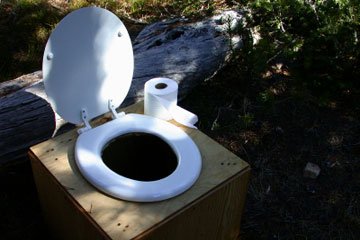 A traditional toilet is the best place to empty the contents of a camping toilet waste tank. If you don't have access to one of those, a designated facility is the only other place you can use.
In either case, this is how you should empty your camping toilet:
Separate the Tank from the Toilet
In most inexpensive portable camping toilet models, the waste holding tank is the lower part of the toilet.
A locking latch usually hold the tank in place. To remove the waste reservoir from the portable toilet, you need to disengage this latch.
 If the valve is open, the tank will not disengage. Using the handle, pull the waste tank out.
Emptying the Waste Holding Tank
Unscrew the cap on the end of the tank in order to empty its contents. If your toilet has a rotating spout, you need to rotate it first before removing the screw cap.
Empty its contents into the bowl of a normal toilet and then flush the toilet. If it is a chemical camping toilet, the contents of the waste tank should be emptied at a designated chemical disposal point.
Portable Camping Toilet Types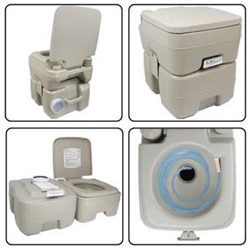 Similar to bathroom toilets, the various portable toilets may be classified into different categories based on how they work.
While shopping for the best one, these are some of the main portable toilet types you should consider.
1. Flushable Portable Toilets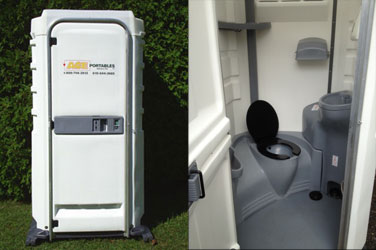 As the name suggests, these camping toilets feature a flushing system.
Such units work almost the same as the toilet you have installed in the bathroom back at home.
These toilets are comparatively larger in size, and not as easy to move.
Again, flushable camping toilets often have to be emptied at a specialized disposal facility.
Although you will be able to use a flushable portable toilet in the wild, emptying it may be a challenge. You can usually find these toilets at most RV sites and campgrounds.
2. Bag Portable Toilets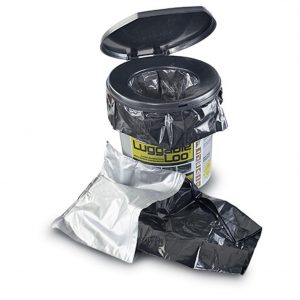 These employ a relatively simple concept; a biodegradable bag holds the waste. These toilets are a lot easier to set up and use.
This makes these toilets ideal for excursions and other adventures where you won't be staying in one location for a long period.
Compared to flushable toilet tanks, these biodegradable sacks are easier to dispose of.
The sacks contain chemicals that turn liquid waste into solid matter. The sacks are the buried in the ground, not less than 6 inches deep.
For these units, it is advisable to use rapidly disintegrating toilet paper.
3. Composting Toilets
A composting toilet is a type of dry toilet that serves as a temporary human waste management system. It decomposes waste into usable manure. When used appropriately, these toilets have many benefits.
For example, they save on water and energy usage. Composting toilets are environmentally friendly and offer a safe and portable waste management solution.
The overall composting toilet cost includes the cost of the toilet itself and labor installation costs. $825 to $4,850 is what you can expect to spend on one of these toilets.
With self-contained compost toilet models, the prices start at around $1,400. The cost of these products vary based on the features they have to offer.
Waste Tank Capacity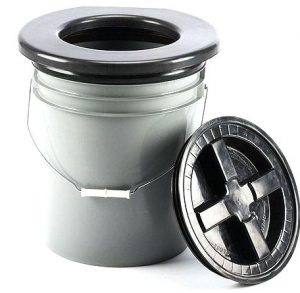 The waste tank will need to be emptied, and its not always easy to do so when you're traveling. So, you need to be mindful of the amount of waste a toilet can hold.
This is particularly so for the flushable portable toilets.
The waste storage tanks on these toilets vary in capacity. The right tank volume will mainly depend on the number of people who will be using the toilet.
Again, you also need to consider how long  you will be using the toilet between emptying. 
Camping Toilet Size And Weight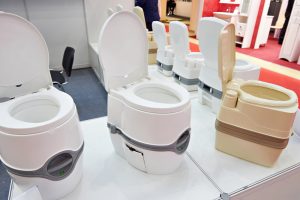 Portable toilets come in various shapes and sizes. It is advisable to opt for a toilet that is lightweight and features a compact design.

The right toilet should leave some space around it for you to move around while emptying the waste storage tank.
If you are looking for an RV toilet, the various flushable models will do. The weight and portability of such toilets will also depend on the size of the waste and storage tanks. Bag toilets are lighter and smaller in size. 
Setting Up Your Portable Toilet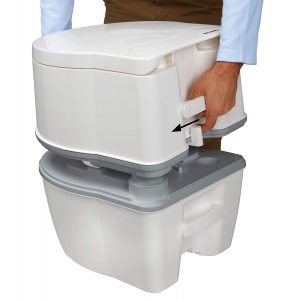 Most boat marinas and RV parks happen to have dedicated toilet areas.
Whenever you are out camping, you will need to set up and dismantle your toilet every once in a while. 
You should consider buying a product that is relatively easy to set up. Again, you may be bringing children or the elderly along with you.
You need a product that is relatively easy to use. Your preferred toilet needs to be easy and fast to set up. 
If you need a toilet for short term use, you may need to go for a bag toilet. This is mainly because bag toilets are simple to set up and use. 
For flushable toilets, it is advisable to choose one that does not take too long to install. Additionally, you also need to consider how easy emptying the toilet is.
Strength And Comfort
In addition to being convenient and easy to set up and use, your preferred toilet needs to be comfortable.
Not only should the product have solid construction, but the seat also needs to be comfortable as well.
Low-lying toilets are not so comfortable to use, especially for senior citizens or people with back problems.
Stability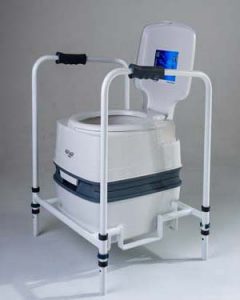 Most people agree that they wouldn't want to sit on a wobbly toilet seat, but  toilet buyers often overlook this aspect. 
As you can imagine, low-grade portable toilets tend to have weak bases, which makes them less stable and more unreliable.
While shopping for the right toilet, this is something you need to avoid.
Some leading brands design their camping toilets with sturdy and highly reliable bases. A sturdy base makes for a strong and solid product. 
Detachable Waste Tank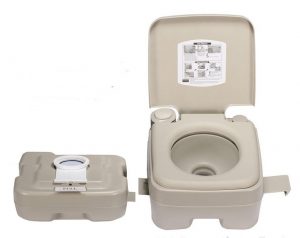 If you are looking forward to buying a flushable type of portable toilet, it is advisable to opt for one with a detachable waste storage tank.
A detachable tank is comparatively easier to empty. With a detachable tank, you can easily expand the capacity of the toilet.
You may buy an extra waste storage tank or two to use when you are traveling for a longer period. With several tanks, you will be able to use the toilet more times before you are required to empty the storage tank.
Foldability For Portable Camping Toilets
When traveling, you won't have a lot of space to store a toilet. While most toilets feature a compact design, a foldable design is even better. A foldable toilet is easier to transport and store.
This is because the toilet requires minimal space for storage and transportation in its folded state.
However, foldability may affect the durability and stability of the toilet. This is probably why some people prefer portable toilets that do not fold.
Privacy For When You Need To Go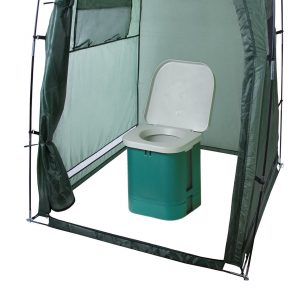 Regardless of where and how you will be using a portable toilet, it is still a toilet.
While using a portable toilet, you will still need a certain level of privacy, just as you do when you are in a conventional bathroom toilet.
If you will be using the toilet in a boat or RV, this may not be as important.
What if you were to use the toilet outside during a picnic or a tailgate party? In such a case, you will need some cover from all those eyes as you do your private business.
As such, you should also consider the privacy features offered by your preferred portable toilet. Some camping toilets come complete with privacy shelters.
FAQ's About Portable Toilets
Are portable toilets sanitary?
Portable toilets are totally sanitary if they are used properly. Portable toilets that flush are generally the most sanitary type of portable toilet.
Others even come with a hand washing station. Such additional features will ensure that each toilet user has a sanitary experience.
CAN POOP FROM A Camping Toilet BE THROWN AWAY?
Absolutely not, the contents of a portable toilet system need to be disposed of in a proper manner. Ideally, this would be at a designated location, such as a dump station or a vault toilet.
Laws on the disposal of this waste vary from place to place. Check what the law stipulates in the area you will be visiting.
How can I prevent a portable toilet from freezing in cold weather?
Many users are afraid that the liquids in their portable toilets will freeze in the cold weather. However, this does not have to be the case.
Some manufacturers will recommend that you add a non-toxic anti-freeze solution to the water to prevent it from freezing.
Other than that, proper placement of the toilet will also help prevent freezing. You can also use your toilet with a small portable heater for enhanced comfort in the cold weather.
Common Portable Toilet Problems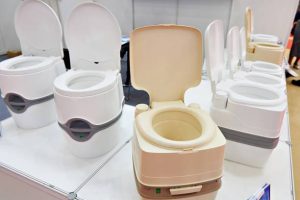 If you have ever used these products before, you probably have come across a problem or two.
Well, some of the best portable toilets sold today are of exceptional quality; hence are less likely to develop problems.
Common Malfunctions Associated With Portable Toilets
Odor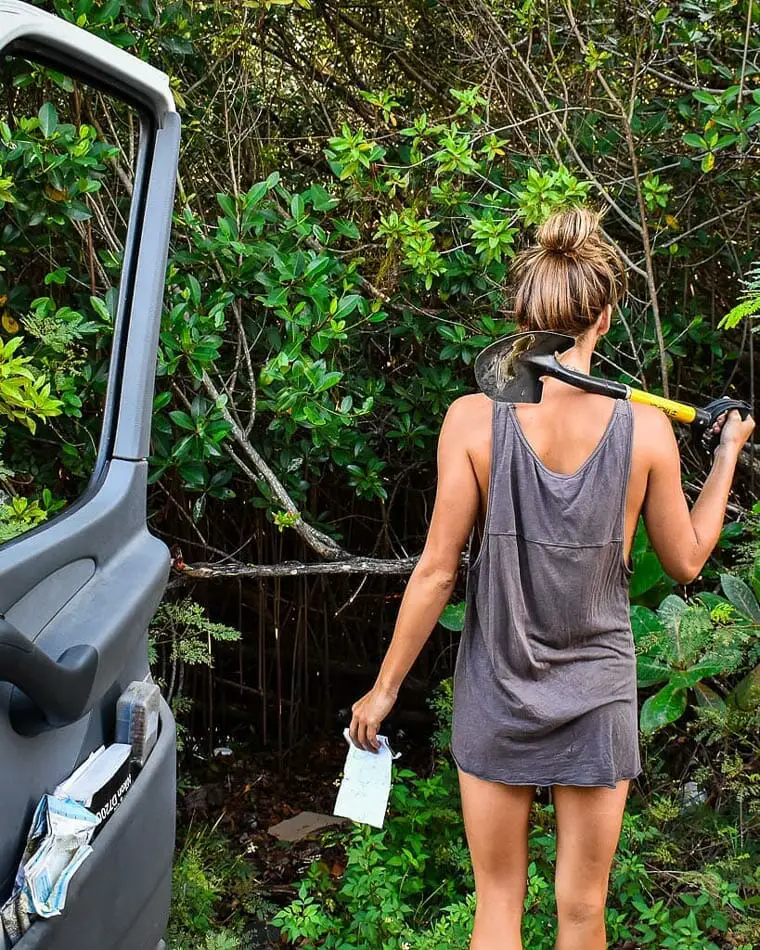 Portable toilets can be unbearable if they cannot contain odor.
To prevent an unpleasant experience, a portable toilet should feature double seals on its waste storage tank.
Some models have vent pipes that carry the odors away.
Other portable toilet models use chemicals to break down the waste, and prevent odor from coming back to the toilet.
If you detect odor emanating from your toilet, the seal is probably not closing correctly.
The accumulation of debris can prevent the seals from closing properly . In other cases, this problem may be as a result of a malfunctioning valve.
Stability
Another problem that is common in portable toilets is stability issues. This is often a result of poor construction, or a weak base.
To avoid this, it is advisable to buy a solidly built product, preferably from a reputable manufacturer.
This is particularly the case for heavier users. Before you buy one, ensure that your portable toilet can adequately bear your weight.
How to Clean A Portable Camping Toilet
Cleaning a portable camping toilet is simple. After you have emptied the waste reservoir, you should wash it, and then rinse it thoroughly with water.
Now operate the pump on the portable toilet a few times to get rid of any extra tank-mix from within its pressure lines. .
Mix half a cup of bleach with a gallon of water and pour it into the top tank. Shake it around until the bleach water coats all the walls.
Place the tank back and operate the pump to distribute the bleach water through the lines and pump. 
Now remove the empty top tank and turn it upside down to drain any remaining bleach mixture.
Shake the bottom tank to distribute the bleach solution evenly around the tank. Allow some of the water to go down the drain tube. Empty the water and let the tank dry.
Portable Toilet Rentals: Renting Vs Buying
Owing to their relatively high cost, most people prefer renting portable washrooms.
The rental cost will depend on the type of toilet, how often it needs to be cleaned, tank capacity, and the rental period. Between $75 and $150 per day is usually what you would pay for a portapotty rental. Longer rental periods will come with a discounted rate.
Handicap-accessible portable toilets often cost between $225 and $295 apiece per weekend.
Ready To Go Potty With A Portable Camping Toilet?
With hundreds of portable toilets to choose from, many people are finding it difficult to choose the best one for their needs. If you have the right portable camping toilet, you won't have to squat on the  ground when nature calls.
We hope that in reading this guide you have learned a thing or two about portable camping toilets. Our aim is to give you all the information you need to make the best choice possible.