The 5 Best Pressure-Assist Toilets – [Reviews & Rankings]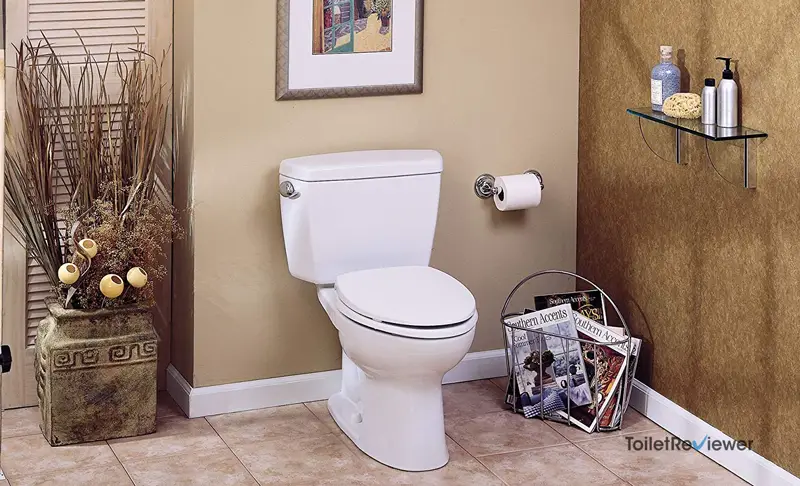 The best pressure-assist toilets deliver a powerful flush experience, cleaning the bowl in a single flush. Advancements in the industry have made these toilets more efficient on water and easier to use.
For instance, leading pressure-assist toilet brands only require 1.1 to 1.4 gallons of water to clean the bowl thoroughly. In addition to delivering a powerful and efficient flush, these toilets are comparatively quiet in operation.
When choosing a pressure-assist toilet for commercial or home use, you need to consider the toilet configuration, bowl shape, and toilet height. Reviewed below are the top five pressure-assist toilets you should consider.
Comparing The Best Pressure-Assist Toilets
TOTO CST744SL#01 Drake 2-Piece Ada Toilet with Elongated Bowl, Cotton White
Item may ship in more than one box and may arrive separately
G-Max flushing system, low consumption (1.6GPF/6.0LPF), Elongated front bowl and tank set, less seat
Universal Height, Two-piece design with high-profile tank
12" Rough-in, less supply, Water Use: 1.6 GPF/6.0LPF, Material: Vitreous china
Chrome trip lever, ADA compliant, in. Water Pressure: 8 psi (static)
The TOTO drake two-piece toilet is manufactured with the highest quality materials for extended longevity, and durability. It comes complete with a SoftClose seat or with an electronic WASHLET bidet seat as an upgrade. The toilet is offered in five different color options to complement any bathroom decors.
In addition to good looks, the Drake 2-piece ADA toilet delivers a quiet, fast, and powerful commercial grade flushing performance. This may be attributed to the innovative GMAX flush technology by the manufacturer. Additionally, it is fitted with a 125% wider flush valve, making it one of the best flushing technologies in the industry.
Flushing efficiency is further enhanced by a GMAX siphon jet action that increases flow speed and power. The trapway is computer designed and fully glazed. The toilet is very efficient on water, dispensing 1.6 gallons per flush (GPF).
The American Standard H2Optimum Siphonic Toilet is an Ultra-High Efficient toilet that meets EPA WaterSense standards.
It is fitted with a 16-1/2″ rim and features an elongated bowl shape for enhanced ease of use. The product applies the EverClean technology by the manufacturer, allowing it to stay clean for a longer period.
The H2Optimum Siphonic toilet offers superior water-savings, dispensing only 1.1 gallons per flush. The unit is made of Vitreous China material that is very durable and features a Chrome finish trip lever. It applies the elongated siphon action bowl with direct fed jet technology by the manufacturer.
This allows for a powerful, yet efficient flush every time the toilet is used. The round front design saves a considerable amount of space in your bathroom. The EverClean surface also inhibits the growth of stain and odor-causing bacteria, mold, and mildew on the toilet surface.
The pressure Lite toilets by Kohler are renowned world over for superior bulk flushing performance. It is fitted with an elongated toilet bowl for added comfort.
You will also like the comfort height sitting position offered by this unit, making it easier to use for the ages and disabled people.
This makes it ideal for installation in commercial bathrooms. The Pressure Lite is equipped with a left-hand trip lever for enhanced convenience. Features a complementary style for any bathroom or powder room.
You will also find the toilet to be efficient on water, with a consumption rate of 1.6 gallons per flush. This will save about 2,000 gallons of water per year in your bathroom.
The two-piece toilet offers one of the best Pressure-Assist flushing systems in the industry, capable of cleaning the bowl in a single flush. However, you will have to buy the toilet seat and supply line for the toilet separately. The product is backed by a one-year manufacturer warranty.
The American Standard Cadet Pressure-Assisted Right Height Elongated Toilet delivers a powerful siphon jet flushing action.
This ensures thorough cleaning of the bowl in a single flush while dispensing only 1.6 gallons in the process. Features the innovative EverClean surface, inhibiting the growth of stain and odor-causing mildew on Its surface.
The model is fitted with a PowerWash rim technology that is meant to clean the bowl every time the toilet is flushed. Such innovations ensure that the Cadet toilet remains cleaner for a longer period, even with heavy use and high traffic.
The toilet seat is just at the right height from the bathroom floor, for improved sitting and standing ease and comfort. The toilet comes with all the required installation parts, including bolt caps, trip lever, and the toilet bowl. However, you will have to buy the toilet seat separately.
WOODBRIDGE T-0001, Dual Flush Elongated One Piece Toilet with Soft Closing Seat, Comfort Height, Water Sense, High-Efficiency, Rectangle Button, 28.5 x 14.5 x 27.5, White
✅ [LUXURIOUS MODERN DESIGN]: Luxurious Modern Design one piece toilet , Clean, sleek look and compliment with different styles like modern , craftsman , traditional and etc.
✅ [EASIEST TO CLEAN TOILET]: WOODBRIDGE toilets are the easiest to clean on the market, with a completely smooth, easy to wipe down surface. With our fully concealed trap-way, there are no bends or corners to gather dust. Also, no large mounting holes or ugly plastic caps to be seen.
✅ [QUITE AND POWERFUL FLUSHING]: Siphon Flushing one piece toilet, Fully glazed flush system , bringing a super quiet and powerful flushing - NO clogs, NO leaks, and NO problem
✅ [Map Flush 1000 Grams]: Best Maximum Performance Flush score of 1000 grams. Highly Recommended Map Scoring Toilet
✅ [COMFORT DESIGN]: Comfort Height Design, Chair-height seating that makes sitting down and standing up easier for most adults
The WOODBRIDGE T-0001 Pressure-Assist toilet features quality construction with an elegant design. It is engineered to offer the best contemporary styling option and functionality. With regards to function little, the toilet delivers super quiet, and powerful flush performance.
The entire flush system in this toilet is glazed to prevent clogs, and leaks while allowing for quiet flushes. It comes with a high-end soft closing seat that features a durable stainless steel seat hinge. The seat is fitted with a quick-release mechanism. This makes it easier for you to get the toilet seat off to tighten or clean after years of use.
This Woodbridge toilet model offers great value for money as it comes with all the components you need. The package will include the toilet, pre-installed water fitting, pre-installed soft closing toilet seat, floor bolt, and a high-quality wax ring. You will also get a special hand wrench tool for tightening bolts in narrow spaces.
Things You Need to Know Before Choosing a Pressure-assist Toilet
With so many configurations, options, and styles to choose from, a considerable number of homeowners are having a hard time choosing the right Toilet. Even with renowned industry leaders, you should only get the best Pressure-Assist toilet.
Basically, you will need to consider your budget, lifestyle, and preferences among other things to get the right toilet. Discussed below are some of the important considerations you need to make while shopping for pressure-assist toilet:
Toilet Configuration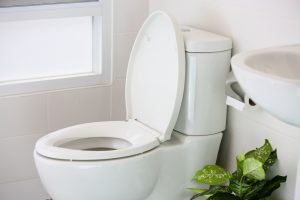 The  leading toilet manufacturers offer an array of toilet configurations to suit different needs. In order to get the right design and appearance that complements your bathroom decors, you have to choose the right toilet configuration.
Here are some of the main toilet configurations you should consider:
Two-Piece Toilets
These are the toilet that has two main components: the toilet bowl and the tank. The two come as separate parts that need to be joined during installation. As compared to other toilet designs and configurations, two-piece toilets are more affordable.
However, they require a considerable amount of space to install. Again, two-piece toilets are comparatively hard to clean, especially the part in between the tank and the toilet bowl.
One-Piece Toilets
This is yet another toilet design, in which the bowl and the tank are fused together. Although costlier than the two-piece toilets, pressure-assist one-piece toilets are the right choice for that sleek, modern appeal you want for your bathroom. These toilets occupy less space in your bathroom and are comparatively easier to clean.
Wall-Hung Toilets
This is yet another space-saving toilet design you can choose for your bathroom. Pressure assist wall-hung toilets are meant to be erected on the bathroom wall, saving you a considerable amount of space on the floor. They are designed to give your bathroom a contemporary appearance and make the bathroom appear bigger.
With this toilet configuration, the cistern is usually hidden behind the wall. As such no pipework or ducts will be visible to the user. For a secure installation, you will need a wall frame to secure the toilet on the wall as the piece is rather heavy.
Water Efficiency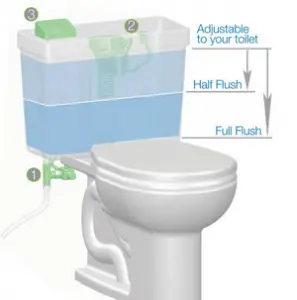 Water efficiency is something almost all homeowners would like to achieve in their homes. Not only is this friendly to the environment, but it can also save you some money in your monthly water bills.
Owing to improvements in the industry, toilets are now more efficient on water, with standard models dispensing only 1.6 gallons per flush (GPF).
Advances in hydraulic designs of the toilets allow them to save about 50 percent of water while performing just as efficiently as traditional 3.5 GPF toilets. The more efficient toilet models dispense about 1.28 GPF, saving 20 percent more water than standard models.
Then there are the ultra-high efficiency toilets that have a flush rate of 1.0 gallons per flush, without sacrificing on flushing performance.
Dual-Flush Options
Pressure-assist Dual-Flush toilets are renowned world over for their enhanced water efficiency. They allow you to use either partial or full flush to flush away your waste. For instance, a good number of them dispense 1.6GPF on a full flush and 1.28 for partial flushes.
In such a case, the partial flush will be used to flush liquid waste, while the full flush will come in handy for pushing away the solid wastes.
Bowl Shape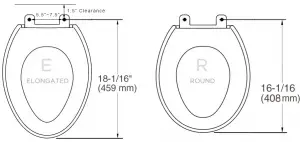 Regardless of the toilet configuration, pressure-assist  toilets are available in several bowl shape options.
For all the toilet configurations discussed above, the leading brands offer round and elongated bowl options. The right bowl shape will mainly depend on the size of your bathroom and your preferences.
Here are the two main toilet bowl shapes you should consider:
Elongated Toilets
These have a bowl that is elongated on the front to assume an oval shape. As such, elongated bowl toilets offer extra room for added comfort. You can also get the compact elongated toilets that are designed to fit into he same space as conventional round-front toilets would.
Round-Front Toilets
These feature a more compact design and are suited for installation in smaller bathrooms. In order to save on space, Round-Front toilets have a bowl that is almost circular in shape. As such, they are also suited for installation in powder rooms.
Size Requirements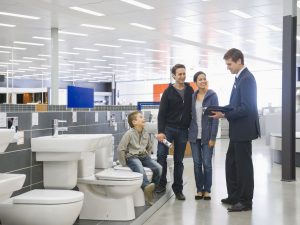 Different toilets are suited for different applications. This is why you need to ensure that your preferred model is ideal for your bathroom size.
One of the important size considerations you need to make is the rough-in distance.
This is the distance between the bolts and the wall behind the toilet. Most toilet models are designed to bolt to the floor some 12 inches from the back wall. You can also get 10-inch or 14-inch rough-in toilet options with this manufacturer.
For a smaller bathroom, the 10-inch rough-in toilets will come in handy. The 14-inch rough-i toilets, on the other hand, are best suited for the larger bathrooms.
Flush Mechanism
Most traditional toilets use a Gravity-Feed mechanism to push waste from the bowl down the drain. In this case, the toilet uses the weight of the water to generate enough flushing power. Owing to their simplicity, toilets that use this mechanism are cheaper to buy and maintain.
In an effort to save more water, the leading toilet brands offer pressure-assisted flush toilets as well. These use air to boost the flushing energy of the water flowing into the bowl. Pressure-assisted toilets are known to deliver a powerful, and efficient flush every time you use them.
Our Final Verdict
As compared to Gravity-Feed toilets, pressure-assist toilets have more benefits to offer. The leading pressure-assist toilet models are efficient on water and deliver powerful flush performance. Such toilets are known to clog less often, and are easier to use.
The five toilet models reviewed above are some of the best in the industry, with regards to power, reliability, and efficiency of the Pressure-Assist flush mechanism.
Combining such a mechanism with innovative technologies like the EverClean surface solution by American Standard produces a truly superior product.
With this guide, choosing the best pressure-assist toilet model for commercial or residential application should be easy.