TOTO Neorest NX Review – Is It The Best Toilet In The World?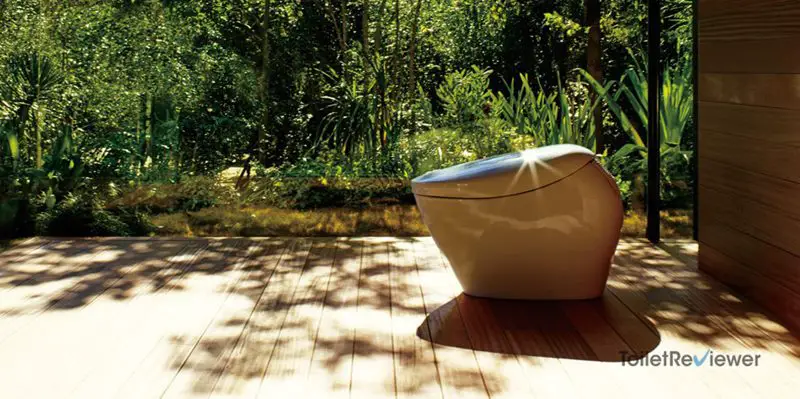 The Toto Neorest NX is considered to be one of the most intelligent and beautiful toilets in the world. On the other hand, it's also a toilet with one of the highest price tags on the market nowadays.
This toilet is primarily aimed at luxurious hotels and wealthy individuals to answer their demands for deluxe bathrooms fixtures. Despite a high price, a growing number of people purchase this flagship toilet. It is admired by TOTO fans and consumers worldwide.
People like this toilet because of its innovative design, among other things. It isn't just a nice face with identical features as its Neorest predecessors. This fresh model comes with an array of improved and unique features that set it apart from the rest.
As a high-end intelligent product, the Neorest NX combines the best functions of a bidet and toilet into one unit. These functions are integrated seamlessly to offer unmatched performances and comfort.
Are you interested in finding out more about this toilet? Let's take a closer look at the Neorest NX and see what this TOTO's masterpiece offers.
How Much Does the TOTO Neorest NX Cost?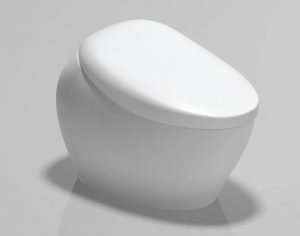 Yes, all of this is great, but what's the price of this futuristic toilet? Well, it depends on where you are looking for and what model you opt for.
The TOTO Neorest NX comes in two versions: the Neorest NX1 and the Neorest NX2. The former is "heavier" for about $3000, but there's a good reason for that as you could see above.
Toto Neorest NX – Top Specs
Flush Volume: 0.8 GPF (3.0 LPF)/1.0 GPF (3.8 LPF)
Flush System: Tornado flush siphon jet
Water Supply System: Anti-condensation storage tank with a pressurized pump
Rough-In: 12 inches
Bowl: Elongated, Vitreous china
Seat & Cover: Plastic
Power Rating: 60Hz 1300W, 120V AC
Power Cord: 3.94 ft (1.2 m)
Dimension: 31.5" (L) x 18.4" (W) x 22.25" (H)
Seat Height: 17 5/16″ (440 mm)
Seat Surface Temperature: Min 82ºF (28ºC), Max 97ºF (36ºC)
Washing Spray Temperature: Min 86ºF (30ºC), Max 104ºF (40ºC)
Drying Air Temperature: Low 95ºF (35 ºC), High 140ºF (60 ºC)
Ambient Temperature: From 32ºF (0ºC) to 104ºF (40ºC)
Warranty: 3-Year Limited Residential
NOTE: These specifications apply to both TOTO Neorest NX1 and NX2.
Toto Neorest NX Features
The TOTO Neorest NX comes with a comprehensive suite of features. The most notable features of this amazing toilet are listed below.
Energy saving
Power saving timer
Instant toilet seat heating
Heat retention toilet seat
Random power saving
Bowl
Improved rimless bowl
Wide elongated design
Titanium Dioxide fired with hydrophilic zirconium coating (available for Neorest NX2)
CeFIONtect coating (available for Neorest NX1)
Tornado flush system – more efficient and powerful
Convenience
Toilet seat opening & closing
Water temperature & pressure
Air dryer temperature & airflow speed
Hot air drying
Toilet seat heater
Toilet bowl cleaning
Water surface level
Manual flushing
Seat sensors
Hygiene
eWater+ and Actilight for bowl sterilization (available for Neorest NX2)
Nozzle cleaning with eWater+ before and after each wash
Premisting to disinfect and flush the bowl efficiently
After misting for bowl disinfection after every flush
Antibacterial seat, cover, and nozzle
Nozzle self-sterilization
Auto deodorization for odor control
Automatic features
Auto seat and cover opening & closing
Auto nozzle sterilization and cleaning
Auto toilet bowl sterilization and cleaning
Automatic power deodorization
Automatic night light
Wash:
Adjustable nozzle or wand position
Adjustable water temperature
Adjustable spray pressure
Oscillating spray
Pulsating spray
Wave spray
Wide spray
NOTE: Except for the bowl coating and Actilight, the Neorest NX1 and NX2 share similar features.
What Makes Toto Neorest NX So Awesome
The TOTO Neorest NX is a unique mixture of functionality and beauty. In fact, it is a seamless blend of a toilet and washlet combined into one device.
It is engineered as a next-generation bathroom fixture that will reign supreme in the world of modern toilets. So, what makes this unit stand out above the rest?
Flawless functionality: The best functional parts of a water closet, washlet, bowl, and flushing system re enveloped into one sophisticated ceramic piece. The washlet functions are integrated perfectly into the toilet bowl.
Sleek, modern design: All you can see when the toilet is closed is the bowl and lid. That makes it fits with both modern and classic spaces. The curvaceous design of this toilet adds to the beauty of a bathroom. It has lots of angles and squares that provide a stark contrast.
Smooth, easy cleaning: The integrated design will get you fewer gaps and lines while offering more ceramic surfaces. This won't only add to the appearance of your bathroom but will also prevent bacteria and dirt from growing. As a result, cleaning the toilet is super easy.
These are just some of the things that set the Neorest NX apart from the competition. What about water consumption, efficiency, and flushing power? Read on to learn more.
Best Features of the TOTO Neorest NX
Just like other models from the Neorest series, this smart toilet comes with a whole host of features. It combines TOTO's hallmark traits like the Premist, eWater+, and Actilight with a few unique features.
Unlike previous TOTO toilets that exhibit an angular sharp silhouette, the Neorest NX now features an elliptical soft profile. The technologies are integrated excellently with design to raise the bar for other toilets.
The simplicity of the toilet exterior belies the collection of high-end features concealed within. Here are some distinctive features of the TOTO Neorest NX toilet that will take your breath away.
Improved Rimless Bowl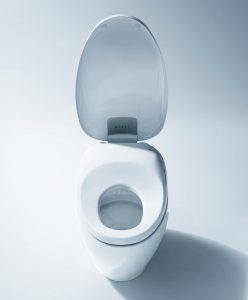 Unlike its predecessors, this toilet has a brand-new rimless bowl. It prevents the sticky dirt from clinging on the bowl surface. If anything survives Tornado flush, you will be able to clean it up effortlessly.
While the previous CeFIONtect finish effectively keeps away mold and dirt without a doubt, it's still not perfect. That's because dirt can hide below the bowl edge and keep developing if left untouched.
With the rimless bowl design, which has no hidden bends or corners, even the tiniest dirt and debris can be easily noticed now.  The smooth glaze layer coupled with the steep vertical edge makes it extremely difficult for dirt to stick.
You might be wondering how this new design will affect flushing. Fret not! The vertical rim design ensures that the water can't splash out when flushing.
Stable, Firm, and Butt-Friendly Seat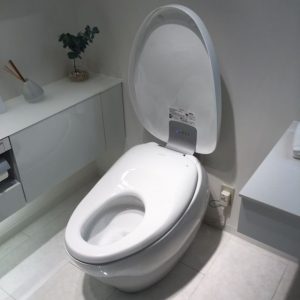 The curved seat is shaped in such a way to allow for comfortable yet firm sitting. By providing great support for the lower back and hips, it takes the seating experience to a whole new level.
The bowl-top and seat-base outlines go flawlessly. Such a curvature offers great stability and support compared to the flat bowl top.
On top of this, the TOTO Neorest NX features comfort height (universal seat height). It is particularly beneficial to persons with mobility difficulties and seniors due to easy access.
One may be inclined to think that the seat is designed with the Japanese users in mind. Don't worry,  it is fairly wide, so even the bigger guys will be well supported. You can rest assured that it will fit your butt perfectly.
Air-in Wonder Wave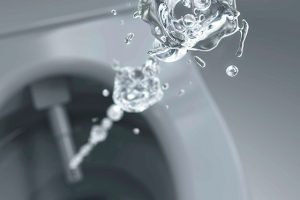 Nothing compares to receiving the wash from this brilliant bidet. It is fitted with adorable water sprays that provide satisfying wash mode.
While the Wonder Wave has been around for some time, the feeling you get from this wash is still unmatched.
This cleaning system implements posterior washing mode besides the oscillating and pulsating mode. It is very gentle on the sensitive skin surrounding the anus.
How does it work? Let us break it down for you.
From the nozzle, the water droplets get dispersed continuously with an alternating water flow rate. The burst of droplets is followed by another explosion over and over again. Approximately 100 droplets of water are delivered per second.
The slower and quicker droplets join together due to the varying flow rate. The trapped air, as a result of merging, causes the water droplets to enlarge and become bigger for about 30 percent.
You can be sure the water will touch your skin tenderly on your rear. Not many people can afford such a luxurious experience. Aside from providing a rich experience, this air-in wash can shrink your water footprint too.
Actilight UV Technology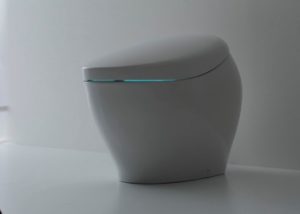 Acting as a lethal weapon, Actilight can help you kill non-visible microorganisms like bacteria and viruses.
It should be noted that it isn't a chemical germicide weapon. This is a UV light technology that is specially developed for the TOTO series of intelligent toilets.
However, it is not unique to the Neorest NX toilets. The Actilight feature was first implemented in the TOTO Neorest 750H. You can also find it on the Neorest AC wall-hung toilets. Since it turned out to be very effective, the Neorest NX has adopted the Actilight function as well.
Complete bowl sanitization – This smart toilet combines oxygen, water, and light to fight germs and dirt in your bowl. In fact, the zirconium bowl coating works in tandem with Actilight and electrolyzed water to break down harmful microorganisms.
United fight against germs and tiny wastes – The electrolyzed water is sprayed evenly on the bowl surface. It comes in contact with the ultraviolet light, producing activated oxygen.
Powerful oxidizing properties: Activated oxygen eliminates any germs or microbes from the bowl. The UV light actually causes the organic substance to decompose quickly during the photocatalytic process.
Automatic self-sterilization – The sterilization starts about two minutes after you're flushing the toilet. Once the ultraviolet light is switched off, this automatic process will stop. If the toilet has not been used for about ten hours later, it's going to repeat automatically.
Considering that everything is automatic, all you need to do is 'excuse yourself' and leave the loo after washing. The toilet will do the rest.
Next time you visit your bathroom, you'll find a clean germs-free bowl. You will have peace of mind knowing that no foul odor will come from your toilet.
Strengthened Tornado Flushing System
Similar to the ocean waves that become weaker as they approach the shore, the scrubbing power in toilets tends to weaken gradually.
As a matter of fact, the flush power gets weaker as the water flaws further away from the flush source.
That's because the water flow rate is relative to the distance traveled. The Toto Neorest NX goes a step further with a new Tornado flush. What is it about?
The water source location is changed a bit – While the water flow is much the same, the waterjet outlet is slightly moved to the right as compared to the old flushing system. That small shift makes a big difference in flushing.
New water channel design – Don't be surprised if you see reverse water flow in the bowl. A redesigned water channel causes the water to make a U-turn when flowing out from the outlet. Despite slowing down the water flow, the U-turning works wonders on the toilet bowl.
High-precision fluid technology – This technology ensures that the bowel is cleaned thoroughly. Even the hard-to-clean areas can now be reached, meaning the hidden microorganisms won't thrive in your bowl anymore.
No splashing, no mess – The spiral waterways don't only have an effect on flush power but also on the neatness. Since the water gets spiral and weaker while sweeping downwards, chances are slim that it will splash out.
How to Install Toto Neorest NX
You are not required to be a skillful handyman to install this toilet. Although the fact that installation is not difficult, your best bet is to hire a professional. If you want to do it yourself, then consider the following things before getting started.
Universal socket: Just like other toilets from Neorest series, these toilets come with a universal socket. It is constructed as an adaptor that meets minimum current ratings. This device is intended to connect the floor flange to the toilet bowl.
Power and water supply: As usual, you should have both the power and water supply prepared. You also should have a clear understanding of toilet connections and plumbing. This is a critical part of the installation, so it's best to hire a professional plumber.
Electrical wiring: The safety should always be your priority, especially when dealing with electricity. That said, be careful when it comes to electrical wiring.
Go through the user manual: This product is provided with a well-organized user manual that guides you on how to install it properly. For example, you can learn where to drill mounting holes, among other things. It comes with a lot of pictorial illustrations to ease the installation.
For more details on the toilet installation, please watch the video below.
User Feedback & Reviews: What People Said About the TOTO Neorest NX
Reading through customer reviews is something you should always do before making up your mind. This can give you a clearer idea of product advantages and shortcomings. It takes a lot of time, though.
That's why we have listed the most common praises, complaints, and problems with this toilet. Have a look at them!
Most Common Complaints
Replacement parts: Many users have a hard time replacing the components like the washlet and the seat given that it's an integrated piece of equipment. Despite the product durability, these parts can't last forever because they wear and tear as time goes on.
This is especially true for moving parts such as the drive mechanisms and sensitive electronics. Once they break down, you will have difficulty getting original parts since there are no third-party equivalent parts on the market.
Costly repairs: In addition to the expensive components, the replacement includes labor and transport costs too. Remember that even the most experienced local plumbers will not be able to repair this complicated sanitary device.
This means you'll need the experts from TOTO in case of repairs. That will put a huge dent in your budget!
Most Common Praises
Seamless sleek design: What most people like about this toilet is its design. It is kind of like a luxury sports car. The toilet comes with a titanium dioxide-fired bowl and a curvy seat. People said that the rimless bowl contributes to a spotless washlet.
Water saving: In addition to making the Neorest NX look good, a borderless new shape also causes that the less water is used for flushing. This way it can help save money on water bills. That's something many users appreciate.
Faultless flushing: The Neorest NX is equipped with a powerful Tornado flushing mechanism for enhanced cleaning. Additionally, the ultimate cleaning technology along with photocatalytic glaze ensures that waste is decomposed naturally and completely.
TOTO Neorest NX vs the TOTO Neorest 750H
Below are some important facts to consider when choosing between the Neorest NX and Neorest 750H. Let's see the key differences between these toilets and go from there.
Flushing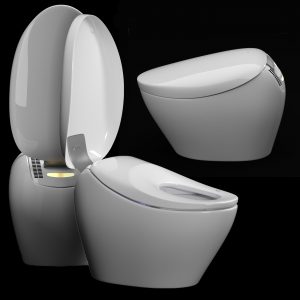 As mentioned earlier, the waterjet opening in the Neorest NX toilets is a bit nearer so that it faces the back of the bowl.
That is why the first wave is the strongest when flushing the toilet. As a result, the bowl surface is covered entirely, including the hard-to-clean portions.
It is an important improvement over the preceding cyclone flush. The new Tornado flushing system, accompanied by the CeFIONtect bowl coating, prevents the sticky waste from surviving. Consuming only 1 gallon per flush, it conserves water and lowers the water bill at the same time.
Aside from this, the TOTO Neorest NX features a new water channel design. The U-turning waterways can do a terrific job of cleaning the bowl by altering the water flow.
Cleaning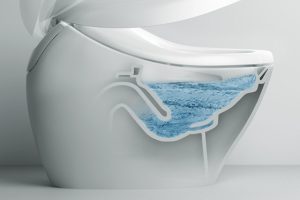 When it comes to cleaning, these cutting-edge toilets are really hard to beat.
They both use Ewater alongside Actlight technology to disinfect the bowl and eliminate grime and dirt. In addition to sanitizing the bowl, this can help you use fewer cleaning chemicals.
It's hard to say which toilet is better in this respect because they both excel at cleaning. You can rest assured that they will do a fantastic job of removing the waste and keeping the bowl in a sterile condition.
If money is no object, we recommend choosing the Neorest NX because of its self-sterilization function. Aside from cleaning the bowl immediately after a flush, the Aftermist will keep cleaning when the toilet is not in use. This ensures that no microorganism can survive.
Washing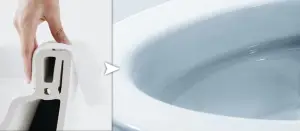 The Neorest 750H uses pre-misting with a fine water spray to moisten the bowl surface before use.
That way it prevents waste from sticking. The washlet combines pulsating and steady cleansing to wash your underside.
The Neorest NX comes with Air-in Wonder Wave that also offers posterior washing for the best results. It can gently cleanse your backside by delivering water droplets at a varying flow rate. This takes washing to the next level.
Seating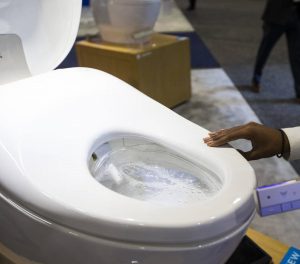 The Neorest 750H comes with a cozy seat that boasts universal seat height. While this heated seat is unquestionably comfortable, the Neorest NX steps things up with its curved seat.
It is shaped and designed to support the hips and knees. The seat is very stable and it provides easy access to seniors and disabled persons. Plus, it is generously wide to support bigger guys.
Price
The Neorest 750H and Neorest NX1 are almost in the same price range. As a more advanced option, the Neorest NX2 comes with a higher price tag.
TOTO Neorest NX1 vs Neorest NX2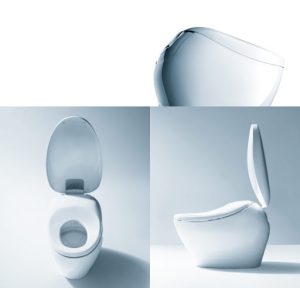 Designed as integrated units, both of these toilets offer the greatest hygiene standard and quality standard along with top-notch features.
Either of them will exceed your expectations leave you speechless.
They are similarly shaped and almost identical in most aspects. The quality of build, as well as look and feel, are pretty much the same.
So, what's the difference? These models merely differ in two ways: self-cleaning and price.
Self Cleaning
Unlike most toilets on the market, the Neorest NX2 offers self-cleaning using Actilight technology. It combines a special glaze with UV light to clean and sterilize the toilet. The result is a hydrophilic clean surface.
By turning the ultraviolet light on, the e-water (electrolyzed water) gets misted on the zirconium glazed coating. If there is anything left on the bowl surface, this revolutionary self-cleaning technology will make it break down.
Price
Despite being similar to the Neorest NX1, the NX2 is more expensive due to the self-cleaning function. The Neorest NX2 ensures a bit higher standard of hygiene and cleanliness, so it's a better choice for those having deeper pockets.
Are you willing to pay extra for this single feature? Is it worth the extra money? The choice is yours!
Where to Buy the TOTO Neorest NX Toilet?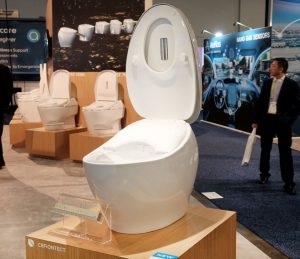 Fortunately, these toilets are now available in the US, so you can check with local authorized dealers to find the best deals.
This allows you to get it at a more reasonable price compared to the price on TOTO's official website.
You can also check the online retail price on Amazon. Keep in mind that only the Neorest NX1 is currently offered out there. We hope the NX2 will also be available soon.
Why Buy the Toto Neorest NX?
Whether you're planning a bathroom renovation or looking to replace your old crapper with a more intelligent one, check out the Toto Neorest NX. Needless to say, you are supposed to have an extremely flexible budget for this shopping venture.
You'd be safe with your investment considering that the TOTO is a leading toilet maker with a well-respected reputation. The bowl and washlet are integrated brilliantly for a more sophisticated look that adds a modern touch to any bathroom.
However, this intelligent toilet has much to offer beyond its modern appearance. It comes with the improved rimless bowl and redesigned Tornado flush to surpass its predecessors and spur its rivals.
Other features that will impress you include CeFIONtect (superhydrophilic zirconium) coating, toilet seat heater, eWater+, and Actilight. Additionally, this exceptional loo comes with a catalytic in-bowl deodorizer, warm air dryer, auto flush, and a WASHLET cleansing system.
All these latest bells and whistles add to the cost. Is it worth paying extra for these luxury things? Well, decide for yourself.