Kohler Corbelle Toilet Review – Is It Really That Comfortable?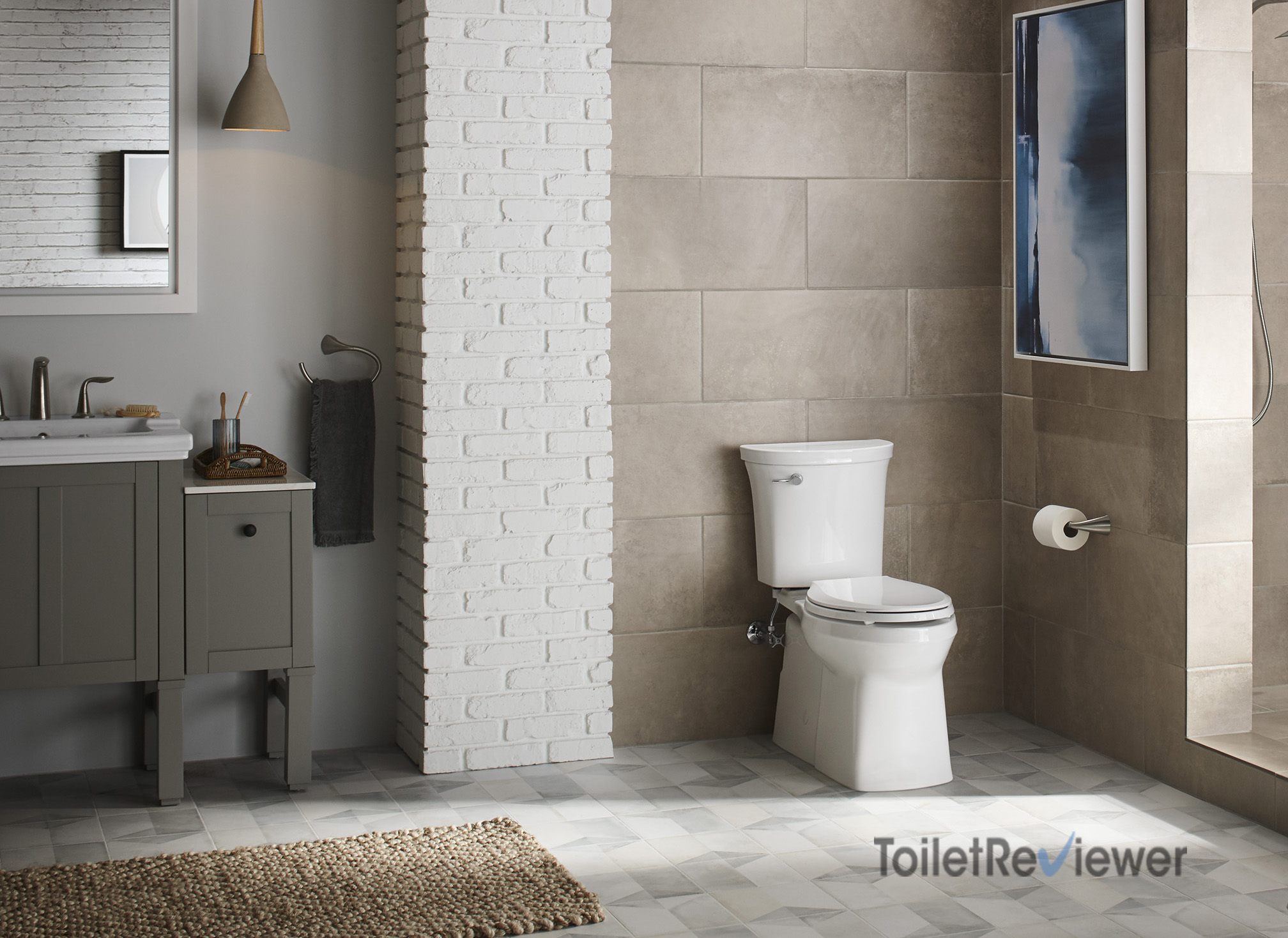 Interior designers are known for being a squabble-prone bunch of people. They always seem to have differing opinions when it comes to brands. If there's one thing that most interior designers can agree on, though, it's that Kohler makes a darned good bathroom appliance.
The Kohler Corbelle is one of the hotter lines of of toilets that designers have been eyeing, and rightfully so. This Corbelle series was designed as a foray into creating one of the most comfortable toilet lines in history, and it's safe to say that the mavericks at Kohler knew what they were doing.
Snce its introduction into the design world, the Kohler Corbelle has gained a massive following among bathroom remodeling groups. Though its reputation is pretty epic, you shouldn't immediately buy it until you hear about what you'll be able to enjoy when you get it.
Why Buy The Kohler Corbelle Over Other Toilets?
The Kohler Corbelle's top pull is its comfortable design. Using the best research on the market, Kohler was able to uncover the most comfortable position for a toilet see. They call it Comfort Height, but everyone else seems to just call it "enjoyable."
Along with a comfortable height, the Corbelle series is known for having a design that's made to be easy to clean. Its skirted trapway, Revolution 360 Swirl Technology, and simple lines means you'll be scrubbing less and enjoying life more.
In terms of ease of installation, the Corbelle is a two-piece setup that's meant to be simple for crews to work with. If you're doing a DIY approach, you might find the Corbelle to be a great way to get a professional-grade look at a DIY level of effort.
The Kohler Corbelle: Key Features
If you've been paying attention to the leaps and bounds made by Kohler, you already know that they're going to make a toilet series that is absolutely filled to the brim with good features. Here's the schoop on what you can expect from the Corbelle series…
Revolution 360 Swirl Technology. This fancy name is a way to say that your toilet will have surprisingly powerful flushes that do double-duty. The flushes get rid of your waste (duh!) but also help gently scrub away messes that cling on to piping. The end result? Fewer chore days for you!
Comfort Height. Kohler's registered Comfort Height engineering concept made it possible for people to feel perfectly comfortable while they do their business.
Wide Range of Colors. Like many of their top-selling model series, the Kohler Corbelle boasts a very nice range of colors that you can choose from. Though white is their most common hue, you can also find them in creme-tinged colors.
If you were worried about installing a two-part toilet due to the chance of a shaky tank, fear no more. ReadyLock is a design feature that makes your toilet "click" into place, making installation a breeze.
Designed to be Easy to Clean. Did you ever have a toilet that had an exterior you always needed to scrub away at? This won't be that way, thanks to its sleek design and coated enamel.
With the prices of everything going up, it's good to have a toilet that works to conserve water. The Kohler Corbelle line does that beautifully thanks to WaterSense. It's good for the environment and your water bills!
The Kohler Corbelle: Specs Chart
| | |
| --- | --- |
| Manufacturer | KOHLER |
| Part Number | 3814-0 |
| Item Weight | 105.2 pounds |
| Product Dimensions | 29.38 x 16.5 x 31.31 inches |
| Item model number | 3814-0 |
| Is Discontinued By Manufacturer | No |
| Color | White |
| Finish | White |
| Material | China |
| Shape | Elongated |
| Installation Method | Floor-Mount |
| Item Package Quantity | 1 |
| Number Of Pieces | 1 |
| Water Consumption | 1.28 GPF |
| Handle/Lever Placement | Left |
Is It ADA-Compliant?
Like with most of Kohler's premium toilets, the Corbelle series is designed to be as inclusive as possible. Families who have mobility-challenged members will be thrilled to hear that the series is marked as ADA-compliant and works with almost any type of bathroom setup you could imagine.
Our Final Take: The Kohler Corbelle
When it comes to getting a high-quality toilet, Kohler should be your first pick—if only because you can rest assured that the money you're paying is going to be very well-spent. Their Corbelle line might be one of the newer series, but it still remains familiar in terms of the luxury, elegance, and ease that Kohler embodies.
This is one of those designs that just works well with every bathroom and every family. From it's water-saving features, to its easy installation design, to its ADA-compliant marks, everyone can find at least one feature that they enjoy in the Corbelle. Is this the perfect toilet? We can't say that perfection is attainable per se, but we can say that the Corbelle is a great series.
Should you buy it, though? If you take a look at the specs, all answers point to YES!