Kohler Cimarron Review – Is It Really The Best Comfort Height Toilet?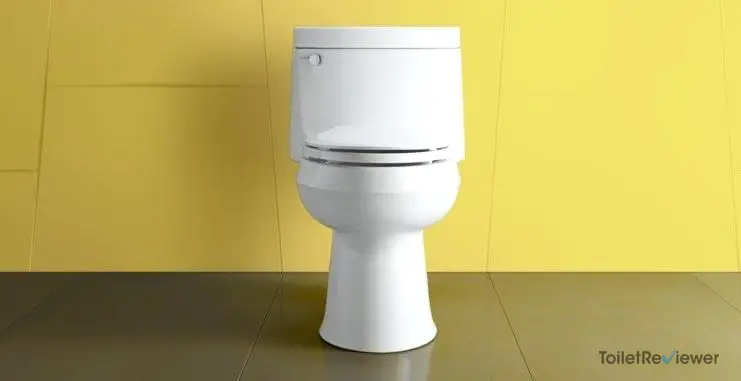 Kohler isn't just any old toilet-manufacturing company. It boasts more than 150 years' worth of customer satisfaction. In fact, the family that owns the company is very famous in Wisconsin almost like celebrities.
This long-standing toilet manufacturer has introduced a new line of toilets, the Kohler Cimarron, capable of challenging even the best and most popular competitors on the market.
Thanks to its unique features, epic design, and positive feedback, the Kohler Cimarron is now on its way to market dominance.
Despite the Cimarron having many competitors, the Kohler Cimarron 'stands tall' as one of the leading toilets.
But why?
Kohler Cimarron Review: Why We Love This Toilet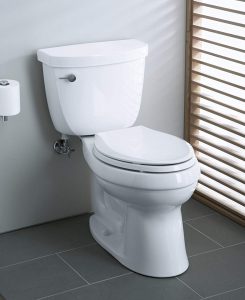 Not only does it excel in terms of design, function, standards, and overall efficiency, but it's also a customer favorite!
So what's the secret behind this toilet? What's so special about it? Here's the deal.
The Kohler Cimarron is a simple, two-piece toilet with a few unique specifications. First of all, it has an impressively low water consumption of about 1.28 gallons per flush.
Not only does this save you money on the water bill, but it's also eco-friendly, just like the Kohler Wellworth model. The Kohler Cimarron's ability to clear waste is Water Sense specified.
Kohler Cimarron Models: Which One Should I Go For?
There are a total of 9 Kohler Cimarron models on the market, which makes it a bit difficult to choose one if you don't know what to look for.
Well, here's the deal. All 9 of them have two things in common; the AquaPiston flushing system and the tall, 16.5″ bowl.
Besides that, each model has its own unique variation like a round bowl, a right-side handle (most models have a left-side one), a touch-less flush, or a one-piece toilet.
And that's the beauty of Kohler Cimarron, if you're looking for a certain feature, you'll find it. Here's a summary of the variations you can expect from each model.
The Kohler Cimarron Is Powerful & Efficient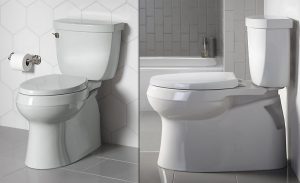 Of course, like any great toilet worth its money, the Kohler Cimarron meets the requirements of ADA compliance.
It has just the right seat height and elongation together with the lever trip flush.
One of the best things about this toilet is its powerful flushing mechanism, the AquaPiston. The way it works is that it allows water to enter the bowel from every single point around the perimeter of the rim.
In addition to that, it adds power, which makes the whole flushing mechanism much more efficient. If you're thinking of getting a toilet, you'll definitely want to know everything about this toilet from its best features to its pros and cons.
Let's start with the Kohler Cimarron's unique design and the materials it's made from.
Design and Materials
The Cimarron comes in 2 pieces, each made from vitreous china with a fully glazed trap way.
In terms of design, the toilet's seat is brilliantly designed to be at chair height in order to make standing and sitting so much easier. Not to mention the bowl itself is elongated for added comfort.
AquaPiston Flushing System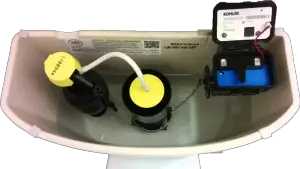 The Kohler's flushing system has a few unique features. First of all, each flush gives about 1.28 gallons of water, which is very impressive when it comes to toilets.
This water is blasted into the bowl under the effect of the AquaPiston flushing system.
The AquaPiston boosts the power and pressure of the incoming water, making it spread out and enter the bowl from every angle, essentially covering the entire perimeter of the rim.
This helps make sure that everything gets flushed out of the toilet, leaving behind absolutely zero residues or waste, on the first flush. You won't have to worry about clogging so much with this cannon of a toilet.
AquaPiston vs. Regular Old Flapper Valve
What exactly makes the AquaPiston so different from a regular old flapper valve? Why is it better? Well, for a number of reasons:
The AquaPiston releases more water into the bowl
It requires a lower actuation force than a regular flapper since it doesn't require that you pull against the pressure of water
There's no chance of warping with the AquaPiston because it doesn't use a rubber flap (rubber is liable to deterioration)
The AquaPiston valve is sturdier and leak-free thanks to its 90% less exposed seal material compared to 3-inch flappers.
The Cimarron's 3.25″ valve opening is the reason it's considered a class five flushing system, according to Kohler's standards.
All in all, the patented AquaPiston flush system is the reason this toilet boasts a quick, powerful, clog-free flush.
Cleaning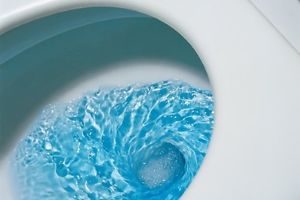 Let's face it; the most important property of a toilet is its cleaning capacity.
It has to be able to clean efficiently, effectively, and completely, on the first flush.
The Kohler's cleaning capacity is up to the highest standards, which earned it its Water Sense certification. It's able to clear a certain amount of miso paste every time on the first flush, adhering to the highest standards of the toilet industry.
The AquaPiston flushing system, the brilliantly contoured design of the bowl, and the fully glazed trap way all contribute to the Kohler's impressive first-time flush cleaning capacity.
Another important quality when it comes to toilets is not only its own cleaning capacity but its ability to be cleaned, as well. The great thing about the Kohler is that it doesn't have any special coatings.
You don't have to worry about certain cleaning products destroying or ruining the toilet. Most products will get the job done without any issues.
Consumption
In terms of water consumption, the Kohler uses only 1.28 gallons of water which is extremely efficient and money-saving.
This low water consumption rate, along with its ability to clear the entire toilet in a single flush, are what makes this toilet worthy of the Water Sense certification.  
Installation
In terms of installation, the Kohler is as simple as it gets. It incorporates the usual rough-in of 12" to the center of the waste pipe from the wall.
All you need for the installation process are a few minor things like a new trap seal, new T-bolts, and a toilet seat. If the existing nuts in your toilet are somewhat corroded or starting to wear away, you might want a few new ones.
Another great feature that makes the Kohler so easy to install is the fact that it's a two-piece toilet. These usually weigh much less than single-piece ones but the catch is that you'll have to fit the tank to the bowl properly.
The DryLock System
One of the best features the Cimarron has to offer is the patented tank mounting system called DryLock. It lets you attach the tank quickly and easily without needing bolt holes.
Besides being easier to install, removing the bolt holes means there's no chance of leakage due to weak coupling or deterioration of fasteners and seal.
Instead, the Cimarron incorporates a permanently-attached mounting plate to secure the bowl in place. Talk about a brilliant design!
Top Features of the Kohler Cimarron Toilets
Great, affordable price
Available in different colors: black, dune, ice grey, and sandbar
Comfort-height design
One flush clears the entire bowl completely
Low water consumption (1.28 gallons per flush)
Weighs about 65.3 pounds
Water Sense approved
1-year limited warranty
AquaPiston Flushing system
Two-piece model
90% less exposed seal material for added durability
Inner 3.25″ flapper seal for leak-free performance
Saves up to 16,500 gallons of water per year
Understanding These Features
Comfort Height
There are several Cimarron models on the market, each with their own bowl shape, width, and length. The differences aren't that big but there's one thing all the Cimarron's have in common: bowl height.
All of the Kohler Cimarron models have the same bowl height of 16.5 inches. If you add the thickness of the toilet seat, you'll get an ample height of about 17.5 inches.
This height, or let's use the correct term for it "comfort height", is what makes all the Cimarron models so unique. It falls within the ADA's 17-19″ height specifications and guarantees the utmost comfort, even for taller individuals.
Rough-in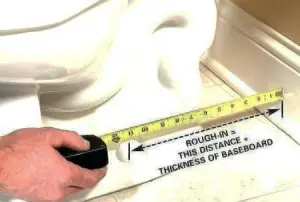 Most Kohler Cimarron models have a rough-in of 12 inches long, with the exception of a few models like the K-3851 and the skirted version. This makes installation so much easier.
But that doesn't mean you'll have trouble with the skirted version. You get to choose between 10″ and 14″ rough-ins and it also comes with a 12 -inch rough-in kit for the trapway to flange connection.
You can choose whichever length you prefer when purchasing the Cimarron.
Water Surface
Not many people take water surface size into consideration. However, those who do will definitely appreciate the Cimarron K-3609's impressive water spot of 10.5 x 7.875 inches.
Not only is the size of the water surface important, but also the distance between the surface and the rim of the toilet. Why? Because you want to make sure there's enough distance between your wiping hand and the dirty water.
The Cimarron K-3609 has a decent rim to water surface distance of 6.375″. While other Cimarron models have different measurements in relation to the water surface, they're all within a reasonable range.
Flush Capacity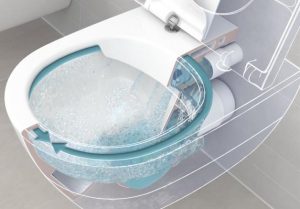 This is perhaps the one thing everyone agrees on when it comes to choosing a toilet.
You want something with a powerful flush capacity that is able to clear all waste with as little water as possible.
The Cimarron K-3609 is a 2-piece floor-mount gravity flush toilet capable of clearing the entire bowl on a single flush. While its 1.28 GPF capacity is certainly impressive, you can always upgrade to a 1.6 GPF if you feel the need.
But chances are you won't need to. One thing you should know is that some states only allow toilets of 1.28 GPF or less so getting the Cimarron K-3609 is a safer decision than getting a larger GPF toilet.
Anti-Condensation
People who live in areas with high levels of humidity all experience one common issue during hot months; tank condensation. This can be a bit frustrating but is easily avoidable.
All you need is a well-insulated toilet. For example, the Cimarron K-3609-U-0 and the K-3609-UR-0 have an excellent feature called the Insuliner. It's basically an insulated tank liner that helps you avoid the whole condensation issue.
There are several other Kohler Cimarron models that have this feature such as the K-3851-U-0, K-3851-UR-0, K-3887-U-0, and K-3887-UR-0.
Tank Cover Lock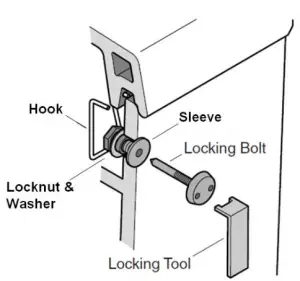 A tank cover lock is a feature that you can live without, but it's also a lifesaver.
If you're someone who has hyperactive children, always running around breaking and knocking things over, a tank cover lock can be very important.
A tank cover can be a safety hazard if someone knocks it over. You definitely don't want pieces of sharp porcelain edges lying on the floor of your bathroom, especially with kids around.
That's why a tank cover lock can help you avoid nasty cuts. Some of the best Cimarron models that incorporate this lock include the K-3609-T-0, K-3609-T-0, K-3589-T-0, and K-3589-TR-0.
A Few User Tips
Hold the handle a little longer
People tend to pull the trip handle, let it go right away, and expect the toilet to keep flushing until it's out of water. The thing is this only works if you're dealing with a regular old flapper valve.
These flappers are held open by water pressure and begin to close as the pressure decreases. But that's not the case with the AquaPiston valve.
The AquaPiston valve doesn't rely so much on water pressure which means the moment you release the handle, it'll start to close. If you release the handle immediately, very little water will get into the bowl; not enough for clearing.
Not to mention the amount of water will be insufficient for rinsing. This is why you should hold the handle a little longer before releasing it. 2 to 3 seconds should do the trick for a complete evacuation and an efficient, thorough rinse.
Clean the tank at least twice a year
Rim holes can get blocked easily by dirt accumulation, mineral deposits, or even foreign objects. While this might not be so common, it still happens every now and then.
Normally, spraying some water is enough to unblock those tiny little holes, but if you let the deposits and dirt accumulate, you'll have a tiresome unblocking session later on. That's why you should manually clean your tank at least twice a year.
Make sure you don't use any chemical-based cleaners inside the tank because they can damage the rubber parts of the valve.
Another great tip is to inspect the bowl rim, waterways, and trapway of the toilet before installation, making sure there's absolutely zero debris and foreign objects. Checking these parts prior to installation is much easier than after.
Quick Facts About the Kohler Cimarron
Each one of the Cimarron's 9 models and their 24 variations has something that is completely unique. If you're looking for the best model that has a certain feature, here's a quick at-a-glance summary:
Benefits & Drawbacks of the Kohler Cimarron
Let's move on to the main part of any review: the pros and cons. When it comes to Kohler, there are quite a few unique qualities that set it apart from others on the market.
In terms of cons or drawbacks, there's just one minor setback. Let's get into the details.
Pros
It's a two-piece (makes installation and tons of other aspects much easier)
It's ADA compliant ( when the flush trip lever faces the approach to the toilet)
EPA Water Sense certified
Chrome flush trip lever
AquaPiston flush system
Fully glazed trap way
1-year limited warranty
Less back strain for the user when sitting or standing thanks to the Kohler's comfort-height design
Suitable for people with disabilities that have difficulties standing up from a seated position
Low water consumption (1.28 gallons per flush) compared to other models which can reach up to 3 gallons per flush
Cons
The base of the toilet has a shape that makes using a plunger a bit difficult, but that's only if you should ever need a plunger
Frequently Asked Questions About the Kohler Cimarron
How do I keep my toilet from clogging?
There are several things you can do to avoid clogging. First of all and this may seem a little obvious; avoid flushing anything other than urine, feces, and toilet paper.
That being said, don't start throwing enormous amounts of toilet paper into the bowl and expect it to hold up. You should minimize the toilet paper you use or even better, install a bidet.
Another great thing you can do is flush twice during a heavy season, once when you're midway through and once when you're done.
Keep in mind that the Cimarron is a siphonic flush toilet, which means it has a long and narrow trapway and is liable to clogging. You can't expect it to be completely clog-proof.
But with the AquaPiston's powerful flushing force and proper maintenance, you can definitely avoid clogging.
Can I install it myself?
If you're thinking about saving a little extra money and feeling like installing the Cimarron yourself, go for it. It's not that difficult at all.
There are tons of YouTube videos and home improvement sites that can help you do it yourself without much difficulty.
The important thing is to prepare properly and organize everything ahead of time. The installation process itself should go smoothly and you'll cherish the sound of that first flush once your toilet's up and running.
One thing to keep in mind though is that the skirted model K-5310-0 might be a bit difficult to install, even for pros. Luckily, Kohler provides an installation video that makes things so much easier.
The skirted toilet incorporates the ReadyLock system which makes installing a skirted toilet as simple as possible. Forget about drilling holes, aligning templates, and guessing where things should go. You'll be finished before you know it.
The Kohler Cimarron Is A Solid Toilet Choice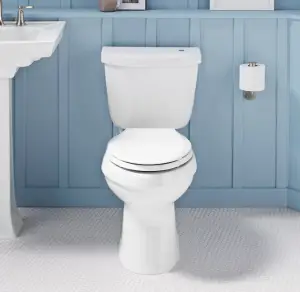 The Kohler Cimarron is truly impressive in terms of design, which appears to be well-thought-out.
It offers a bunch of great features that are normally found in much more expensive models, making this toilet a competitive market leader at a great price.
While it's true that you might need to spend a little extra on the separately-bought seat, if you're someone who lives in a Water Sense rebate area, the rebate offsets the price of the seat by miles.
Ready to Buy the Kohler Cimarron Toilet?
Its ADA compliance is definitely a bonus since it allows you to install it in restrooms that are meant for both public and employee use.
Sure, there might be a few toilets on the market that exceed the Kohler in terms of design and a few features, but they're also extremely expensive.
The Kohler Cimarron is a great option if you're looking for an efficient, functional, and affordable throne of a toilet.
Summary
Reviewer
Review Date
Reviewed Item
Author Rating