The 5 Best Dual Flush Toilets – [2021 Reviews & Rankings]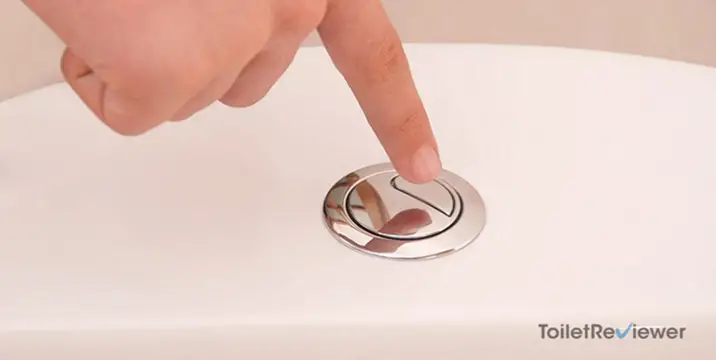 Dual flush toilets are a special type of toilet that let the user choose how much water to use per flush. A conventional toilet with a few basic features is not enough anymore for many people. Dual flush toilets use two buttons or a handle to flush varying amounts of water.
Aside from being comfortable, a dual-flush toilets are water efficient, durable, and offer the option to flush solid or liquid waste. While the mechanism for dual-flush toilets was invented all the way back in the 1960s by the Japanese company named TOTO, such toilets didn't get popular until sometime in the mid '90s.
Dual flush toilets have been used in many homes for the last 30 years due to water shortages in many parts of the world. Also, because of their water-saving feature and their efficiency. As mentioned above, dual flush toilets have two functions: for liquid waste and for solid waste. Such a system can save up to 60% of water, which is considerable water conservation indeed.
In this article, we will go over the top dual flush toilets. All of the dual flush toilets in this article will use less water by letting you choose how much to use when you flush, whether you are wanting to save money, or just be a little easier on the environment.
How Much Do Dual Flush Toilets Cost?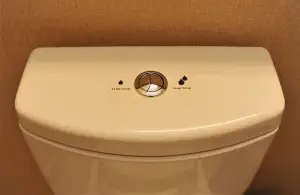 The affordable options are priced between $230 and $500 while high-end dual flush toilets can cost as much as $4,500 to buy.
The cost of installing a dual flush toilet ranged between $100 and $1,000 apiece, including equipment costs and installation labor costs.
Installation Labor Costs
Additionally ally, you also need to budget for the installation of the dual flush toilet. Installation tasks often include connecting the toilet to the water supply line, wall surface demolition and restoration as well as drain and leak test.
For all this work, a skilled and certified dual flush toilet installer will charge you $186 to $234 for two to three hours of work.
You may also end up spending on supplies for preparation and site cleanup after the installation. However, this will not exceed $25 in most cases.
The 5 Best Dual Flush Toilets for 2020
As one of the most effective toilets on the market right now, American Standard is widely used all around the globe. It is certified by WaterSense and many people regard it as the best dual flush toilet.
The H2Option toilet uses 'siphonic action' technology to eliminate more bulk and cut down the water consumption.
In fact, it uses 1.6 gallons (about 6 liters) per flush in case of solid waste and one gallon per flush when it comes to light waste.
The toilet boasts a pressurized rim with rim holes that are specially configured to help in scoring and cleaning of the toilet.
Additionally, it makes use of a mirror-like antimicrobial surface that prevents the formation of mildew and bacteria. This ensures that the toilet looks clean for long periods of time.
Pros
Great dual flush option
Perfect for small bathrooms
Noiseless, quiet flush
Easy to set up
Sturdy and durable
Cons
The stool may stick on the wall sometimes
Not so comfortable
KOHLER K-3987-0 Wellworth Toilets, White
Item may ship in more than one box and may arrive separately
Two piece toilet; Does not include the Seat; (Image is only an representation of the complete item)
Round front bowl offers an ideal solution for smaller baths and powder rooms
Left hand nested trip lever offers a choice of 1.1 or 1.6 Gallons per flush
2 1/8 Inch glazed trap way
If you have a bathroom with limited space, this toilet is right for you. Thanks to a rounded front bowl, it takes up less floor space compared to the elongated counterparts, and that's not at the cost of efficiency.
KOHLER Wellworth is designed as a traditional 2-piece toilet with the lever on the left side.
The toilet comes with the Class Five system which can remove quite a lot of waste in a single flush while providing the low water consumption.
There are two choices of using: 1.6 and 1.1 gal per flush for solid and light waste. This can help in saving around 25% of water for each flush.
However, the best aspect of this toilet is that you won't use the plunger anymore. Its glazed trapway and high flush power ensure that the waste is perfectly cleared.
Pros
Suitable for smaller bathrooms
Clog-free for years
Easy to install
A flat top can be utilized for more storage
Meets EPA flushing guidelines
Cons
Not as comfortable because of the height
Noisy flushing
WOODBRIDGE T-0019 Cotton toilet | Modern Design, One Piece, Dual Flush | White
Luxurious Modern Design one piece toilet, clean, sleek look complements with different styles like modern, craftsman, traditional, etc
Toilet dimensions – 28.5"D x 14.5" W x 27.5" H | Rough opening – 12" | Voltage – 110V | Floor to seat height – 16.5" | MaP Score – 1000 g
ADA Compliant Toilet | US & Canada UPC & CSA certified products. High-efficiency, Water Sense Certified toilet - meet or exceed ANSI Z124. 1 & ANSI A112-19. 7
5 year limited on porcelain parts against fading/staining of the glaze | 1 Year on flushing mechanism & soft closing toilet seat
Package Includes toilet, pre-installed soft closing toilet seat, pre-installed water fitting, high quality wax ring, floor bolts, and installation instruction, also Include special hand wrench tool to easily tighten the bolts in narrow spaces
Contemporary look and sleek, modern design make the
WOODBRIDGE
one of the most popular toilets. It looks great in just about any bathroom.
As for the performance, the flexible dual-flush mechanism is extremely water efficient.
The 'siphon flushing system' provides a powerful flush with minimum noise. Depending on whether you're depositing waste or liquid, you will spend 1 or 1.6 gallons of water per flush.
This gives 1.28 gallons on average, meaning you will save roughly 16,500 gallons yearly.
The toilet features an elongated seat and stands at height of 18″ from the seat top to the floor. This ensures that anyone can use it comfortably.
Pros
Fits into tight spaces
Elongated bowl for enhanced comfort
Fully glazed flush
Long lasting
Elegant design
Cons
Not perfectly flat on the bottom
A little tricky to install
SANIFLO Sanicompact - Dual-flush System - Residential
BONUS HALF BATH: The Sanicompact is a self-contained dual-flush toilet system used to install a half bathroom up to 9 feet below the sewer line, or even up to 120 feet away from a soil stack. For residential use only.
DUAL PURPOSE: The Sanicompact will also discharge gray water from a sink. The wastewater drains into a 1.25" hose connection in back of the toilet.
EFFICIENCY AT ITS FINEST: The standard dual flush version uses 1.28 gpf or 1 gpf and uses less water than any regular toilet but with the same efficiency. The push button activates a timer and a solenoid valve in order to fill and wash the bowl.
TECHNICAL SPECIFICATIONS: Motor: 0.5 HP oil-filled thermally protected; Noise level ≤ 53 dBA (Lp) (measured at 3 ft.); Discharge rate at 9 ft: 24 GPM; Certification code: CSA (IPC, NSPC); Connections: Sink
4 YEAR WARRANTY: All of Saniflo's products have a 2 year warranty with purchase, and an additional 2 years is added with registration. Our warranty program can offer peace of mind, should a problem arise.
What sets this model apart from standard toilets is that it employs a pump and
macerating
to remove waste instead of flushing directly in the plumbing system.
The pump is capable of pumping up to 100 feet horizontally and 9 feet vertically through a 1-inch pipe. The grinder and pump are discretely concealed under the toilet base.
Once you press the flush button, the toilet will fill itself with a certain amount of water. The sink drains in the pump so that the pump immediately kicks in when you're running the water. That's a great option when you don't want to drain a sink.
Another big plus of this dual flush toilet is that a sink waste pipe can be connected to the toilet. This allows you to build a half bath or powder room in a place where the standard toilets are impractical for some reason.
Pros
A connection of a sink is possible
Installation is straightforward
Suitable for small bathroom areas
Compact design
Stylish toilet seat
Cons
The flaw in plastic mold can cause sewage leak
Lack of quality control
The
TOTO Aquia
features a two-piece wall hung design which enables you to customize the toilet height according to your needs. Combined with the elongated bowl, this results in a good sitting experience and maximum comfort.
The solid waste is effectively removed by virtue of a dual-max flushing mechanism. There are 2 chrome buttons on the top of the tank that lets you trigger a flush for either solid or light waste.
the streamlined look of this toilet fits with any bathroom, the vitreous china gives it a sleek, modern look. One thing should be kept in mind if you want to go for this toilet. You will need to buy the toilet seat, in-wall tank, and flush plate separately.
Pros
Low water consumption
Adjustable height
Saves space
Priced competitively
Cons
The tank inside the wall makes maintenance a bit tricky
It may require more than one flush sometimes
Do Dual Flush Toilets Really Save Water?
Dual flush toilets give you the ability to choose between two different amounts of water when flushing. If you use a dual flush toilet properly, it will reduce your water bill.
Are Dual Flush Toilets Better?
Dual-flush toilets use much less water and are environmentally friendly. Using a dual-flush toilet lowers your water bill, saving you money.
Things You Must Know Before Buying a Dual Flush Toilet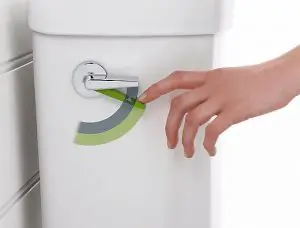 Pre-purchase considerations are highly important and helpful because they can prevent buyer's remorse.
With that being said, take a minute of your time to read through the information below before going shopping. That will minimize the chances of sending a toilet back to the shop.
What is a Dual Flush Toilet?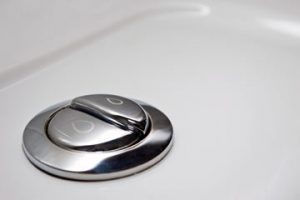 Improved water efficiency is one of the reasons homeowners are upgrading to dual flush toilets.
Instead of the siphoning action used to flush waste in traditional toilets, dual-flush toilets mainly rely on the force of gravity to flush bowl contents.
When the flush mechanism is activated, a trap door opens at the bottom of the toilet bowl, flushing the waste using the pre-determined volume of water, aided by gravitational acceleration. This has been proven to result in a cog-free flushing experience and reduces plunger use.
As opposed to conventional toilets, dual flush toilets are fitted with two different flush buttons or handles. Each of the two flush buttons/handles flushes a pre-determined volume of water. If you intend to flush liquid waste, you need to use the one that releases the least amount of water.
The other button/lever is meant for flushing solid human waste, hence dispenses more water per flush. Based on statistical findings, a dual flush round toilet or dual flush elongated toilet will reduce water consumption in your bathroom by up to 67 percent.
Dual-Flush Toilet—Which Buttons to Push?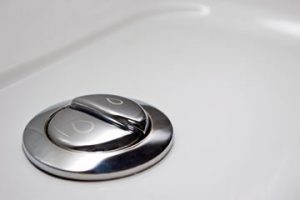 Modern dual flush toilet round bowl models are equipped with two flush buttons—a large one and a small one—each of which is connected to an exit valve.
The larger leaver/ button is meant to flush about six to 9 liters of water while smaller one flushes about  3 to 4.5 liters of water per flush.
If you want to flush liquid waste, you need to operate the lever/button that releases the least amount of water per flush. The larger volume-per-flush button is meant to flush solid human waste.
How to Adjust Dual Flush Toilet Mechanism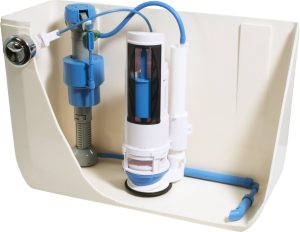 Similar to conventional toilets, a dual flush toilet has two main mechanisms, the filling and flushing mechanisms. The fill valve connects to the water supply, allowing water into the tank.
It keeps running until the float shuts it off. The flapper is part of the flush valve; meant to keep water in the tank until lifted by flushing, and resets after flushing so the tank can refill.
Adjustments needed to keep everything in working order are not complicated. The flush button has two push rods underneath for activating the flush valve. If the toilet is not flushing waste as it should, you should consider adjusting the push button flush valve.
This adjustment should be carried out on the side of the push button that controls the flush for solid waste. To do this, you should follow this procedure:
Open the Dual Flush Toilet Tank
Unscrew and remove the lid on your dual flush toilet tank properly. Place the lid upside down on the toilet seat.
Turn the Lock Nut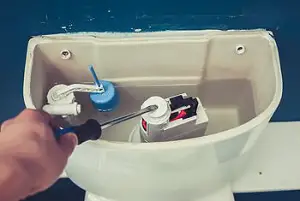 Find the lock nut securing the faulty pushrod. Turn the push-button rod clockwise to lower the rod and counterclockwise to extend the rod.
A dual flush toilet mechanism has two rods on the push button. In Kohler dual flush toilet models, the blue rod opens the small flush valve and normally requires no adjustment.
Just grasp the white threaded rod and turn it once counterclockwise with your fingers. You should then re-tighten the lock nut with your fingers.
Replace the Flush Toilet Tank Lid
Replace the lid on top of the tank and test the push button to see whether the problem was resolved. If not, you should repeat the procedure again.
Dual Flush vs Single Flush Toilets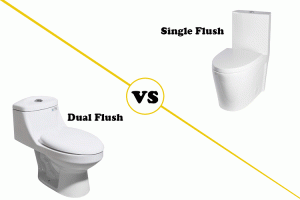 Single flush toilets have just one flush button/leaver for flushing both solid and liquid wastes. In contrast, dual flush toilets are fitted with two flush buttons/leavers, one with a lower flow for flushing liquid wastes.
Based on numerous dual flush toilet reviews, the leading models like the best Duravit dual flush toilet models are highly efficient on the water.
How to Adjust Water Level in a Dual-flush Toilet Tank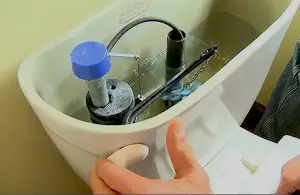 If the level of water in the dual flush toilet tank is too low, the toilet may not flush properly. If too high, it may result in splashes and leaks.
To adjust the level of water in the tank back to its normal, this is the procedure you should use:
Open The Tank Lid
Remove the tank lid from the tank and place it upside down on a flat surface. There are two rods beneath the tank that connects to the push-buttons. Try not to bend or damage these rods in the process.
Find the float adjustment screw, often situated between the fill valve and the flush valve.
Adjust the Screw as Required
Using a flat-head screwdriver, turn the adjustment screw clockwise to raise the water level. The objective here is to have the water level adjacent to the indicator line on the inside back of the toilet tank.
If you need to lower the water level, turn the screw counterclockwise. Once you are done, close the tank properly using the lid.
Dual Flush Toilet Keeps Running – Possible Problems & Fixes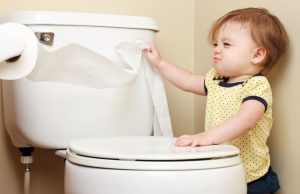 Even with some of the best dual flush toilets like Woodbridge dual flush toilet models, running toilet is one of the common problems you should anticipate.
If your dual flush toilet is constantly running, there are two main things you should check to resolve the problem, including:
With time, accumulation of debris in the tank may cause the fill valve to malfunction. If this is the problem, open the fill valve cover and inspect for the accumulation of debris, especially around the fill valve.
Brush out the valve using a small brush. Recap the valve and check if the problem has been solved.
With time, the rubber piece may become brittle or misaligned. If so, turn off the water supply and flush the toilet to completely empty it of water. Soak out any remaining water with a sponge or towel. Now remove the flush valve canister to access the seal.
Check to see whether the seal has some cracks. If the seal is cracked, you need to replace it or try to re-sign it in its proper position, if that is the problem. You may also apply a film of Vaseline to the seal to make it supple and functional again at least for a while.
Why Choose Them?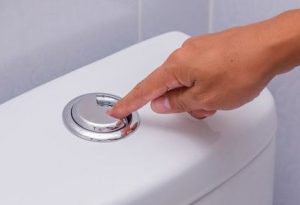 There are some distinct advantages of dual flush toilets you do not want to miss.
1) Save Water
As you can see, dual flush toilets are big savers in regard to sanitary water.
Most of them amount to an average of 1.28 gallons per flush (GPF), but there are also models that go below 1 GPF.
2) Save Money
Assuming that you flush 4000 times a year, a standard toilet that churns four gallons per flush is going to give you around 16,000 gallons wasted.
A 1.6 GPF toilet, on the other hand, will flush about 5,120 gallons of water yearly. That makes a big difference! Less water usage eventually results in reduced water bills and makes your wallet much happier.
3) Save the Environment
Last but not least, these toilets are eco-friendly. By installing a dual flush toilet in your bathroom, you will save on a vital natural resource – water.
Type & Configuration
There are two main options when it comes to Most toilet configuration: 1-piece and 2-piece. The 2-piece toilets are more traditional and this design is the less expensive option. The tank and bowl are separate, meaning they should be joined together.
More and more people prefer one-piece design these days. That's because there's no seam between the tank and bowl, which makes cleaning much easier. In addition, they don't have to be put together and assembled.
Bowl Shape and Height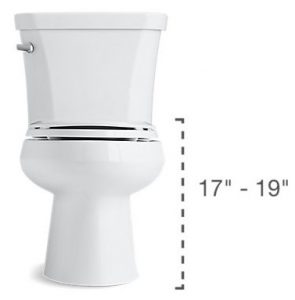 Toilets come in different sizes and shapes. Some are more compact, others are taller, while several brands are focused on user comfort.
With regard to bowl shape, there are two options to choose from – elongated and round. Elongated bowls are oval in shape while round models are circular shaped.
In most cases, elongated toilet bows are 2 inches longer than circular bowls. Elongated bowls are usually 18 or 19 inches long, where round bowls are 16-17 inches long.
Round toilets feature a compact design and they require less space. That makes them more suitable for smaller bathrooms. On the other hand, elongated toilets appear to be more comfortable because of the extra inches.
Water Consumption
Water conservation is important for both your wallet and the environment. Many toilets are designed with that in mind and most of them are WaterSense labeled.
The average water consumption of dual flush toilets ranges from 0.8 to 1.28 GPF. It depends on the usage of the lighter and heavier flush.
Mount Type
If you are looking for a dual flush toilet, you can see a wide variety of floor mounted options nowadays. To figure out which one is best for you, you need to understand the specific access requirements of your bathroom.
It should be noted that the flushing systems aren't just limited to the floor mount. There are also wall-hung toilets that perform so well in many bathrooms.
Style & Design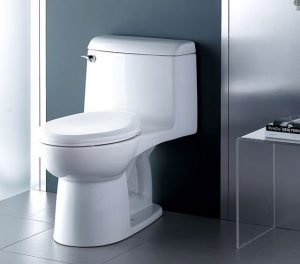 Dual flush toilets come in a variety of styles and materials.
While most customers still choose the traditional white porcelain designs, there is an increasing number of toilets with a sleek modern look.
Some of them come in different exotic colors like peach and glacier blue.
Aside from the cheap plastic, toilet seats can be made of polypropylene, vinyl, and real wood. They usually do not come with toilets and are purchased separately.
There are also soft close or slam free toilet seats these days. Some high-end modern seats come with extra features like the warm water stream, surface heaters, deodorizing and drying functions. Bear in mind that all those bells and whistles add to the cost.
Our Final Words
When talking about the advantages of dual flush toilets, we always emphasize benefits such as water saving, efficiency, durability, comfort, and so on.
The major drawback of these toilets is their hefty price tag. Generally speaking, they are more expensive than their old-fashioned and regular counterparts. But remember that they are more economical in the long run.
The comprehensive reviews we have provided comprise the top-notch toilet options that every home needs.
We hope it gave you a clear idea of the best dual flush toilet for your own home. In addition to saving water and money, it should satisfy your needs, too. Just as with other products, it mostly depends on personal taste.
Summary
Reviewer
Review Date
Reviewed Item
Author Rating