Kohler Devonshire Toilet Review – Is It Really That Good?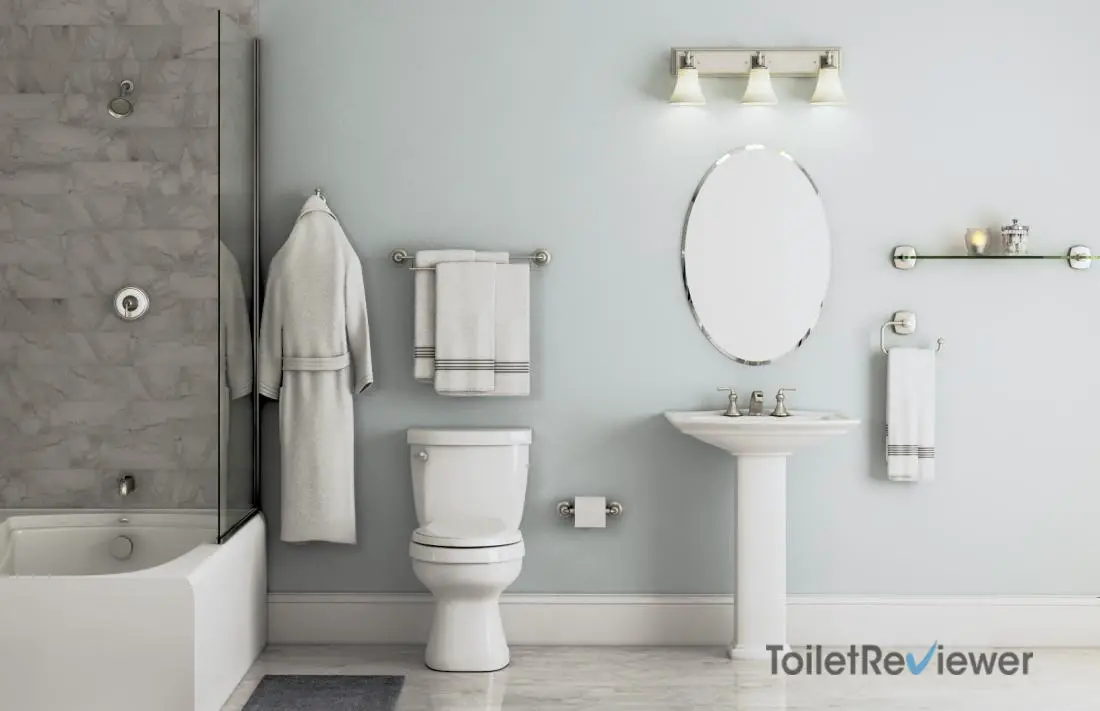 A bathroom is a place where you can gather your thoughts while getting your "business" done at the same time.
Having a comfortable toilet that works well can make or break that kind of moment. The last thing a person wants to worry about is whether their toilet is going to perform as it should.
Kohler is a name that you can trust when it comes to quality toilets and fixtures. The Kohler Devonshire toilet is reliable, nice looking, and will hold up over time. The elongated bowl and sleek looking design make it easy to use and easy to install.
Once you replace one of your toilets with the Devonshire, you will want to put one in every bathroom in your home.
Kohler has a one-year warranty and designs its units to perform well even after many years of heavy use. One thing I have learned over time is that some things are made better than others.
Toilets are no exception. This model is easy to install, has quality parts, and has a two-piece configuration that makes its design efficient for any space.
What Makes The Kohler Devonshire Toilet The Best?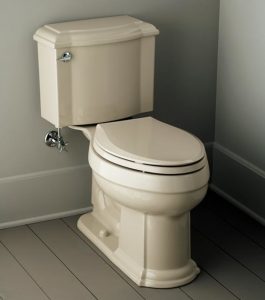 The Kohler Devonshire toilet has many qualities that make it a no brainer when it comes to choosing it as the best toilet. This model has a 1.28-gallon flush setting that saves you a ton of water (up to 16,500 gallons per year.) Toilets that use other flushing settings have a 3.5-gallon flush.
If you are going to be installing your toilet yourself then this is the unit for you. The two-piece configuration and a 3-bolt installation set up makes it easy to install and will save you time when putting it in.
The Devonshire toilet comes with the two-piece tank and bowl. The seat is sold separately. Its elongated bowl gives you extra room when sitting, and the lower bowl unit has a height that makes it easy to sit down and stand up. This is a great toilet for anyone who wants something comfortable and reliable.
The Kohler Devonshire: Key Features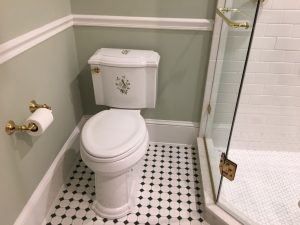 The features on this toilet are what make it such a great design. There are above-average aspects of this model that make this the best toilet for anyone who is looking for quality as well as affordability.
Let's look at its most popular features:
Elongated Bowl. If you are anything like me having a little extra room when you are sitting on a toilet makes all the difference. The Devonshire has an extra 1-1/2 inches compared to a round configuration.
Two-Piece Configuration. Having a two-piece design is great for many reasons. It is easier to install and there is more room around the bowl and tank allowing for greater access.
Multiple Color Options. This toilet has 9 different color options! If you are wanting your toilet to work with the interior design of your bathroom then the color options give you a lot to work with.
AquaPiston Technology. One of the best features of this unit is the AquaPiston technology which gives it a powerful gravity flush that reduces the chances of clogs and other problems.
WaterSense Certified. Being eco-friendly is so important. The world is full of convenient products that have no benefit to the environment. The Devonshire line of toilets uses WaterSense low-flow technology that helps save water without sacrificing performance.
The Kohler Devonshire: Specs
| | |
| --- | --- |
| Manufacturer | KOHLER |
| Part Number | 3837 |
| Item Weight | 98 pounds |
| Product Dimensions | 28.63 x 12.31 x 3.06 inches |
| Item model number | K-3837-0 |
| Color | White + 8 other options |
| Material | China |
| Installation Method | Floor Mounted |
This Unit is ADA Compliant
With so many awesome features and options available with products, it's easy sometimes to miss a few important elements. Being ADA compliant is a standard that should be followed by companies that care about people.
The Devonshire is ADA compliant and makes it easy for anyone who has issues with mobility or disabilities. Having the option of being designed with special needs in mind helps people and families have access to essentials that make life easier for everyone.
The Kohler Devonshire: Our Final Take
There are a lot of toilets out there that come with bells and whistles, options, and things that you may or may not actually need. The Devonshire line gives you exactly what you need with a quality product that is affordable and functional.
If you are focused on quality, ease of use, and comfort then the Kohler Devonshire toilet was made just for you! Add to that the fact that this toilet uses less water and is eco-friendly and you have yourself a winner.
Don't give in to gimmicks that make something look fancy with a higher price point. This toilet model has everything you need at an affordable price and it is going to be one that you will be comfortable using for years to come.