Kohler Highline Classic Review – Best Comfort Height Toilet Yet?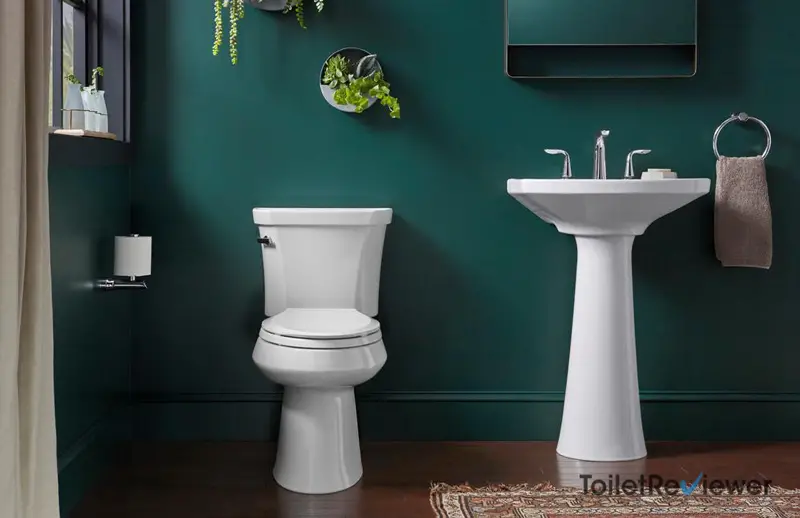 Kohler is a world-renowned company that provides a wide variety of solutions to different bathroom needs. The Highline Classic toilet is one of their top-of-the-line products that combines advanced, modern features with a classic look.
Despite the simple look, this unit still looks sophisticated and majestic. It matches well with both conventional and modern bathroom designs. While its exterior looks plain, the technology used in its construction is not basic by any means.
This fantastic toilet implements the latest technologies that make it highly efficient and effective as well. It comes with a powerful flushing mechanism that is designed to reduce water waste, thereby helping both your water bill and the environment.
Offered at a fair price, this two-piece toilet includes all the features and functions you could ever need for a pleasurable bathroom experience. In addition, it is very comfortable to use and easy to install.
These are just a few things that make this toilet so popular. Let's take the plunge into the Kohler Highline Classic review and explore other benefits it offers.
Kohler Highline Classic Review: Top Models
Kohler is a world-famous brand that has been around in the lavatory market for many years. When it comes to Kohler toilets, they are considered to be durable, highly efficient, and reliable.
The same holds true for the Highline Classic toilets. Below are the two most popular models from this series.
Product
Name

Pieces

Water
Consumption

Dimensions
(inches)

Shape

Material

Color / Finish

Price

Kohler K-3493-0

Two-Piece

1.6 gpf

38.2 x 25 x 23.7

Elongated

Vitreous china

White

Check Price

Kohler K-3658-47

Two-Piece

1.28 gpf

29-1/2 x 19-5/8 x 30-3/8

Elongated

Vitreous china

Almond

Check Price
If you're experiencing weak toilet flushes, you might be interested in replacing your old toilet.
The Kohler Highline Classic will give you a better toilet experience with improved flushing power.
This well-designed toilet uses a pressure-assisted flushing system to remove waste from the bowl, using 1.6 gallons (about 6 liters) of water per flush. That allows you to save over 2,000 gpf per year.
Additionally, it features a standard height and left-hand trip lever. The toilet comes with an elongated bowl that gives extra sitting room for enhanced comfort.
A standard 12″ rough-in makes it suits in most bathrooms and public restrooms. However, you'll need to purchase some things like a toilet seat, supply line, and wax ring because they aren't included.
Pros
Water-saving technology
Very comfortable
Easy to install
ADA compliant
With a compact and sleek design, this toilet is an excellent addition to just about any bathroom.
It is a perfect mixture of modern technology and classic design.
The most powerful weapon of this high-efficiency toilet is its flushing system.
The Class Five technology is responsible for exceptional bowl cleanliness. Smooth flushing actuation is accomplished by a canister flush valve.
Moreover, this is an ADA-compliant product given that it uses just 1.28 gallons of water. This means you will save money on your water bill.
Another benefit you will reap from this toilet is a discount for buying a WaterSense labeled product. Of course, you're supposed to live in a state where these rebates are available.
Pros
WaterSense certified
ADA compliant
Standard height
Powerful flushing technology
Cons
The supply line and toilet seat are not included
Not so silent
Kohler Highline Classic Specifications
Pieces: Two-piece toilet
Material: Ceramic (Vitreous china)
Shape: Elongated
Lever/Handle Placement: Left
Flushing system: Pressure Assist
Flush Rating (Map Test): >1000
Comfort Height
Certification: Watersense
Seat: Not included
Warranty: 1-year limited warranty
Kohler Highline Classic Features
While the Kohler Highline Classic is not one of those fancy toilets that come with advanced functions, it still offers all the important features. Let's take a closer look at the key features.
Comfort Height
Being two inches higher than standard toilets, the Kohler Highline Classic offers comfortable seating at the chair level. This makes it easier to sit down and stand up.
Seniors and adults with knee or lower back problems will appreciate the slightly raised height. On the other hand, the toilet can be a little tall for small children.
High-Quality Materials
The porcelain materials contribute to the great durability in addition to the elegant look. Vitreous china has been proven to be an extremely durable material, so this toilet is built to last a lifetime.
What's more, it is very resistant to dust and dirt. It will save you the hassle of cleaning your toilet frequently and leave you more time for other things.
Structure & Design
This is a two-piece toilet – the bowl and tank are separated – that comes with an elongated seat for added comfort.
So, let's check these components separately.
Bowl: The ceramic bowl features an elongated floor mount base for the added room. Take it into consideration if you have a small bathroom. Also, the bowl is somewhat longer than usual. That's why the total toilet length (from the outer edge to the back wall) is slightly increased.
Tank: The uniquely shaped tank is equipped with a sturdy punch or plunger for improved functionality. It leverages a pressure-assisted flush action to remove any clogs in the flush valve. Note that the flush trip lever is located on the left side.
Overall, this well-designed unit looks nice and fits in with various bathroom decors. It blends in perfectly with most bath styles and fixtures, so it will very likely be a good match for your bathroom.
Powerful Flushing System
Pressure Lite trademark technology is certainly the best feature of this gravity-flush toilet. Thanks to this powerful system, the toilet can do a terrific job of flushing the waste. At the same time, it will reduce your water footprint using only 1.6 gallons per flush.
How to Install the Kohler Highline Classic Toilet
The installation process is quite simple. Most DIY people will be able to install this unit on their own. If you've installed any toilets before, this shouldn't be a problem for you. Furthermore, the separate components are easy to carry and relatively light.
Even so, you are likely to encounter some difficulties when starting to install this toilet. Instead of explaining the installation process in detail (check the video below), we will focus on these issues.
Vague instructions: Most instructions are pretty clear. The section that describes how to attach the bowl to the tank is not explained clearly, though.
Gasket bolts aren't long enough: You will have a difficult time connecting the tank with the toilet bowl. That's because of the short gasket bolts that are not capable of extending through the mounting holes. These bolts should be forced back in the tank manually.
You won't get all the necessary hardware: Despite being a factory-sealed box, the toilet may lack some components. The company refuses to ship replacement hardware in most cases.
User Feedback & Reviews: What People Said About the Kohler Highline Classic Toilet
Most Common Complaints
Toilet noise: Some users have complained that the toilet tends to make some noise when flushing and filling up the tank. Nevertheless, it is still silent compared to other toilets in its class.
It lacks some components: In addition to the toilet seat, you will also have to buy a supply line separately as it isn't included in this purchase. So, be prepared for the additional expenses if you opt for this toilet.
Most Common Praises
Sleek design: The simple two-piece construction makes this device a good fit for most bathroom décors. Most customers said that it has complimented their bathroom.
Comfortable seating: The elongated seat is coupled with standard height for chair-like comfort. People like the convenience of sitting on this toilet. It is accessible to all kinds of users.
Efficient yet powerful flush: The strengthened flushing power ensures that the bowl is always clean. In fact, the secret of success lies in the Kohler's trademark flushing technology that keeps the toilet clean while saving water at the same time.
How Much Does the Kohler Highline Classic Cost?
The Highline Classic is a name-brand toilet designed with budget-minded customers in mind.
By the way, it one of the most affordable Kohler toilets out there.
This two-piece product comes at a reasonable price, so it's no doubt a good choice for anyone in pursuit of an efficient mid-range toilet.
If you're looking for the toilets between $300 and $400, this product will suit your budget.
Is the Kohler Highline Classic Toilet Worth Buying?
The Kohler Highline Classic toilet excels in numerous areas, including design, seat comfort, and flushing efficiency. According to customer reviews, it is a well-performing toilet that is well worth the money spent on it.
It should be noted that the supply line and seat aren't included. Also, keep in mind that there are no cool features that can be found in high-end models.
Despite the traditional design and basic features, it is still considered a good value for money. If you prioritize flushing performance and water conservation, then youwill definitely get your money's worth from this classic toilet.