Kohler Lintelle Review – Does This Toilet Fit Your Lifestyle?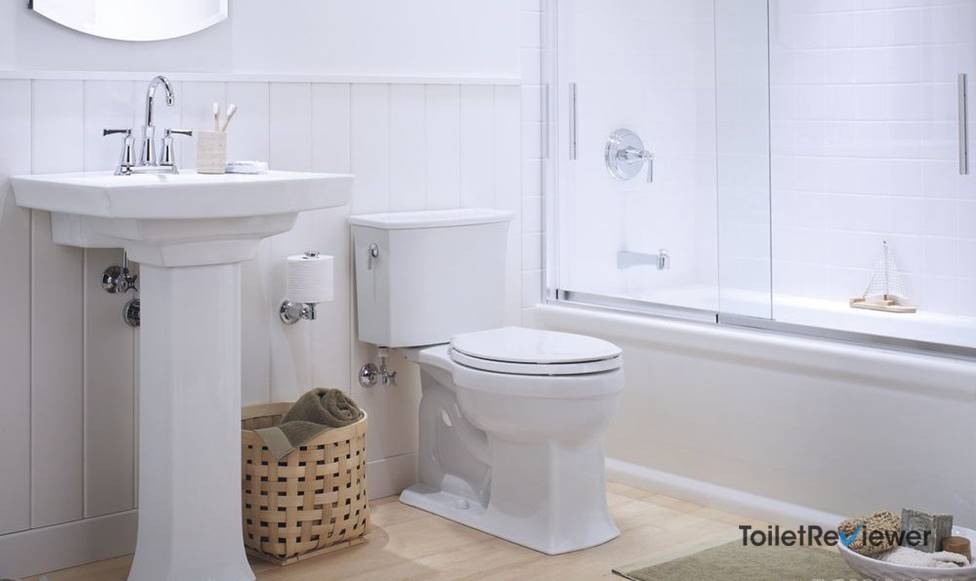 Kohler, oh Kohler. You are the true king among bathroom fixture manufacturers, aren't you? As a darling of the interior design community and of the bathroom renovation scene, Kohler is a brand name that is associated with success, functionality, and beauty. It's a name that is as solid as can be.
In its run, Kohler managed to have a plethora of amazing design series. One of the lesser-known models to be part of the Kohler family is the Lintelle series. The Kohler Lintelle toilet is a model that walks that fine line between traditional and modern. That's what makes is a star among most toilets of its kind, and why it's a popular choice among bathroom planners.
The Kohler Lintelle is a great line for people who want functionality with a side of style. Are you curious about what the Lintelle offers? If you've been looking into bathroom renovations, then this is a great review for you to read…
Why Buy The Kohler Lintelle Over Other Toilets?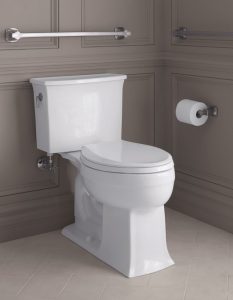 When it comes to toilets, you can never risk splurging on a model that doesn't work with your needs or your lifestyle. The Kohler Lintelle is a superb choice for people who want a high-functioning toilet that fluses well and is designed for easy installation.
The Lintelle is a series that is designed with easy installation in mind. That's why it comes with everything you need in order to install it in your own bathroom. For DIYers, this is an amazing boon. That means you won't have to worry about surprise costs!
In terms of comfort and functionality, the Lintelle comes with all of the features that make a Kohler toilet good. This means you can expect fewer clogs, better cleaning times, and an overall great experience every time you hit the loo.
The Kohler Lintelle: Key Features
Knowing what you should expect from a toilet series is crucial to picking the right model for you. Thankfully, the Kohler Lintelle comes with a nice array of features that make it a smart pick for anyone who really wants a reliable model in their bathroom. Top features include:
WaterSense Certification. Like many of the newly top-rated toilets on the market, the Lintelle meets WaterSense water conservation standards. This model flushes 1.28 gallons per flush, making it a low-water toilet capable of saving thousands of gallons every year.
Elongated Bowl and Comfort Height. Everyone has experienced the awkward discomfort of sitting on a toilet that's too small or not the right height. The Lintelle comes with an elongated bowl and Comfort Height technology that is designed to make it a more comfortable sitting experience.
Class Five Flushing Technology. Kohler's unique Class Five® flushing technology is designed to reduce the amount of clogs and offer up a powerful flush every single time. To make things even more impressive, this gravity-powered engineering perk offers up a cleaner bowl with every flush.
The Complete Solution. Are you tired of shopping for toilets, only to be told that you need to pay extra for the basic materials that you need in order to install it in your home? You're not alone. This two-piece toilet comes with everything you need for a DIY installation—including the wax ring, seat, supply line, and the toilet itself!
Quiet Close Grip-Tight Seat. Tired of hearing a loud "KLONK!" every time you let the seat down? If so, you will love this quiet-close tech included in the Lintelle's seating arrangement.
The Kohler Lintelle: Specs Chart
| | |
| --- | --- |
| Manufacturer | KOHLER |
| Mfr Part Number | 23158-0 |
| Item Weight | 78.8 pounds |
| Product Dimensions | 29.25 x 18.78 x 30.08 inches |
| Item model number | 23158-0 |
| Size | H 30-1/16", W 18-3/4" |
| Color | White |
| ShapeMethod | Elongated |
Is It ADA-Compliant?
In recent years, Kohler has acknowledged the need to add inclusivity as a feature in many of its toilets. That's why they've made a serious effort to create designs that are deemed to be ADA-compatible as part of their offerings.
The Kohler Lintelle series offers up ADA compatibility and is noted for being mobility-friendly. If you or a loved one needs a toilet that works well with mobility-impaired individuals, then the Lintelle would be a good match.
Our Final Take: The Kohler Lintelle
Though the Lintelle might be one of the lesser-known toilets in the Kohler line, it's still a great choice for people who want upscale functionality at an affordable price. It's comfortable, comes with technology that makes cleaning easier, and also is excellent in its water conservation efforts.
People who want a basic toilet that has great functionality and ADA compatibility would be wise to check out this line. The Lintelle offers a remarkable amount of bang for your proverbial buck, and that makes it a great pick for people who need something that works.