TOTO Neorest 750H Review – Is It The Best from The TOTO Line?

People often complain about unclean toilets and the hassle of keeping them clean. What about toilets that clean themselves? Yes, such a toilet really exists and it can handle both visible and invisible waste.
Energy-saving systems, automatic doors, and heated seats are high-tech features we expect from modern toilets.
TOTO – Japan's largest toilet manufacturer and a leader in the plumbing fixtures industry – has brought some of these features to its elite toilets.
The Neorest 750H is a state of the art toilet, tailored to the needs of customers who have high standards who appreciate the luxury features. TOTO offers the opulent extras, cutting-edge design, and flawless function in this intelligent toilet.
With this Japanese-style toilet, TOTO brings revolutionary features and futuristic look for unique bathroom experience. It is a great addition to top-tier houses and luxurious apartments.
This toilet offers more features than the previous model, the TOTO 700H. If you are one of those urban dwellers looking for high-end bathroom fixtures, this is a great opportunity to elevate your life.
TOTO Neorest 750H Specs
Power rating: 60 Hz.1300W, 120V AC
Water consumption: 0.8 GPF (3.0 LPF) & 1.0 GPF (3.8 LPF)
flow rate: 10 L/min (2.64 gals/min)
Min water pressure: 0.05 MPa (7 PSI) Flowing
Dimensions: 31.438″ (L) x 17.625″ (W) x 20.75″ (H)
Water surface area: 8.75 x 7.25 inches
Rough-in: 12 inches (305 mm)
Floor-to-seat height: 17.25 inches (438mm)
Trap seal: 2.063 inches (53 mm)
Trap diameter: 2.125 inches (54 mm)
Seat heater: 60W
Weight: 123.6 lbs (56 kg)
Bowl material: Vitreous china
Seat and cover: Plastic
Warranty: 1 year for commercial; 3 years for residential use
Best Features of the TOTO Neorest 750H
This luxury toilet is packed with cleaning and convenience features for before, after, and during use. The most notable features and highlights are listed below.
Actilight UV Light Self-Cleaning System
Tornado / Siphon Jet Flushing System
Dual Flush Function
Fully Glazed Trapway
CeFiONtect Bowl Surface Finish
Oscillating & Pulsing Comfort Washing
Automatic Air Purifying System
Close & Auto Flush/Auto Lid Open
Adjustable Wand
Heat Adjustable Seat
Electrolyzed Water (eWater+)
Back-up Manual Flush
Programmable Energy Saver System
Multifunction Remote Control
ADA compliant
WaterSense Mark
TOTO Neorest 750H Features Explained
Let's dig a bit further and uncover some of the features that make this self-cleaning toilet stand out above the rest.
Tornado flush technology – The toilet creates dual cyclonic action by employing 2 high-pressure nozzles. It only delivers 1 gallon of water per flush to clean the bowl. That meets both CalGreen and WaterSense standards.
Pre-misting – The idea behind this is to make the bowl surface slightly wet before use. This ensures that waste can't adhere to the bowl interior. For this purpose, the toilet uses an advanced washlet with a fine water spray system.
Remote control – This feature allows you to program your favorite commands. For example, you can adjust the dryer temperature, stream of water, seat, water, etc.
Washlet – Use a bidet to cleanse your underside gently with the water spray. There are temperature spray settings, so you can choose between pulsating and steady cleansing. Afterward, set a dryer function according to your preference.
Universal height – Just like other TOTO toilets, the Neorest 750H boasts the comfort height. It is designed specifically to be accessible universally, meaning everyone can use it comfortably and easily.
Ewater+ rinse – After flushing the toilet, this system sprays electrolyzed water that acts as a powerful disinfectant. While sanitizing the bowl, it also reduces the need for cleaning chemicals.
Built-in sensors – They cause the toilet seat to raise automatically when somebody enters the bathroom. The seat will close itself when you're done. Also, the sensors make the toilet flush automatically, which is a useful feature for absent-minded people.
Actlight technology – A zirconium photocatalytic glaze and an integrated UV light work in tandem to eliminate grime and dirt after every use.
TOTO Neorest 750H Flushing
As its name suggests, Tornado flushing sweeps away everything in its path. This powerful swirl leverages two nozzles, which are positioned on the top side of the bowl opposite each other.
By providing a strong siphon-jet action, it creates a cyclonic, centrifugal rinsing to keep the bowl surface clean. Thanks to the ultra-smooth zirconium glaze, even the stickiest waste has no chance of surviving this flushing.
The toilet comes with a dual flush mechanism. A partial flush utilizes only 0.8 gallons (about 3 liters), whereas a full flush consumes 1 gallon (about 3.8l) of water. That makes the Neorest 750H a high-efficiency product.
TOTO Neorest 750H Cleaning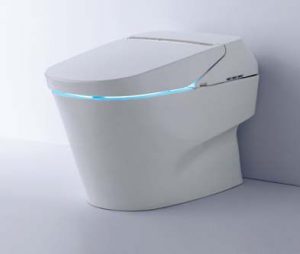 The self-cleaning process of this toilet eliminates both the invisible microbes and residual visible waste on the seat and bowl surface.
Once you get up from the toilet, it will start sanitizing itself using the ultraviolet light along with oxidizing water. No chemicals or cleaners needed.
In fact, the Actilight releases UV light when the lid is closed. It reacts with the electrolyzed water (eWater+) and titanium dioxide. That's how the activated oxygen is produced. It plays a vital role in decomposing the residual waste.
Additionally, the self-sanitizing process makes use of a photocatalyst coat to keep the bowl perfectly clean. This technology can save you time and hassle of dealing with a dirty bowl.
TOTO Neorest 750H Installation
You are probably wondering if it is easy to install this Neorest toilet? If you've ever installed any toilet before, then this shouldn't be a big challenge.
There're two main things you should get prepared before starting to install the toilet:
The water supply and power outlet. As for the power outlet, make sure it's somewhere close to the toilet so that the power cord can reach it.
You also need to have a good understanding of the positions of these utility points. The universal design will make it easier for you to mount the socket, which actually serves as the floor flange adaptor.
This is one of the most critical parts of the installation you are going to face. If you're not familiar with the electrical works, it's best to hire a professional electrician to get the job done before your toilet arrives.
TOTO Neorest 750H Advantages
Luxurious bathroom experience
Cozy toilet seat
Plenty of advanced features
3 wash modes – soft, front, and rear
The flushing is very powerful
Universal height
Easy to use and clean
Sleek, ergonomic design
TOTO Neorest 750H Drawbacks
High energy consumption and power failures
Problems with spare parts
Costly repairs
Hefty price tag
User Feedback & Reviews: What People Said About the TOTO Neorest 750H
Most Common Complaints
Despite a lot of great features you get with this awesome toilet, there are some complaints and issues. Nothing is perfect, isn't it?
Power failure – This is the most obvious problem associated with this product. As a tankless toilet, the TOTO Neorest 750H does not utilize gravitation for flushing. That means the electricity is needed to power the flush just like everything else.
Replacement parts – Aside from this, many users have had difficulty finding replacement parts somewhere else except the manufacturer itself. Keep in mind that each part of this unit is the TOTO's proprietary. There are no OEM parts or equivalents that would function seamlessly.
High energy consumption – The next criticism refers to high power consumption. To operate properly, the Neorest 750H needs 1300 watts. With that power, you can light up more than a hundred light bulbs simultaneously. The good news is that you will not need all the power at all times.
It should be noted that the pump tends to consume the most power to initiate the flushing. The heater, air dryer, and heated seat also consume a significant amount of electricity. However, you won't have to use them during hot or warm weather seasons.
Most Common Praises
Toilet seat – Many people are big fans of TOTO's toilet seat due to the comfort it offers. At a chair-height comfortable level, the seat is beneficial for people with leg injuries and weak knees.
ADA compliance – Apart from the luxurious feel and convenience, a lot of users also like the fact that it's ADA compliant. Actually, they like this water-saving product because it doesn't use a lot of water.
Top-of-the-line washlet – Also, many people find that the washlet perfectly combines the bidet and toilet.
A wide range of features – Many customers are attracted by the exceptional features of this toilet. The Actilight, CeFIONtect glaze, self-sanitization function, and Tornado flushing system are the most appreciated ones.
Easy to clean – The toilet trapway is hidden under a porcelain wrap, so many users found cleaning a breeze. Plus, the coated bowl surface prevents debris and dirt from sticking.
TOTO Neorest 750H vs 700H
At first glance, the Neorest 700H and 750H look identical. They both come with various features and offer much the same functions.
There is a difference under their shell, though. The key difference between these advanced toilet combos is the Actilight.
This deluxe feature is only offered by the Neorest 750H, which makes it more expensive for a few thousand dollars.
With both models, the electrolyzed water is sprinkled inside the toilet bowl after every use. However, the Neorest 750H employs a UV light to sanitize the toilet and keep it free of bacteria.
The question is not whether or not the photocatalyst cleaning is a good thing. It's whether this  cleansing feature is worth the price. You surely can live without it, right?
How Much Does the TOTO Neorest 750H Cost?
You can get this fancy toilet for more than $10,000. Yes, the Neorest 750H can put a huge dent in your budget. But it offers features most people only dream about.
This self-cleaning unit has all the latest bells and whistles, including an air-purifying system, a warm water sprayer, and a heated seat. All these things add to the cost, so don't let its price catch you by surprise.
Where to buy the TOTO Neorest 750H? You are advised to check Amazon for its current status. Thereafter, get in touch with the authorized distributors near you to get the best deal.
Why Choose TOTO Neorest 750H?
The TOTO Neorest 750H is a top-rated appliance that provides users with a luxurious, unrivaled toilet experience. The superior performance and innovative features make it a good choice for those willing to spend a fortune on a top-notch bathroom fixture.
This state-of-the-art product is excellent in all aspects. From the flushing system to bowl and seat, every feature strives for excellence and perfection. It is considered to be the 'treasure house' of comfort features.
So, would you buy one? While most people would rather buy a new car for the same amount of money, this costly crapper can make a big difference in using the toilet. It will change your mindset about toilets.