TOTO Entrada Review – Is It One Of The Most Durable Toilets?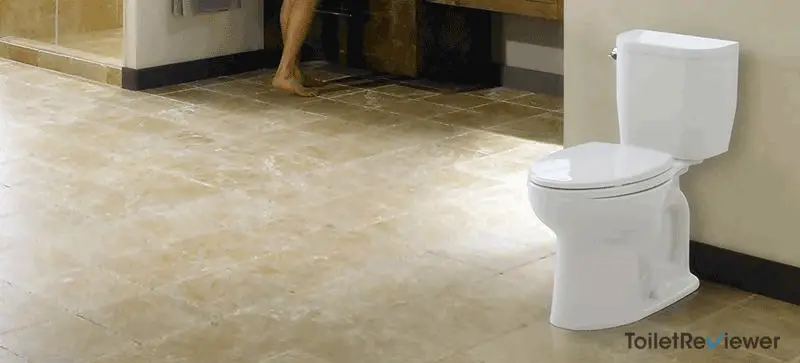 If you're in the market for an inexpensive yet good toilet, then you need to consider choosing TOTO Entrada toilet.
TOTO Entrada is a great choice for those who want a well-designed toilet with powerful flushing. Thanks to the excellent TOTO Entrada Emax flush, even a huge waste can be removed in a single flush.
Aside from a superb flush, these toilets boast durable construction and universal ADA-compliant height.
This toilet is easy to clean, comfortable to use, and streamlined. Plus, TOTO Entrada toilets are water-efficient, which allows you to save money on your water bills.
What makes the Entrada series so popular is the affordable price and minimalistic design. This toilet is are for homeowners with a small bathroom. With a compact toilet, even the smallest bathrooms will look bigger.
If you want to learn about all the features of the TOTO Entrada toilet, take a few minutes to read our TOTO Entrada review.
How Much Does the TOTO Entrada Cost?
As stated above, this competitively priced toilet is primarily intended for people on a tight budget.
If you are looking for an affordable toilet under $200, then TOTO Entrada will be within your price range. Nevertheless, this is a surprisingly good toilet for the price.
TOTO Entrada Elongated vs TOTO Entrada Round Toilet
Whether you are looking for an elongated or round toilet, Toto Entrada comes in both versions to choose from.
Both models have grown in popularity. To find out more about these toilets, keep reading TOTO Entrada reviews.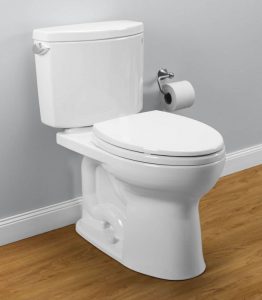 This is one of the most popular TOTO Entrada models. It is no wonder given that this toilet is priced competitively and can do the job efficiently. Many believe that it is on par with highly expensive modern toilets.
If you are in search of a small toilet with a lower price tag, look no further than TOTO Entrada elongated toilet.
Thanks to the minimalist design, it can make your bathroom look bigger. In addition to saving the space, this two-piece toilet will also add a rich look to your bathroom.
TOTO Entrada Specs and Features
Shape: Elongated
Water Consumption: 1.28 GPF
Product Dimensions: 15 x 15 x 15 inches
Rough-in: 12 inches
Flush valve: 3 inches
Weight: 36 pounds
Piece: Two
Flushing System: E-Max
Seat: No
ADA Compliant: Yes
Warranty: 1-year limited warranty
TOTO Entrada Flushing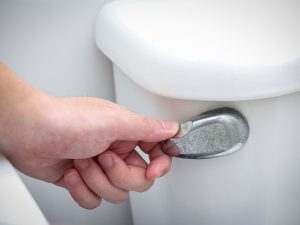 The TOTO CST244EF#01 Entrada is packed with features. Quiet operation is one of the features you will certainly love. That means your neighbors will not wake up when you flush.
When it comes to flush, this environment-friendly fixture uses an E-max system. It can completely clean the bowl, whether it's liquid or solid waste while using less water.
Even if you need a double flush to get rid of huge waste, you'll find TOTO Entrada bowl wash useful. Considering that its tank holds about three gallons of water, you won't wait for it to refill. Yet it only consumes 1.28 gallons per flush to save water.
TOTO Entrada Appearance
The toilet in question is made of durable China material to stand the test of time. In addition to durability, this vitreous material also adds to the looks of the bathroom. It features a sleek finish thanks to an elegant cotton white finish.
TOTO Entrada Installation and Use
Last but not least, this elongated model is simple to install and easy to use alike. All accessories required to assemble the bowl and tank are provided. You will only need to purchase some bolts and the wax ring to mount it.
Pros
The universal height
Powerful E-max flushing system
Silent operation
Easy to clean
Easy to install
Eco-friendly
Nice modern finish
Cons
The handle is a bit loose
Missing parts
Some people prefer round toilets. If you are one of those people, be sure to check the TOTO Entrada round toilet. Let's dig a bit further, shall we?
TOTO Entrada Specs
Material: Vitreous China
Shape: Round
Product Dimensions: 15 x 15 x 15 inches
Rough-in: 12 inches
Weight: 76 pounds
Flushing System: E-Max
Flush Type: Siphon Jet
Water Consumption: 1.28 GPF
Seat: No
CalGreen Compliant: Yes
ADA compliant: Yes
Warranty: 1-year
TOTO Entrada Round Toilet Features
This reasonably-priced model has almost identical features like its elongated counterpart, except for the shape. It is made from vitreous China material and useful for those with a small bathroom.
Flushing system: Just like other Toto toilets, the TOTO Entrada round toilet is highly efficient and very powerful. The strength of this two-piece toilet lies in the E-max flushing mechanism. This powerful system ensures that the toilet never clogs and enables you to clean everything with a single flush.
Water consumption: By using 1.28 GPF, it saves around 20% of water. This may sound a bit weak to you, but rest assured, this toilet will create a strong flush and clean the bowl with ease. Additionally, the toilet tank refills pretty fast.
Toilet tank: The tank set includes bolt caps, tank hardware, and a bowl gasket. Efficient flushing is enabled by a large trap and 3-inch TOTO Entrada flush valve. In conjunction with the E-Max flushing system and siphon jet mechanism, it creates a quiet but strong flush.
Comfort: With universal height, this ADA compliant water-saving toilet is proven to be comfortable. Even the old and disabled people will be able to use it comfortably with no problem at all.
Looks: White color always looks nice. The cotton white finish ensures that the toilet matches any bathroom interior. Moreover, it takes up little space, causing a small bathroom to look bigger.
Installation: Keep in mind that you will need some additional items, such as a wax ring, water supply lines, and mounting bolts. You will also have to purchase the toilet seat separately since it's not included.
Pros
Water-saving model (it is WaterSense certified)
Easy to clean and use
Universal height
Chrome trip lever that doesn't rust
Takes very little space
It's durably made with long-lasting materials
Cons
The bowl wash at the very front is fairly good, but flushing of the sides is poor
You may get it with damaged or missing parts on a rare occasion
User Feedback & Reviews: What People Said About the TOTO Entrada Toilet
It is worth sifting through customer reviews and feedback.
That can give you a good idea of advantages and drawbacks. So, let's see what people said.
Common Complaints and Issues with the TOTO Entrada Toilet
TOTO Entrada Won't Fill: Some users have reported that this toilet doesn't fill quickly. It is usually related to debris issues. This problem can be addressed by flushing debris from TOTO Entrada supply line.
Replacing the Fill Valve for the TOTO Entrada: Besides, the toilet tank may fill slowly if the valve has been in use for a prolonged period. Generally speaking, the fill valve should be replaced about every five years.
Clogging: Despite the fact that the flushing system does a great job of removing waste in most situations, the TOTO Entrada toilet may keep clogging. If you don't know how to unclog the TOTO Entrada toilet, call a professional plumber to battle your clog.
Most Common Praises About the TOTO Entrada Toilet
What people love about TOTO Ernada is its powerful flushing system, modern design, and affordable price.
Other features that make people go for this toilet include quiet operation, universal height, and efficiency.
In addition, many customers find it comfortable to use and easy to maintain. All of this makes the TOTO Entrada stand out from the fierce competition.
TOTO Entrada Installation Instructions
Installing the TOTO Entrada toilet is super easy. It should not take a lot of time.
Just follow these simple steps:
Before starting you will need a supply line, wax rings, and closet bolts.
Make sure all the debris is properly cleared away from the flange before putting in the mounting bolts.
Then place the bolt head into the flange, making sure the threads are positioned upward whereas the lid faces the ground.
Grab the wax ring and apply it to the flange outlet.
Turn the toilet bowl to make the lid face up again and gently lower it over the outlet. In this step, it is critical that the flange bolts find their way into the base holes.
Press down on the bowl using your body weight to set it in place. This will cause a wax ring to compress in place.
Slip the washers onto the flange bolts and tighten them with the wrench.
Attach the toilet tank to the bowl so that the gasket fits securely on the back.
After wrapping the tank inlet, you need to attach the inlet hose.
Allow the tank to fill by turning on the water.
You also need to check for leaks by flushing the toilet. Caulk around the base of the toilet if needed.
TOTO Entrada Vs TOTO Drake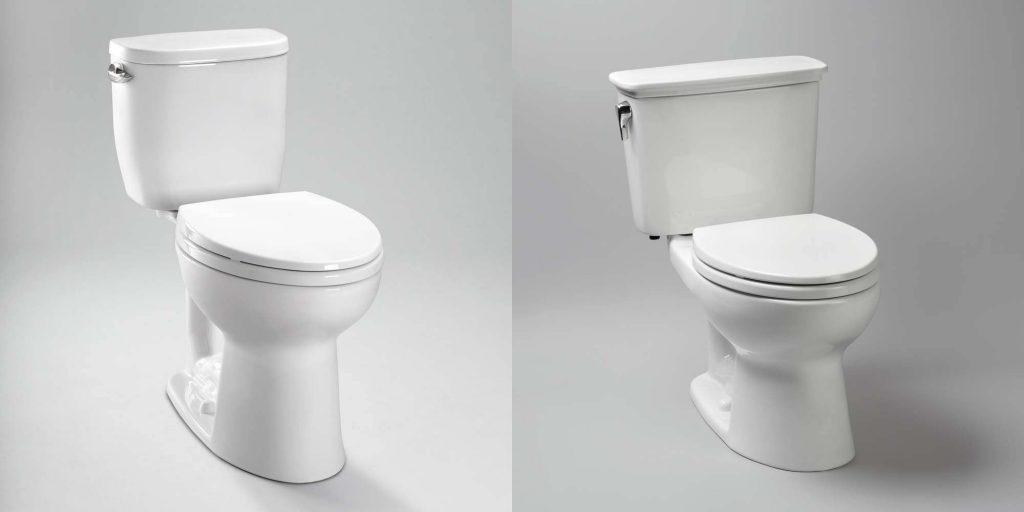 Be it round and elongated, Toto Entrada offers a lot of great features. While the Toto Drake toilets have the same flushing system and similar features, you will have to pay much for that.
The savings that go with the Entrada allows you to invest in other areas of your house or something else.
Both Entrada and Drake share some remarkable features like an ADA-compliant comfort height, E-Max flushing system, and siphon jet flushing action.
They are also very similar when it comes to performance. These toilets consume 1.28 gallons per flush and are made of vitreous China material.
What Makes the Difference?
You might be wondering what justifies Drake's higher price tag. Well, it is larger than Entrada models, meaning more materials have been used in construction.
Also, the TOTO Drake features a bit larger tank. This plays a role in providing a water surface and cleaning the bowl. However, many people find the Entrada's smaller tank looks better and fits smaller bathrooms.
The Drake series comes with a Sanagloss finish and ceramic glaze that creates an exceptionally smooth surface. Not only does it keep the toilet bowl clean but it also makes it more sophisticated. It's a matter of personal taste, though.
NOTE: It should be mentioned that Toto Drake II, Toto Drake Eco, and Toto Drake isn't the same toilet. The first one is upgraded with Tornado Flush system that only consumes 1.0 gallons per flush. Dual nozzles and hole-free rim provide a vigorous centrifugal rinse.
Is the TOTO C100 Compatible with Entrada?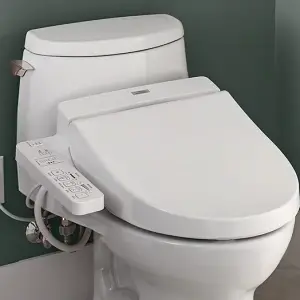 It is tricky to compare them because the TOTO C100 is a bidet, not a toilet. Yet they both share one common trait: these fixtures are meant to save money in the long run.
While the TOTO C100 can help you save energy, the Entrada can cut your monthly bills by using less water.
You may want to buy the TOTO C100 if are looking for an electronic bidet seat with a customizable cleansing and heated seat.
It's also a good choice for those wanting an attached control panel along with a warm air dryer to reduce the use of toilet paper.
Why Buy the TOTO Entrada Toilet?
Just like other TOTO series, Entrada toilets excel at functionality and durability. That's why many people trust it.
Whether you choose the elongated or round model, you'll have peace of mind knowing that it will get the job done and serve you reliably for many years to come.
Based on TOTO Entrada toilet reviews, you can see that it comes with many great features. Minimalistic design, efficient flush, ADA bowl, and universal height are just some features that set this toilet apart from the competition.
If you want your small bathroom to look bigger, then TOTO Entrada is the right toilet for you. It will be working as an efficient upgrade for your bath, improving your old hardware and saving water at the same time.