The 10 Best One-Piece Toilets – [Top Reviews & Rankings]

Thanks to the increasing interest in the eco-friendly and sustainable lifestyle, one-piece toilets are growing in popularity. They are designed as a single unit with a bowl and tank attached to each other.
One-piece toilets are easier to clean and maintain than their two-piece counterparts. In addition, they have a sleeker design and a lower profile. The continuous design without joints and crevices reduces the chances of harboring bacteria and dirt.
That's why many homeowners favor one-piece toilets. If you're in search of a toilet that would complement your minimalist or modern bathroom décor, these units might be a good choice. The sleek one-piece design will add a modern touch to your bathroom.
Leading toilet manufacturers offer a huge selection of single-construction models. They provide a good combination of features and designs, so there is something for everyone. However, only a few of these toilets stand out.
Therefore, it can be difficult to find the best one-piece toilets in the crowded market. We've picked out and reviewed some toilets that will give you the best value for your money.
Comparing the 10 Best One-Piece Toilets
TOTO has a good reputation and it is a well-renowned brand in this industry. So, it's really hard to go wrong with this product. If you're looking for a well-designed efficient one-piece toilet, look no further.
This toilet will exceed your expectations. Since it's WaterSense compliant, you will not have to worry about efficiency.
A double cyclone system causes the toilet to push only 1.28 gallons of water through the bowl, thus saving on water bills. The glazed bowl allows for a quiet yet powerful flush.
It also features a soft close seat, tall build, and elongated bowl. If you also take into account the solid construction and fair price, it's little wonder that it is the most popular single-piece toilet these days.
Pros
ADA-compliant
Modern style
Comes with the SoftClose seat
Durably made
SanaGloss glaze
Highly efficient
WOODBRIDGE T-0001, Dual Flush Elongated One Piece Toilet with Soft Closing Seat, Comfort Height, Water Sense, High-Efficiency, Rectangle Button, 28.5 x 14.5 x 27.5, White
✅ [LUXURIOUS MODERN DESIGN]: Luxurious Modern Design one piece toilet , Clean, sleek look and compliment with different styles like modern , craftsman , traditional and etc.
✅ [EASIEST TO CLEAN TOILET]: WOODBRIDGE toilets are the easiest to clean on the market, with a completely smooth, easy to wipe down surface. With our fully concealed trap-way, there are no bends or corners to gather dust. Also, no large mounting holes or ugly plastic caps to be seen.
✅ [QUITE AND POWERFUL FLUSHING]: Siphon Flushing one piece toilet, Fully glazed flush system , bringing a super quiet and powerful flushing - NO clogs, NO leaks, and NO problem
✅ [Map Flush 1000 Grams]: Best Maximum Performance Flush score of 1000 grams. Highly Recommended Map Scoring Toilet
✅ [COMFORT DESIGN]: Comfort Height Design, Chair-height seating that makes sitting down and standing up easier for most adults
The WoodBridge T-0001 is an environmentally-friendly unit that offers lots of enhancing features. It features a skirted trap with clean lines that lends an elegant look to the toilet while making sanitation easier.
In order to save water, it comes with a dual flush system. However, one of its most notable features is a soft close seat.
It prevents the noisy bang that happens when the seat slams down unexpectedly. This useful feature reduces the risk of damage.
For enhanced durability, the seat is reinforced with stainless steel hinges. Also, it should be pointed out that this one-piece toilet is a bit higher than standard models for improved comfort.
Pros
Soft closing seat with durable seat hinge
Dual flush system
Easy to clean
Luxurious design
WaterSense certified
Competitively priced
Cons
Hard-to-reach base screws
The flush mechanism is difficult to push
If you are a kind of person who doesn't like to see any marks on his toilet, then check out this model. Of course, this is not the only reason to choose this product.
It also offers strong flushing, comfort height, and many other great features along with a generous warranty. Given the fact that it's made in American, the quality is unquestionable.
You will have peace of mind knowing that it won't leak water or clog. The bowl is made with vitreous china and finished with a smooth EverClean glaze to hinder the growth of mold, mildew, and bacteria.
It also keeps the toilet odor-free and shiny all the time. Additionally, the Champion-4 is ADA approved and very comfortable.
Pros
Powerful flushing system
ADA compliant
EverClean surface
Very comfortable
Easy to install
Durable
Cons
A toilet seat isn't included
Poor quality control
Sale
What sets this TOTO model apart is an ergonomic design, ADA height, and reasonable price. It's equipped with E-max flushing mechanism that leverages a low-consumption siphon jet.
This helps save water while ensuring the toilet is always clean. The package also includes a soft close seat, chrome-plated trip lever, fittings, molded bumpers, and tank cover.
Thanks to the soft close seat, you will be able to close the toilet quietly without making a noise. The TOTO Eco Ultramax boasts of a ceramic surface with SanaGloss smooth glaze.
It doesn't only look stylish but also prevents debris, bacteria, and mold from developing. That means fewer chemicals necessary to keep the toilet clean.
Pros
Streamlined design
Saves water
Soft closing seat
E-max siphon jet flushing
Reasonable price
Cons
Delicate SanaGloss finish
Doesn't clean properly sometimes
Sale
One of the first things you will notice about this modern-looking piece toilet is that it has just a few seams and creases. Such a sleek design allows for easy cleaning.
It's available in different color options to fit in with various color schemes. The toilet is shaped to fit snugly into small bathrooms.
Its elongated bowl is compact, so it doesn't take up a lot of space. The comfort height offers chair-like comfortable seating, making it easier for adults to sit down and stand up.
When it comes to cleaning, the Kohler Santa Rosa is armed with the AquaPiston system that makes the water flow 360° around the bowl. This creates a swift flush while using only 1.28 gallons of water.
Pros
Powerful Aquapiston flushing system
WaterSense certified
ADA compliant
Efficient and comfortable
Easy to clean
Cons
Leakage problems
The lid is thin
Sale
Installing this one-piece toilet in your bathroom will allow you to effectively remove waste with minimal water usage. That's possible thanks to the non-clogging nature of this amazing toilet.
Flushing action is very efficient. The toilet flushes downward from around the rim, rinsing the bowl thoroughly.
That's why the surface is perfectly clean each time you flush. The surface is glazed, which prevents mildew and bacteria from growing.
Besides the powerful flushing, you'll also appreciate is a comfortable seat that does not put a strain on knees. It will add to your experience when using the toilet.
Pros
ADA compliant and Watersense certified
EverClean surface that prevents stain and odor
Large 3-inch flush valve
Efficient flushing system
Compact design
Cons
The seat is a cheaply made
It can't always clear waste in a single flush
For those with a flexible budget who are not afraid of spending their bucks on high-quality products, the Swiss Madison is a good way to go. While it's not the most affordable one-piece toilet you can find today, you will certainly get your money's worth.
The quality control and impressive design of this toilet ensure it meets your expectations. Plus, the sturdy built means this ceramic toilet will last you for decades.
That makes it a good fit for various bathrooms and useful for different commercial purposes. The elongated bowl offers more room and comfort, while the skirted trapway makes it easy to clean.
Most importantly, your toilet will remain clean without spending a lot of water.
Pros
Soft closing seat
Sophisticated look
Fully skirted trapway
Easy to maintain and clean
Quite affordable
Cons
One flush is not enough sometimes
Heavy
GALBA packs quite a punch in a small package. This tiny toilet fits even in the smallest bathrooms and powder rooms. The smaller design can save a lot of space in a miniature lavatory.
It uses 0.8/1.6 gallons per flush, depending on the type of waste. Such a dual-flush system is capable of washing down nasty masks.
The GALBA one-piece toilet features a glazed surface, so it's difficult to crack or get dirty. While it looks modern, many people will not like the Galba logo (on the tank).
You may also face some problems when installing this small toilet, such as the wobbly lid and seat. Nevertheless, you can get a lot of helpful tips from their customer service.
Pros
Soft-close toilet seat
Dual flush – 0.8 / 1.6
Glazed self-cleaning surface
Ideal for small bathrooms
Cons
The lid can rock a bit
Fill valve issues
This one-piece high-profile toilet is fitted with a chrome-plated lever. It comes with an elongated bowl and a large water surface to dispel foul odors.
The unit is finished with a glazed trapway and SanaGloss ionized barrier to repel mold, particles, and bacteria.
You can rest assured that it will remain bright and shiny for many years. Furthermore, it requires fewer chemical cleaners.
On top of that, this toilet boasts the SoftClose seat and commercial-grade flushing system. The siphon jet flushing action along with a 3-inch flush valve forces the water into the bowl. The result is a spotless odor-free surface.
Pros
G-max flushing system is powerful
Low water consumption
Quiet operation
Comfortable
Cons
Difficult to install
Leaky valve
Prone to clogging
Sale
With the comfort height, compact design, and elongated bowl, this toilet is modern and comfortable.
A clean, simple theme of this one-piece toilet will complement your bathroom and change its appearance. Not only does it look great, but it also works well in any residential setting.
The KOHLER San Souci comes with an AquaPiston flushing system. It uses an innovative technology that creates a powerful flush using only 1.28 Gpf per flush.
The robust canister, coupled with the trip lever, prevents leakages while ensuring that the water is dispersed from all sides. As a result, your bowl will be clean after every use.
Pros
Powerful flushing
Excellent design
Easy to clean
Leak-free performance
Cons
Installing is a bit challenging
The seat is not so comfortable
Loose chain
Best One-Piece Toilets Buying Guide
Buying a new toilet shouldn't be a challenging task if you know which design and model to look for. To choose the right one, you need to recognize the key differences of shape, design, height, and other features among different models.
Here are some important things to consider when buying a one-piece toilet:
Design – One-piece toilets fit perfectly in tiny bathrooms and boast a sleek profile. Look for a model that fits your bathroom and suits your taste as well.
Seat height – Pay attention to the seat height. Some toilets offer a generous height for better sitting experience while others are designed to sit a bit lower to the ground. The taller seat provides good support to the back and knees, so it's great for elderly people and taller adults.
Materials – Most one-piece toilets are made of ceramic and porcelain. These units are not only elegant but also hard-wearing and durable. If you need a lightweight and inexpensive toilet, look for plastic units. But remember you get what you pay for.
Rough-in – This refers to the distance from the wall to the flange center. It measures 12 inches in standard toilets, but there are also 10-inch and 14-inch models on the market. Consider this figure to ensure a snug fit.
Flush type – Toilets come with a variety of flush mechanisms. From separate power levels to no-touch sensors and upflowing, there are different flushing options. The best one-piece toilets can carry the waste content deep down the sewer to prevent clogging.
Water usage – The best one-piece models come with 1.28 Gpf ability. They can clean the bowl completely using less water. 1.6 Gpf is also considered low water consumption. Water-saving toilets usually have a WaterSense label.
Toilet Bowl
With regard to the toilet bowl, there are two shapes to choose from: elongated and round. They both have unique advantages.
Elongated bowl: Generally speaking, these bowls are 2-3 inches longer – from front to back – than the round ones. The elongated bowl is suitable for any age group and is more convenient to use. That's because it offers a more comfortable, natural seated position.
Round bowl: The round bowls are suited for smaller bathrooms due to their smaller profile. However, they save space at the cost of convenience.
ADA compliant bowl: These toilets come with the bowls that are 1.5-2 inches taller compared to standard models. That makes them more comfortable and accessible to more people, including those with disabilities.
Flushing System
There are two basic flushing systems: pressure flush and gravity flush. Let's check them out.
Gravity flush: It is the most common flushing option. Gravity system creates flushing pressure using the weight of water. This results in less maintenance and quiet operation.
Pressure flush: These toilets feature a compressed air tank that provides powerful flushing. While they create more noises, waste removal and clog resistance are excellent.
Dual-flush: There are also dual-flush toilets on the market. They enable you to save water by employing a heavy and light flush alternately for solid or liquid waste.
Difference Between Two-Piece and One-Piece Toilets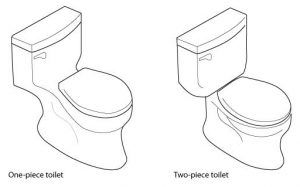 Unlike two-piece settings, one-piece toilets feature an integrated tank and bowl.
This construction eliminates the gap between the tank and bowl that tends to get dirty. One-piece models come in low height and low profile designs.
However, they share a lot of similar features. Both one-piece and two-piece toilets have similar interior features and same flushing mechanisms.
They also use an identical amount of water, so there's no significant difference in their efficiency. By the way, their installation process is much the same.
In case of broken or damaged parts, you will have to replace the whole unit when it comes to a one-piece toilet. A two-piece toilet, on the other hand, allows you to replace only the broken/damaged piece given that the bowl and tank are separated.
One-Piece Toilet Advantages
Since two-piece toilets have almost identical features and functions with one-piece toilets, then why do many customers prefer single piece models? What's more, the one-piece toilets are typically more expensive.
Here are some good reasons to choose one-piece over two-piece models:
Easier to clean – Since there are no crevices, joints, and nooks for the grime and dirt to gather, the one-piece toilets are easy to clean.
This is one of their greatest advantages over two-piece toilets. The connecting area between the tank and bowl is a breeding ground for bacteria and mold.
Easier to maintain – Another reason to opt for a one-piece toilet is less maintenance involved. Single piece design reduces the chances of breakage and leakage considering that there are no joints.
Easier to install – Fewer parts mean less installation time. The one-piece design eliminates the need to attach the bowl to the tank, which can be a problematic step during the installation process.
Smaller size – One-piece toilets are usually slightly smaller than two-piece models, which makes them a better choice for small bathrooms. While they save only a few inches, the wall-hung tankless models can save you plenty of space.
Sleeker design – While this is a matter of personal preference, most people find one-piece toilets more contemporary. If you are interested in modernizing your bathroom, you will certainly like their sleek design with clean edges.
Less shipping problems – Unlike two-piece toilets that are shipped separately, closed-up toilets are sent as a whole unit. This means less shipping problems.
User Feedback & Reviews: What People Said
Most Common Praises
Most people find these toilets modern, easy to clean, and easy to install. Aside from that, many customers go for single-piece models because they are highly efficient and very durable.
Some of the most appreciated features include the SoftClose seat, EverClean surface, and powerful flushing system. ADA compliant and Watersense certified models are particularly popular.
Common Complaints
What people don't like about one-piece toilets are a loud flush and uncomfortable seat. Some have experienced clogging issues.
Also, these units are heavy and expensive compared to two-piece toilets, which deters many people from buying them.
Ready to Buy a One Piece Toilet?
From low-cost standard toilets to high-end toilets with extra features, there's something for every budget and preference.
All the models reviewed above are no doubt worth the money. You just need to choose one that works best for you.
Before purchasing a one-piece toilet, you should consider various factors, including flushing system, bowl type, and water usage.
Take into account toilet rough-in and toilet height. The size and décor of your bathroom will also play a role in determining the right toilet.
The toilet is one of those things you shouldn't skimp on. Investing in a high-quality toilet will save you stress and money, as you won't have to worry about breakage and clogs. Stay white and be clean!