Kohler Persuade Review for 2020 – [Ratings of Top Models]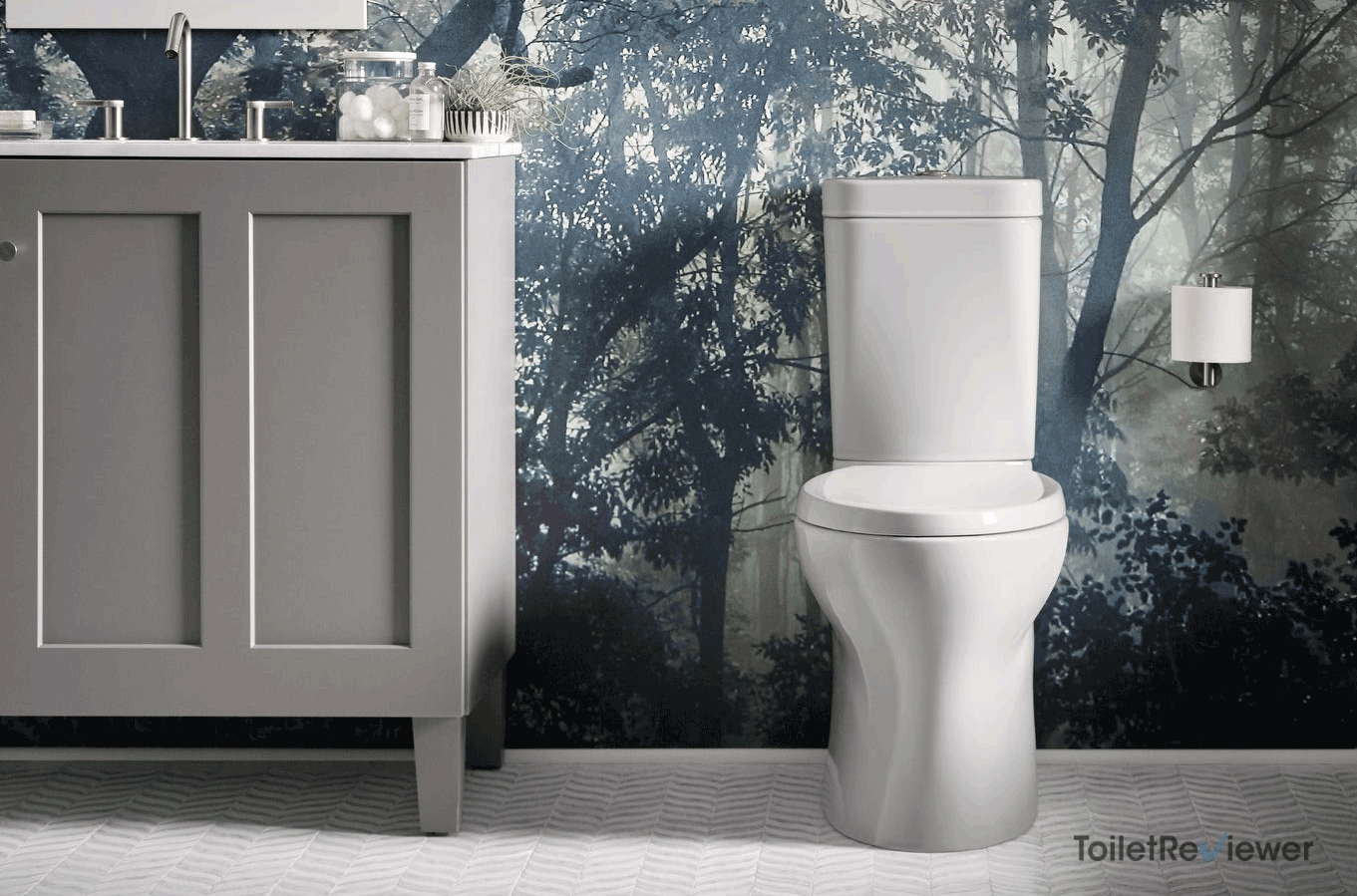 Most people are not overly concerned with their purchase when shopping for a toilet. It should be taken seriously to end up with something that will serve you for many years to come.
If you are in the market for a reliable toilet, then the Kohler Persuade is what you're looking for. This toilet comes from a reputable brand. The Persuade is comprised of many features that make them great for just about anyone.
Nevertheless, you should choose one that best suits your needs and taste because there's no one-size-fits-all porcelain throne. For example, with regard to color options, you can pick from biscuit to white and almond. The same goes for size, shape, and other aspects.
To help you make the right decision, we have reviewed the Kohler Persuade toilets with great care and thoroughness. We have used strict criteria based on design, comfort, water consumption, flush mechanism, and price.
Kohler Persuade – Reviewing the Specs
Below are some general specifications for the Kohler Persuade toilets.
Flushing System: Dual Flush technology
Shape: Elongated
Material: Vitreous China
Water Consumption: 1.6 GPF
Rough-in: 12 inches
Piece: Two
Seat: No
Warranty: One-year limited warranty
Kohler Persuade Models Available
Please note that these toilets come in different shapes, styles, colors, and price ranges. Here are some popular Kohler Persuade models.

PRODUCT

FLUSH

WATER
CONSUMPTIONS
(GPF)

DIMENSIONS
(inches)

BOWL SHAPE

MATERIAL

PRICE

Kohler K-3654-0

Dual

0.8 / 1.6

31.5 x 27.6 x 14.2

Elongated

Vitreous China

Check Price

Kohler K-3723-0

Dual

1.0 /1.6

32.5 x 28.6 x 14.2

Elongated

Vitreous China

Check Price

KOHLER 6355-0

Dual

1.0 /1.6

28.6 x 14.2 x 32.5

Elongated

Vitreous china – White

Check Price

Kohler K-75790-95

Dual

1.0 /1.6

28.6 x 14.2 x 32.5

Elongated

China – Ice Grey

Check Price
We will focus on the first two models given that they are the most wanted toilets from the Persuade series. Here they are!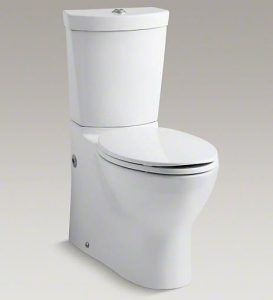 The compact two-piece design includes a skirted, seamless trap. This is the first thing you will notice about this toilet. It comes with an elongated bowl that allows for improved comfort, whereas universal height makes the toilet convenient for different users.
Maybe it's not one of the most efficient toilets on the market, but you will get the option of choosing between 2 flush powers – 1.6 and 0.8GPF. That's possible thanks to the dual-flush mechanism. It is proven to clear the waste in a single flush.
Unfortunately, the toilet seat is not included. Bear in mind that only 2 toilet seats fit snugly on it: Brevia and Avantis.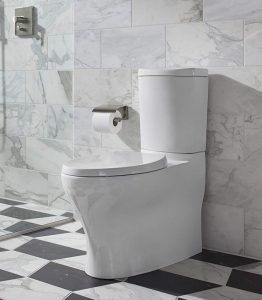 This model is designed as a traditional floor-mounted unit. However, it is a few inches taller than standard toilets. From rim to base it measures 16.5 inches.
It boasts the comfort heigh and contemporary look with smooth edges and curves around the bowl. With a skirted trap, this toilet makes it easier for you to get rid of dirt and debris.
Like the previous model, this high-efficient toilet runs on a double flush mechanism. It uses 1.6GPF for solids and 1.0GPF for liquid waste. This means you can choose between a partial flush and a full as per your needs.
Overall, this an excellent choice for people looking for a sleek toilet with an elongated look that can handle waste effectively. If you have a large bathroom with some extra space, consider filling it up with this unit.
Kohler Persuade Features
As you can see, the Kohler Persuade comes in a few varieties tailored to suit different needs. Despite being designed in a slightly different way, they all share some distinctive features. Let's check them out.
Dual-Flush Technology: Thanks to this mechanism, you will save lots of water. There's a large and low flush to pick from.
WaterSense Certified: On average, this water-saving unit only uses 1.28 GPF. That's why it is WaterSense certified.
Comfort Heigh: This feature makes sitting down and standing up much easier by taking the pressure off the back and knees to a certain extent. It's particularly beneficial to seniors.
Skirted Trap: This is one of the most distinctive features when it comes to Kohler Persuade toilets. The easy-to-clean trap will ensure that no area goes unnoticed when you're cleaning the toilet.
What Makes the Kohler Persuade Toilets So Awesome
The following is the list of the best things about the Kohler Persuade that grab the attention of potential customers.
High back – The elegant, sleek toilets from Kohler Persuade group come with a comfort heigh. Not only do these units look beautiful in any bathroom, but they also offer good support. Even the very tall guys will be supported.
Compact design – The elongated, compact bowl allows you to use the toilet in comfort while not occupying too much space. Your bathroom will not look or feel cramped.
High-quality construction – The toilet is made from vitreous china that helps keep mildew, mold, and stains away. While there's no advanced cleaning technology like in some high-end toilets, it can still do a good job.
Easy to install – The two-piece design makes these toilets easy to install. A subtle skirt hides external plumbing to conform to the toilet shape.
Water conservation – By delivering only 1.6 gallons for solids, the flushing system can help you save water. You will significantly save on water consumption and reduce your water footprint.
How to Install the Kohler Persuade Toilet
It should be noted that this is a skirted toilet, meaning the trapway is concealed. Nonetheless, the installation process is almost the same as with other two-piece Kohler toilets. Yet there are some things you should pay careful attention to.
Remove the old toilet first: The toilet flange is what should leave behind. Be sure to remove the wax from the toilet base using a putty knife.
Apply rubber seal: The new rubber seal should be applied to the toilet flange. When it comes to the wax ring, it should be attached to the toilet trapway. Make sure it's secured with T-bolts.
Put the trapway over the seal: Mounting brackets need to be secured on either side of your toilet with pivot mounts. Do not overtighten the screws.
Gently lower the toilet: Make sure the pivot mounts line up perfectly with the holes on both sides of the toilet. Secure it by inserting screw bushings so that the bolts slip right through them as well as mounting brackets. These bolts should be covered with the caps.
Hook up a water supply line: The shutoff valve (it is located in the back of your toilet) should be connected to the water line. Fill the tank by turn the water supply valve slowly. Check the area surrounding the base and tank for leaks.
Screw on the toilet seat: You can either use the one that cames with the toilet or buy a customized option. Once you are done with the seat, your new toilet will be ready to use.
User Feedback & Reviews: What People Said About the Kohler Persuade Toilets
You might be interested in hearing what people think about these toilets. Read on to find out both the good and bad things.
Most Common Complaints
A bit hard to clean: Keep in mind that the two-piece configuration requires thorough cleaning between the components. So if the cleaning is one of your top concerns, this is not the best option for you.
No seat: Please note that the toilet seat isn't included in this purchase.
Most Common Praises
Save water: Many customers go for this toilet to cut their water bills. It is all about the dual flush system.
Very comfortable: Most users find the toilet comfortable to use. This is attributed to the standard height and elongated bowl.
Compact and sleek design: The majority of users said this toilet has beautified their bathroom. The compact design makes it fit in almost any bathroom.
How Much Does the Kohler Persuade Cost?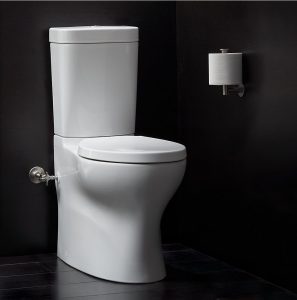 While this is not the most affordable toilet in its class, it is still reasonably priced. If you are looking for a two-piece toilet under $700, then you can consider going for the Kohler Persuade.
There's something you need to know before investing in this toilet. The seat is not included, meaning you will have to buy it separately.
The good news is that Kohler provides a 1-year limited warranty. This allows buyers to feel confident about their investment.
Why Buy the Kohler Persuade Toilet?
We have covered the most important design and functionality aspects of these toilets. Now that you know what you can expect from them, you can make an informed decision. So, why opt for the Kohler Persuade?
Kohler is a reputable brand known for exceptional performances, which offers nothing but high-quality products. The Persuade series comprises several toilets, each of which has a unique mixture of colors and styles.
They are all are equipped with an efficient flushing system and fairly narrow in their construction. So, there's something for everyone. Whether it's a modern, classic, two-piece, or one-piece design, Persuade has it all.