American Standard Cadet 3 Review – Is It America's Favorite Toilet Line?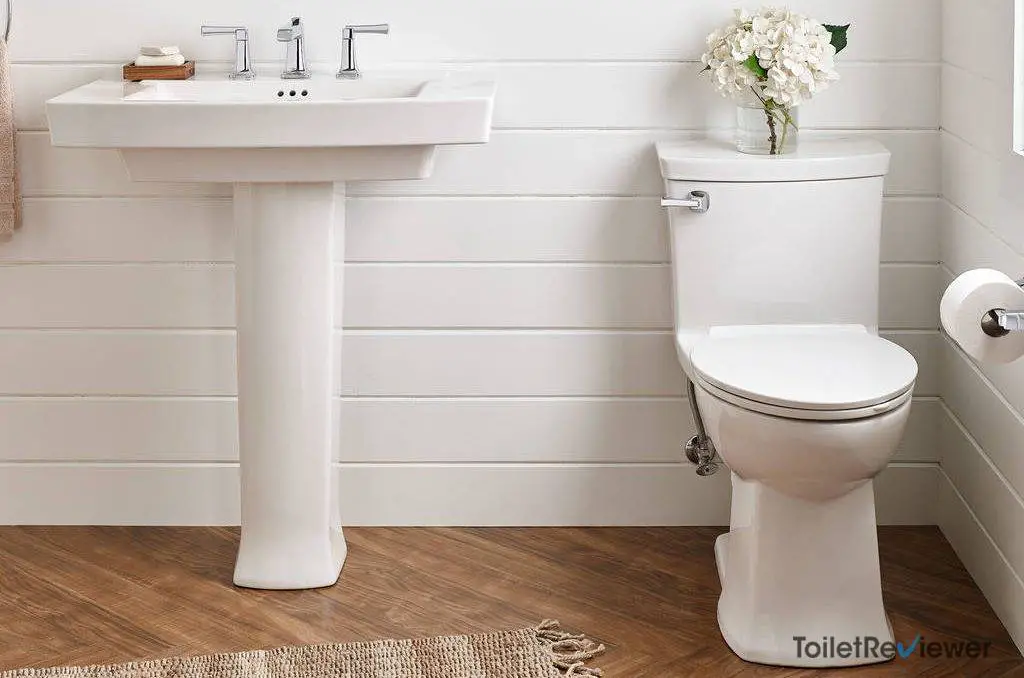 American Standard has been the actual standard for toilets for ages. Ask any person in the bathroom design biz, and they'll tell you they can always rely on this company to make a good product. Interior designers love their work, as do bathroom remodeling companies.
The Cadet line is one of American Standard's top-selling series of all time, and that's saying something considering how ubiquitous their products are. Needless to say, most people who have considered getting a new American Standard toilet for their remodeling line have mulled over the Cadet at least once or twice.
The Cadet 3 currently stands as one of the most popular lines of the Cadet line altogether. Did you ever wonder what made it so popular, or if your home should include this model in your next renovation? Here's the full scoop on this elegant yet simpe toilet.
Why Buy The American Standard Cadet 3 Over Other Toilets?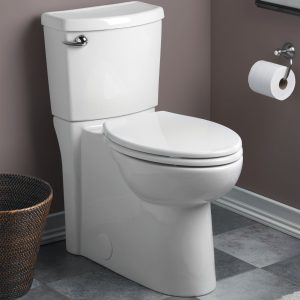 Most people choose to buy American Standard brand toilets because they know that they will last. Their durability is their calling card, and toilets from this brand are known for lasting for decades. That being said, it's not all that the Cadet 3 has to offer.
The Cadet 3 is known for having a stylish yet low-key design that's perfect for a "chameleon" bathroom. This toilet has a classic design that looks great in any design setting, and also comes with a finish that's easy to clean.
The flushing power on this toilet is also worth writing about. Though it is a WaterSense-certified 1.28-gallon flush toilet, you won't have to worry about clogs or laggy power with this model. The Cadet 3 is equipped with all the engineering you need to have a low-to-no clog experience.
The American Standard Cadet 3: Key Features
In a lot of ways, American Standard knows how to trick people when it comes to first impressions. Their Cadet 3 toilet, for example, looks like a pretty basic, unassuming toilet model. It couldn't possibly have that many features, right? Well, you'd be wrong.
As one of the top-performing toilets of its kind, the American Standard Cadet 3 offers a remarkable array of perks. Some of the most talked-about features on this toilet include:
WaterSense Certification. If you haven't heard, being "green" is the new status symbol, and the Cadet 3 fits that bill. This toilet only uses 1.28 gallons per flush, making it a WaterSense approved option. Families can expect to save tens of thousands of gallons per year by getting a Cadet 3.
EverClean Surface. There isn't a person on this planet that wakes up and looks forward to scrubbing the toilet. EverClean is one of the best engineering advances for people who hate cleaning. This surface treatment ensures that you have to clean less frequently than ever before—and that you won't have to use as much elbow grease to remove stains.
PowerWash Rim. Speaking of cleaning reduction, most people adore the PowerWash rim. This rim design uses high-powered water jets to clean the rim of the toilet with every flush. Translation? This means less work for you every time you have to clean the bowl, and less days per week that you have to clean the toilet.
Siphon Jet Flushing. Most people who hear about low-water toilets cringe at the thought, simply because there are so many toilets out there that just don't pack enough power to get the job done. The Cadet 3's siphon jet flushing mechanism makes it easy to flush away large loads without a worry in the world.
Clog-Free Tech. Along with a siphon jet flushing system, American Standard made an effort to create a gravity-led system that reduces clogs. To ensure that you get as few clogs as possible, they included an oversized flush valve and a 2 ½ inch trapway.
Chrome-Plated Trip Lever. Worried about having a trip lever that fades in a heartbeat? Not a problem with the Cadet 3. This is a toilet that comes with a chrome plated trip lever for a reason.
The American Standard Cadet 3: Additional Features
If you thought that the functionality ended there, you don't know American Standard very well. There are even more features that people like to discuss. Some of the most popular minor features include:
Comfortable Seating. Are you worried about having to sit on a small, rounded seat? Worry no more. This toilet comes with a spacious elongated seat and also is designed to be placed at a height that's comfortable for most adults.
All-In-One Kit. Worried about having to go shopping for additional parts? This is a good option for you. It comes with the tank, the bowl, as well as the seat. All you need to get are the more installation-based things, like a wax ring.
Top-Mount Slow-Close Seat Included. There's something incredibly enjoyable about having a slow-close seat that keeps your bathroom usage quiet. That's why American Standard's Cadet 3 comes with one, and why they are so popular among people who are sound-sensitive.
Color-Matched Bolt Hole Covers. Many designers get a little concerned about having their toilets look "rough" as a result of bolt hole covers that are left unmatching, or worse, nonexistent. The Cadet 3 takes care of this by color-coordinating everything, giving you a more streamlined look than ever before.
5-Year Warranty. If you take a quick look at most other toilet manufacturing companies, you'll quickly notice that most offer a single year of warranty protection. American Standard makes an effort to exceed this, and does it well. Their five-year warranty covers most problems that can arise in a toilet during its early lifespan.
The American Standard Cadet 3: Specs Chart
Product Dimensions

30.25 x 15.75 x 30.25 inches

Color

White

Flow Rate

1.28 GPM

Certification

WaterSense

Special Features

Comfort Height
Comfort Height

Included Components

Elongated Toilet with 12-In Rough-In

Warranty

Limited 5-Year
Is It ADA-Compliant?
When it comes to accessibility, having a toilet that suits your needs isn't going to be a negotiable feature. That's why it's important to get a toilet that is designed to help people who are mobility-impared, and why so many companies have been working on creating toilets that work within the standards of the ADA.
If you are currently looking for a toilet that holds up to the standards of the ADA, the American Standard Cadet 3 is a great pick. It's been certified as ADA-compliant, making it a great choice for people who are mobility-impaired.
Is The Cadet 3 Right For Me?
This is one of the very few toilet designs that can be considered an all-around good idea. Since it's inclusive and works with almost every aesthetic that a bathroom could have, the American Standard Cadet 3 is a perfectly safe choice for almost any household.
The American Standard Cadet 3: Our Final Take
The American Standard Cadet series has never been about making a fashion statement. It's always been more about showing what a high-quality piece of bathroom furniture should be like, and that's actually what makes it such a great pick.
Though the Cadet 3 might be considered basic in terms of aesthetics, its unique build gives it amazing features that meet or exceed most upscale toilets. If you're looking for a toilet that looks great in most settings and has a remarkably low maintenance style to it, then you're going to love the Cadet 3. Its features are just that good.
There are very few households that wouldn't benefit from having a Cadet 3 become part of the home's interior. Between the ADA compliance, the easy-to-maintain build, and the simple looks this series offers, it's easy to see where its popularity stems from. Our take is that you should probably buy a Cadet 3 for your next home improvement project, if you haven't already.