5 Best Bidet Toilet Seats – (2021 Reviews & Ultimate Buyer's Guide)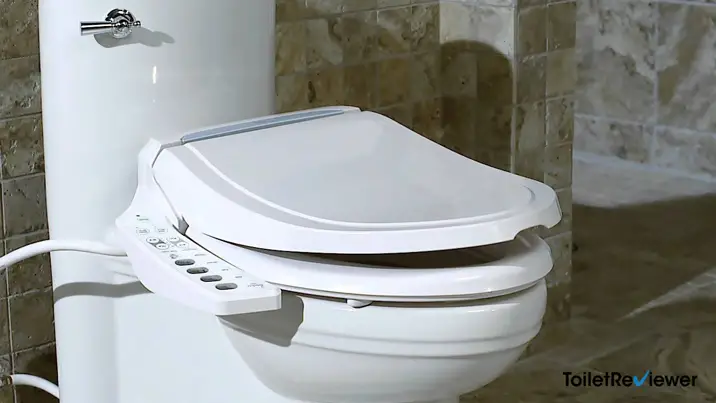 A bidet toilet seat is not something you buy without doing research. The right bidet toilet seat can offer better hygiene, reduce household waste, and lessen plumbing issues.
Bidets are not difficult to install and do not require you to hire a plumber. Bidet seats are definitely a DIY type of installation, which should take no more than 30 minutes.
When buying a bidet seat, consider the size and quality of the seat first. You'll also want to make sure you have an electrical outlet nearby.
Finally, you'll want to get familiar with the difference between tankless and reservoir bidet toilet seats. In short, tankless bidets provide a continuous stream of hot water, where reservoir bidets do not.
Today we are covering all you could ever need to know about bidet toilet seats. But first, let's meet with the top five models.
Comparing the 5 Best Bidet Toilet Seats
Sale
Bio Bidet Ultimate BB-600 Bidet Toilet Seat, adjustable Heated Seat and Freshwater, Dual Nozzle Sprayer, Posterior Feminine Wash, Elongated
WATER DOES IT BETTER – Choose from a variety of settings including rear wash and front wash for the perfect cleansing, freshwater spray to fit your needs
ULTIMATE BATHROOM UPGRADE - Sit down to a comfortable heated bidet toilet seat with adjustable temperature controls and whisper close lid
UNLIMITED WARM WATER - Adjust water pressure, water temperature and nozzle positions to deliver cold water, warm water or hot water where you need it with the easy-to-use side control panel
DESIGNED FOR EVERY BODY - Reduce the need for toilet paper with the built-in warm air dryer
EASY INSTALLATION – Upgrade your bathroom in minutes with a home bidet, no plumber required; comes with all necessary instructions and connectors for an easy install
Bio Bidet Ultimate is the best bidet seat for the whole family. It is engineered to comprise a feminine and posterior wash. Plus, the product is suitable for kid's use too.
With this bidet, you get hygiene and luxury in one product. The seat has an improved and advanced design that contributes to better hygiene and maximum comfort. By keeping you safe from bacteria and germs, it will help you improve your health.
Simply regulate the heat based on the temperature that suits you best. Apart from the water temperature, you can also adjust water pressure as well as the stream position.
Why We Love the Bio Bidet Ultimate
You will also like the pulsating and cleaning massage technology that involves bubble infusion. The lid provides a quiet and gentle closing. That prevents the cover from banging and increase its lifespan.
Controls are strategically arranged on the side panel which is attached at the right side. The main function buttons – like Cleansing, Dry and Bidet – are large and they have accompanying icons. There are also preference buttons for nozzle positioning, water temperature, and water pressure.
Furthermore, this product is eco-friendly. It can reduce the use of toilet papers and electricity, thus promoting environmental sustainability. Yes, it's possible even in the toilets.
Pros
Perfect for family use
Adjustable heated seat
Soft closing for relaxation and comfort
Low energy consumption
Easy to install
Good for the environment
Cons
The dryer can't dry the backside completely
The water pressure is too low
TOTO SW2034#01 C100 Electronic Bidet Toilet Cleansing Water, Heated Seat, Deodorizer, Warm Air Dryer, and PREMIST, Elongated, Cotton White
A REFRESHING CLEAN FOR EVERYONE - Gentle yet powerful water spray provides an effective clean; Adjustable warm water and pressure settings; dual action spray with oscillating option creates a refreshing clean every time
STEP INTO A LAVISH STANDARD OF LIVING – SoftClose heated bidet seat provides consistent warmth coverage over full seat surface; Air deodorizer neutralizes bathroom odors with powerful air filters; Adjustable warm air dryer provides easy clean up.Ambient temperature:Range:32 ̊F/0 ̊C to 104 ̊F/40 ̊C
CLEAN INNOVATIONS OFFER PEACE OF MIND - PREMIST helps prevent waste from sticking by using the incoming water supply to mist the toilet bowl before each use; Self-cleaning wand automatically cleans inside and outside before and after each use
EMBRACE YOUR UNIQUENESS - The convenient side panel allows users to control and set personalized water cleansing settings. Provides luxury and cleanliness at your fingertips.
EXPERIENCE EVERYDAY EXCELLENCE – 50 Million WASHLET users agree TOTO electric bidet toilet seats are trusted and dependable with high-quality design for long lasting benefits; Easy, do-it-yourself installation; Top notch customer service support
Here's an electronic bidet seat that will bring you a luxurious spa-like experience. It is Toto Washlet. This is a more advanced bidet option with enhanced adjustability and dual nozzles that comes with a price tag.
In return, you'll get a top-of-the-line seat with some features other models lack. For instance, besides the standard dual-action spray, the nozzles also oscillate back and forth. This ensures greater coverage.
The pre-mist function of this product keeps the toilet clean while offering more purity than ever. In addition, the bowl is wet for extended periods of time, which results in improved cleaning.
Everything can be managed simply at the push of a button. On the control panel, you'll be able to control the water temperature along with the pressure and volume according to your preferences. That will give you a comfortable toilet experience.
You will also benefit from better hygiene. This bidet toilet seat has an air deodorizer and air dryer included. It is equipped with a self-cleaning wand that cleanses the toilet in an oscillating way.  There are also built-in auto energy savers that reduce energy consumption.
Pros
Self-cleaning feature
Great coverage
Arm control panel is very convenient
Multiple cleaning options
Energy efficient
Easy to clean
Cons
Water pressure is low
The junction valve leaks a bit
If you are looking for a fully functioning elongated toilet seat at a reasonable price point, the SmartBidet SB-1000 is something you should definitely check out.
It has self-cleaning multifunctional oscillating nozzles that can be adjusted for either female or male cleaning. You can do it by use of a wireless remote controller. For thorough cleaning, the nozzles can be set in five different positions. These advanced features give users more control and save water simultaneously.
There are 3 different water temperatures as well as 5 pressures available. The warm air dryer is adjustable to five levels. This eliminates the need for any sanitary wipes or toilet paper after washing.
The lid and the seat itself are soft closing for better seating convenience. Another worthwhile feature is energy saving mode. It is tremendously helpful when the bidet is not in use. Then it switches to this mode and saves electricity by cutting down on the power.
Pros
Fully functioning
Easy to install
Several adjustments available
Slow closing lid and seat
Energy saving mode
Cons
The plastic mounting nuts are pretty difficult to tighten
Oversized water tank housing
4. GenieBidet Seat – Best Non-Electric Bidet Seat
Non-electric bidet options lack most of the extra features their electric counterparts offer. However, they offer much simpler setups in turn. GenieBidet is considered to be the best bidet toilet seat in this class.
This self-cleaning seat provides some useful functions at a fairly affordable price point without using any extensive wiring. It comes in both elongated and round profiles.
It's very easy to install. You just need to hook up a hose (it is provided) and screw on the seat. That usually takes less than 15 minutes. The T connector is made of brass metal; it's much stronger and more durable than the plastic one.
The seat in question includes the standard temperature and pressure controls. Additionally, dual retractable nozzles are separated, which allows you to pick between feminine and rear area cleaning as needed.
Pros
No wiring required
Modern low profile design
Ultimate cleansing experience
Easy to use
Affordable
Cons
The water spray angle is too wide
The seat is a bit noisy (squeaky)
Reduced toilet seat opening
Sale
KOHLER K-76923-0 Puretide Bidet Toliet Seat, Round Manual Non Electric Bidet with Adjusting Spray Pressure and Position, White Quiet-Close Lid
No Slam Round Bidet: Kohler Quiet Close Toilet Seat features a quiet-close lid that closes slowly and silently without slamming; the side handle allows you to adjust water intensity and spray position without electricity, while the hygienic self-cleaning wand automatically rinses after each use, White
Shift Prevention: Grip-tight bumpers prevent the toilet seat from shifting during use and add stability; it features an ergonomically contoured, closed-front seat for added comfort and an integrated lift tab on seat edge that offers a more hygienic solution for raising and lowering
Easy to Clean Kohler Toilet Seat: Quick release hinges allow for easy removal and convenient toilet cleaning; to clean, simply use a soft, dampened sponge or cloth; never use an abrasive material such as a brush or scouring pad
Effortless Install: Quick-attach hardware for fast and secure installation, with color matched plastic hinges included
Round Toilet Seat: Fits most round toilets; for non-residential application recommend using K-4639 or K-4775 Kohler toilet seats
A round seat is more suitable for bathrooms that feature traditional styles. With a low-profile, sleek design, it fits just about any round-front toilet.
The Kohler Puretide is deemed to be the best round choice for its secure installation, simple design, and high-quality hardware that facilitate cleaning. Grip-Tight bumpers ensure that the seat is secure when in use.
This seat requires minimum maintenance thanks to a self-cleaning wand that is fully adjustable for both water pressure and position. The handle is manually operated and it doesn't require any electric hookups or batteries to operate. Of course, this affects the price of this product, making it the best bang for your buck.
The Quick-Attach system is one of the most prominent features on this product. It lets you easily remove the bidet seat when you're cleaning the toilet. This comes in handy when cleaning hard-to-reach areas such as space between the toilet and seat.
Pros
Superior cleansing
Requires no electricity
Installs in minutes
Easy to clean and maintain
Sleek design
Cheap
Cons
Weak connection between the water hose and the seat
The handle on the side is bulky
Leaks at joints
 Remote Control Panel
Temperature Control
 Adjustable Spray Positioning
 Warm Air Dryer
 Heated Toilet Seat
 LED Night Light
Things You Must Know Before Buying a Bidet Toilet Seat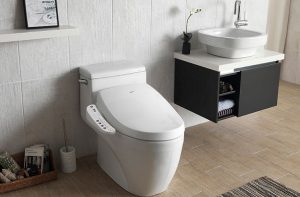 Before purchasing a bidet toilet seat, you need to consider a few essential things.
Firstly, check the width between the mounting holes of the seat. Most toilets come with a standard width, but there are also some models that are slightly different in this regard.
Secondly, make sure the shape of the seat you intend to buy fits your toilet. Most older toilets have round bowls, whereas the modern ones usually come with elongated bowls. Keep it in mind!
Thirdly, be assured that the lid and the seat aren't too thick. In case the seat doesn't lean back towards the tank, this increases the chances of the seat slamming shut and overbalancing.
Now that you have considered these three key things, it's time to check other important factors.
Materials
Just as with other products, it is always advisable to consider the materials used in construction.
The majority of bidet toilet seats are made of different types of plastics. Some of them have special treatments to prevent the growth of mildew and the spread of bacteria. In addition, it prevents the seat from staining.
You can also find wooden toilet seats on the market. They come in 2 basic types – treated solid wood and molded laminated wood.
Note that laminated seats don't last as long as plastic or solid wood in humid bathrooms. That's because moisture can easily get under the laminate and cause the wood to swell up.
Control Panel Configuration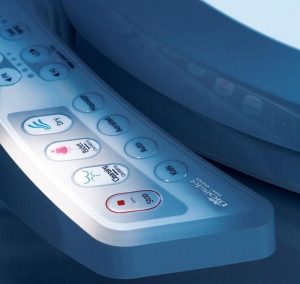 There two main ways of controlling the bidet. It can be done with a remote control unit or through a control panel.
Some bidet seats even have screens; however, these screens are cumbersome and unnecessary in most cases.
Most people use remotes rather than seat panel controls. While these bidets are more convenient and more advanced, the models with seat panels are cheaper.
Bidet Sizing
Coming in two main shapes – elongated and round – bidet seats match different toilet sizes. Technically, elongated seats can work with most round toilets. There's one problem though. The holes on elongated bidets don't fit into the round toilets.
Many round bidet seats are slightly tilted toward the back. While this ensures a better connection with the water tank, it can make your toilet feel a bit smaller.
Whether you opt for an elongated or round seat, be sure to choose the right size. You don't want your seat hangs off in the front of your toilet. Not only does it look strange, but it also causes some comfort issues.
Features of Bidet Toilet Seats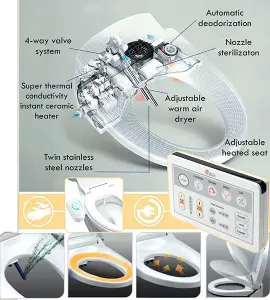 We are going to divide the features into two categories:
Must-have features – those that we feel are really important to have.
Bonus features – this includes options that are cool to have but are not actually essential for a good bidet experience.
Must-Have Features
The following are the features your bidet toilet seat unquestionably must include:
Heated Seat – This is certainly a top favorite feature. It is particularly crucial for those living in cold climates. You can simply switch it off in the summer and activate it when needed.
Warm Water Option – You will definitely adore this feature, and it comes into play when it gets cold out. Many modern bidets enable you to adjust the specific temperature you want.
Adjustable Water Streams – Select the type of water stream that best works for your behind. Some bidet seats provide a variety of water stream styles, including an oscillating, pulsating, and wide stream.
Self-Cleaning Nozzles – Most bidet seats are fitted with self-cleaning nozzles. This plays an important role in keeping the bidet clean. It's regarded as a must-have feature as it can considerably reduce cleaning time.
Pre-Mist Option – This feature gets activated before using a toilet. Pre-spraying prevents poop from sticking to the toilet bowl.
Feminine Wash – As it names suggests, this feature is primarily intended for women. It allows you to adjust the nozzle position to different angles all the way to the front spray position.
Stream Pressure – You're also supposed to choose the right pressure for the water flow. While some folks prefer powerful water steam, others like it more gentle.


Even More Features
There are some extra features you can live without. However, they can significantly improve your bathroom experience.
Soft Close Lid – The toilet seats with such a lid tend to be more costly than those with standard ones. But they're more convenient to use. By closing quietly and slowly, these lids prevent the seat from falling down and making a loud banging.
Custom Nozzle Positioning – Most bidets merely offer a rear or front wash angle. With some bidets, you can choose the specific angle and position of the water stream.
Power Saving Mode – This feature gets the bidet to 'sleep' for some time, thereby conserving power effectively. It's going to lower the seat temperature when you do not use your toilet for a while. If it isn't used for a few days, it will make the heated seat stop working altogether.
Dryer Function – Some bidet toilet seats can even dry the bottom area with the use of air dryers. It is handy and sounds great. However, bear in mind that you will have to sit on your toilet for prolonged periods of time. That is because the dryers are not very powerful and they take a couple of minutes to get the job done.
Deodorizer – It fans gases through special filters and thus absorbs bodily odors in your bathroom. These bidets also employ a small fan to suck the air in. It should be noted that the deodorizer can't eliminate bacteria. If you go for a seat with deodorizer, be sure to replace filters every six months.
Electric vs Non-Electric Bidets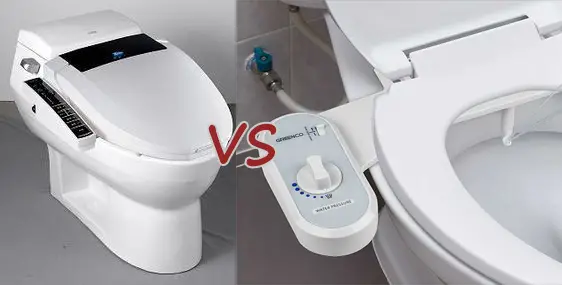 While electric seats have gained popularity among bidet users, many people still prefer non-electric versions because they are more affordable.
Non-electric bidets lack some fun features (like the warming, drying and so on) that can be found in electric options. Nevertheless, they are still useful for many people, especially for those who do not want another electric device in their home.
Tank vs Tankless Bidets
With regard to hot water, some bidets only heat the water on demand while others hold warm water in a tank all the time.
Tankless models provide continuous, limitless hot water. The downside is that they take a few seconds to start the flow.
On the other hand, tank bidets provide hot water instantly. However, the supply is limited, so the warm water can temporarily run out if the bidet is used by multiple people in a row.
Most tank-based bidets offer hot water for more than a minute, which is quite enough for most people, and the new water gets heated up within about ten minutes.
How to Use a Bidet Toilet Seat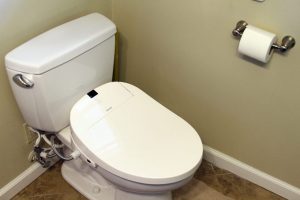 In essence, the bidet is a kind of washbasin that works much the same way as toilet paper.
After using a toilet, it helps you clean your frontal and back area with a stream of water.
It can be used along with the toilet paper, too. Actually, many people prefer using both the bidet and toilet paper. Yet a number of studies have found that the bidet is more hygienic.
The bidet seat is positioned right beside the toilet in some cases, but that isn't a general rule. Some fixtures are designed to fit over toilet seats, so it's not necessary to get up while cleaning yourself.
These toilet seats come in different shapes and sizes. They usually look like a low sink or a toilet with a faucet. You can also come across toilets that have a bidet feature in some cities, especially in Asian countries.
So, how to use the bidet seat? It is very simple. Straddle it just as you'd sit on any standard toilet. After adjusting the water jet and temperature for comfort, you can start to clean yourself.
In the event of cold bathrooms, it's advisable to have a remote thermostat. It lets you adjust the temperature even if you're not home. Most modern bidets come with a remote control unit that makes things a whole lot easier.
How to Clean a Bidet Toilet Seat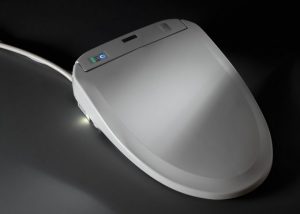 No one likes to do it. Nonetheless, it's recommended to clean the toilet once a week. This ensures better hygiene and keeps you safe from bacteria.
There is a wide range of cleaning products to choose from, so you might be tempted to waste your money on them. But before you go shopping, consider using bleach. It is cheap yet effective.
Bleach can do a decent job of cleaning and sanitizing your toilet seat. Its smell is too strong for some people thought. The good news is that a growing number of companies provide fragrant, pleasant smelling bleach.
Tools You'll Need to Clean Your Bidet Seat
Whether you choose bleach or another cleaning product, you'll need a brush and a measuring cup when cleaning your bidet.
You're advised to sprinkle water all over the bidet basin before you begin to clean. Fill a quarter of a cup with cleanser and spill it in the basin.
Use a toilet brush to scrub the basin. Pay particular attention to the area under the rim, as it is one of the hardest parts to get right. Gradually move the brush in a spiral manner as you go toward the source of water.
Make sure to brush it thoroughly. Once you have scrubbed all the basin of your bidet, start the water to wash away the bleach and toilet brush.
Ready to Buy a Quality Bidet Seat?
A toilet seat is something you should choose wisely and carefully. It is something you'll be using multiple times every single day. This is particularly true for a bidet toilet seat. Because of hygiene, it may affect overall health.
In our reviews, we've included the best bidet toilet seats. In making these choices we've considered the quality, design, and features alongside the value for money.
All you need to do is go through the list and take into account the pre-purchase considerations mentioned above. That will help you decide which bidet seat is ideal for you.
It should be comfortable, easy to install and nice-looking. Make sure it suits your toilet and works for your family members as well. Such a bidet toilet seat will do a good job of improving your bathroom experience for sure.
Summary
Reviewer
Review Date
Reviewed Item
Author Rating