Kohler Tresham Toilet Review – Why Choose It Over Other Toilets?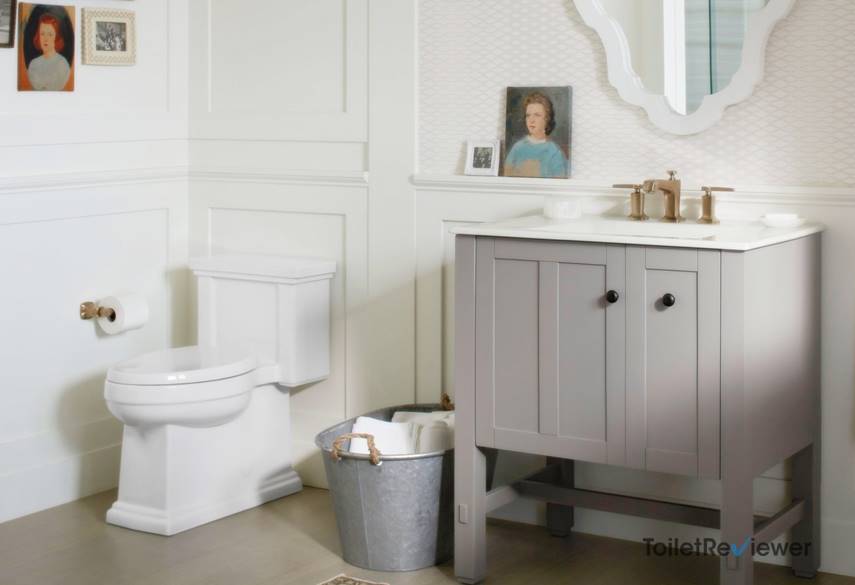 If there's one thing we can all agree on, it's that Kohler makes great bathroom fixtures. They're known for their excellent functionality and for their stylish looks. For many interior designers, it's their looks that act as the winning ticket—the thing that makes them choose Kohler over other brands.
The Kohler Tresham line is a good example of why aesthetics-focused interior designers love this brand. Its smooth, modern, and yet stately appeal makes it a wonderful pick for anyone who wants a bathroom that impresses others.
Are you curious about the Tresham and what it can do for your bathroom? Considering jumping on the bandwagon and getting a Kohler? Keep reading, because this review will tell you everything you need to know about this awesome piece of bathroom equipment.
Why Buy The Kohler Tresham Over Other Toilets?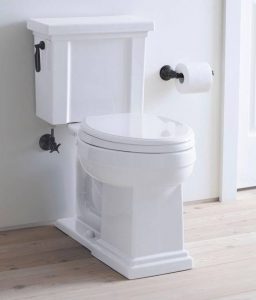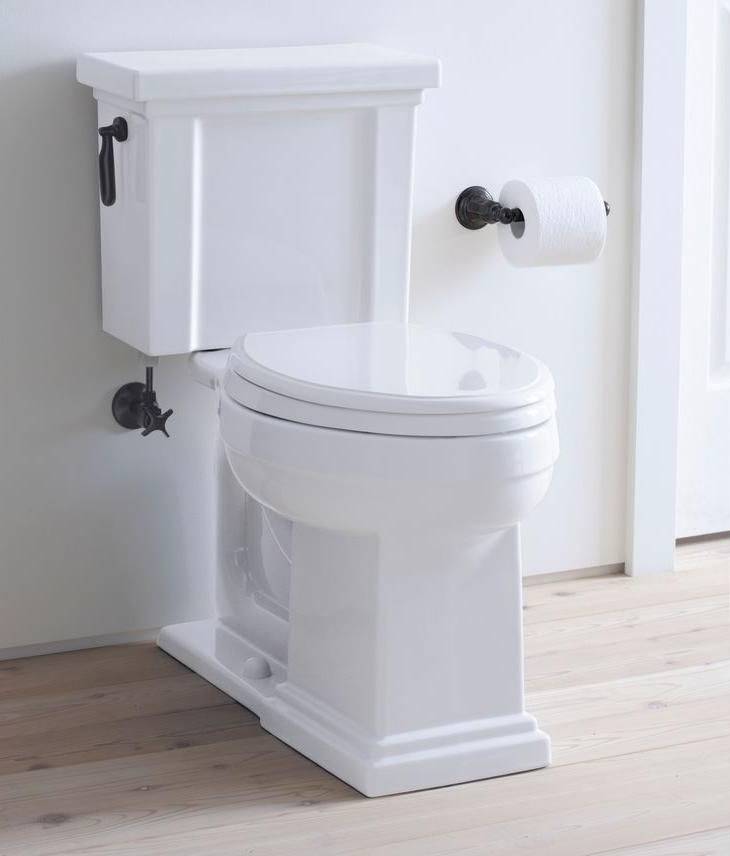 The Kohler Tresham's initial appeal is its gorgeous, modern yet traditional appearance.
But don't be fooled by the looks alone; it's a toilet that's made to be durable, functional, and an incredible purchase in every way.
The Tresham is designed to be a two-piece toilet that's easy to carry, easier to install, and leakproof—all in one nice, easy package.
All you need to get is the toilet seat of your choice you want. Those, as one could imagine, are very easy to install and give you added control over your customization.
Along with being an easy to install piece, the Tresham also is WaterSense certified. This toilet has a 1.28 gallon per flush rating, which means that you can expect to conserve thousands of gallons of water per year. Not too shabby, eh?
The Kohler Tresham: Key Features
WIth a brand like Kohler, it's only natural to expect to see a plethora of features that you'd love to have in your bathroom. The Tresham meets that expectation beautifully.
Some of the most popular features include:
The Two-Piece Design. This makes the Tresham toilet easy to haul up stairs and even easier to install. DIY fans will find this to be a great perk to have, especially if they're worried about transporting it.
Elegant Features. Are you tired of seeing so many toilets that just don't have any extra flair to their appearance? Yeah, Kohler's Tresham is not one of those toilets. It makes a statement that is eye-catching and sophisticated.
A Wide Range of Colors. Though white is still the most popular color in the Tresham line, you can also get a wide range of other colors to choose from. These awesome hues include light creams, light greys, as well as some exotic shades like a rich, seashell cashmere.
Comfort Height. Have a hard time with toilets that are naturally low to the ground? Or worse, tired of the feeling of a "high stool" type of toilet? Comfort Height is a design feature that gives you a toilet at chair height, making it easier for people to get on and off the seat.
Elongated Seat. Round seats are falling out of favor in the design world, and rightfully so. They are known for being uncomfortable and for offering a limited amount of space for your body. The Tresham's elongated seat ensures you won't have to deal with that annoyance.
Matching Fixtures Available. If you love to have a coordinated look in your home, never fear. You have matching and coordinating models available for you through Kohler. The Tresham line also contains pedestal sinks, vanities, and other important fixtures for your bathroom needs.
The Kohler Tresham: Additional Features
If you thought the features ran out there, you're wrong. When it comes to functionality, the Tresham remains an excellent example of quality engineering. If nothing else, Kohler made a point of showing how a toilet should work.
Kohler's engineering teams clearly spent a long time trying to create the perfect two-piece toilet when it came to the Tresham's design. Thes functionality-based features are what make most people ask for the Tresham:
WaterSense Certification. This eco-friendly toilet only uses 1.28 gallons per flush, which leads to major water conservation throughout the year. This means getting lower water bills for you and also knowing that you're being good to Mother Earth.
Canister Flush Valve. The canister flush valve in the Kohler Tresham is designed to give you extremely powerful, piston-enhanced flushes. This feature gives you few, if any, clogs in your toilet. The AquaPiston canister seal exposes 90 percent less space than a typical valve, which means you won't have to worry about leaks anytime soon.
360 Degree Swirl Flush. Like many of the top choices in Kohler's lines, the Tresham comes equipped with its 360 Degree Revolution Swirl Flush. This unique engineering feature cleans away excess mess inside the bowl, leaving you with less chore duty to worry about.
Easy Clean Enamel. Kohler makes a point of using materials that are easy to clean, and this is especially true of their toilets. If you were concerned about scrubbing away you day, this toilet will help give you the peace of mind you need.
Bulk Flushing Action. One of the reasons why Kohler is considered to be such a trendsetter in the toilet design world is its groundbreaking plumbing. The Tresham is one of the few toilets on the market that offers a powerful bulk flushing utility that makes getting rid of large loads a breeze.
One Year Warranty. Kohler's a brand that stands by its work, which is why you get a great one-year warranty on parts and workmanship with your toilet. Kohler also boasts a very impressive customer service line, so if you do have problems, getting advice is always a cinch.
The Kohler Tresham: Specs Chart
| | |
| --- | --- |
| Part Number | K-3950-0 |
| Item Weight | 72.8 pounds |
| Finish | White |
| Material | Vitreous china |
| Shape | Elongated |
| Water Consumption | 1.28 GPF |
| Flush Type | Gravity Flush |
| Handle/Lever Placement | Left |
| Certification | Watersense |
Is It ADA-Compliant?
Kohler's work to create toilets that everyone can use is incredibly noticeable in recent years. They have made a point of making multiple lines of toilets that are elegant without being exclusionary. The Kohler Tresham line is one of those lines!
If you are in need of an ADA-compliant toilet, then you'll be thrilled to know that getting a Tresham is the right move for you. The Tresham works well with people who are mobility-challenged and need a comfortable seat to do their business on. We strongly suggest this model for families who have a mobility-impaired family member.
Our Final Take: The Kohler Tresham
The Kohler Tresham is one of the company's more upscale lines, and rightfully so. It's not meant to be a "basic" model for a basic bathroom.
It's meant to be part of a bathroom that has a special image—one that is meant to be a traditional yet modern design. Between the sleek look and the wide color range, it's easy to see why interior designers love the Tresham.
The Tresham doesn't skate by on looks alone. It's an Earth-friendly water-conserving machine that offers a high flush power and also remains a comfortable seat to sit on. It's also ADA-compliant, making it a great renovation pick for people who are worried about becoming caretakers.