Where Do You Hang a Toilet Paper Holder in a Small Bathroom?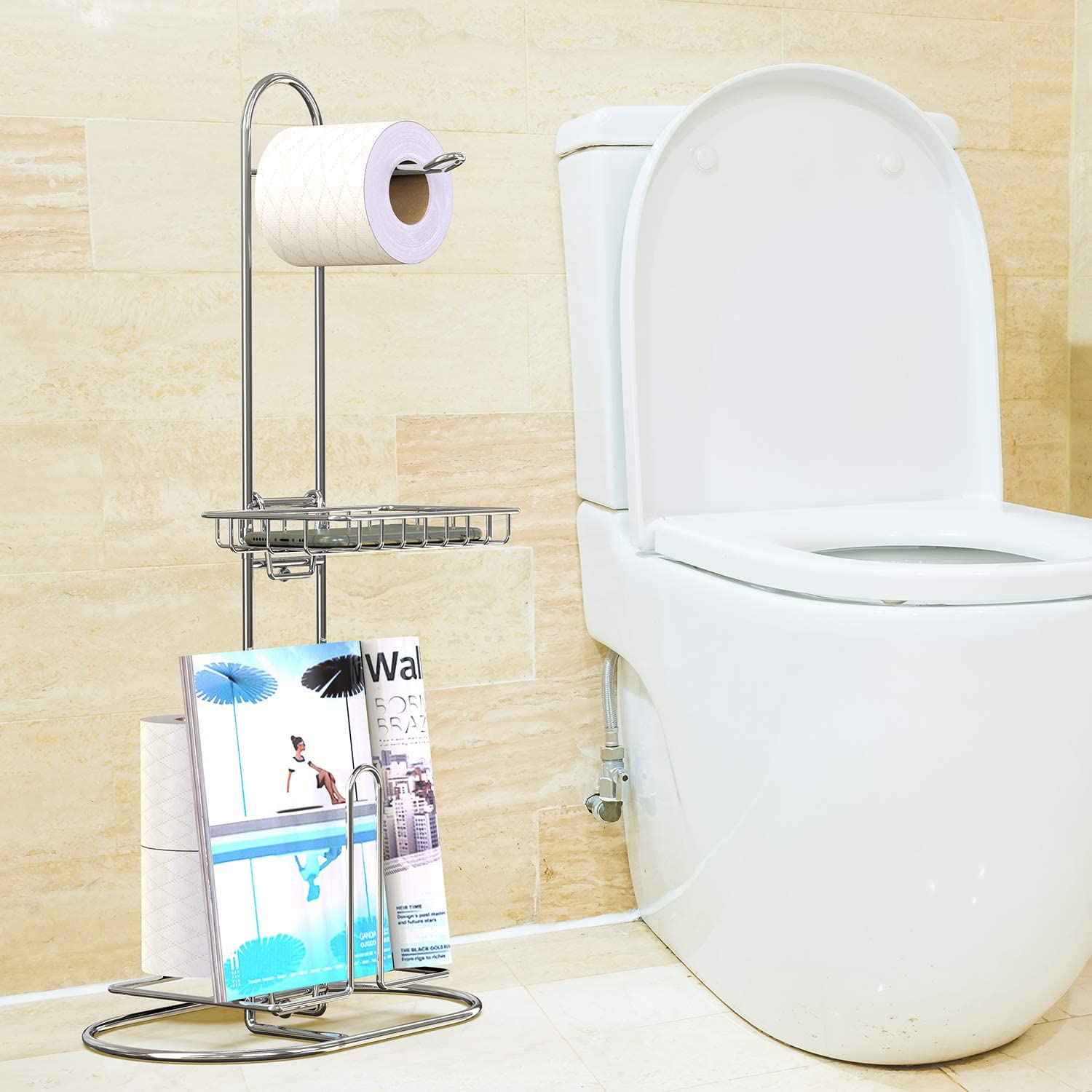 Whether you are moving into a new living situation, you are remodelling a bathroom, or even if you are building a new home, where you mount your toilet paper holder is pretty important.
After mounting your exhaust fan and installing your toilet, you will need to eventually decide where to put your toilet paper holder. It can be difficult to decide where to put it, but especially difficult if you have a small bathroom.
One of the hardest parts of a small bathroom is storage. When you have a small bathroom you will need to arrange things properly. You will need to consider where to put your toilet paper, where to store your supplies, and even where to add some extra rolls of paper when needed.
Since toilet paper is essential in a bathroom, one of the first things you should decide is how to place your toilet paper holder. The best way to hang a toilet paper holder in a small bathroom is to get a standing holder of some kind. This will allow you to move it around if necessary and put it into a corner when leaving the space.
Here are more creative solutions to figure out where to hang your toilet paper holder in a small bathroom.
Factor to Consider When Mounting a Dispenser on The Wall
Wall-mounted storage is one of the most popular ways to store your toilet paper. The only problem is that sometimes it can be difficult to find a good place to put this in a small bathroom. On one hand, you do not want your bathroom to look cramped. On the other hand, it does not take up much space.
You can attempt to install a mounted dispenser on a bathroom cabinet, the bathtub, or above the toilet door. There are also a few factors to consider when mounting a toilet paper holder on the wall.
Height Placement Matters
According to the NKBA, the National Kitchen & Bath Association, a wall-mounted toilet paper holder should be installed 26 inches above the floor. This installation height will work well with any standard toilet, as well as handicapped toilets.
Distance From The Toilet
Another important measurement when placing your toilet paper holder in a small bathroom is the distance from the toilet. It should be placed eight to 12 inches, in the center, from the toilet. It should also be facing the wall. This is important because if you end up having issues with your toilet not flushing, you may need to plunge the toilet, and you do not want the paper too close.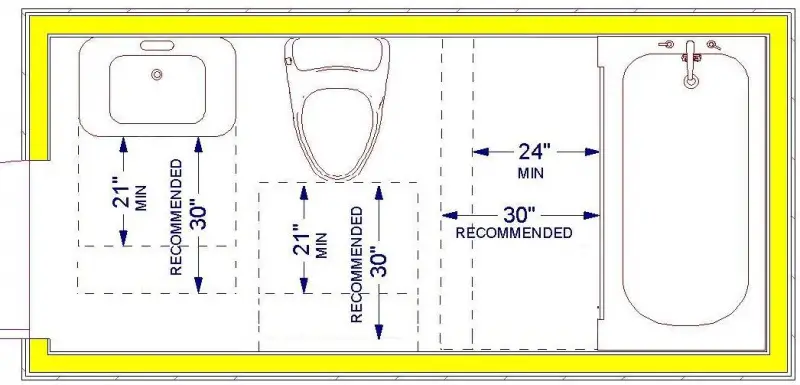 When measuring the distance to the toilet, do so from the front of the bowl. You may also want to consider the average height of those who will be using the bathroom. If you have mainly children or shorter users, place it eight to 10 inches from the front of the bowl. For a house of adults or taller people, you can place it 10 to 12.
Freestanding Toilet Paper Holder
When looking to mount a toilet paper holder in a small bathroom, a great option is to purchase a freestanding toilet paper holder. These toilet paper holders usually have a rack on the top for the currently used roll, while the bottom has a toilet paper storage. This provides you with extra storage, and you can leave it on the floor (or in a corner) without needing extra space.
Woven Basket Toilet Paper Storage
If you are someone who wants your bathroom to look a bit bohemian and stylish, using some type of woven basket for your toilet paper is a wonderful option. When using a woven basket you will simply have a mound of toilet paper in a basket.
This can be shoved into a corner and pulled out, or placed under a sink. This will save you space and also allows for storage in a stylish manner.
Use a Cart
Similar to something that looks like a shower caddy, you can use a little rolling cart next to your shower, across from your toilet. What is nice about having a small cart for your toilet paper, is that you will have room for other items as well.
Place toiletries such as shampoo, soaps, toothpaste, or skincare products in this cart. Make sure it is in reach of the shower as well as the toilet. This doubles as a toilet paper holder and toiletry organizer.
Stand Up Toilet Paper Holder
Verticle toilet paper stands that are made of stainless or wood can be a good solution for those with a small bathroom. Typically these hold anywhere from three to five rolls of toilet paper and offer space for something to be placed on top of it as well.
These come in many different models and designs, which allows you to store your toilet paper in a way that fits your bathroom size and style.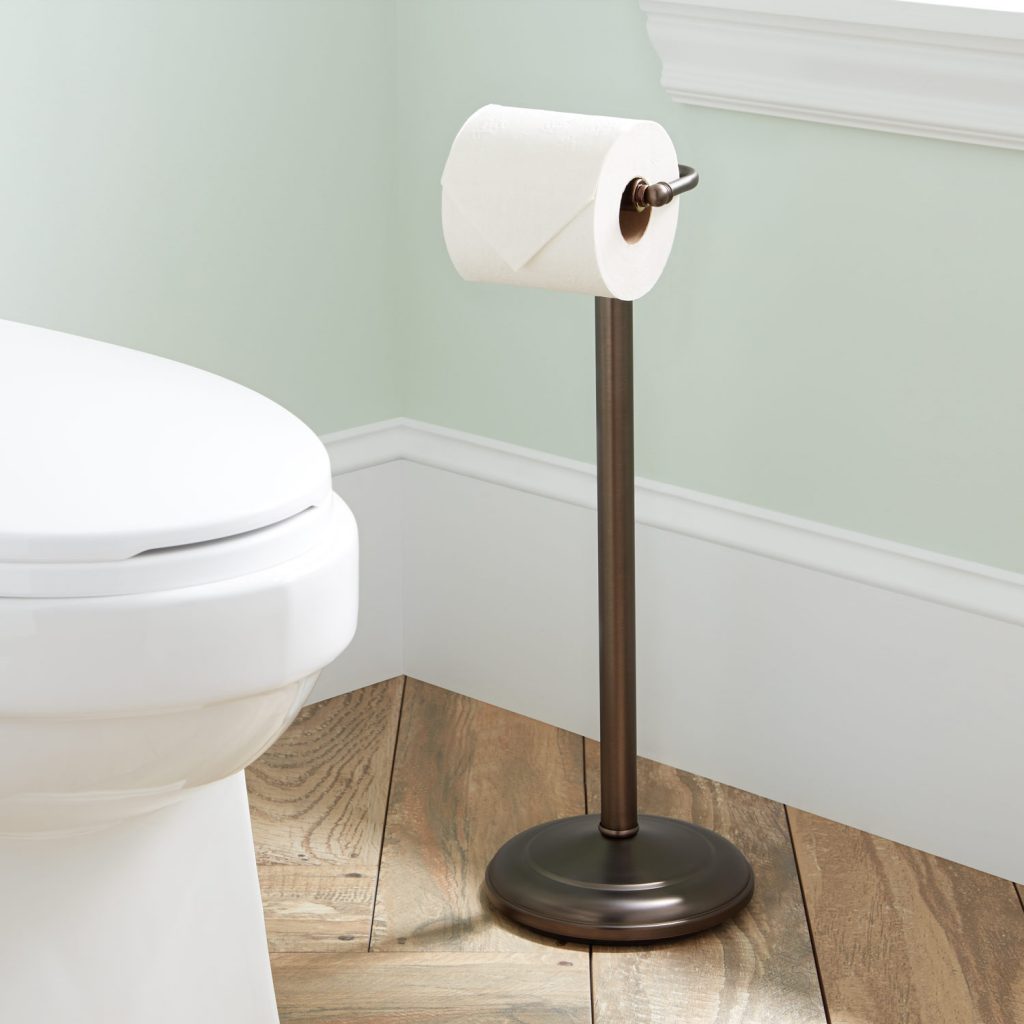 Toilet Paper Stocker
There is a toilet paper stocker from a manufacturer in Japan, that creates a storage system for 12 rolls of toilet paper. This cabinet is wonderful for those with a small bathroom, as it is very thin, and offers space to hold supplies as well.
Vase Storage
You can even use a vase to store your toilet paper. This is a good option because you can place it on a rack, or even next to the toilet. This glass vase will prevent your toilet paper from being splashed by water and allows you to know exactly how much toilet paper you have left at all times.
Hanging Storage Box
An incredible option to save space is by installing a closet pole into your bathroom. Do this running along the wall above the toilet. Then, purchase a hanging storage box such as one that is used for holding shoes in a closet. You can hang this on the closet pole near the toilet so that it's easy to reach it. Your storage will look neat, and be fully out of the way to avoid taking up space.
Small Cabinet Storage
If you prefer a compact look that can be very clean and tucked into a corner, you can purchase a small cabinet. You can place a small toilet paper cabinet in the corner of a small bathroom. It is also very practical because it can be placed almost anywhere that you have space, even underneath a sink sideways.
On Top of the Toilet
One classic placement of toilet paper in a bathroom with little room is to simply place it on top of the toilet. This is very simple and allows you to put one or two rolls of toilet paper on top at all times. It is easily accessible and takes up virtually no extra room.
Related Questions
Which side of the toilet should I place my toilet paper holder on?
This really depends on who is using the toilet, and which side they prefer the holder to be on. Since about 90% of the world is right-handed, it would make sense to place the holder on the right side. Despite this, many people prefer to use their alternate hand to grab the toilet paper. Your space may also dictate which side you place it on.
Does my toilet paper holder need to go in front of the toilet?
No, you can decide where you prefer to place your toilet paper. It is completely up to you because it is in your bathroom.