5 Best Toilet Safety Rails – [Handicap Toilet Grab Bars Reviews]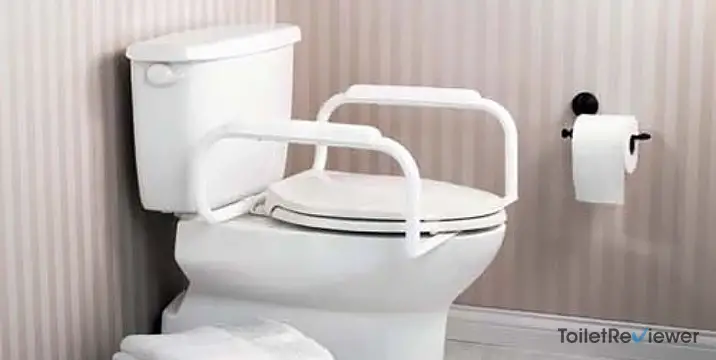 For people with low mobility or disability, toilet safety rails can make the difference between safety and falling.
If you have disabled or aged people in your home, having bathroom safety frames or toilet safety rails are a necessity (Source).
These bathroom mobility aids are tailored for people suffering from balance issues, mobility impairments, arthritis, or injuries. Besides, they are very helpful for all seniors.
While rising from and sitting on a toilet, elderly people and those with a mobility handicap put lots of pressure on joints and knees. This is not only painful but also detrimental in some cases.
Toilet safety rails provide extra support during standing and sitting, making bathrooms easily accessible. These handicap-friendly devices are installed under or over the commode.
Such safety rails come with strong handrails on either side to let you securely lower and raise yourself from your toilet.
While most toilet safety frames are much the same regarding design, there are a few variations featuring distinct styles. And, if you need a solution to help you sit higher on the toilet, consider also buying toilet seat risers.
With our guide and toilet safety rails reviews, you are more likely to choose the right product for your bathroom.
Comparing the 5 Best Toilet Safety Rails
Sale
Medline Toilet Safety Rails, Safety Frame for Toilet with Easy Installation, Height Adjustable Legs, Bathroom Safety
Handles are adjustable and rotate back to allow a wide range of comfortable and secure positions
Toilet rail with closed cell foam armrests provide a comfortable, secure grip | Great for elderly or adults post surgery
Toilet safety frame adjusts in height from 26 to 31 inches to accommodate standard or elevated toilet seats | Tool free assembly
Easy to clean aluminum frame mounts securely onto bowl with adjustable bracket 18 to 24 inches
Width Adjustment between armrests: 8" - 24" | Overall Depth: arm 16.75", at leg 12" | Weight capacity: 250 lbs
This toilet safety frame is created with handicapped and elderly people in mind. G
enerally, it's great for anyone suffering from mobility impairment that hinders him/her from using the toilet.
Medline Toilet Safety Rails feature a strong frame that mounts securely to the toilet bowl with a bracket.
It can support a maximum of 250 pounds and be adjusted from 18 to 24 inches. The arm height goes anywhere from 26 to 31 inches to accommodate elevated models or any standard.
The handrails are fitted with cell foam armrests that provide additional comfort and ensure secure grip at the same time. Constructed from aluminum, these safety rails are lightweight and easy to clean.
Pros
Easy to install and adjust
Mounts securely
Lightweight yet sturdy
Highly adjustable
Cons
Only support up to 250lbs
A bit shaky
Sale
Drive Medical RTL12079 Toilet Safety Frame, Stand Alone Toilet Rails, Easy to Install Toilet Railing, Toilet Seat Frame for Elderly, Adjustable Handrails for Toilet Seat
Toilet Safety Frame: Designed to fit just about any style of toilet, our freestanding handrail for the bathroom makes it easier for users with injuries, disabilities, or balance problems to use the toilet
Quality Construction: Toilet grab bars are made of durable aluminum for sturdy support and feature a stainless-steel locking mechanism; toilet rails install easily around both elongated and standard toilets without tools
Adjustable: Designed to fit your bathroom and your needs, the width of the toilet safety frame can be adjusted from 3 to 7 inches
Secure and Scratchproof: Our standalone toilet rails come equipped with non-wearing rubber pads for scratch-proof installation
Dimensions: Width: 21 inches; Height: 22.5 inches; Weight Capacity: 300 pounds
If you are looking for a fully
portable
toilet safety rail, this model from Drive Medical is a good choice for you. Let's see what makes it stand out from the rest.
This toilet rail is designed to nestle alongside the toilet bowl so that the lower bar lies near the floor.
It is equipped with padded handles that are tilted inwards. That makes this safety rail both practical and very comfortable.
The frame comes with cushioned armrests and a removable, easily accessible magazine rack. That's a nice extra feature you will surely like. The rack can be easily reached either under or over the side rail.
Pros
Full-length padded armrests
Comes with magazine rack
Tool-free quick assembly
Affordable
Cons
Not suited for elongated toilets
Slides easily
Drive Medical RTL12087 Bathroom Grab Bar for Toilets, White
Toilet Grab Bar: Designed to fit just about any style of toilet, our handrail for the bathroom is exceptionally easy to install without tools
Adjustable: Designed to fit your unique needs, our bathroom grab bar can be adjusted from 16.5 to 19.5 inches in width
Secure and Scratchproof: Our grab bars for bathtubs, showers, and toilets come equipped with soft, padded handles for comfort
Specifications: Measures 19.5 inches in width x 16.25 inches in length x 11.5 inches in height; weight capacity: 300 lbs
Those searching for compact and affordable toilet safety rail should consider buying the Drive Medical handrail. It is ideal for handicapped personal and seniors alike.
It's particularly helpful for those with limited mobility and poor balance, as well as people suffering from injury problems or arthritis.
The product comes with padded and soft handles for added comfort. Its width can be adjusted to fit almost any toilet seat.
The handrail can be employed with a seat riser. Thanks to the compact design, the rail fits in small bathrooms. It is very easy to install and assemble. No tools required.
Pros
Compact design
Soft padded handrails
Easy to install
Surprisingly affordable
Cons
Not strong enough for extremely heavy people
Not so good for elongated toilets
Vive Stand Alone Toilet Rail - Medical Bathroom Safety Assist Frame with Support Grab Bar Handles & Railings for Elderly, Senior, Handicap & Disabled - Freestanding Commode Stability Handrails
SIT AND STAND SAFELY: Supporting up to 300 pounds, the sturdy, stand alone toilet rail conveniently provides safety and security when sitting down or standing up in the bathroom. Perfect for the elderly, handicapped and for those recovering from injury or surgery, the rail prevents slips and falls for additional peace of mind.
EASY TOOL-FREE ASSEMBLY: The freestanding toilet rail is easy to assemble: no tools required. Handles can also be easily removed for convenient storage. Lightweight and durable, the frame is corrosion resistant, perfect for long term use.
COMFORTABLE NON SLIP HANDLES: Rail handles are padded with a soft foam for pain-free support. The foam padding creates a comfortable, non-slip surface for a secure grip when sitting or standing. Handles and frame are also easily cleaned by wiping down with a standard disinfectant solution.
VERSATILE STANDALONE FRAME: Safety rail base is a wide 26.5", easily fitting in smaller bathrooms. Freestanding safety rails can be used with standard and elongated toilets or at the sink or vanity. The bottom rails are 19" deep, adding tip-proof stability to the frame.
VIVE LIFETIME GUARANTEE: Unconditional lifetime guarantee so you can purchase now with confidence
Supporting up to 300 pounds, this stand-alone product has a strong construction built to last a lifetime.
The aluminum body allows for easy maintenance while ensuring that the rail remains rust-free.
The non-slip cushioned handles make sure you feel comfortable and safe while sitting down or rising up. Plus, its freestanding design makes it easier to sit down or stand up after toilet usage.
The safety grab bar measures 19″ in height and 26.5″ in width. This makes the rail suitable for both large and small bathrooms.
Note that this product comes unassembled. However, it's easy to assemble and use. You won't need any external tools for installation.
Pros
Made of sturdy materials
Non-slip armrests with rubber grips
Easy to use and assemble
Perfect for old and disabled people
Cons
Tends to slip on the tiles
May not be convenient for taller users
Sale
Carex Toilet Safety Rails - Toilet Handles for Elderly and Handicap Toilet Safety Rails, Toilet Safety Frame, Toilet Rails for Elderly and Toilet Bars for Elderly and Disabled
TOILET HANDLES FOR ELDERLY: Toilet bars for elderly that are great for assisting seniors at the toilet or sink. Its mobility makes a great multi-use bathroom assistance product with easy to use and folding features.
HANDICAP GRAB BARS: Great safety device for handicap toilet or seniors who need a rail for support. It's durable frame makes it a reliable support system for anyone in need of added support while in the bathroom.
EASY ASSEMBLY: Toilet rails are easy to setup and install with no tools or installation needed. The toilet rail will be set up within minutes of setting up. It's design makes it able to fit around any standard toilet for easy use and assembly.
HEIGHT ADJUSTABLE: Toilet assist rails adjust from heights 27" to 33" to provide support for people of all heights. It can be easily adjusted for easy multi person use.
300 lbs WEIGHT CAPACITY: Toilet frame device that can handle persons weighing up to 300lbs for barbaric use making is ultra-reliable and sturdy for long term use.
Here's another great option for those with mobility problems. This multi-use safety rail easily fits in any standard bathroom.
It can be also used by the bathroom sink as needed thanks to the versatile design.
The cushioned handles add to the comfort, while the capped feet prevent slipping and floor damage.
You will also like how sturdy and reliable this product is. That makes it a lot safer and easier for seniors to use the toilet.
The aluminum body allows for minimum maintenance. Moreover, this toilet safety rail is easy to put together.
The stand-alone design will save you the hassle of attaching the rail to the toilet, which makes the installation much faster.
Pros
Easy and quick assembly
Durable body
Lightweight
Versatile
Cons
Foam in handle tends to wear out
Not foldable
Toilet Safety Rails Buying Guide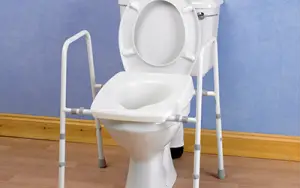 Bathroom assistance devices come in different sizes, shapes, and styles.
However, most safety handrails fall roughly into two categories – legless and freestanding.
Choosing the best toilet safety rail depends on a few factors like the bathroom environment, as well as specific installation and mobility needs.
For example, some people will go for freestanding devices to avoid screws and brackets even though they prefer legless frames.
Here are some buying tips to assist you in getting the best option for your bathroom.
Handles – While some toilet rails are provided with fixed handles, others have adjustable handles. The width between armrests can be restricted or adaptable. Also, there are non-padded and padded handles to pick from.
Legs – Take a look at the bottom of the safety rail to check if there are suction or skid-resistant cups included. These prevent the toilet rail from wobbling or slipping when in use.
Adjustability – It's also important to choose the safety rail that fits the requirements and height of the user. Such a product will provide enough support and meet individual needs.
Material – Toilet safety rails are made from plastic, aluminum, and steel. Aluminum bars are most popular because they are sturdy and lightweight. In addition, aluminum rails are easy to maintain.
General shape (design) – Look for flexible safety rails since they can accommodate different environments and toilet types. Whether you have an elongated or round bowl, make sure the rail matches its shape.
Weight capacity – This is an important thing to consider, especially for overweight users. Most safety rails can support 300 pounds of weight.
Wheelchair transfer – Even though most toilet handrails are designed with wheelchair users in mind, they are not created equal. Opt for movable armrests.
Benefits Of Using Toilet Safety Rails
Suitable for people with balance problems or mobility impairments: Toilet safety rails can make a bathroom more accessible. By reducing the risk of falling over, these devices make the transition to the toilet much safer. This is very important to those with mobility concerns.
Helpful for seniors: In addition to disabled people, these frames are also great for seniors. Elderly people are more prone to injuries, which is why you should consider investing in this device if you have seniors at your home. The toilet rails make it easier for older people to get up and down without straining their joints and hips.
They offer both comfort and safety: These mobility aids provide a stable foothold to the ground for greater safety. They often come with padded handles to be more comfortable too. Adjustable models can be lowered and raised according to different preferences.
Easy to install and attach: Generally speaking, safety rails are easy to assemble and use. Some models don't require any installation. In most cases, all you need to do is remove and replace the screws on your toilet seat.
How to Install a Toilet Safety Rail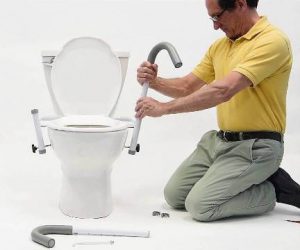 Ease of installation is one of the main benefits of toilet safety rails.
Despite the fact that the installation process slightly varies due to the different designs, some basic steps are the same for most toilet handrails.
Let's check them out.
Remove the toilet seat and lid from the toilet bowl by unscrewing the bolts and nuts. Also, make sure there are all the pieces included.
Line up the bowl holes with the openings on the mounting bracket. Then place the seat and lid on the bracket. Make sure they are attached and tightened properly.
Insert the support piece for arms in the safety bracket. Check the manual directions for installation tips to get it right.
Adjust the height of the legs before using. Slide the rail until it snaps into the position at the height that is convenient for a person who will use it. The frame should be level so that the foot pieces are set at exactly the same heights.
User Feedback & Reviews: What People Say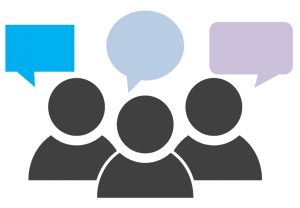 Users recommend measuring the width and length of the toilet seat before purchasing a safety rail.
It is also advisable to measure your body when sitting on the commode, just in case.
If the toilet rail is narrow, the fit will be uncomfortable, so you'll have a hard time getting up and down.
Another thing many users have pointed out is nuts and bolts. Bolts and nuts are meant to prevent the accidental falls. Make sure they are tight to rest assured that your seat will be operational and stable.
Many users prefer legless safety rails, such as those from the Drive Medical, because they take up less space. Additionally, legless models reduce the risk of tripping. Freestanding and adjustable models are very popular with elderly people.
Common Complaints
One of the most common complaints is about the height adjustment. As some users have said, it isn't so effective for very tall users.
Nevertheless, the height is usually suitable for most users and most toilets accommodate safety frames without any hassle.
Another drawback is that many toilet safety frames are a bit wobbly when wiggled. Aside from that, some models tend to slide or slip sometimes. This is something you should bear in mind when using your toilet rail.
Last but not least, check out the weight capacity. Some toilet safety rails can't hold up to extremely heavy users (above 250 lbs) according to reviews.
Your loved one (or you) will put a lot of pressure on the armrests when getting up and down, so you want to be sure it can support his/her weight.
Most Common Praises
What most users like about toilet safety rails is that they are adjustable, easy to install, and relatively inexpensive. Recommended features include:
Padded armrests – While armrests are made of different materials, cushioned handles will add comfort and convenience to your safety rail.
Rubber grips – Make sure the safety frame has rubber grips on the legs to prevent it from slipping.
Width adjustability – Most rails are adjustable in terms of width. They usually come with a release button that makes the toilet rail skinnier or wider depending on the user's width.
Improve Mobility In Your Bathroom with Toilet Safety Rails
When it comes to toilet safety rails, legless wall-mounted rails are sturdy, but they're difficult to install. On the other hand, freestanding models are fully portable and low maintenance. They are not so strong, though.
Whether you're looking for stand-alone rails that bracket on the back of your toilet seat or ones that loop below the toilet base, you will surely find something that suits your needs.
Keep some considerations in mind before buying one. Check the weight capacity and dimensions carefully, as some frames take up more space than others.
Make sure you choose the right height, width, and shape. You will also want to look for features like padded armrests, rubber grip, and width adjustability to get the best option.