5 Best Toilet Seat Risers – (With Arms & Most Portable Models)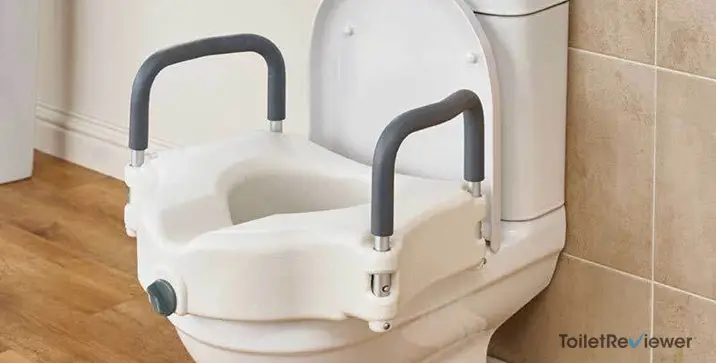 If you want to improve comfort and bathroom safety, the best toilet seat riser is your best bet. Using a toilet isn't always a safe and comfortable experience. This is especially true if the toilet seat is positioned too low for you to be able to sit comfortably.
If you have health conditions such as back pain, trouble standing, or limited mobility, it may be hard for you to bend over and sit down on the toilet. If this sounds like a familiar situation, an elongated toilet seat riser can help.
These booster devices are generally placed over your existing toilet, helping you raise the seat by 2 to 6 inches. This affordable method is designed to help people who need assistance using the bathroom safely and comfortably.
No major modification is required to your existing toilet and most models fit both elongated and round toilets. For added support, some seat risers come equipped with metal arms on each side.
Made to be comfortable and secure, an elongated toilet seat riser is great for elderly and handicapped people. Also, it is ideal for medical facilities and senior citizen homes.
Toilet seat risers can also be very portable and easy to transport. Many people who go on the road search for a portable RV toilet seat riser (Source).
Since elongated toilet seat risers come in different styles, shapes, sizes, designs, and features, it is important to shop around and find one that best meets your needs.
Comparing the 5 Best Toilet Seat Risers
Sale
Vive Raised Toilet Seat - 5" Portable, Elevated Riser with Padded Handles - Elongated and Standard Fit Commode Lifter - Bathroom Safety Extender Assists Disabled, Elderly, Seniors, Handicapped (1)
EASILY SIT OR STAND: Adding five inches of height to any standard or elongated toilet bowl, the raised toilet seat with comfortable padded handles makes it easier and safer to sit or stand without bending. A great bathroom safety solution for the elderly, those with limited mobility and those recovering from hip, knee or back surgery.
CONTOURED DESIGN WITH PADDED HANDLES: Constructed with a durable composite material that supports up to 250 pounds, the seat is contoured to provide safe and comfortable elevated seating. Removable handles are padded with a soft foam that provides a secure nonslip grip for added stability when lowering or rising from the seat.
EASY TOOL FREE INSTALLATION ON MOST TOILETS: Installs on any standard or elongated toilet bowl. The raised seat securely attaches with an adjustable knob and rear wings for added stability.
PORTABLE, DURABLE AND EASY TO CLEAN: The durable raised toilet seat can be wiped down with regular household disinfectants or sanitizing wipes and does not interfere with regular cleaning of the toilet bowl. Easily portable, the seat riser is lightweight with removable handles.
2-4 DAY SHIPPING & VIVE LIFETIME GUARANTEE: In 99% of cases, you'll receive your Vive Raised Toilet Seat in 2-4 days. Confident in its design, we offer Vive Lifetime Guarantee. Buy now with confidence.
If you want a nice toilet seat riser with arms, this is the best overall option to consider. Featuring some of the best safety and comfort features, this raised toilet seat is also competitively priced.
A toilet seat riser with handles like this one is great for people who experience pain while bending over. Whether you recently had surgery or simply have special needs, this product will give you the comfort you need.

This raised toilet seat can be installed without any sort of expensive tools. It is also more durable than average. It even comes with a lifetime guarantee from the manufacturer so that you can have the peace of mind that it will last.
Pros
Adds 5 inches to your toilet seat.
Comes with padded safety handles on the sides.
Fits on both round and elongated toilets.
Simple tool-free installation
Lifetime manufacturer guarantee
Cons
Best on a toilet bowl rim which is 1.5 inches deep or less.
2. PCP Raised Toilet Seat – Best Toilet Seat Riser for Elderly People
PCP Raised Toilet Seat and Safety Frame (Two-in-One), Adjustable Rise Height, Secure Elevated Lift Over Bowl, Made in USA, Regular
PCP 7007 elevated toilet seat; Doubles as a stability safety frame & raised toilet seat
Ideal for patient recovery from knee, hip fracture, back, lower body surgery, strains, muscle injury
Medical grade, lightweight and portable moves between bathrooms; Easy to remove when not in use
Designed for limited mobility, seniors, the disabled; Simple to clean for assisted living caregivers
Ships pre-assembled; Includes molded plastic seat with bottomless splash guard to direct waste into toilet; Seat height adjusts 18 to 23 inches; Overall width 21 in; Width between arms 18"
Growing old is never that easy. Your body starts to decline and become less strong and capable as it once was. This can be especially inconvenient for routine tasks like going to the bathroom.
If you need a medical toilet seat riser which has above-average security features, this is a great option to look at. This product has a very strong metal frame which included padded handles. This also is why many people see it as the best toilet seat riser for elderly people.

People searching for a nice handicap toilet seat riser often pick this one since it has a medical-grade frame which is great for long term use and safety.
Pros
Adjustable height up to 5 inches.
High-quality and sturdy safety frame.
Padded handled on each side.
Medical-grade safety features
Best for elderly and handicapped users.
Cons
No width adjustment.
Only supports up to 250 pounds.
If you want to find an affordable toilet seat riser, you might not necessarily have to sacrifice the features you are looking for.
If you aren't as concerned with having safety handles on both sides of the seat, as an example, an affordable option like this one may fit your needs perfectly.
This product also stands out for its small and lightweight design which can easily be moved to different toilets. Many people see this product as the best RV toilet seat riser since it is so small and easy to take on the go.

This toilet seat riser can raise your seat up to 5 inches and has a slip-resistant design which makes it safe enough to sit on without the extra frame and handles.
Pros
Very affordable price
Adds 5 inches of height
Easily used and moved around.
Slip-resistant material.
Comfortable padding.
Best for temporary use.
Cons
250-pound weight limit
No security features or handles.
Sale
Vaunn Raised Toilet Seat and Elevated Commode Booster Seat Riser with Removable Padded Grab bar Handles & Locking Mechanism
WIDE & COMFORTABLE RISER - Unique ergonomic design adds 4" of height extension to your toilet seat to make it easier to sit down or get up from the toilet. This premium toilet seat riser is suitable for seniors, individuals with disability, injuries and or limited mobility i.e. pregnant, knee surgery and seniors with bending or sitting difficulties.
SECURE & SAFE LIFT - Anti-slip surface, push pins and locking mechanism ensure a secure fit on the toilet bowl rim. Removable padded grab bar handrail handles ensure a comfortable grip and seamless edges provide a better sitting experience to maximize safety and security.
DURABLE & HYGIENIC - Toilet seat riser is ADA compliant and made with heavy-duty molded premium plastic that is resistant and can withstand frequent long-lasting use.
LIGHTWEIGHT & PORTABLE - Weighs less than 5 lbs. Easy to store or to travel with for added convenience. Contoured seat is designed with a wide seat surface for added comfort, stability and peace of mind while taking care of personal necessities in the bathroom.
EASY INSTALLATION & CLEANING. Tool-free installation. Simply lift up the toilet seat, place seat riser on commode and lock. The adjustable toilet seat riser fits on most standard toilets (16.5"), will not work on elongated toilets (18.5"). Easy to clean and wipe. Does not work on toilets with Bidet.
If you want a toilet seat riser with handles which you can use permanently without inconveniencing others who live in your home, this might be the best option for you to consider.
Since it weighs only 5 pounds and easily moves to different locations, this is a great toilet seat riser with arms for those who need a little more portability. Best of all, this product has an ergonomic design which is very comfortable to sit on.

This seat riser packs a little more punch than one of those sub-par 2-inch toilet seat risers we see on the market. This seat riser will elevate your seating position up 4 inches and easily move to different locations.
Pros
Ergonomic & comfortable to use.
Easily moved to different locations.
Sturdy materials and design.
Up to 4 inches of extra height.
Fits both on round and elongated toilets.
Only weighs 5 pounds.
Cons
Only supports up to 250 pounds.
Sale
Carex Round Hinged Raised Toilet Seat, Adds 3.5 Inches of Height to Toilet, 300 Pound Weight Capacity, Toilet Seat Riser, Elevated Toilet Seat And Handicap Toilet Seat, Round or Standard
HINGED FOR EASY CLEANING. Hinged Toilet Seat Riser adds 3.5" of height to your toilet to aid those with sitting and bending difficulties. Weight capacity is 300lbs. Toilet riser fits under toilet seat so you have an elevated toilet seat.Available for elongated and standard toilet seats. Easily fits elongated and standard size toilet seats.Easy to install under the existing toilet seat. Installation is quick, easy, and painless, taking just a few minutes.
ADDS 3.5 INCHES. For round toilets. Hinged toilet seat riser is a simple solution for those with bending or sitting difficulties. Turn your existing toilet into a handicap toilet seat. Toilet seat lifter adds 3.5" of height to your existing toilet.
INSTALLS EASILY. Installing easily between your round toilet bowl and existing toilet seat. The toilet seat riser is an easy choice for those with mobility issues, elderly, handicap, or disabled needing a raised toilet seat. Locking: No
EASY TO CLEAN. The Carex Hinged Toilet Seat Riser makes it easy to clean, just like a regular toilet seat. The round toilet seat riser fits most standard round toilets . Toilet riser seat is perfect for those needing a toilet aid
TRUSTED BRAND. Carex is a leader in disabled products and medical equipment for seniors. Carex is a trusted manufacturer of raised toilet seats for elongated toilets and standard toilets for most toilet brands
A hinged toilet seat riser like this one is best for those seeking something a little more permanent.
Hinged toilet seat risers like this one may require a little more installation than other models but are also above-average in terms of things like durability and the quality of user experience.
Due to the versatility of this product's design, it can be used as an RV toilet seat riser, elongated toilet seat riser, round toilet seat riser, and much more. If you want a 2-inch toilet seat riser, in particular, this is one of the best options.

Although this model adds 3.5 inches of height, those who want their seat riser to add 2 inches high find this to be a suitable compromise. After all, it is very sturdy and sits permanently on your toilet seat with hinges.
Pros
Easy-to-use hinged design.
Very easy to clean and maintain.
Models designed for both round and elongated toilets.
More affordable than most options.
High 300-pound weight capacity.
Cons
Only adds 3.5 inches of height.
Toilet Seat Riser Buying Guide
Sizing & Installation: Although many models like the HealthSmart Portable Toilet Seat Riser boast universal size compatibility, it's always best to start by looking at the size of the product.Make sure your favorite option fits onto your exact toilet shape and size. You should also look at the installation requirements so that you won't have any issues getting it set up.
Enough Height: Usually, a toilet seat riser that boosts the seat up 5 inches is enough. However, toilet seat risers can also come with more or less height than this. Figure out how much extra height you need in advance so you can get the best toilet seat riser for your needs.
Safety Features: People who buy toilet seat risers are usually trying to fight pain from bending over and sitting down. It is also common for people to get a toilet seat riser because of the safety features it provides. Many of the best toilet seat risers come with handles and frames which make them a lot easier and safer for the user.
Portability: Certain toilet seat risers are designed to be portable and easily moved to new locations. Then, there are also seat risers which install more permanently on your toilet and aren't easy to take on the road. Decide which type of seat riser will work best for your needs.
What are Toilet Seat Risers?
The average toilet seat sits at a height which the normal person would consider a comfortable sitting position.
As those of us with chronic pain know, though, the average comfortable sitting position isn't always at the most comfortable height.
If you encounter chronic pain and discomfort while bending over to sit down in the restroom you don't need to keep things this way.
Toilet seat risers provide a simple solution for those who encounter pain and discomfort while trying to use the restroom.
Toilet seat risers, as the name implies, raise the height of your seat. This makes it a lot easier for many people to sit down painlessly. Toilet seat risers can also sometimes come equipped with handles to help you stay safe and secure.
Great for Pain Relief & Medical Assistance
The most common reason for people to get a toilet seat riser is for pain relief. They are designed specifically to assist people with disabilities, handicaps, chronic pain, and elderly people.
People in wheelchairs, for example, often use a toilet seat riser with handles to minimize the potential of falling. If you have mobility issues, you may also want to consider buying safety rails for your toilet.
Circular & Elongated Toilet Bowl Compatibility
Typically, people have a round or elongated toilet bowl. These are the two standard bowl sizes that most toilet seat risers are designed to work with.
Although certain models can be used on both elongated and round toilet bowls, some of the best toilet seat risers require one particular toilet bowl shape.
Either Permanent or Portable
Depending on your needs, you will need to decide whether you want a model that installs permanently or one which can easily move to different toilets.
Models that are permanent tend to connect directly to the hinges of your toilet. Portable models don't connect to the toilet at all, and will instead use non-slip material to keep you secure on the seat.
Sometimes Includes Handles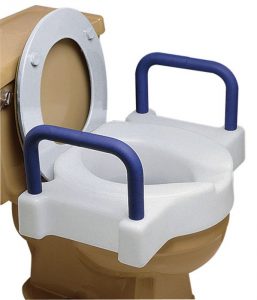 If you have issues bending over to sit down, getting a toilet seat riser which includes handles is a great option for you to explore.
This will give you the extra support you need to comfortably move into the seat. Handles can also make it much easier for you to stand up after you are finished.
If you need the extra balance and support while using your new toilet seat riser, you should find a model with handles.
Many Potential Heights
Toilet seat risers usually are designed to raise the seat height to a particular level. Unless you want to spend a little more money on a model with adjustable height, it's usually best to determine how much extra height you need.
People usually have great results with models that raise the height anywhere between 2 to 5 inches. Due to the many potential heights which exist, getting a toilet seat riser to perfectly suit your needs is a simple task.
User Feedback & Reviews: What People Have Been Saying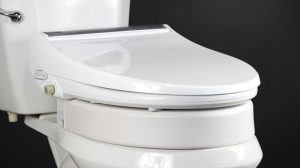 The people who purchase the toilet seat risers like the ones featured here almost always report back with a positive experience.
If you do a great job shopping around and comparing the different options in advance, you will probably have good things to say later on.
People with rheumatoid arthritis, as an example, report back saying that a toilet seat riser makes it much easier to use the restroom. Elderly people tend to have the best experience with models that come with handles and other safety features.
Common Complaints
One of the common complaints people have is that the toilet seat riser doesn't fit securely on their toilet.
Usually, this can be avoided by doing plenty of background research on the different options and finding one which perfectly fits your toilet shape and design.
People with bad experiences can often be frustrated with the size of the seat itself. It is also common for people to complain about a model that doesn't support their weight.
It is also common for people to complain that their toilet seat riser shifts and slides during use, rather than staying in one stable position. Typically, the best way to avoid this is to get a hinged toilet seat riser or one with a strong and stable frame.
Most Common Praises
Typically, customers will have the most to say about the price of the model. Since there are models that don't have handles or a frame and are instead designed to stick on to the seat, toilet seat risers can often be very affordable.
In particular, people who don't need extra security and safety features such as a handle or frame tend to marvel most over the affordability of these toilet seat riser models.
This is most true when an affordable model adequately provides the comfort and pain relief they were lacking previously.
When to Get a Toilet Seat Riser
There are many circumstances where it is a good idea to get a toilet seat riser. The most common circumstance is when you have pain problems and simply need the extra height to get seated comfortably.
People who are handicapped, in particular, are common toilet seat riser users. Moving from your wheelchair to the toilet seat, as an example, can be much easier with a toilet seat riser.
It is also pretty standard for hospitals and other medical facilities to have toilet seat risers available since they are considered to be assistive technology for elderly and disabled individuals.
Get the Best Toilet Seat Riser For Your Needs
In most cases, those who spend enough time considering the features described above and shop around carefully will find a toilet seat riser which best suits their needs.
People can sometimes fail to consider basic features like the size and width of the seat, the weight capacity, and so on.
If you want to join the long list of people who love their toilet seat riser, the most important thing for you to do is to understand what your needs are and spend plenty of time shopping around for the right price and features.
This way, you can sift through all the options which exist and purchase the best toilet seat riser to suit your needs from an informed standpoint.
Summary
Reviewer
Review Date
Reviewed Item
Author Rating