Euroto Luxury Toilet Review – Is It Worth The Price Tag?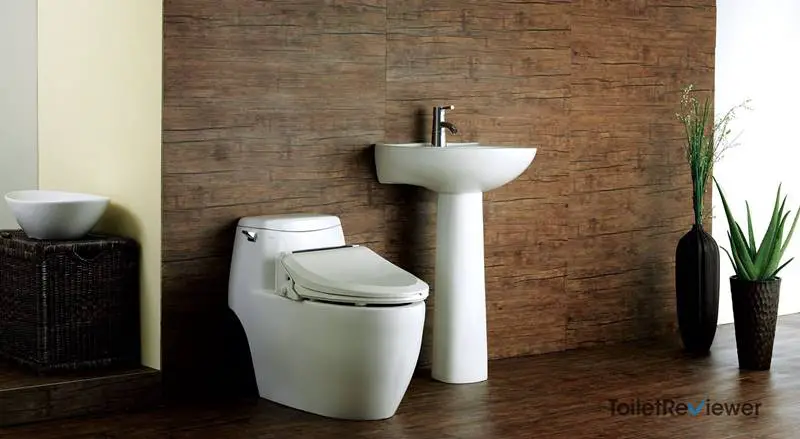 Euroto Luxury range of toilets is packed with an assortment of features for optimal performance and comfort. Being one of the best luxury toilets manufacturer, Euroto offers unique intelligent toilet capabilities.
Some of the luxury features associated with these toilets include heated seats, massage, automatic heating, and warm water wash.
The Euroto bidet features a double nozzle design, allowing for the easy and comfortable front, and rear washing experience.
Throughout this Euroto Luxury Toilet review, you will learn the various things that make this product stand out from the rest.
Euroto Luxury Toilet Alternatives to Consider
PRODUCT

CONSUMPTIONS
(GPF)

PRICE

Euroto Luxury Toilet

0.8/1.28 GPF

Check Price

WOODBRIDGE T-0019, Dual Flush Toilet

1.0/1.6 GPF

Check Price

TOTO MS920CEMFG#12 WASHLET G400 Toilet

0.9/1.28 GPF

Check Price
Euroto Luxury Toilet Benefits
The toilet offers the hands-free operation, automatically flushing after your departure
Offers several adjustment settings, including water temperature, pressure, heated seat, and dryer temperature settings
Features hygienic posterior wash, pulsating wash, feminine wash, and hygienic filtered water.
Fitted with a deodorizer that has powerful air filters for cleaning the air around the toilet more effectively
It offers instant warming comfort, with its innovative instant water heating technology.
Euroto Luxury Toilet Key Features
With the Euroto Luxury toilet, you will have access to a range of features that help you relax during your visits to the bathroom.
For instance, the product features a comfortable and clean design that is coupled with a customizable control panel for a wonderful experience.
As one of the best high-end toilets in the industry, Euroto is fitted with self-lifting lids, automatic flush, and a range of customizable bidet nozzle settings.
In addition to cleaning you after use, the product also offers cleansing massage capabilities. The air purifying deodorizer sucks away a lot of the undesirable odor.
You may even turn the inbuilt FM radio for an entertaining cleansing experience. You will also like the fact that most of its settings can be easily configured using a remote-control pad. In addition to these, the Euroto Luxury toilet is loaded with many other interesting features, including:
Premium Quality Construction
The Euroto Luxury toilet manufacturer is renowned across the world for producing high-quality, and durable products. The manufacturer uses only the best materials and employs the best craftsmanship in making its toilets.
For enhanced durability, the manufacturer uses polypropylene—a soft, yet strong material—to make seat covers and toilet seats. As compared to traditional plastics, this material is stronger and more resistant to breakage, cracks, and chemical damage.
The cleaning nozzle, on the other hand, is fabricated out of a durable composite that has been specifically formulated to withstand daily use. This composite material has also been proven to prevent bacteria from breeding on the nozzles.
Self Cleaning and Deodorizing

Electronic bidets by Euroto are some of the best in the industry, with regards to Functionality, comfort, and convenience.
You may program these bidets to remove dirt and contaminants automatically after each use. The bidets also feature a built-in activated carbon filter that eliminates odor.
Advanced Skin Sensor Technology
The various Smart Luxury toilet models by Euroto are equipped with advanced skin sensor technology. This technology is meant to keep the toilet seat comfortable and flexible even through repeated use.
Built-in Water Filter
The Euroto Luxury Smart toilet also has an inbuilt water filter. The filter is specifically designed to help soften hard water.
It will also prevent the build-up of minerals that may end up clogging the nozzles and causing the toilet to malfunction.
Customized Drying System
The Euroto Luxury toilet comes with a fully customizable drying system. This system allows you to adjust the intensity and temperature of its blow dryer for optimal comfort.
Intuitive Control Panel

The control panel found on Euroto luxury toilets is easy to use and is loaded with all the essential settings and controls for enhanced convenience. It features a streamlined one-piece molded design.
This design helps protect its circuit from humidity and moisture, thus offering extended durability and reducing maintenance costs significantly.
Extra Comfort Features
Euroto Smart toilets feature a range of comfort features, such as heated seats, warm water wash, massage, and many other features that add to its comfortable cleaning experience.
The bidet on these toilets features a double nozzle design that allows for easy front wash and rear wash.
Additionally, you can also enjoy spa-like massage with the Euroto Luxury toilet, thanks to its pulse flushing mode.
Hygiene Features
Basically, toilets are known to accumulate stains with time, especially if they are not cleaned regularly.
Failure to clean your toilet also creates a conducive environment for viruses, bacteria, fungi, parasites, and other disease-causing microorganisms to breed.
If not checked, this may cause infectious diseases for you and your family. As one of the best Smart toilet options, the Euroto Luxury toilet features bactericidal features that help prevent bacterial infection, hemorrhoids, and constipation among other infections.
Silent Auto Lid Open/Close
Another Smart capability of the Euroto Luxury toilet is its motion-activated lid. The automatic hands-free operation opens and closes the toilet lid automatically. This solution has been proven to be hygienic as it prevents you from picking germs from the toilet while opening and closing the lid.
Mute Soft closing action on the seat and lid protects your fingers from being squashed while closing the lid. These also allow for enhanced user experience with this innovative luxury toilet.
Remote Control
The toilet comes with an intuitive and easy to customize remote control pad. The pad features dual user memory, allowing several users to customize and save personal settings.
The solution also offers programmable user settings as well as a one-touch auto mode for female and male users.
The remote-control pad has several customizable settings, including six-seat temperature, six warm air temperature, five spray cleansing, and five water volume settings.
Our Final Verdict
The Euroto Luxury toilet has been designed to offer users a new level of quality, cleanliness, and comfort in their bathrooms.
With this product, you will get automatic flush, adjustable comfort settings, an effective deodorizer, and instant warming comfort.
Again, the manufacturer uses quality materials to make the toilet components, allowing for enhanced durability. Despite being a relatively expensive product, you can rest assured that the Euroto Luxury toilet offers a great value for money.