How to Unclog a Toilet With Poop In It [5 Proven Methods]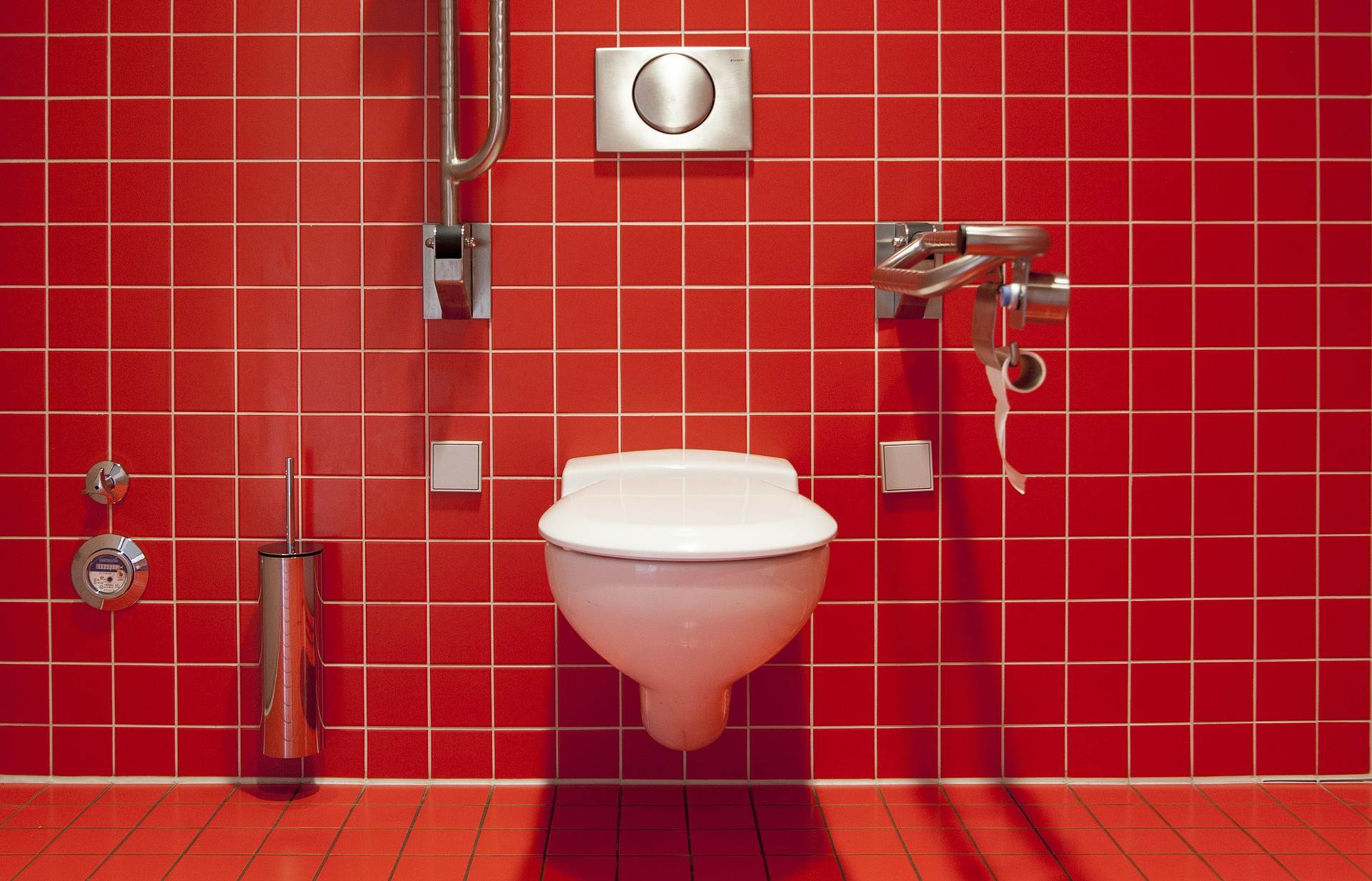 Let's face it. Dealing with a clogged toilet is one of the most annoying and unpleasant situations that a household has to face. This is especially true if there is poop in it. To make the situation even worse, toilet clogs tend to happen at an inopportune moment.
Without a comfortable and functional toilet, all the amenities of a luxury home will be for nothing.
If your toilet gets clogged with poop, you will want to unclog it as soon as possible. Not only will this make the flush system fail, but it can also break or damage the pipes.
That's why you should act quickly and not let it catch you by surprise. Unclogging a toilet yourself is not a pleasant task, though. You will have to inhale that nauseating smell while dealing with stinky poop… yuck!
While a professional plumber can save you from headaches and mess, you can fix most clogs yourself without too much effort.
Read on to learn more about different methods and solutions for a clogged toilet with poop in it.
1. Plunger
Plunging is one of the cleanest and fastest ways to unclog the toilet. It is proven to work in just about any situation. This is why most people use a plunger for this purpose.
Choose the Right Tool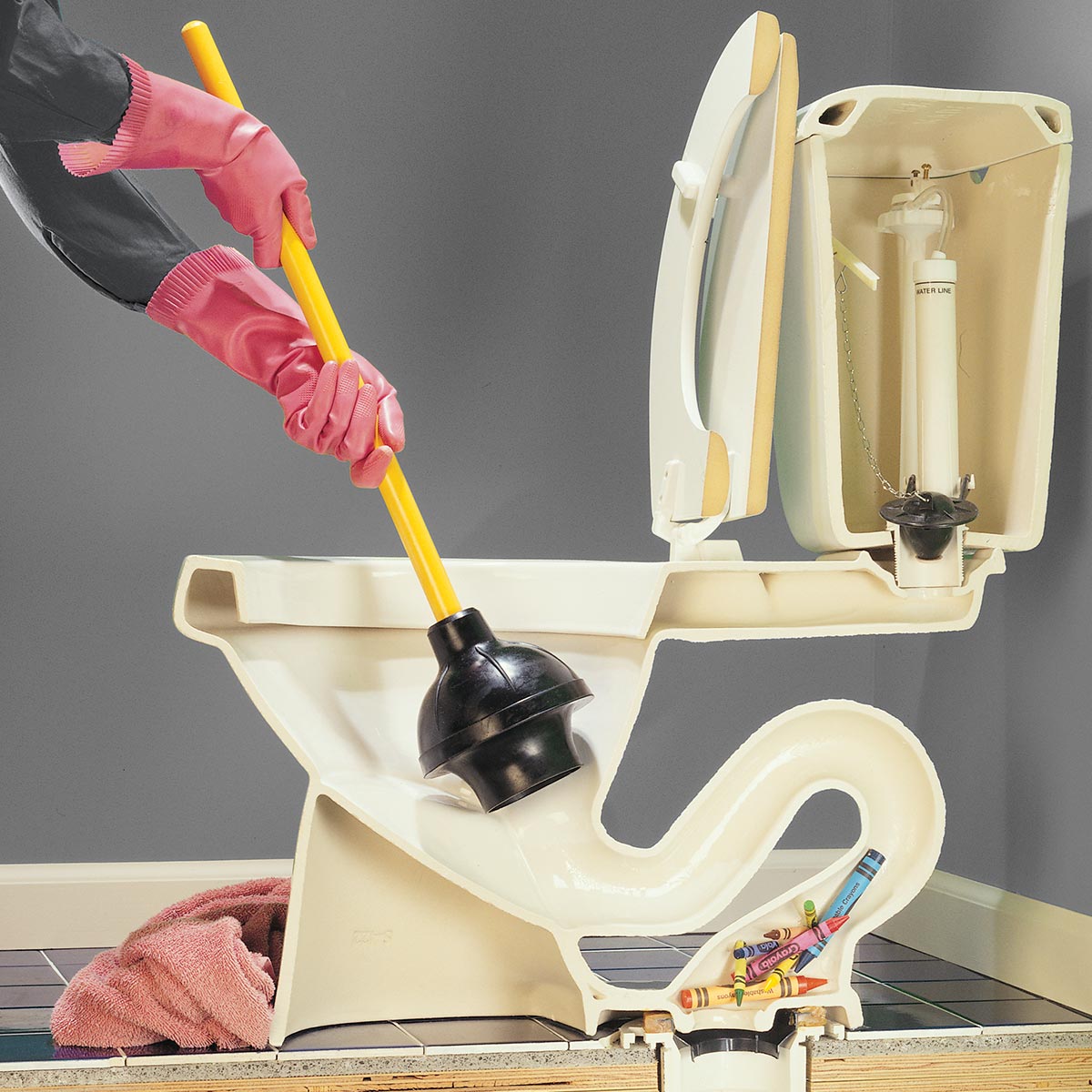 If you opt for this method, make sure the rubber plunger is wide enough to create a vacuum in the toilet aperture. It's critical to use a heavy-duty, large plunger.
Some plungers come with a fold-out flange, while others are ball-shaped to form a seal. Avoid using cheap, small suction-cup plungers because they don't work in most cases.
You are advised to run your plunger under warm water before starting to use it. That will make it a bit softer, which is helpful for creating a seal.
Prepare Your Bathroom
In the event of splashing, soak up the liquid by placing paper towels or newspapers on the floor. You should also put on some old clothing, which will come in handy if things get messy. Open a window or turn on the exhaust fan to get rid of odors.
It is recommended to wear rubber gloves, especially in the case of serious clogs. Cleaning gloves can keep you safe from germs and bacteria.
Get to Work!
Insert the plunger and move it up and down until you create a vacuum. The plunger should entirely cover the hole and be immersed in water. It's important to push and pull water through the hole – not through the air.
Start pumping slowly, as the first plunges will push the air in the bowl. Then increase the speed gradually and continue pulling and pushing until the water starts to drain. Pull up vigorously to disturb and loosen the clog.
When the poop and dirt are back, flush the toilet several times to check out the drainage. You can also flush a toilet using a bucket of water. Repeat the process if the water goes slowly. This means the toilet-blocking poop is still there in the pipes.
Fill the toilet bowl with water and plunge again without removing the plunger. Be patient. It may take more than 10 cycles to unclog the toilet.
2. Hanger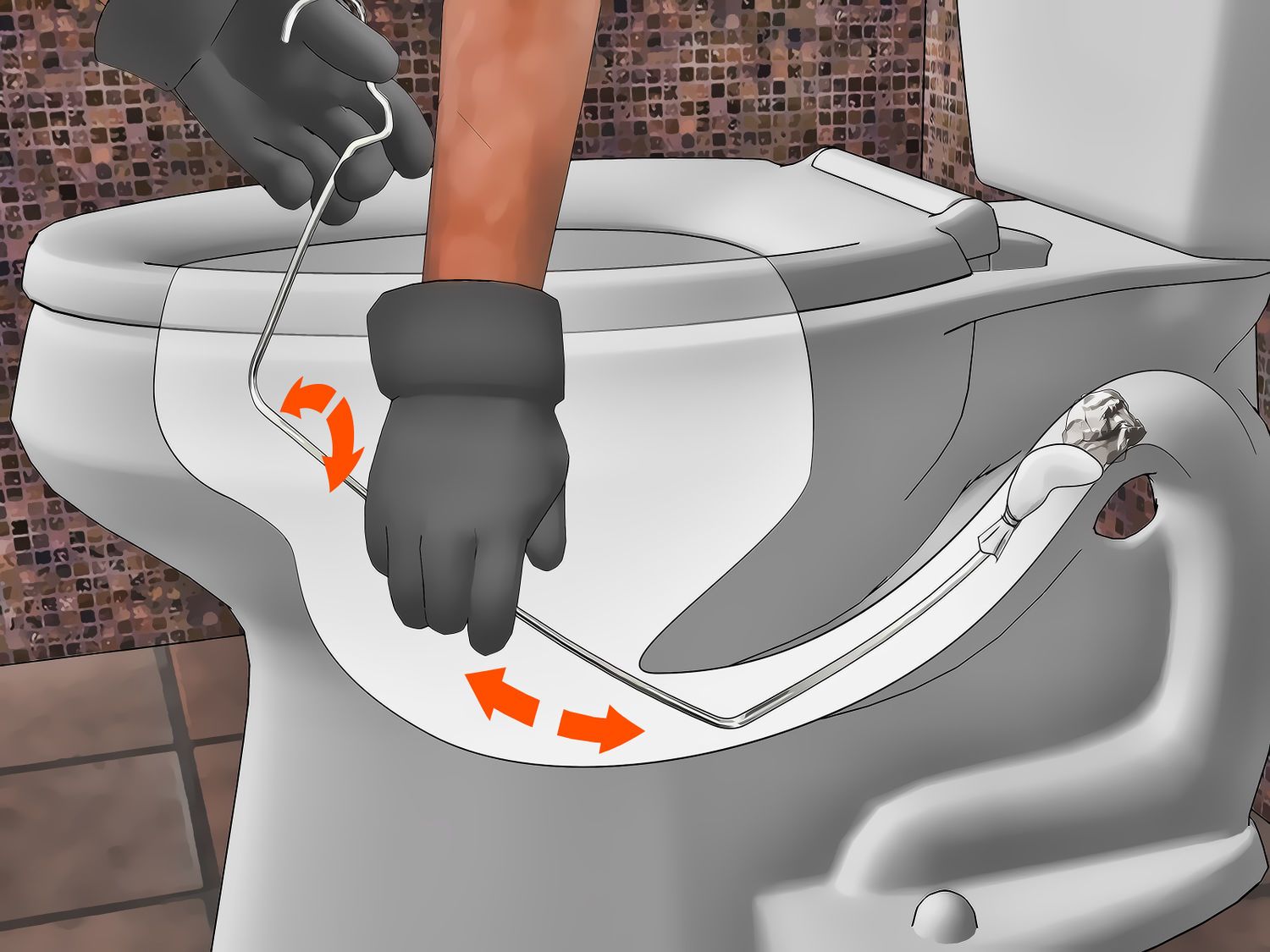 A hanger can also help you remove the clog if you don't have a plunger. In fact, you will need to pull a wire out of the cloth hanger.
The hanger wire is flexible yet firm, which makes it suitable for this job.
Make sure the wire is coated with plastic so as not to damage the porcelain. Just as with the previous method, you should wear waterproof rubber gloves.
Place one end of the hanger wire in your toilet and move up and down to unblock the clog. Once you unclog the toilet, flush it multiple times to drain the water altogether.
3. Toilet Brush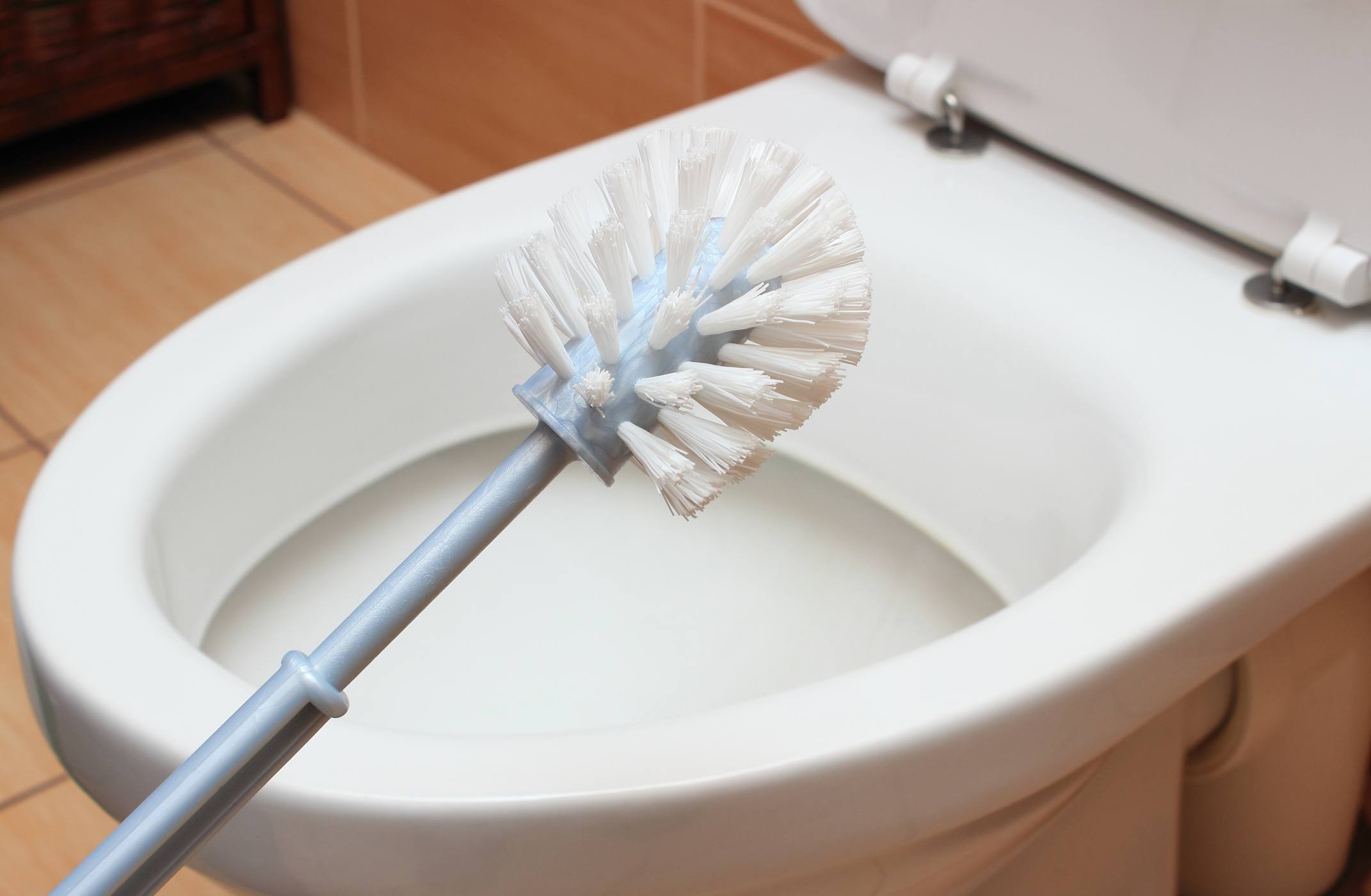 A toilet brush is something we use to clean the poop stains after finishing that job in the bathroom. However, it can also help unclog the toilet with poop stuck.
Remember that this simple trick won't work for big and stubborn clogs.
Yet, it will come in handy if the poop remains in someone else's toilet after flushing it. For example, you can give it a try if that happens in a hotel or your neighbor's home.
It's very likely that there is a toilet brush right next to the toilet. Grab it and try pressing the poop in the drain. Thereafter, flush the water to send it down the toilet sink.
If the toilet is still clogged with poop in it, this means it was not clean before. So don't blame yourself and your poop.
4. Hot Water (with Detergent)
This unclogging technique will take a little bit more time and patience. It's very simple. All you need to do is pour a bucket of boiling water into the toilet.
Hot water can soften and break down the poop, but you will need to repeat the process several times.
Instead of a bucket, you can use the shower if it can reach your toilet. Grab the shower, hold it right above the toilet, and run the hot water. Be careful not to burn yourself because the hose can be hot to hold.
Either way, it is important to pour the hot water for several minutes to soften the poop. After about five minutes, the poop is going to leave your toilet and you'll be able to normally flush the water again.
Add Detergent if Needed
However, the stubborn poop may remain in the toilet. Reach for some detergent (you can also use shampoo or dish soap) and add a lot of it in the toilet. It acts as a lubricant and can make additional softening.
Slowly pour hot water – the hotter the better – into the toilet and wait for 10 minutes before flushing again. Let the hot water and detergent work magic. The water level in your toilet bowl will start going down as the poop slips down the sink.
5. Chemicals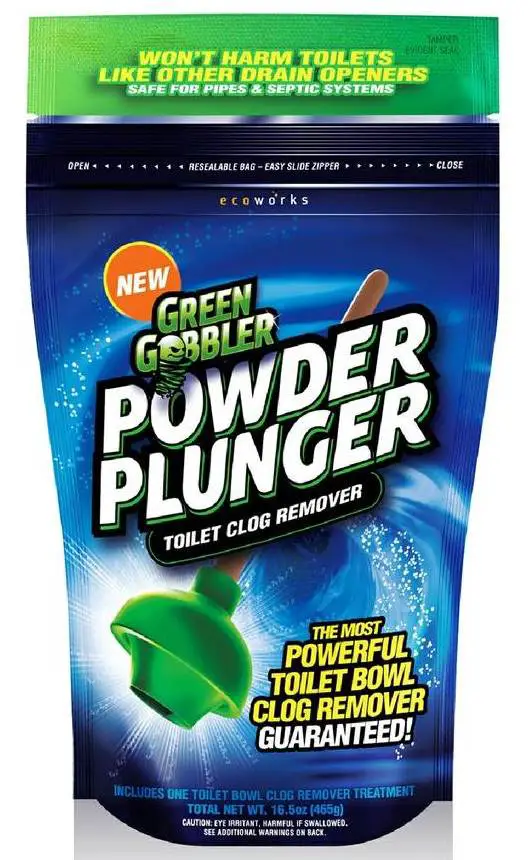 Chemicals are capable of breaking down the poop clog thanks to their reaction. What's more, they're strong enough to unblock the harder clogs than poop. But it takes some time.
With so many chemicals out there, it can be tricky to choose the right one. If you don't want to bother making a homemade chemical by yourself, you can always purchase a ready-to-use product.
For example, you can consider using the Drano Max Gel Clog Remover or Liquid-Plumr Pro-Strength Full Clog Destroyer. These work quite fast and can unblock even the very tough clogs. Simply pour the chemical, wait for 5-15 minutes, and flush the toilet. That's it!
Enzyme waste-removal products will also serve the purpose of unlocking the toilet with poop in it. Look for those that contain a blend of enzymes that liquefy waste materials. They are proven to be effective.
Chemical drain cleaners are also great; however, use them only if all other methods fail since they contain chemicals that are corrosive to pipes and toxic to people. Only use chemical drain cleaners that are made specifically for toilets. You can find them at most hardware and grocery stores.
6. Baking Soda and Vinegar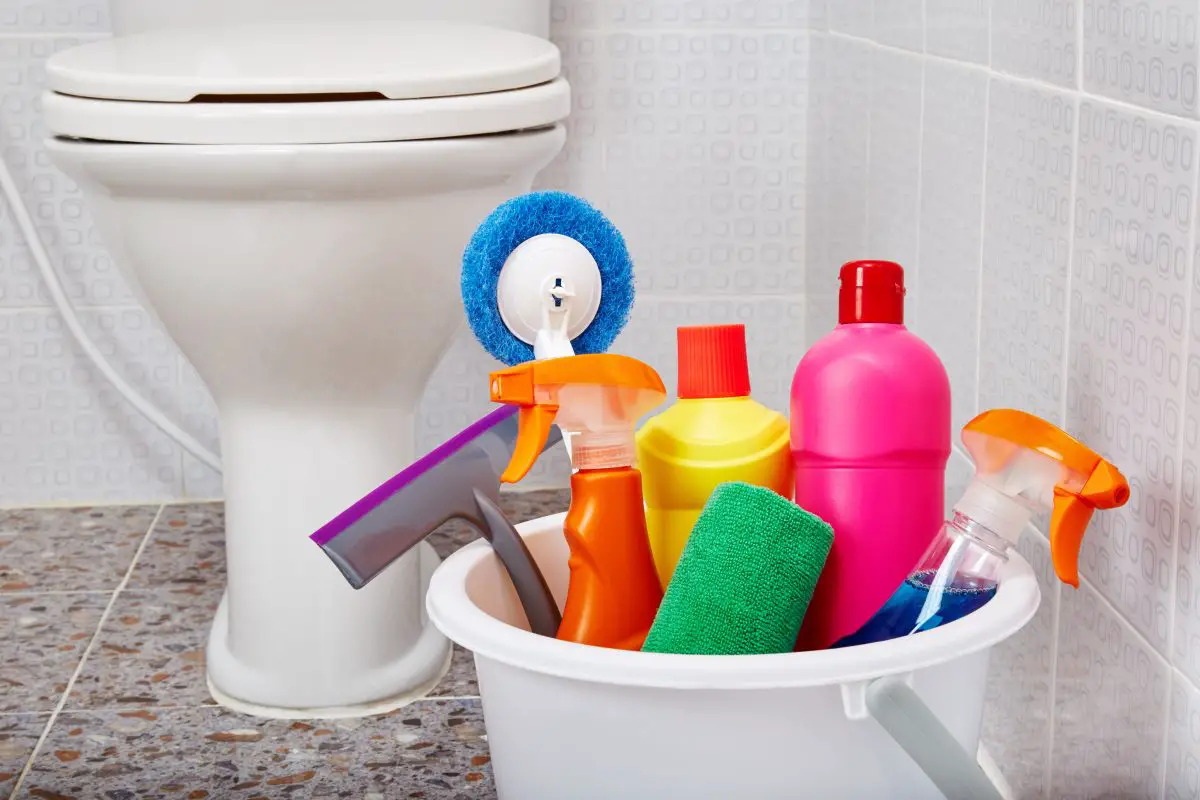 Rather than buying a commercial drain cleaner, you can make a homemade drain cleaner by combining baking soda and vinegar with hot water.
The fizzing reaction of these ingredients can help dissolve the poop.
Basically, this method involves pouring the baking soda in the toilet and adding vinegar gradually. Just follow these simple steps:
Heat half a gallon (about 1.9 liters) of water or a bit more if needed.
Pour 2 cups vinegar and 1 cup baking soda into the toilet.
Pour the hot water – from waist level – into the toilet bowl.
Let the drain cleaner stand overnight.
Plastic Wrap
This is actually the upgraded technique with he baking soda and water. While it's not as fast as the method with the vinegar, you can make use of it if you don't have vinegar near at hand. It will also serve well.
You need to pour water into the bowl and add baking soda. Make sure the water is warm; baking soda will not react if you use boiling water.
Use the plastic foil to wrap your toilet bowl. Once your toilet is completely covered, wait for about 90 minutes and give it a flush.
Check Out Our Reviews of These Toilets
Ready to Unclog Your Toilet?
In most cases, you will not have to use invasive methods to unclog a plugged toilet. The non-invasive techniques like hot water, baking soda, chemicals, and toilet brush will probably do the trick.
You should use these different methods depending on the amount of poop and the specific situation. If your toilet was clean previously, you will very likely unclog it without too much effort.
However, if your toilet had not been clean recently, you will have a tough time unclogging it. That's because the previous dirt will merge with the poop and make a serious clogging. In that case, a plunger is your best bet.